One day in Alicante, Spain: Explore downtown, beaches, historic architecture, cuisine, attractions and amazing views
One day in Alicante, Spain, will give you just a good enough sampling of the city and surrounding areas to enjoy this beautiful city fronting the Costa Blanca area in Southeastern Spain. Alicante is located in the Southeastern area around the Costa Blanca area. With gorgeous sunny weather, great beaches and amazing cuisine at Alicante, there's a lot to experience, explore and enjoy around the city. We share the best of what you can do with just one day in Alicante, Spain.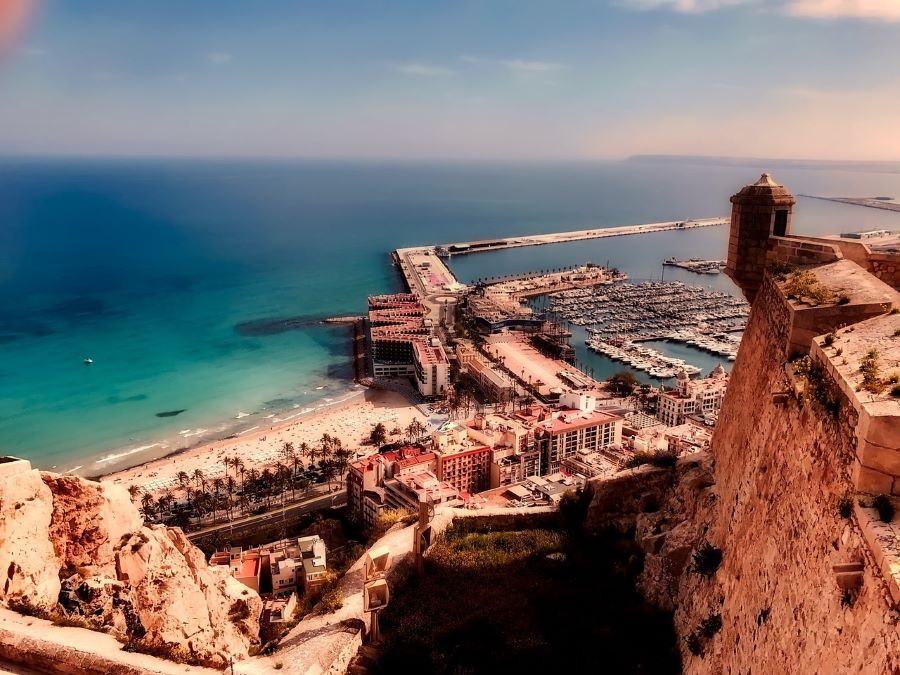 Why visit Alicante, Spain?
Alicante, Spain is a hidden gem located around the Costa Blanca region and offers so much more than meets the eye. First and foremost, it's a haven for travelers who love to explore local culture and savor delicious cuisine. Here's why you should definitely add Alicante to your travel itinerary.
Glorious Beaches:
Let's start with the obvious – the stunning beaches! Postcard-perfect shores like Playa del Postiguet and San Juan Beach invite you to soak up the sun and splash in the Mediterranean. The crystal-clear waters are perfect for swimming and water sports.
Historic attractions and landmarks:
Alicante boasts a rich history that's waiting to be discovered. The Santa Barbara Castle, perched high on Mount Benacantil, offers breathtaking panoramic views of the city. Wander through the Old Town's labyrinthine streets to stumble upon charming plazas and historic buildings.
Mouth-Watering Cuisine:
As a food lover, you'll be in culinary paradise. Don't miss out on indulging in local dishes like paella, arroz a banda, and fresh seafood. The Mercado Central, a bustling food market, is the place to explore a variety of local ingredients.
Exciting Festivals:
Alicante knows how to party. If you have the chance, time your visit with the famous Bonfires of San Juan (Fogueres de Sant Joan) festival in June. The city comes alive with massive bonfires, colorful parades, and an incredible atmosphere.
Outdoor Adventures:
Given your love for outdoor activities, Alicante won't disappoint. The nearby mountains and natural parks offer fantastic hiking opportunities, and the coastline is perfect for kayaking and water sports. The mild Mediterranean climate makes it an all-year-round destination for outdoor enthusiasts.
Picturesque Villages:
Take a short drive from Alicante, and you'll discover picturesque villages like Altea and Guadalest. These charming, white-washed towns are perfect for photography and immersing yourself in the local culture.
Local Markets:
You'll find bustling markets throughout the city, like the Mercado Central and the Mercado de Carolinas. These are fantastic places to capture the local essence, sample regional products, and pick up unique souvenirs.
Alicante offers a diverse range of amazing places to visit and experiences from beach life to history and everything in between. Pros? The fantastic weather, mouthwatering food, and the warm hospitality of the locals. Cons? It can get quite crowded during peak tourist season, so plan your visit accordingly.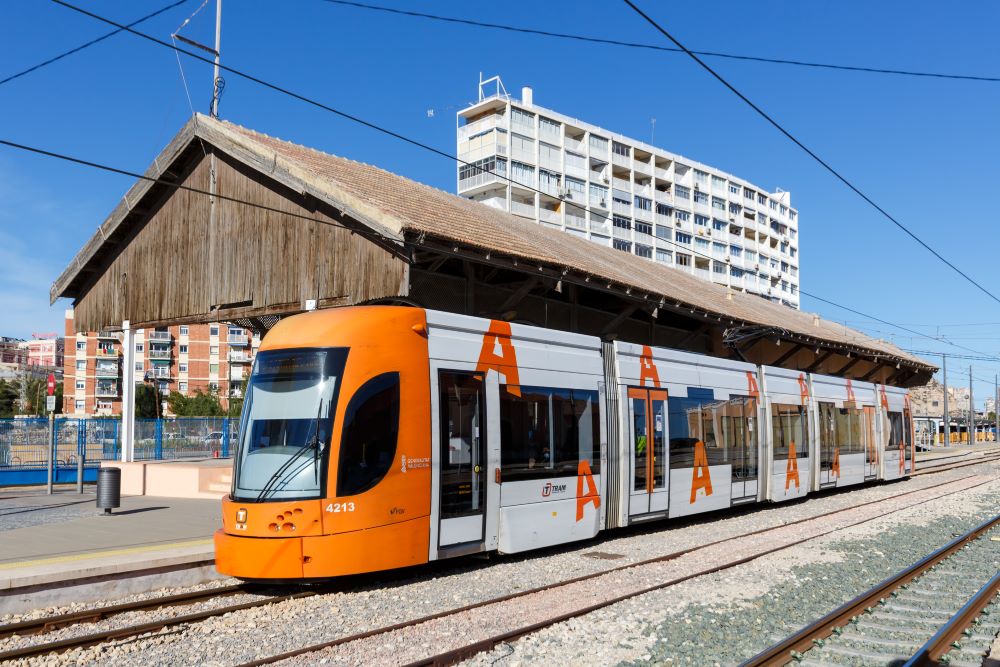 How to get to and around Alicante, Spain
Getting to Alicante, Spain is relatively easy, thanks to its well-connected transportation options. Whether you're arriving internationally or traveling from within Spain, here's a simple guide to reaching this vibrant city:
By Air:
The easiest way to reach Alicante is by flying into Alicante-Elche Airport (ALC), which is the main international gateway. This airport welcomes flights from various European destinations as well as some intercontinental flights. Once you land, you'll find efficient transportation options to the city center, which is approximately 9 kilometers (5.6 miles) away. You can take a taxi, airport bus, or a rental car to get to your destination.
By Train:
If you're traveling from within Spain or nearby cities, you can consider taking a train to Alicante. The city's main train station is Estación de Alicante Terminal (also known as Renfe), and it's well-connected to major Spanish cities like Madrid, Valencia, and Barcelona. High-speed AVE trains offer a comfortable and relatively fast way to reach Alicante from these cities.
By Bus:
Long-distance buses are another option to get to Alicante. The city's central bus station, Estación de Autobuses de Alicante, serves as a hub for various bus companies. You can find connections from different Spanish cities and even some international routes. This can be a cost-effective way to travel, especially if you're on a budget.
By Car:
If you prefer flexibility and have the option to rent a car, you can reach Alicante by road. The city is well-connected to the Spanish road network, and the main highways leading to Alicante include the AP-7 (Autopista del Mediterráneo) and the A-31. However, be mindful of traffic and parking in the city center, as it can get congested during peak times.
In my opinion, the most convenient way to reach Alicante largely depends on your starting point and travel preferences. Pros for each mode of transportation include the ease and speed of air travel, the convenience of trains, the budget-friendliness of buses, and the flexibility of driving. On the downside, traffic congestion can be an issue, particularly during the summer tourist season.
No matter which mode of transportation you choose, you're sure to find your way to Alicante with ease, ready to embark on your adventure in this captivating city.
Visit Alicante in just one day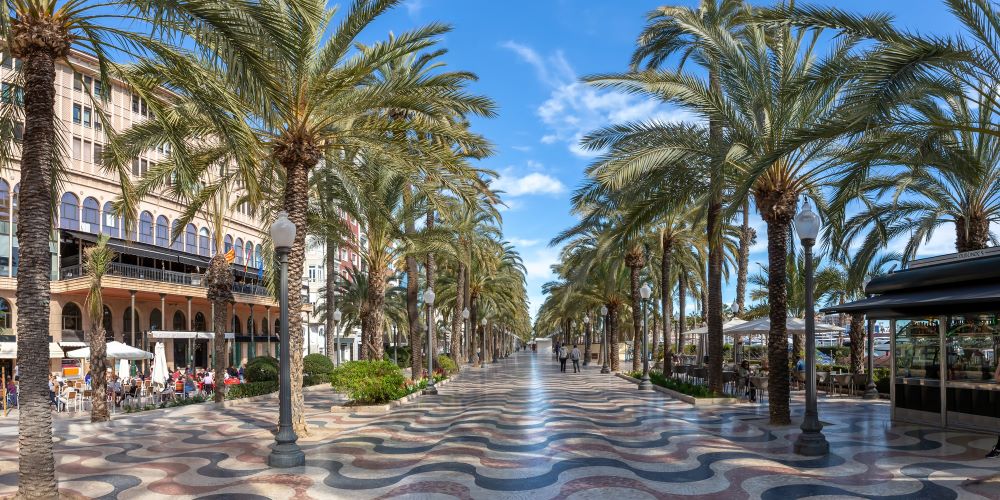 Start at La Explanada de Espana
Let's make the best of exploring the city with just one day and start out early along the picturesque street promenade called La Explanada de España. This beautiful mosaic patterned street is the perfect IG spot with gorgeous palm lined walkways filled with coffee, pastry shops and eateries to make it a pleasant start of your discovery tour.  From La Explanada de Espana, head out directly to the harbor area where our adventure continues on this full day trip to the area.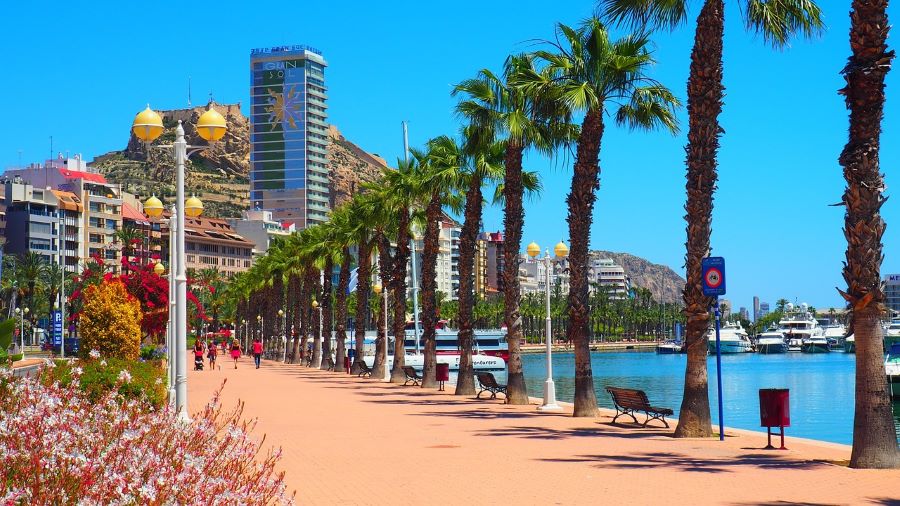 Visit Alicante Harbor area and promenade
Continue your day tour with a leisurely stroll along the beautiful promenade alongside the harbor area. You find some great scenes and stunning views of the Mediterranean. This promenade and harbor is a prime spot for taking photos of the sailboats and yachts.
You can check out the luxurious boats and yachts in the marina area. If you're a photography enthusiast, this is a prime location to capture some more shots of these vessels and marina views to enjoy.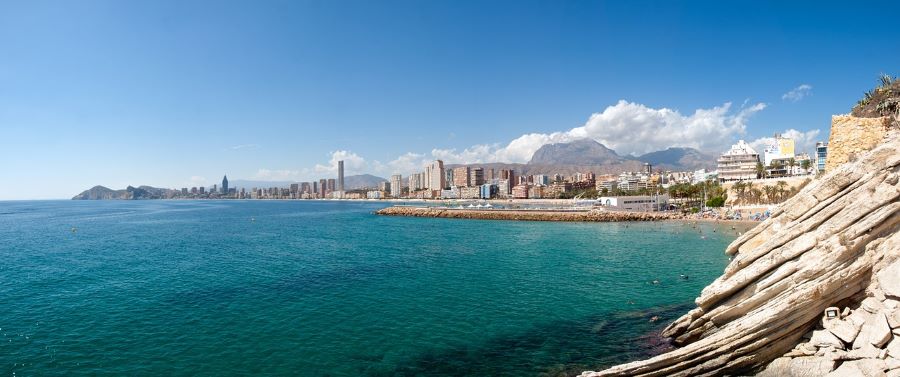 Check out the beaches of Alicante
Right next to the harbor, you'll find El Postiguet Beach. It's an ideal spot to unwind, swim, or simply bask in the sun. The views of the Castle of Santa Barbara in the backdrop make it even more picturesque. This stunning coastal area of the Costa Blanca is known for its white sandy beaches, beautiful Mediterranean landscapes, and pleasant climate, making it a popular destination for travelers seeking sun and relaxation.
Here are some of the closest and most popular beaches to visit in Alicante:
Playa del Postiguet: This is the most famous and central beach in Alicante. It's located right at the foot of the Santa Barbara Castle and is easily accessible from the city center. With its golden sands and calm waters, it's a favorite among locals and tourists alike.
Playa de la Albufereta: Just a short walk or a quick bus ride from the city center, La Albufereta is another fantastic choice. This beach is known for its relaxed atmosphere and clear waters, making it ideal for swimming and sunbathing.
Playa de San Juan: Although slightly further from the city center, Playa de San Juan is one of the most popular beaches in the region. It's a wider, longer stretch of golden sand, known for its cleanliness and excellent facilities. You can reach it by tram from the city center.
Playa de Muchavista: Just a bit north of Playa de San Juan, you'll find Playa de Muchavista. It's an extension of the San Juan beach and offers a more peaceful and less crowded experience.
Playa de la Almadraba: Located near the Cabo de las Huertas, this beach is a bit rocky but boasts pristine waters, making it a great spot for snorkeling and diving. It's a quieter option, away from the city's buzz.
Playa de los Saladares-Urbanova: Heading south from the city center, this beach is known for its tranquil surroundings and dunes. It's a bit more remote, offering a relaxing escape from the urban hustle.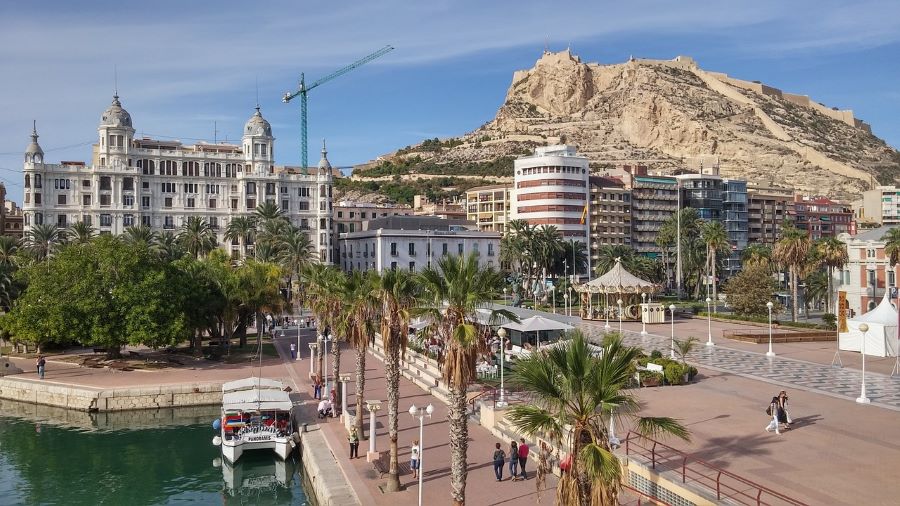 Castillo de Santa Barbara
After the marina visit, start heading uphill to visit the Castillo de Santa Barbara on atop Mount Benacanti. You'll find fantastic views around the city and harbor area below. This historic site is free to visit the ruins and explore the cool ramparts and labyrinth interiors of the castle, cobbled streets, tunnels, turrets and fantastic views from the top. This historic site started in the early 9th century shares the impressive fortress and history of this significant attraction and definitely worth the effort to climb up to the main entrance gates.
Visit La Erata Park
For a nice break with more views of the city down to the harbor, head out to La Erata Park and you'll love the views and photo ops there. La Ereta Park is a beautifully landscaped space, carefully designed to harmonize with its natural surroundings. Stroll along the winding paths lined with fragrant Mediterranean flora, where you'll find olive trees, aromatic herbs, and vibrant flowers. It's a place where nature and urban life coexist in perfect harmony.
The park's design also pays homage to its history. You'll come across ancient ruins, remnants of an old quarry, adding a touch of historical charm to the serene surroundings. These ruins, partially covered in ivy, provide a glimpse into the past and create a unique atmosphere.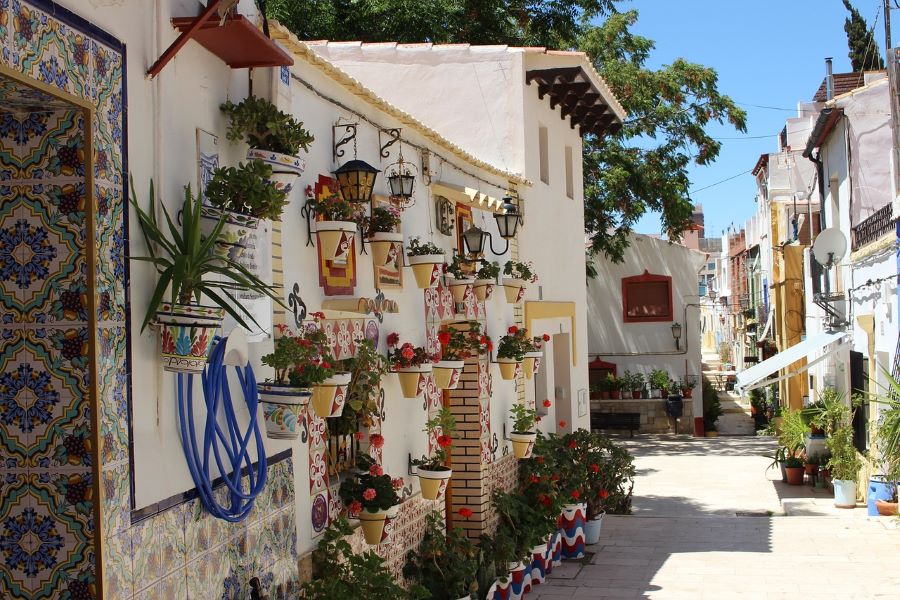 Barrio de Santa Cruz
The Barrio de Santa Cruz is the oldest part of the city with small narrow streets filled with unique shops, tapa bars and restaurants. It's as if time has stood still in this historic and colorful neighborhood, which was once the city's Jewish quarter. The cobblestone streets are narrow, the buildings are adorned with colorful tiles, and the scent of orange blossoms fills the air – this is the essence of Andalusia.
One of the standout attractions in the Barrio de Santa Cruz is the stunning Alcázar of Seville, a royal palace that boasts a unique blend of architectural styles, from Moorish to Gothic. The gardens here are a true oasis, with fountains, palm trees, and meticulously designed hedges. It's a serene place to escape the hustle and bustle of the city.
While exploring this neighborhood, don't forget to visit the Seville Cathedral, a masterpiece of Gothic architecture. Gaze upon its Giralda Tower, an iconic symbol of Seville. Climbing to the top offers panoramic views that will leave you in awe.
Alicante's Fish Market
Alicante's Fish Market, known locally as "Mercado de Abastos," is a bustling hub of activity and a seafood lover's paradise. If you're into the local food scene, don't miss the Mercado de Abastos. You can explore the daily catch and even indulge in some fresh seafood dishes at nearby restaurants.
The stalls are a cornucopia of marine treasures, where an array of fish, shellfish, and other aquatic delights are displayed in all their briny glory. From the silvery glint of sardines to the iridescent scales of dorado, the diversity of marine life on display is a testament to Alicante's coastal heritage.
The sellers are often fishermen or seafood experts who take great pride in their catch. You'll witness animated haggling and passionate discussions about the best way to prepare the day's offerings. It's a place where the exchange of knowledge and culinary traditions is as important as the transaction itself.
Specialty foods and cuisine to try in Alicante
Alicante offers a delectable array of specialty foods and cuisine that reflect the region's rich culinary traditions. Here are some must-try dishes and delights:
Paella
This iconic Spanish dish is a must-try, and Alicante has its own variation. Known as "Arroz a Banda," it features flavorful rice cooked with fish, often served with aioli sauce.
Esgarrat
A traditional appetizer, Esgarrat consists of roasted red peppers, salted codfish, and garlic, drizzled with olive oil. It's a flavorful and colorful delight.
Turron
A sweet treat hailing from Alicante, turron is a nougat made from almonds and honey. It's a popular souvenir and a delightful dessert.
Gazpacho
This refreshing cold soup is perfect for the warm Alicante climate. Made from tomatoes, cucumbers, peppers, and garlic, it's a tasty way to beat the heat.
Denia Prawns
If you're a seafood lover, don't miss the succulent Denia prawns. These large, sweet prawns are often grilled or simply prepared to let their natural flavor shine.
Rice Dishes
Alicante is known for its delicious rice dishes. Apart from paella, try "Arroz Negro" (black rice with squid ink) and "Arroz con Costra" (rice with a crispy, baked egg crust).
Seafood Stews
Alicante's location on the Mediterranean means you'll find excellent seafood stews. "Caldero" is a hearty fish stew often served with garlic sauce.
Monas de Pascua
These Easter cakes are not only delicious but also beautifully decorated. They're a sweet tradition in Alicante.
Vermouth
Sip on a glass of vermouth, a popular aperitif in the region, often enjoyed with olives or other snacks.
Local Wines
Alicante produces some excellent wines. Try the local Monastrell red wine or indulge in a glass of sweet Moscatel wine, perfect with dessert.
In my opinion, exploring Alicante's culinary scene is a delightful adventure. Pros? The fresh, flavorful ingredients, the blend of Mediterranean and Spanish influences, and the opportunity to savor both traditional and innovative dishes. No significant cons, except perhaps the risk of overindulgence due to the tempting variety of foods!
So, make sure to savor these local specialties and immerse yourself in Alicante's culinary tapestry during your visit. It's a true treat for food enthusiasts.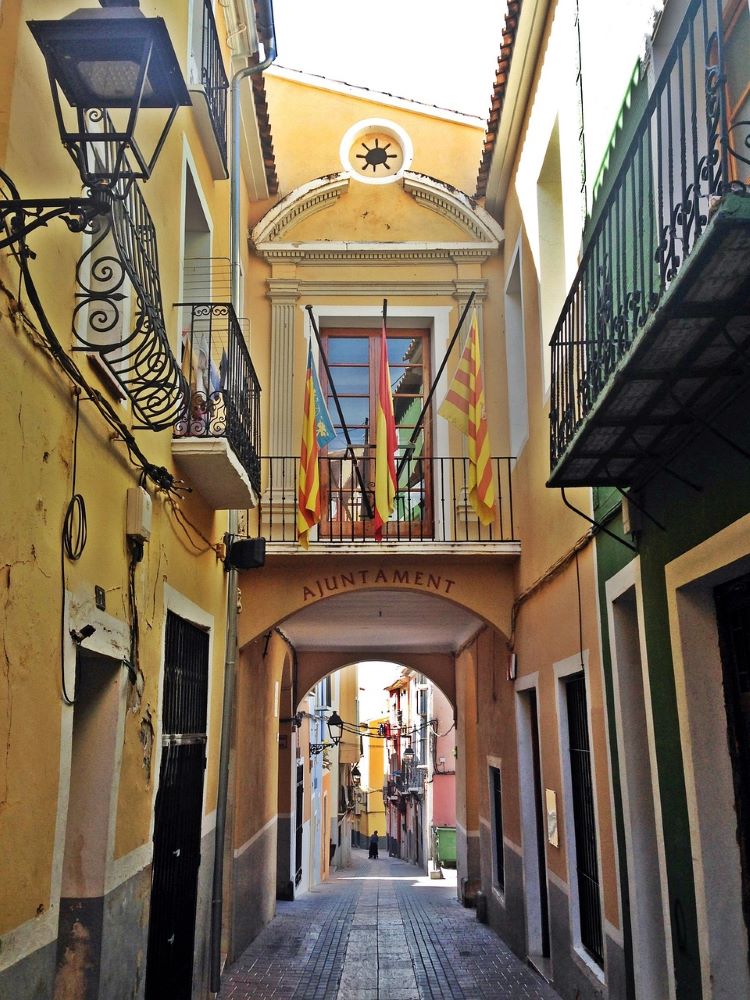 Alicante Town Hall
Just a short walk from the harbor, you'll discover the town hall building, a stunning example of Baroque architecture and known for its ornate facade and historical significance.. It's worth a visit for its impressive facade and historical significance when you start to explore the main city center of Alicante.
Contemporary Art Museum (MACA)
Art enthusiasts will appreciate the MACA, which is nearby. It houses an impressive collection of 20th-century Spanish art, including works by Salvador Dalí and Pablo Picasso.
Check out these other posts visiting around Valencia area
A visit from Barcelona to Valencia
Specialty foods and markets in Valencia
Final thoughts
You'll enjoy this fantastic day trip visiting Alicante, Spain and explore the many attractions, beaches and venues to explore around the city with fantastic views from top to sea level.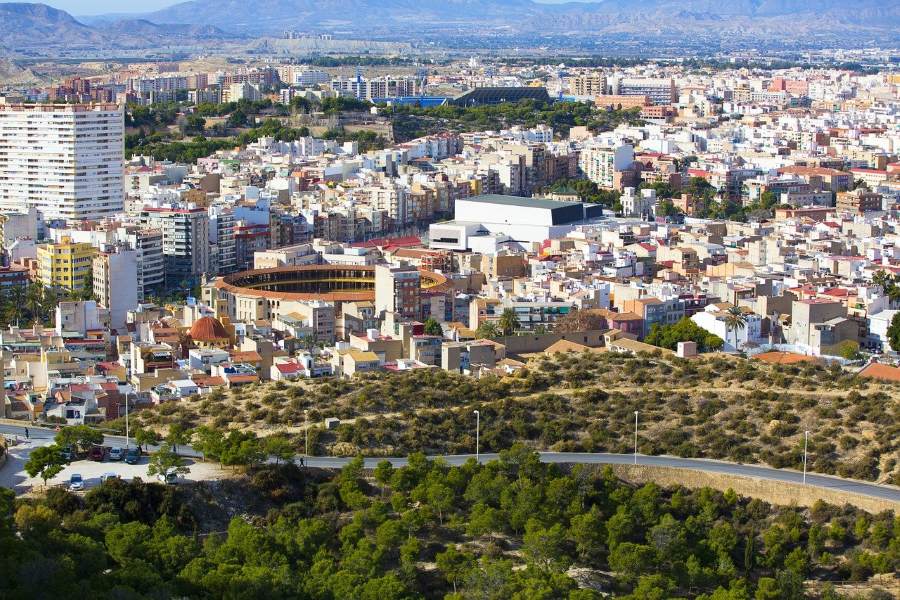 Conclusion on One day in Alicante
If you are visiting from Valencia, a day trip to Alicante is easy and can be done under two hours traveling directly on the A7 to visit this gorgeous port city. Alicante is
So, whether you're interested in capturing the maritime beauty, delving into local culture, or simply enjoying some leisure time, the Alicante attractions, landmarks and historic sites has something for everyone.