Day trip to Marbella from Malaga: explore the flashy, luxurious vibe to the historic old town appeal around town
Taking a day trip from Malaga to Marbella is like stepping into a world where coastal elegance meets Andalusian charm. This Mediterranean gem, nestled along the stunning Costa del Sol, invites you to explore its rich tapestry of culture and beauty. As you venture from the vibrant heart of Malaga to the sophisticated streets of Marbella, you'll discover a delightful blend of historic Old Town allure, glitzy marinas, and sun-kissed beaches. Whether you're savoring traditional tapas, strolling through centuries-old plazas, or simply basking in the Mediterranean sun, a day in Marbella promises an unforgettable adventure that seamlessly blends Spanish traditions with modern coastal glamour.
Why visit Marbella, Spain
Marbella, Spain, beckons travelers for a multitude of reasons. Its coastal allure is undeniable, with pristine beaches lapped by the Mediterranean Sea and a backdrop of the striking Sierra Blanca mountains. The town's historic Old Town (Casco Antiguo) is a charming labyrinth of cobblestone streets, adorned with colorful flowers and welcoming plazas like the iconic Orange Square (Plaza de los Naranjos).
Marbella's marinas, including the famous Puerto Banús, exude luxury and glitz, offering an exciting blend of luxury yachts, high-end boutiques, and a lively nightlife scene that attracts the rich and famous. Culinary delights await in a diverse range of eateries, from traditional Andalusian tapas to international fine dining, all while enjoying fresh seafood and paella.
The town boasts cultural heritage through architectural gems like the Encarnation Church and the whimsical Castillo de Colomares. Outdoor enthusiasts can relish hiking, golfing, and water sports amidst the surrounding natural beauty. Marbella also hosts vibrant festivals like the Feria de San Bernabé and offers a cultural experience with art galleries and museums, including the Ralli Museum.
With its accessibility from Malaga and a Mediterranean climate providing more than 300 days of sunshine annually, Marbella is an inviting destination for those seeking a blend of coastal beauty, culture, gastronomy, and a touch of glamour in the heart of the Costa del Sol.

Weather and best time to visit Marbella, Spain
Marbella, Spain, enjoys a Mediterranean climate, making it a year-round destination. However, the best time to visit depends on your preferences:
Spring (March to May):
Spring in Marbella offers pleasant temperatures, blooming landscapes, and fewer crowds.
Ideal for outdoor activities and exploring the town's historic sites and natural beauty.
Summer (June to August):
Summer is the peak tourist season with hot and sunny weather, perfect for beach lovers.
Expect bustling beaches, vibrant nightlife, and a lively atmosphere, especially in July and August.
Autumn (September to November):
Early autumn continues to offer warm weather and is an excellent time for beachgoers.
The weather is still pleasant, and the crowds begin to thin out, making it a more peaceful experience.
Winter (December to February):
Winters in Marbella are mild, with occasional rain.
While not ideal for beach activities, it's suitable for cultural exploration, hiking, and enjoying local festivities.
In conclusion, Marbella's Mediterranean climate means it's a year-round destination. For beachgoers and a vibrant atmosphere, summer is the best time. Spring and early autumn offer pleasant weather with fewer crowds, making them ideal for a more relaxed visit. Winter provides a different perspective, focusing on cultural experiences and outdoor activities with fewer tourists.

How to get to Marbella from Malaga, Spain
Getting from Malaga to Marbella is convenient, and there are several transportation options:
Bus: The most common and economical way is to take a bus. Malaga's main bus station, Estación de Autobuses, offers frequent services to Marbella. The journey takes around 45 minutes to an hour, depending on traffic and the specific bus route. The bus provides a comfortable and affordable option for travelers.
Train: While there is no direct train route from Malaga to Marbella, you can take the Cercanías commuter train from Malaga to Fuengirola. From Fuengirola, you can catch a bus or a taxi to Marbella. This route offers scenic views along the way, but it may take longer than a direct bus journey.
Taxi: Taxis are readily available in Malaga, and you can hire one for a direct trip to Marbella. While more expensive than the bus, it offers convenience and comfort, especially if you're traveling with a group or have a lot of luggage.
Car Rental: If you prefer flexibility and plan to explore the Costa del Sol region extensively, consider renting a car at Malaga Airport or in the city. The drive to Marbella is straightforward, taking approximately 40-50 minutes via the AP-7 or A-7 highway.
Private Transfer: Some companies offer private transfer services from Malaga Airport or the city to Marbella. This option provides a hassle-free and comfortable journey, ideal for those seeking convenience and personalized service.
The choice of transportation depends on your budget, schedule, and preferences. Buses are a popular and cost-effective choice, while taxis, car rentals, and private transfers offer more flexibility and convenience for your journey from Malaga to Marbella.

Top attractions and things to do around Marbella, Spain
Marbella, Spain, is brimming with attractions and activities to suit a wide range of interests. Here are the top things to do and places to visit in this charming coastal town: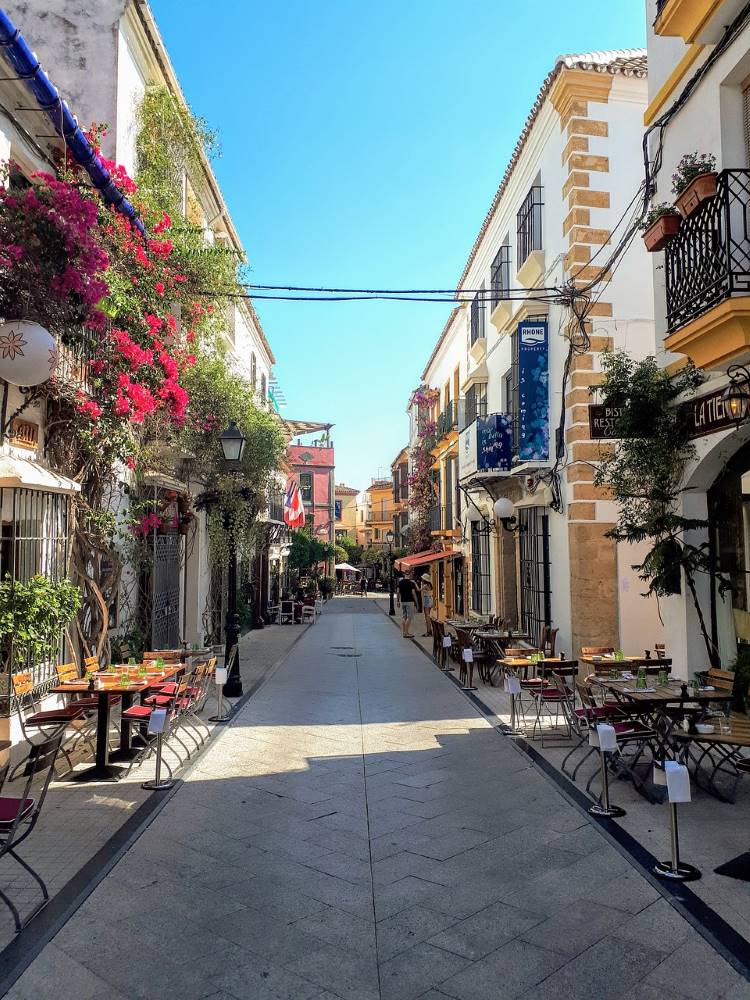 Old Town (Casco Antiguo): Wander through the historic Old Town, characterized by narrow streets, flower-filled plazas, and traditional Andalusian architecture. Don't miss the iconic Orange Square (Plaza de los Naranjos).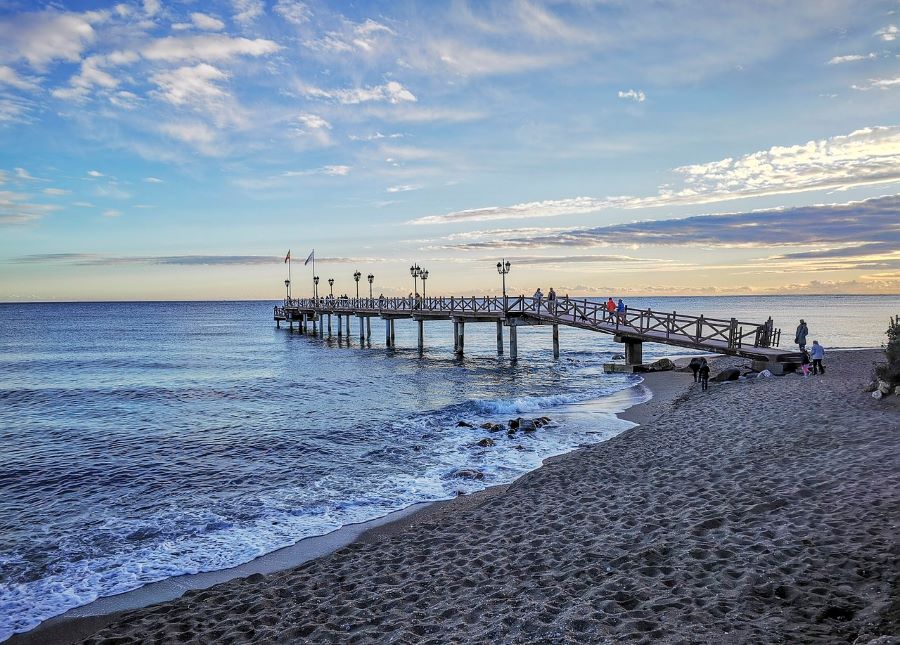 Marbella Beaches: Relax and soak up the sun on Marbella's beautiful beaches, including Playa de la Fontanilla, Playa de la Bajadilla, and Playa de la Venus. Engage in water sports or simply enjoy the Mediterranean breeze.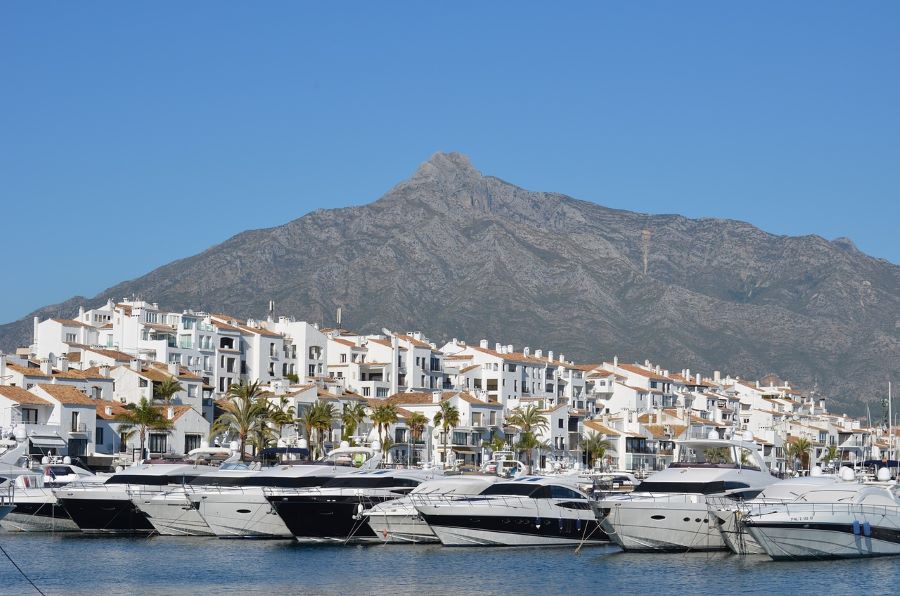 Puerto Banús: Explore the glamorous marina of Puerto Banús, where luxury yachts, high-end boutiques, and upscale restaurants create an exclusive atmosphere. It's also a prime spot for nightlife.
Alameda Park: Stroll through the Alameda Park, a lush green space with fountains, sculptures, and a children's playground.
Marbella Marina: Visit the town's main marina, Marbella Marina, filled with shops, bars, and restaurants. It's a great place for a leisurely walk with sea views.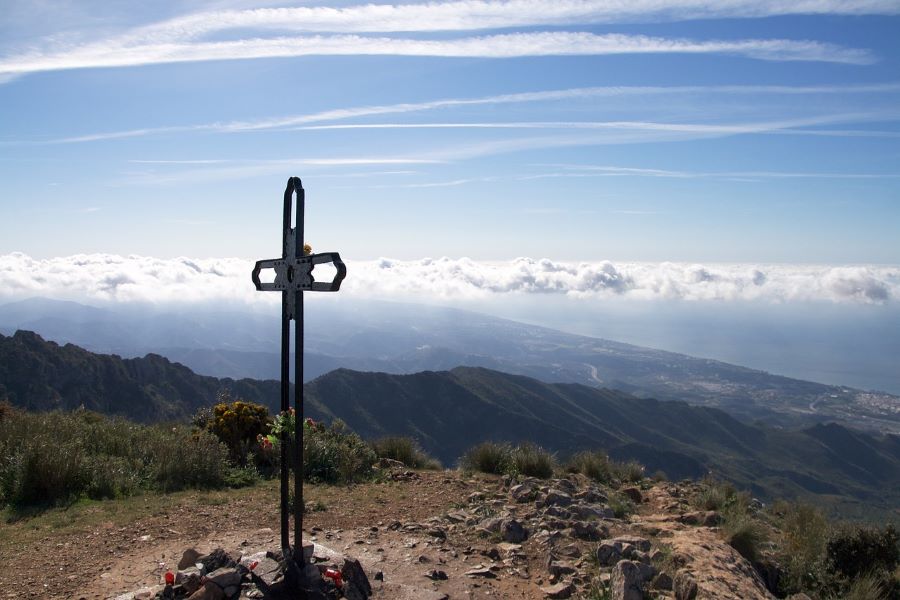 La Concha Mountain: Hike or take a scenic drive to the summit of La Concha Mountain for panoramic views of Marbella and the surrounding coastline.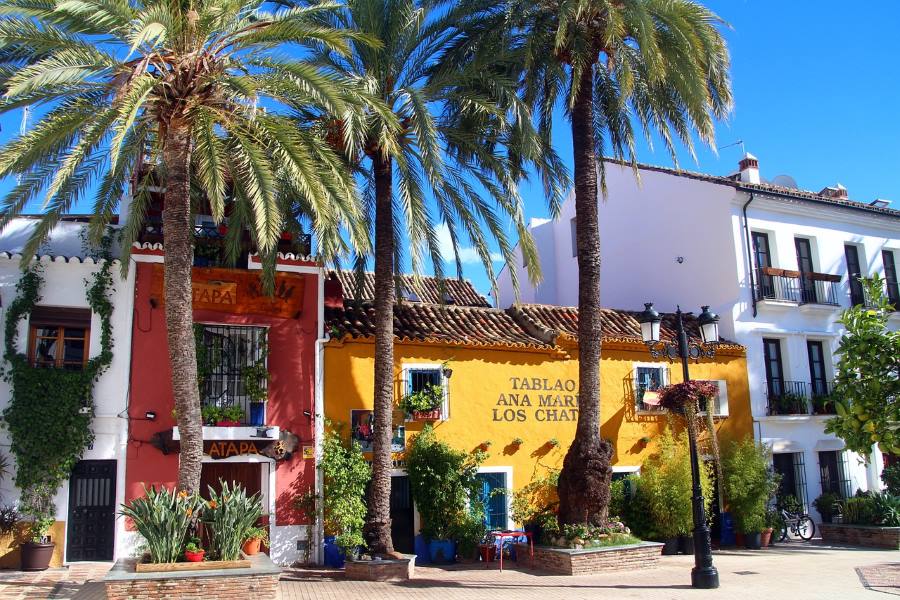 Art and Culture: Explore the town's cultural side with visits to the Ralli Museum, which features Latin American art, and the Encarnation Church with its beautiful architecture.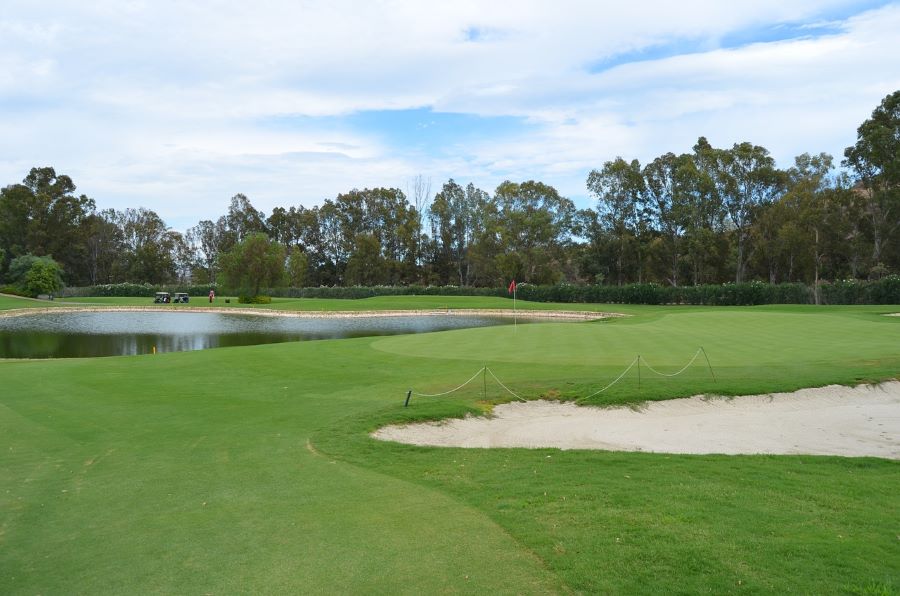 Golf: Marbella is a golfing paradise with numerous world-class golf courses. Enjoy a round of golf amid stunning landscapes.
Day Trips: Consider day trips to nearby attractions such as Ronda, a historic town with a dramatic gorge, or the charming white villages (pueblos blancos) of Andalusia.
Water Sports: Engage in various water sports activities, including jet skiing, paddleboarding, and snorkeling, offered along the coast.
Festivals: Check the local calendar for festivals and events like the Feria de San Bernabé, offering traditional celebrations, music, and flamenco dancing.
Marbella's diverse offerings make it an ideal destination for those seeking a blend of history, culture, beachfront relaxation, and upscale experiences on the Costa del Sol.

Check out these other posts on Visiting around Andalusia