Visit to Malaga Port: An Incredible Experience of History and Modern Beauty
Originally a dilapidated harbor area Malaga Port has been retrofitted to be a vital trading hub, cruise port, shopping and dining venue and a fun place to hang out in the harbor area of Malaga city. With it's historical presence that dates back to Phoenicians and Roman period, . today, this bustling port remains a vital trading hub, bustling with activity and providing a glimpse into the city's vibrant past and promising future.
The port area of Malaga offers not only a gateway to the sea but also a gateway to a treasure trove of sights, sounds, and flavors. Whether you're a history enthusiast, a lover of breathtaking views, or a culinary adventurer, Malaga Port beckons with its irresistible charm, promising an enriching journey like no other. Come, embark on a voyage of discovery and delight, as you explore the enchanting world of Malaga Port.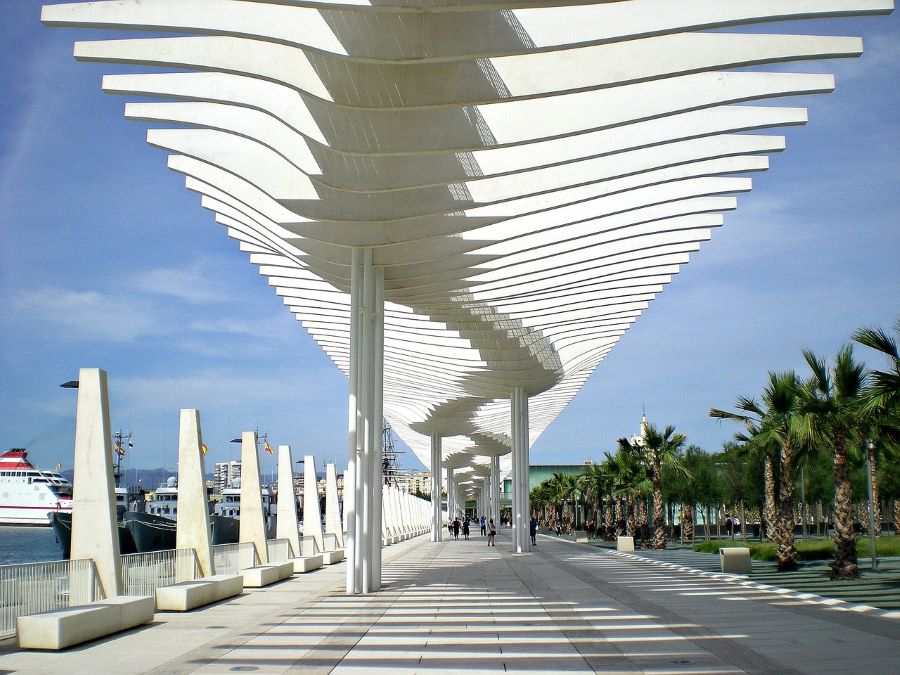 Why visit the Malaga Port area?
Here are some cool reasons to explore the Malaga Port area now:
Historical Significance: The port has a rich history dating back to Phoenician and Roman times. Exploring the remnants of ancient civilizations and Roman sea factories can provide a fascinating insight into the area's past.
Cultural Heritage: As a major Moorish city and port during the medieval period, Malaga offers a unique blend of Moorish and Spanish influences. Visitors can appreciate the architectural wonders and cultural heritage left by these diverse civilizations.
Maritime Atmosphere: The port's maritime ambiance provides a captivating setting for leisurely walks, strolls along the waterfront, and watching boats sail in and out of the harbor. The sound of seagulls and the sea breeze add to the overall experience.
Trade and Commerce: The port remains an active trading hub, allowing visitors to witness the movement of goods and experience the vibrant atmosphere of a working port.
Cruise Ship Gateway: Being unusually close to the city center is advantageous for cruise ship passengers. It offers easy access to Málaga's attractions and ensures a convenient and memorable visit for travelers arriving by sea.
Recreational Activities: The port area has been evolving with leisure complexes and recreational spaces. Tourists and locals can enjoy various activities, including shopping, dining, and entertainment.
Spectacular Views: The port area boasts stunning vistas of the sea, making it an ideal spot to capture breathtaking sunsets or to simply relax and enjoy the picturesque scenery.
Gastronomy: Visitors can savor delicious seafood dishes and regional cuisine at the port's numerous restaurants and tapas bars, offering a taste of authentic Spanish flavors.
Nearby Attractions: The port's strategic location makes it a perfect base for exploring Malaga's other attractions, such as museums, historic landmarks, beautiful beaches, and the famous Alcazaba fortress.
City Revitalization: The efforts to rebuild and revitalize the port area have resulted in a thriving urban landscape with a vibrant mix of modernity and history, offering an appealing destination for tourists from all walks of life.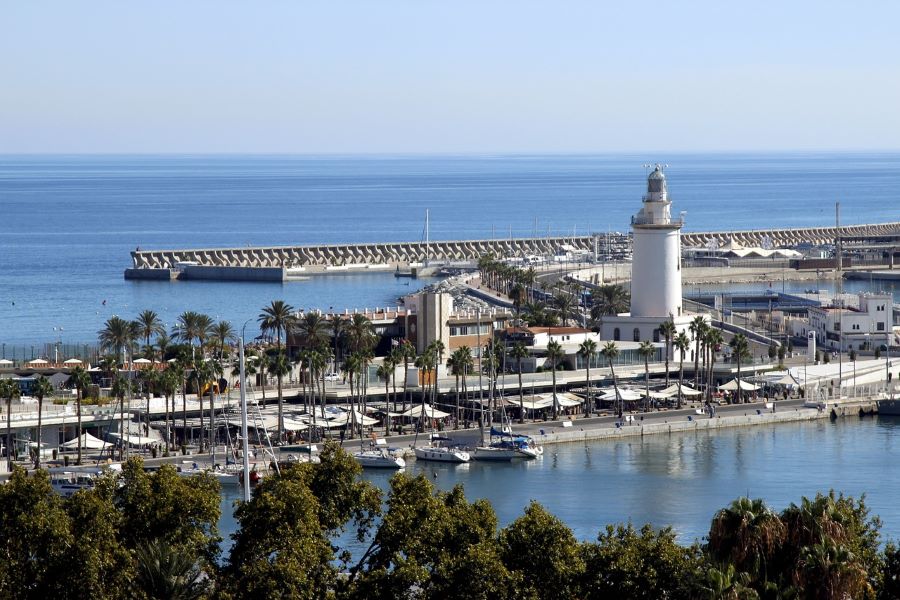 A brief History about Malaga Port
The port's origins trace back to 1000 B.C. when it was founded by the Phoenicians. During the Roman rule, Málaga thrived as a bustling trading port, exporting iron, copper, and lead from nearby Ronda's mines. Additionally, they traded olive oil, wine, and garum, a pickled fish relish. Today, you can still see the Garum storage vats of a Roman sea factory at the University offices on Paseo del Parque.
In 711 A.D., the Moors invaded, transforming Málaga into a significant Moorish city and port, serving as Granada's primary port as well. It gained fame for its export of figs and wine. During the Habsburg Empire, Málaga became one of Europe's largest manufacturing ports. Subsequent developments included the construction of the East Dock and New Quay in 1720, followed by the building of the first lighthouse in 1814. In 1910, the port got its first passenger terminal, and in 1920, the Málaga Puertollano pipeline was constructed to enable direct olive oil exports from the port. However, this pipeline ceased operation in 1990.
The port faced a decline under the Franco regime, as the city of Málaga, being outwardly republican, suffered mass execution and repression by the Nationalists. Franco believed that Spain's true economic success lay in the northern manufacturing industry, so he neglected Málaga port, considering it of little value. However, in recent years, the city and port authority have been working tirelessly to rebuild the port's reputation and boost its economic value. The port's unique advantage lies in its close proximity to the city center, making it an appealing factor for cruise ship passengers. Furthermore, over the past decade, the port authority has ceded land to the city, leading to the opening of leisure complexes.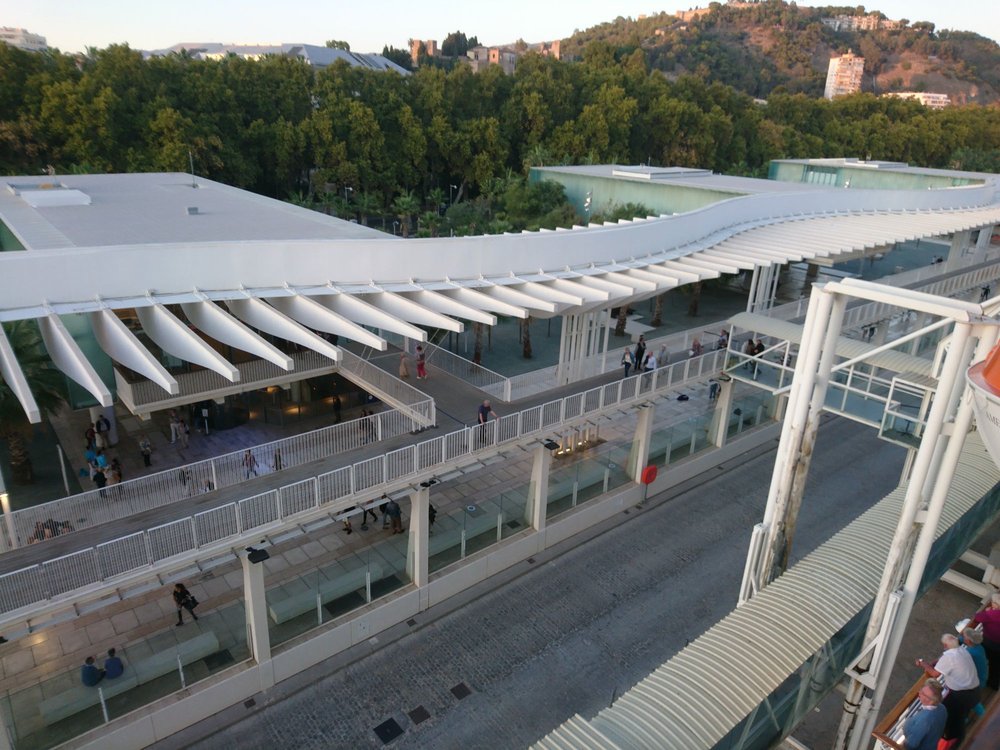 Top things to see around the Malaga Port area
Around the Malaga Port area, you'll find an abundance of captivating attractions and experiences waiting to be explored. Here are the top things to see and do:
Malaga Alcazaba: A stunning Moorish fortress overlooking the port, the Alcazaba offers a glimpse into the city's rich history. Wander through its ancient walls, beautiful gardens, and enjoy panoramic views of the port and the city.
Roman Theatre: Adjacent to the Alcazaba, the Roman Theatre is a well-preserved archaeological site showcasing the remnants of a 1st-century BC Roman amphitheater.
Malaga Cathedral: Known as "La Manquita" (the one-armed lady) due to its unfinished south tower, the cathedral is an iconic landmark with a mix of Renaissance, Baroque, and Gothic architecture.
Picasso Museum: Celebrating the life and works of the renowned artist Pablo Picasso, this museum houses a remarkable collection of his paintings, drawings, and sculptures.
Muelle Uno: A modern and lively shopping and leisure complex located at the port, offering an array of shops, restaurants, and entertainment options. Ideal for a leisurely stroll along the waterfront with over 70 shops, bars and restaurants and some with waterfront views.
Malagueta Beach: Just a short walk from the port, this beautiful urban beach is a perfect spot to relax, sunbathe, or take a refreshing swim in the Mediterranean waters.
Paseo del Parque: A charming park that runs along the port's eastern edge, offering green spaces, fountains, and tropical vegetation—a peaceful oasis in the heart of the city.
Centre Pompidou Malaga: This contemporary art museum, an offshoot of the famous Paris museum, houses an impressive collection of modern artworks and hosts various temporary exhibitions.
Atarazanas Market: A lively and colorful market where you can immerse yourself in the local culture and find fresh produce, seafood, and artisanal goods.
Gibralfaro Castle: Located on the hill above the Alcazaba, this castle offers panoramic views of Malaga and the port. It's an excellent spot to watch the sunset.
Malaga Ferris Wheel: Situated at the entrance of Muelle Uno, this giant Ferris wheel, known as "Mirador Princess," provides stunning views of the port and the city.
Malaga Maritime Museum: Learn about the city's maritime history through a diverse collection of nautical artifacts, models, and exhibits.
From historic landmarks to modern attractions, the Malaga Port area promises an enriching and diverse experience that will leave you with cherished memories of this vibrant and culturally rich Mediterranean gem.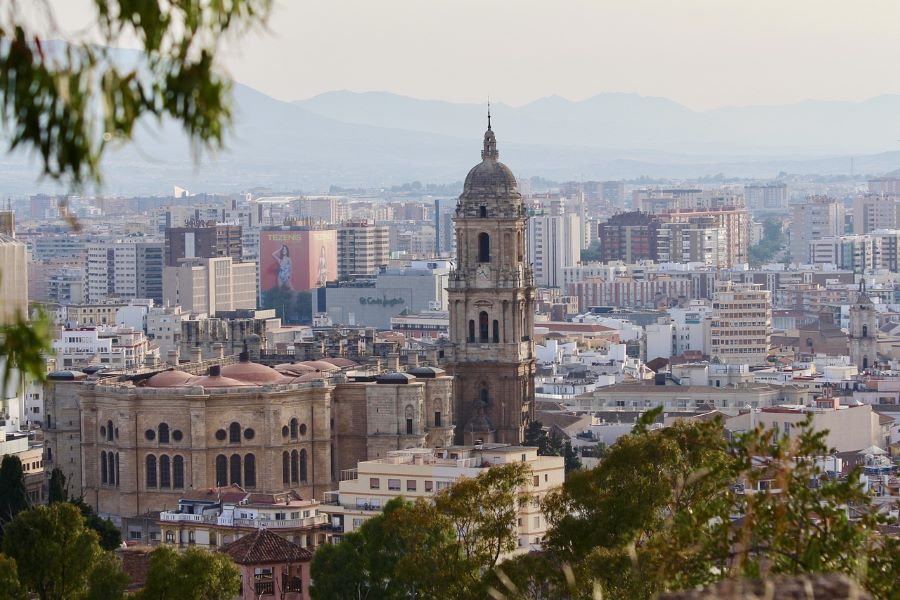 Check out these other popular places to explore around Malaga City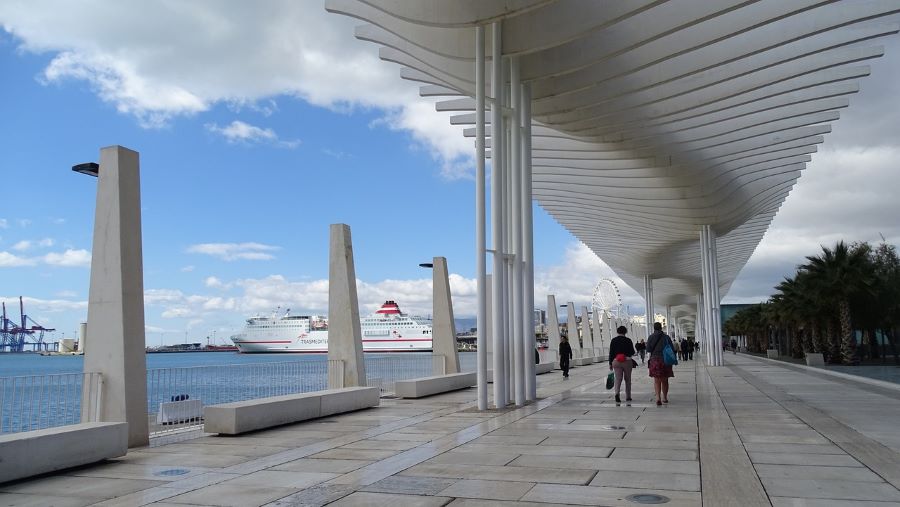 Conclusion to visiting the Malaga Port area
A visit to Malaga Port proved to be an incredible and fun experience while exploring Malaga city. The bustling atmosphere, rich maritime history, and picturesque waterfront views left a lasting impression on him. The seamless operations and delectable seafood at the waterfront restaurants were among the highlights of his trip. Undoubtedly, Malaga Port's blend of tradition and modernity made it a must-visit destination for anyone seeking a captivating experience.
Thanks for checking out this post on Visit Spain and Mediterranean, we hope to inspire you to explore the country through our lens and posts.
Happy Travels!