Gibralfaro Castle, Malaga: A Majestic Fortress with Panoramic Views of the City
Discover the secrets of Gibralfaro Castle, a majestic fortress perched atop the hills of Malaga, Spain. This hidden gem offers more than just a glimpse into history – it provides breathtaking panoramic views of the city below. Join us on an exhilarating journey as we unveil the rich tales of battles and conquests that have shaped this iconic landmark. From its strategic significance to the captivating legends that shroud its walls, Gibralfaro Castle stands as a timeless witness to the city's past. Prepare to be enthralled by the enchanting allure of this ancient citadel, a must-visit destination for any adventurer and history enthusiast.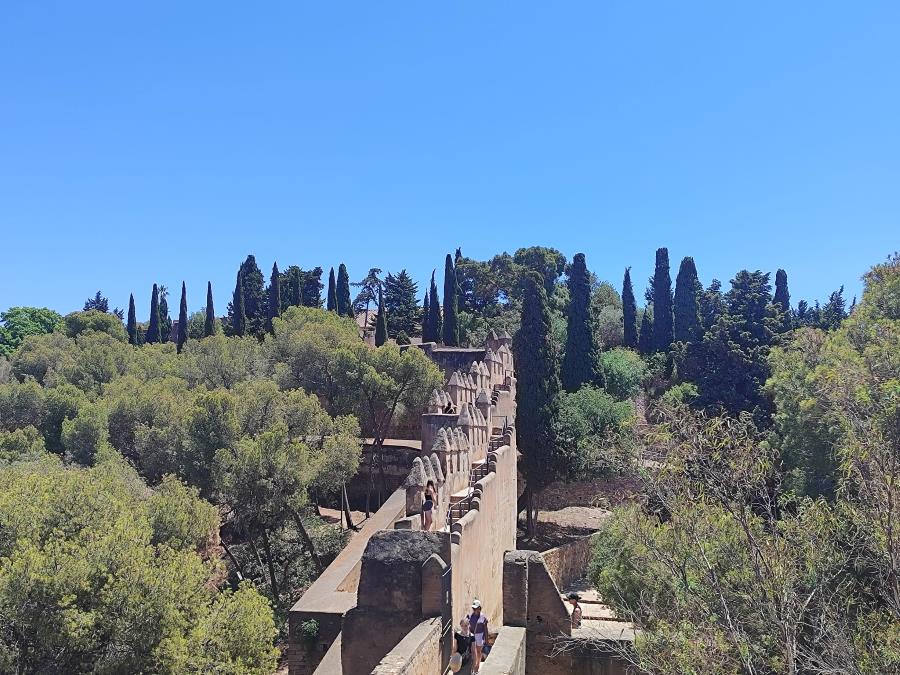 A brief history of Gibralfaro Castle, Malaga
Gibralfaro Castle, located in Malaga, Spain, boasts a fascinating history that spans over a thousand years. The castle's construction dates back to the 10th century during the Muslim rule of Al-Andalus. Its strategic location atop Mount Gibralfaro served as a defensive stronghold and provided commanding views of the surrounding area, including the port and city below.
The name "Gibralfaro" is believed to have Moorish origins, possibly derived from the Arabic words "Jabal" (mountain) and "Faro" (lighthouse), suggesting its function as a beacon or watchtower.
In 1487, the Catholic Monarchs, Ferdinand II of Aragon and Isabella I of Castile, successfully captured the castle after a long siege during the Reconquista, marking the end of Muslim rule in Malaga. The Catholic forces managed to build a ramp to breach the fortress walls, leading to its eventual surrender.
Throughout the centuries, Gibralfaro Castle underwent various renovations and alterations, adapting to changing military strategies and needs. It became a military garrison and later served as a prison during the Spanish Civil War.
Today, Gibralfaro Castle stands as an iconic monument, preserving its historical significance and offering visitors a glimpse into the city's rich past. Travelers can explore the ancient walls, towers, and courtyards, all while enjoying unparalleled panoramic views of Malaga and the Mediterranean Sea. The castle's unique blend of history, strategic importance, and breathtaking scenery makes it a must-visit destination for those seeking to delve into the captivating history of Spain's southern region.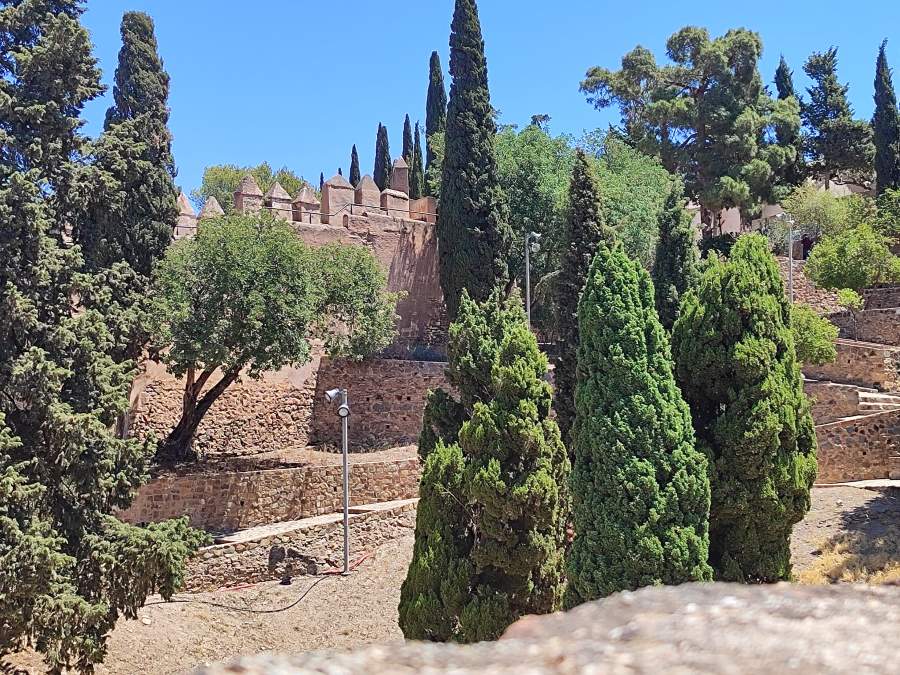 How to get to Gibralfaro Castle from the city center
Getting to Gibralfaro Castle from the city center of Malaga is a straightforward and enjoyable journey. Here are the main ways to reach the castle:
Walking:
Walking to Gibralfaro Castle from the city center is a scenic option for those who enjoy exploring on foot. It's a bit of a uphill climb, but it offers a chance to take in the charming streets and stunning views of the city as you ascend towards the castle.
Public Transportation:
Malaga has a reliable public transportation system that can take you close to Gibralfaro Castle. Here are the options:
Bus: Take the bus to "Paseo del Parque" or "Paseo del Parque-Ayuntamiento" bus stops, which are near the city center and close to the entrance of Gibralfaro Castle. From there, you can walk a short distance to reach the castle's ticket office.
Hop-on Hop-off Tourist Bus: Malaga offers hop-on hop-off tourist buses that make stops at Gibralfaro Castle. This option is convenient if you want to combine your visit to the castle with other attractions around the city.
Taxi:
Taxis are widely available in the city center. You can easily hail a taxi or find a taxi stand, and simply tell the driver that you want to go to Gibralfaro Castle. The ride is relatively short and will take you directly to the castle's entrance.
Once you arrive at Gibralfaro Castle, prepare to be rewarded with stunning panoramic views of Malaga and its surroundings. Take your time to explore the historical walls, towers, and courtyards, and immerse yourself in the rich history and captivating allure of this ancient fortress.

Other attractions to visit close to to Gibralfaro Castle
Close to Gibralfaro Castle, visitors can explore a variety of attractions that add to the overall experience of their visit to Malaga. Here are some nearby points of interest worth exploring:
Alcazaba of Malaga: Located adjacent to Gibralfaro Castle, the Alcazaba is a fortified palace-fortress built during the Muslim rule in the 11th century. Its intricate architecture, beautiful gardens, and impressive views of the city make it a must-visit attraction.
Malaga Park (Parque de Malaga): After touring the castle, take a leisurely stroll through the nearby Malaga Park. This lush green oasis offers a tranquil escape with its fountains, ponds, and sculptures, creating a serene atmosphere for relaxation.
Malaga Roman Theatre: Situated at the base of the Alcazaba, the Roman Theatre is an archaeological site dating back to the 1st century BC. Visitors can admire the well-preserved remains and learn about Malaga's Roman history.
Malaga Port: The lively port area is a short walk from Gibralfaro Castle. Here, you can explore shops, bars, and restaurants while enjoying the picturesque waterfront views.
Malagueta Beach: Take a pleasant stroll from the castle to Malagueta Beach, where you can bask in the sun, swim in the Mediterranean waters, and indulge in delicious seafood dishes at beachfront restaurants.
Mirador de Gibralfaro: For another perspective of the city and the castle, head to the nearby Mirador de Gibralfaro, a viewpoint offering spectacular panoramic views.
Plaza de la Merced: This vibrant square is not far from the castle and is known for its bustling atmosphere, historical significance, and connections to Picasso, as it is close to the artist's birthplace.
Picasso Museum: Located in the city center, the Picasso Museum houses an extensive collection of works by the renowned artist, Pablo Picasso. Art enthusiasts will appreciate the diversity of his artistic journey showcased here.
Exploring these nearby attractions in the vicinity of Gibralfaro Castle allows visitors to delve deeper into the history, culture, and beauty of Malaga. Whether you're interested in history, art, nature, or simply soaking up the ambiance of this charming city, these attractions offer something special for every traveler.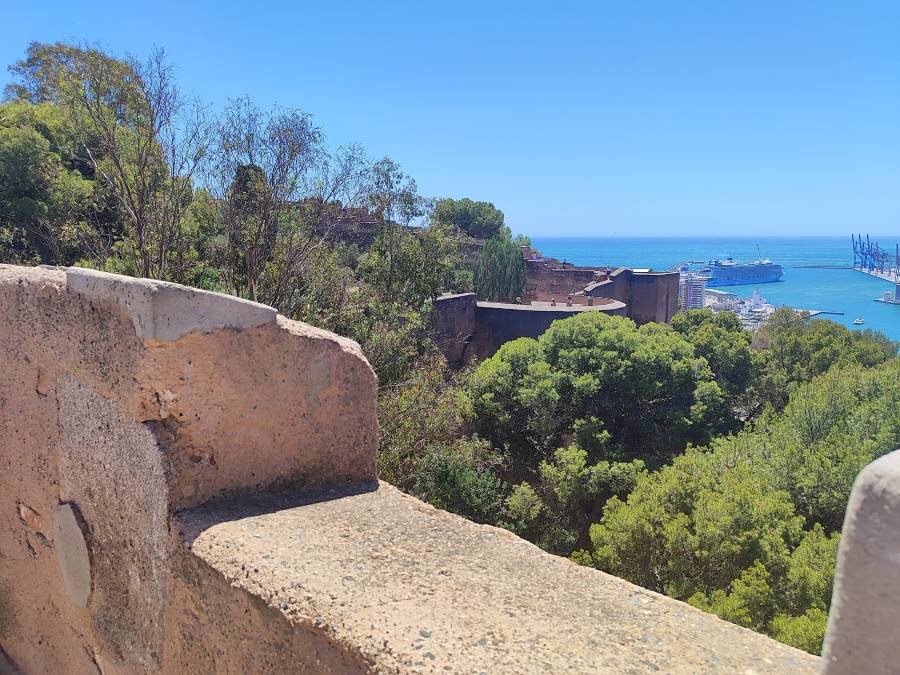 Check out these other posts on visiting Malaga City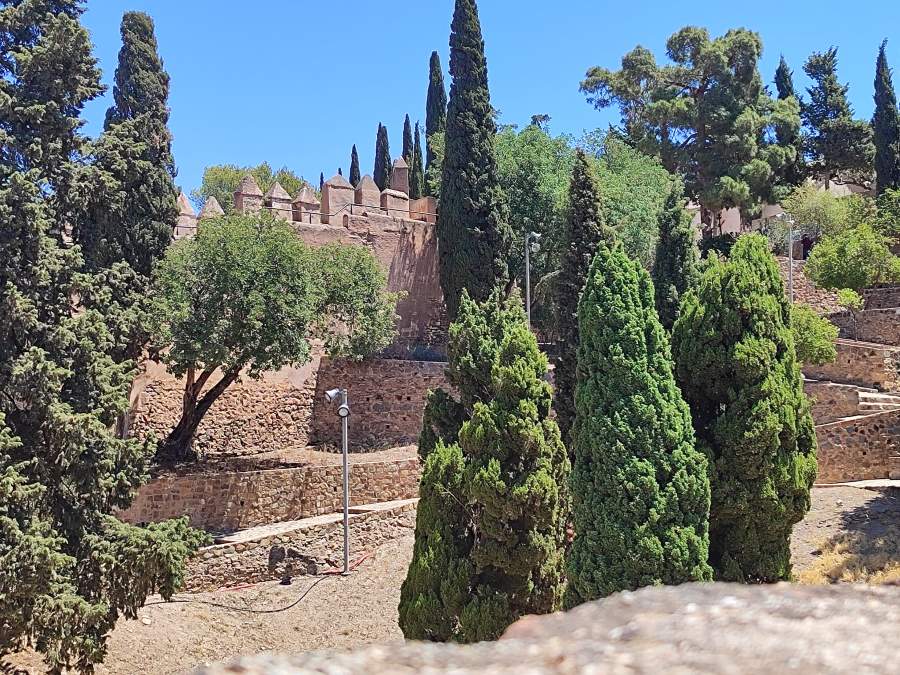 Conclusion to visiting Gibralfaro Castle
Gibralfaro Castle, perched on Mount Gibralfaro in Malaga, offers a captivating journey through time. With its strategic significance and stunning views, this ancient fortress lures travelers seeking history and scenic beauty. Explore well-preserved walls, towers, and courtyards, and discover nearby attractions like the Alcazaba and Malaga Park. From battles of the past to breathtaking panoramas, Gibralfaro Castle leaves an enduring impression, inviting visitors to immerse themselves in the rich heritage of this captivating city.
Thanks for checking out this post on Visit Spain and Mediterranean, we hope to inspire you to explore the country through our lens and posts.
Happy Travels!