Old Town Malaga: Explore the 17 best places and attractions around the city to enjoy.
Are you planning a to the Sunny Costa Del Sol in Spain? Then you will probably fly into the main city of Malaga which in itself is worth a stop and very accessible to tour and see all the popular and historic sites.
The Old Town of Malaga is called Centro Histórico de Málaga. This area is known for its charming narrow streets, historic buildings, cultural attractions, and vibrant atmosphere. It's a popular destination for tourists visiting the city of Malaga, which is located in the Andalusia region of southern Spain. We will share our favorite places to visit and the beautiful attractions to visit around Malaga's historic district that is mostly a walkable part of the city to explore.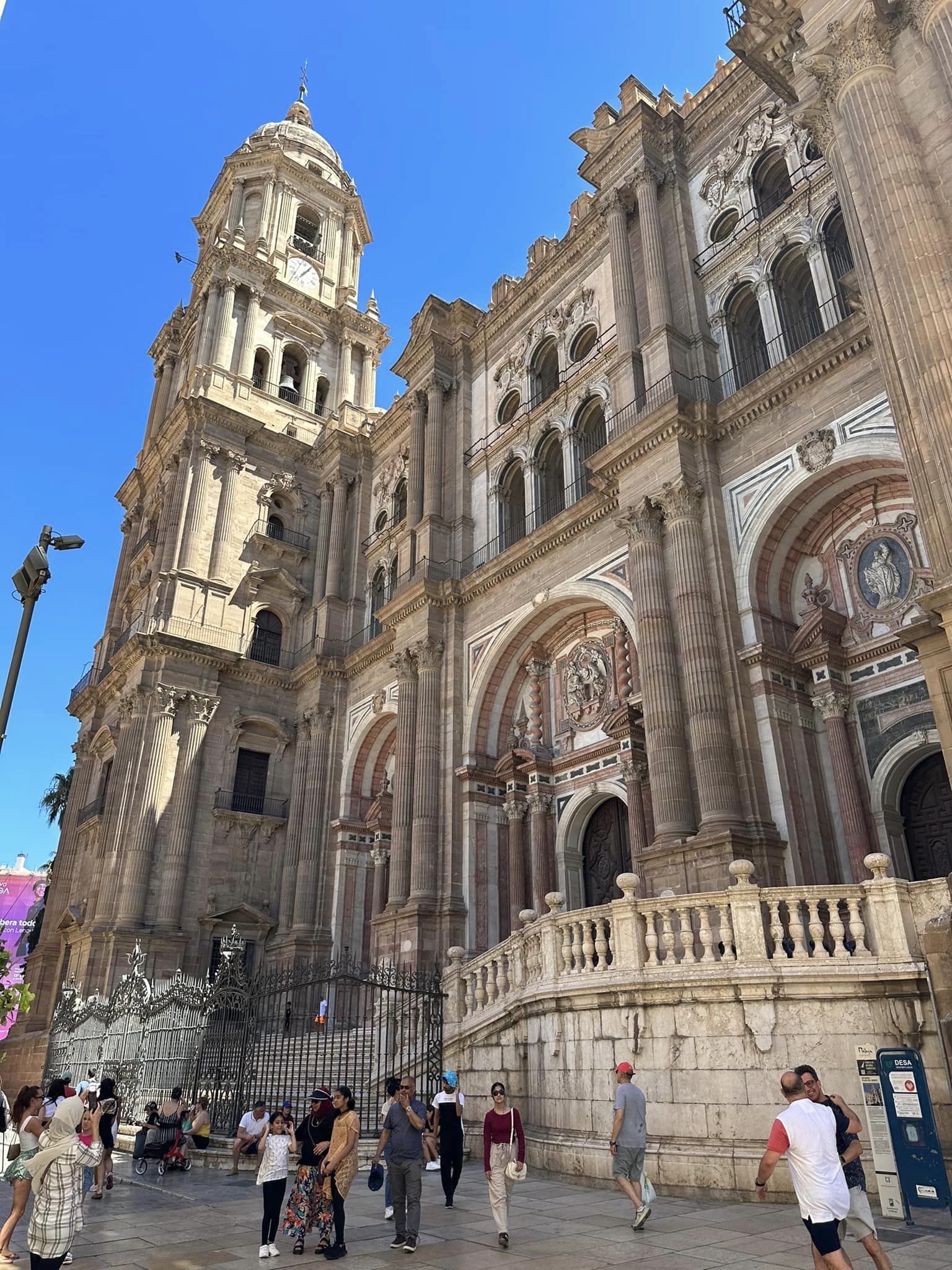 Where is the old town of Malaga city located?
The old town of Malaga city, also known as the "Malaga Old Town" or "Malaga's Historic Center," is located in the heart of the city of Malaga, which is situated in the southern part of Spain. It is a central and historic district that contains many of the city's cultural and historical attractions including the main cathedral, bull ring and the beautiful plazas and shopping arcades to explore. The old town is bordered by the Mediterranean Sea to the south and is characterized by its charming narrow streets, historic architecture, and a rich cultural heritage. It's a must-visit area for tourists exploring the city of Malaga.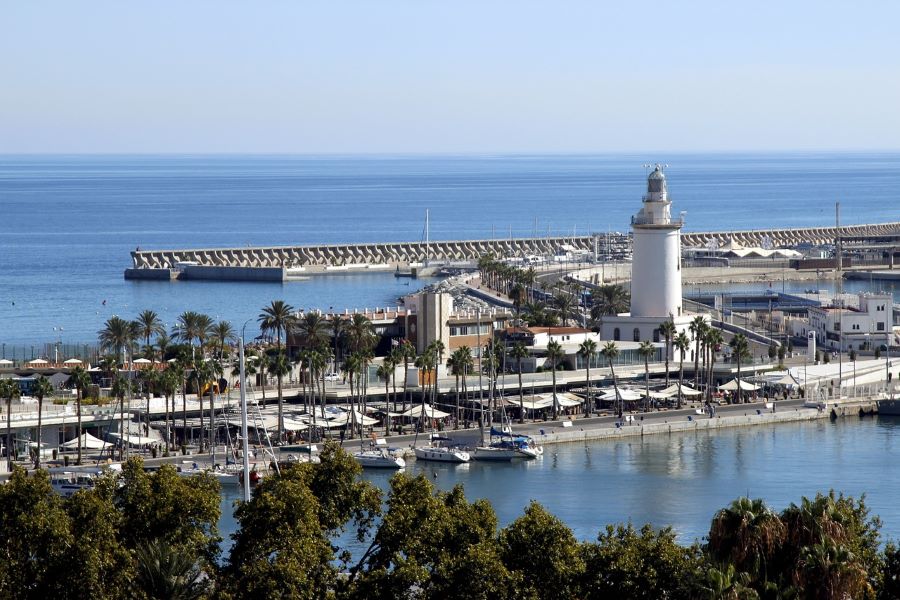 How to get around the old town of Malaga?
The historic district is relatively compact and walkable with easy public transportation by local buses and trains that are in the city. From either station, it is a longer walk to the historic district so you can catch an Uber, taxi or take a local bus to get you to the historic district of Malaga. Once there, most of the attractions, shopping, plazas center around the Malaga Cathedral and the maze of small narrow streets you can walk around.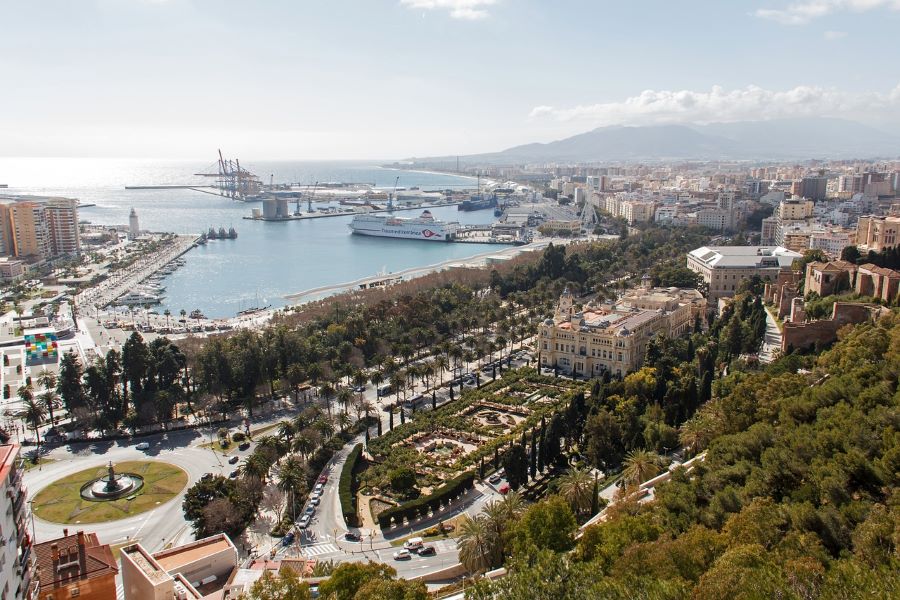 17 best places and attractions around Malaga city
Malaga city offers a wealth of attractions and places to visit, blending its rich history with modern amenities. Here are some of the best places to visit in Malaga: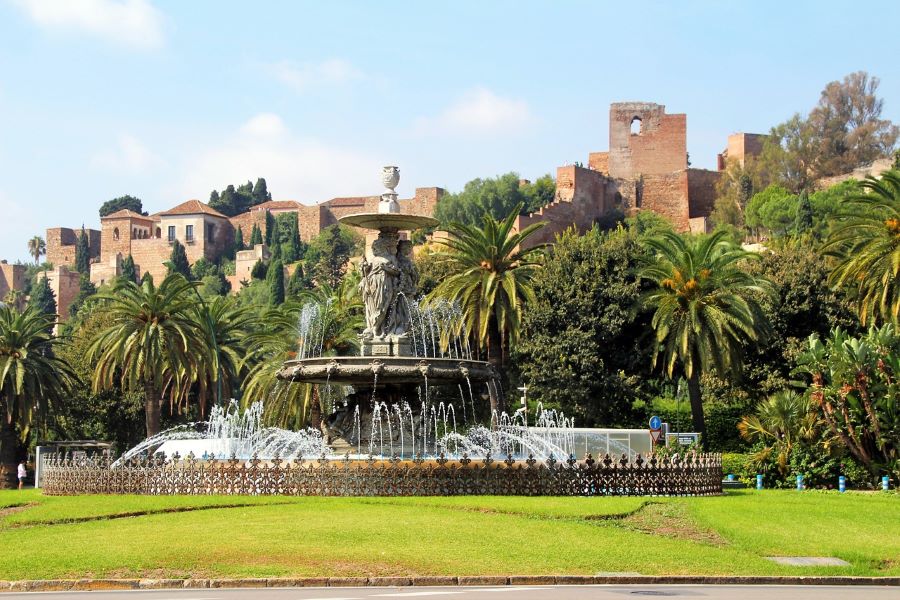 Alcazaba 
Explore the historic fortress from above at the Alcazaba, a well-preserved Moorish fortress. You can hike all the way up to the Gibralfaro Castle and check out the panoramic views around the city and the Mediterranean Sea. Built in the 11th century, it is one of the best-preserved Arab fortresses in Spain. The Alcazaba features beautiful gardens, intricate courtyards, and well-preserved walls and towers. Visitors can explore its historic architecture, including arches, fountains, and ornate details, as well as enjoy panoramic views of the city from its elevated position.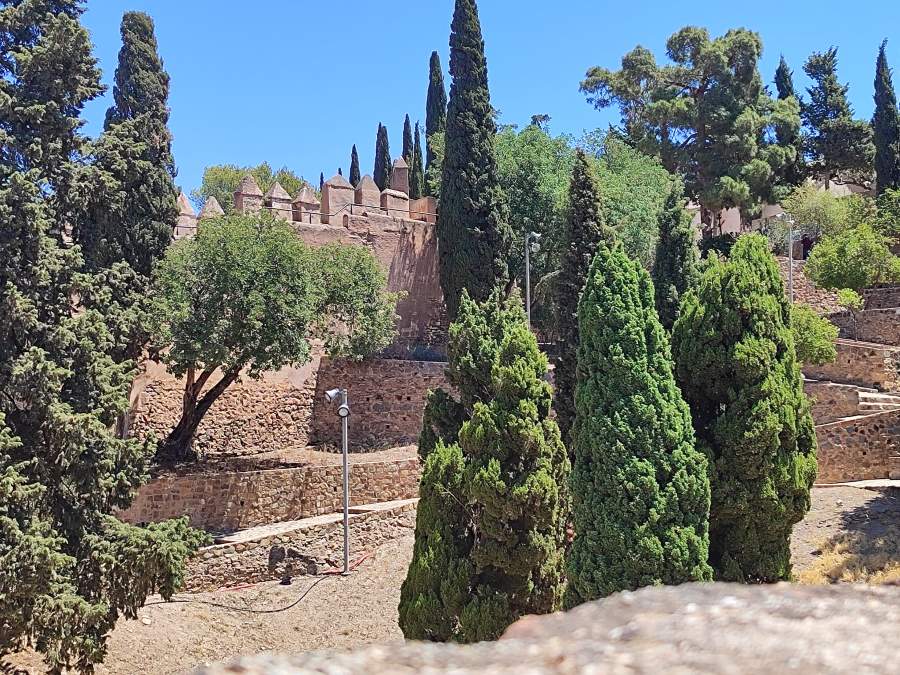 2. Gibralfaro Castle
Gibralfaro Castle is perched on a hill overlooking Malaga and offers breathtaking panoramic views of the city, the Mediterranean Sea, and the surrounding landscapes. Originally constructed in the 14th century as a defensive fortress, the castle is connected to the Alcazaba by a historic pathway. Visitors can explore its sturdy battlements, towers, and walls, while also learning about its history and significance in the region. The hike up to Gibralfaro Castle is a popular activity for those seeking both historical exploration and stunning vistas of Malaga.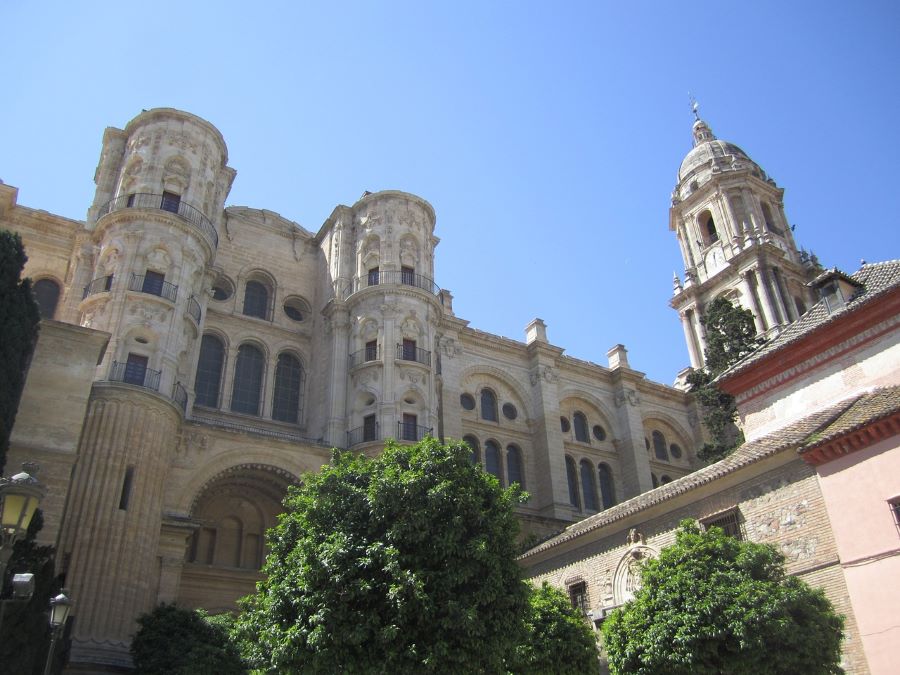 Visit the stunning Malaga Cathedral, also known as La Manquita due to its one unfinished tower. Its interior is equally impressive with ornate chapels and sculptures. This stunning cathedral is known for its unique appearance, with one of its towers remaining unfinished, hence the nickname.
Key features of Malaga Cathedral include its elaborate Renaissance and Baroque architectural style, intricate facades adorned with detailed sculptures, and an opulent interior with ornate chapels, altarpieces, and religious artwork. The cathedral is an iconic symbol of the city and a must-visit attraction for its historical and artistic significance. Visitors can explore its rich history and admire the craftsmanship that went into its construction.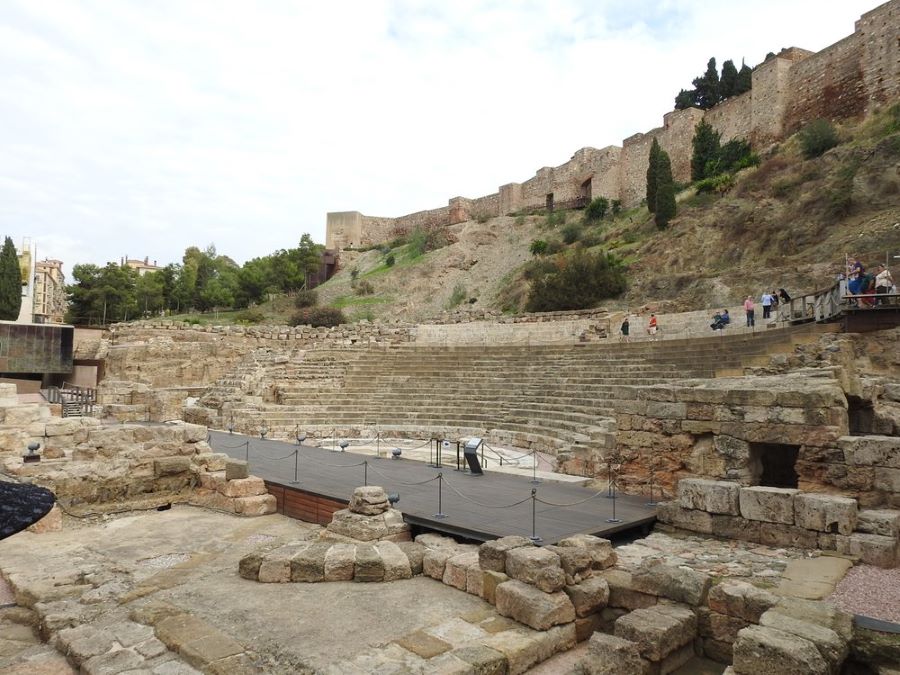 5. Roman Theater: Discover the ancient history of Malaga by visiting the Roman Theater, which dates back to the 1st century BC and is located at the base of the Alcazaba.
Visitors to the Roman Theater can explore its well-preserved ruins, including the seating area, stage, and various architectural elements that provide insights into Roman entertainment and architecture. The theater's historical significance and its connection to the broader history of Malaga make it a fascinating attraction for history enthusiasts and those interested in ancient civilizations.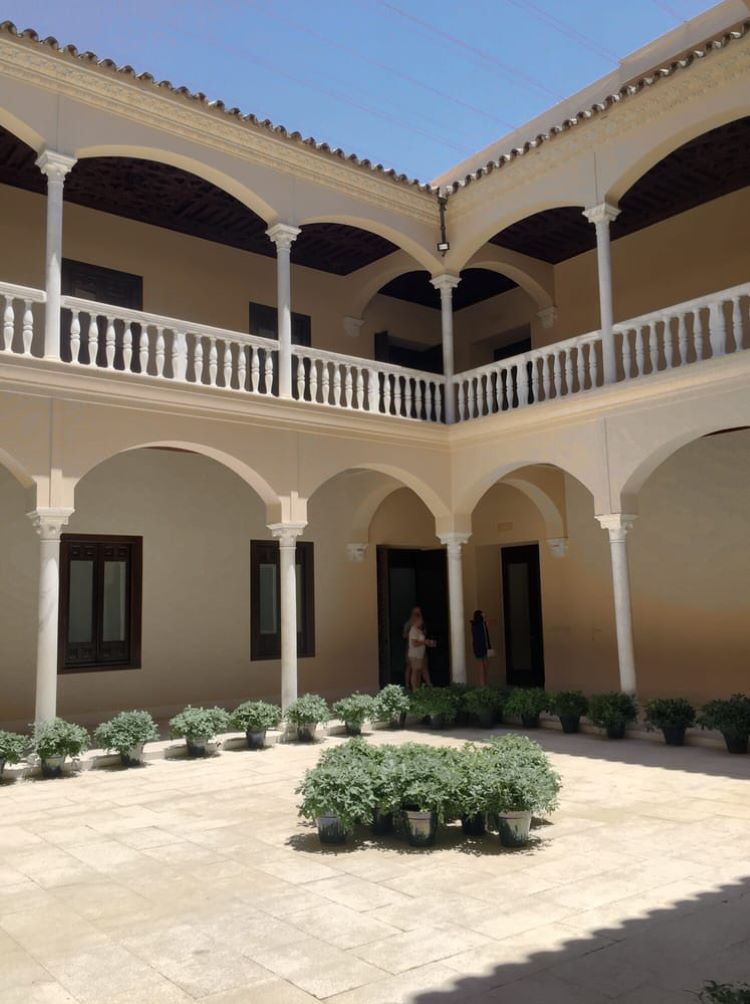 As the birthplace of Pablo Picasso, Malaga is home to a museum dedicated to his life and an extensive collection of his works, including paintings, drawings, and sculptures.
Visitors to the museum can explore the various stages of Picasso's artistic career, from his early years to his later masterpieces. The museum provides valuable insights into Picasso's creative evolution and his deep connection to Malaga, his hometown. It is a must-visit destination for art enthusiasts and anyone interested in the life and legacy of one of the most influential artists of the 20th century.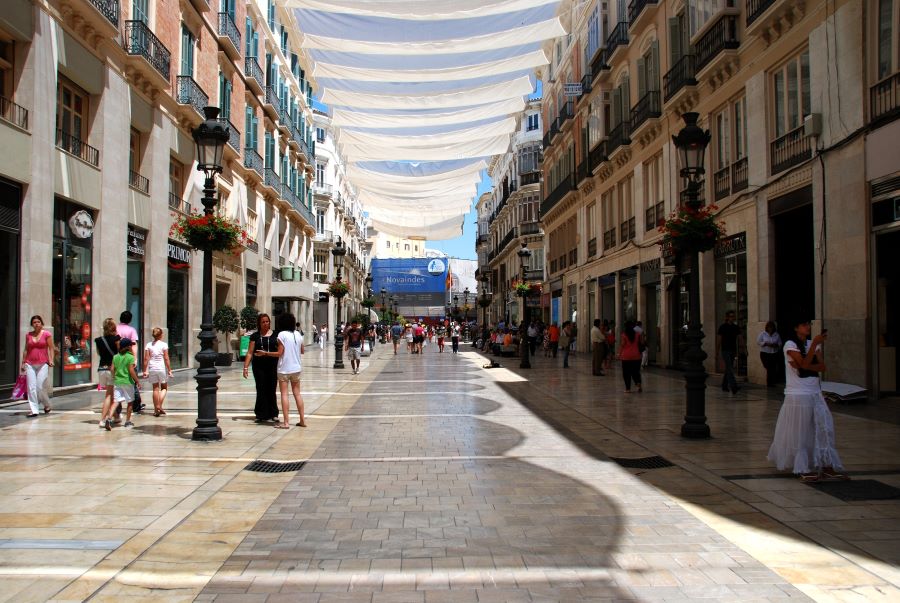 7. Calle Lario
Explore Calle Larios, Malaga's main shopping street, known for its elegant boutiques, cafes, and vibrant atmosphere. It is known for its elegant and pedestrian-friendly design, with charming, wide promenades lined with an array of upscale boutiques, shops, cafes, and restaurants.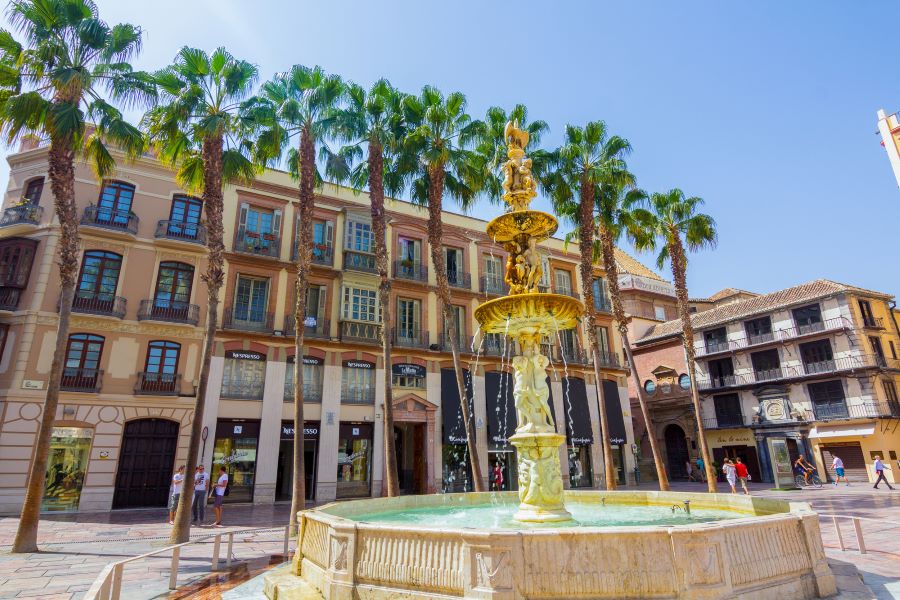 8. Plaza de la Constitution
Plaza de la Constitution, often referred to simply as Constitution Square, is the main square and a central gathering place in the heart of Malaga, Spain. It is located in the historic city center, making it one of the most prominent and bustling spots in the city.
This lively square is known for its charming architecture, including historic buildings with ornate facades, balconies adorned with flowers, and outdoor cafes. It serves as a hub for social and cultural activities, as well as a venue for various events and celebrations.
Plaza de la Constitution is particularly famous for its picturesque Christmas lighting and decorations, which transform it into a magical destination during the holiday season. It is a vibrant and vibrant space where locals and tourists come together to enjoy the lively atmosphere, dine at outdoor restaurants, and soak in the cultural heritage of Malaga's historic center.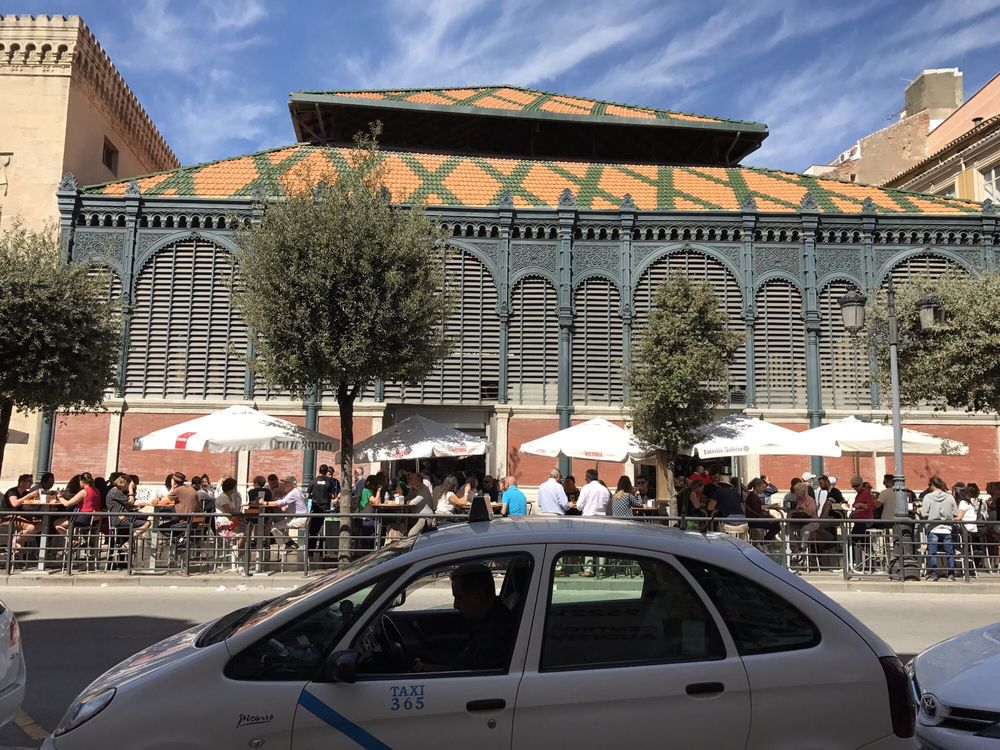 Visit the historic Atarazanas Market, a bustling food market where you can sample fresh seafood, fruits, and local delicacies.
Visitors to Atarazanas Market can explore the stalls operated by local vendors, offering a wide selection of both traditional Spanish and international foods. It's an ideal place to sample local delicacies, shop for fresh ingredients, or simply immerse yourself in the local culinary culture. The market reflects the rich gastronomic traditions of Malaga and is a must-visit for food enthusiasts.
10. Malaga Park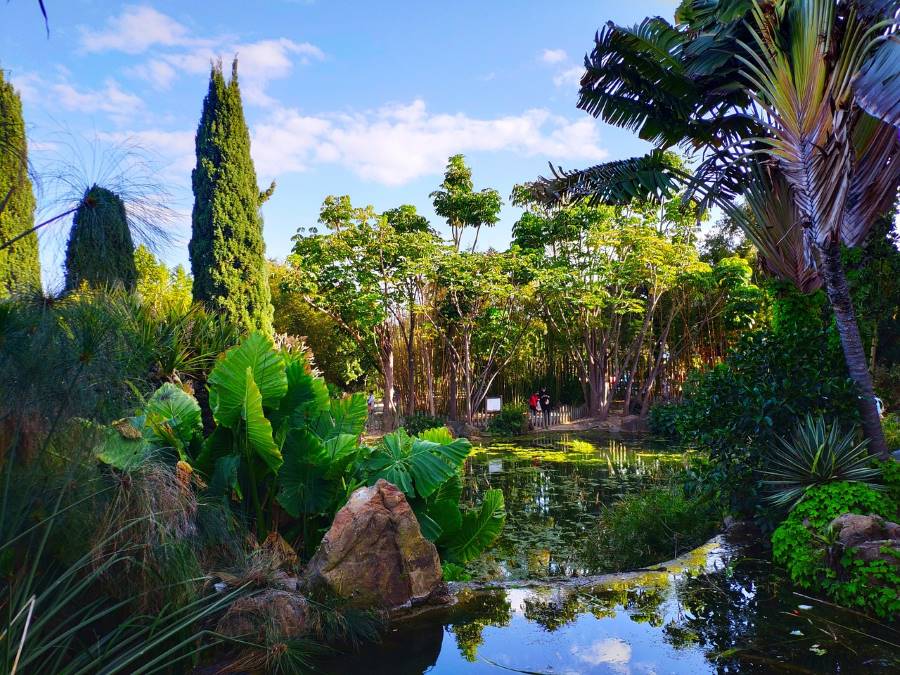 Stroll through the beautiful Malaga Park (Parque de Malaga), a lush green space featuring fountains, sculptures, and tropical gardens.
Key features of Malaga Park include lush gardens, shaded pathways, ornate fountains, and a central promenade lined with palm trees. Visitors can stroll along its meandering paths, enjoy picnics on the lawns, or simply unwind in the serene ambiance of the park. The park also offers views of the port and the Mediterranean Sea, making it a delightful spot for a leisurely walk or a peaceful retreat in the midst of the city.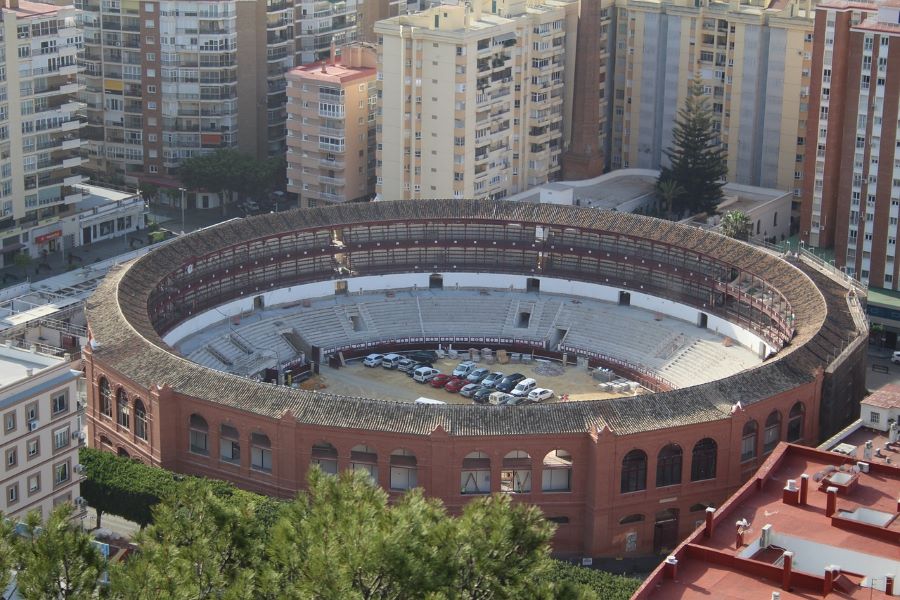 11. Bullring and Bullfighting Museum
Explore the Plaza de Toros de la Malagueta and the adjacent Bullfighting Museum to learn about this controversial tradition in Spain. Located in the Plaza de Toros de la Malagueta, this historic bullring offers a unique opportunity to explore the art, history, and significance of bullfighting in Spanish culture.
Visitors to the Bullring and Bullfighting Museum can tour the facilities, including the bullring itself, and gain insights into the various aspects of bullfighting, such as the matadors, the bulls, and the ritualistic performances. The museum also houses a collection of bullfighting memorabilia, costumes, and artwork related to this controversial and deeply ingrained Spanish tradition, making it an educational and thought-provoking experience for those interested in Spanish culture and history.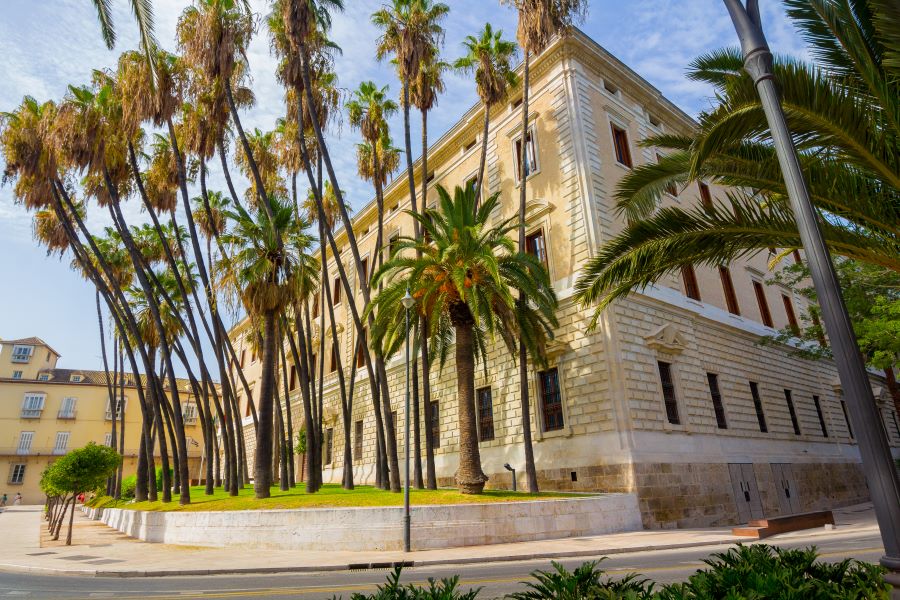 12. Aduana Palace
The Aduana Palace, also known as the Customs Palace or Palacio de la Aduana in Spanish, is a neoclassical architectural gem located in the heart of Malaga, Spain. It occupies a prominent position in the city center, overlooking the port of Malaga.
This historic palace was constructed in the 18th century and has served various purposes throughout its history, including as a customs house and a government building. Today, it houses the Malaga Museum, which showcases a wide range of art and historical exhibitions, providing insights into the rich cultural heritage of Malaga and the surrounding region.
13. La Concepción Botanical and Historical Garden
Enjoy the peaceful ambiance of this botanical garden, known for its exotic plant collections and historical significance.
The garden is celebrated for its lush and diverse plant collections, including exotic tropical and subtropical species from around the world. Established in the 19th century, it offers a captivating blend of botanical exploration and historical significance, with meandering paths, water features, and stunning landscapes. Visitors can immerse themselves in the natural beauty of the garden while learning about its rich heritage, making it a wonderful destination for nature enthusiasts and history lovers alike.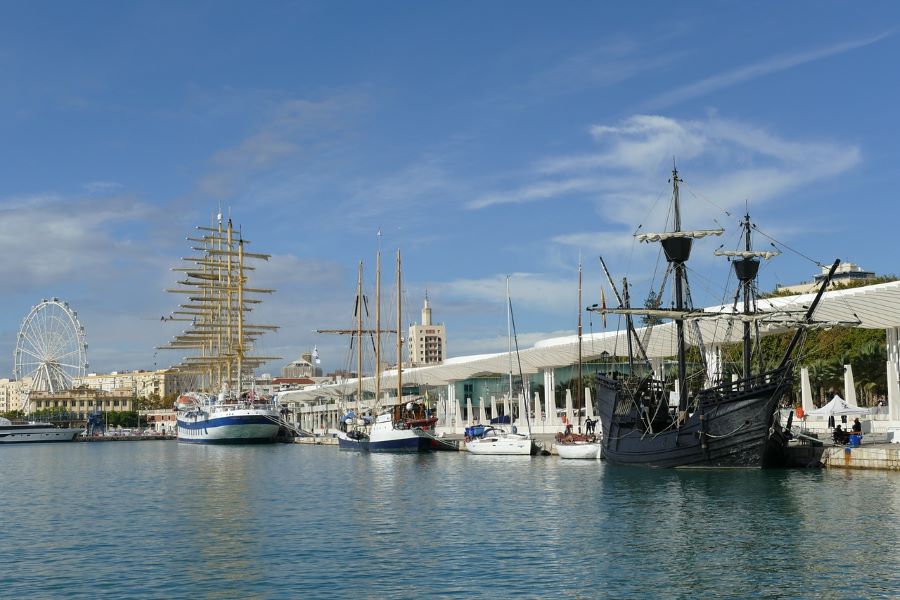 14. Muelle Uno
This modern waterfront shopping and dining complex offers a pleasant place to relax by the harbor, with shops, restaurants, and scenic views. Located in the port / harbor area of Malaga, this is a wonderful place to find some cool shops, eateries and enjoy the views or walk along the promenade waterfront areas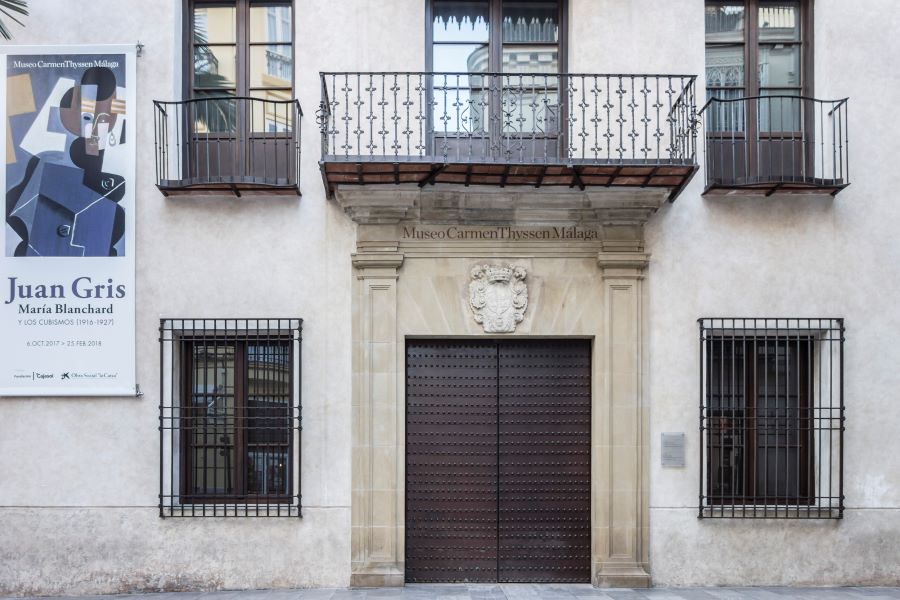 The Museo Carmen Thyssen, also known as the Carmen Thyssen Museum in English, is an art museum situated in the heart of Malaga, Spain. It is located on the historic Calle Compañía, near the city's main attractions and cultural sites.
This museum houses the Carmen Thyssen-Bornemisza Collection, which features a remarkable array of 19th-century Spanish art. Visitors to the museum can explore a diverse collection of paintings, including landscapes, regional scenes, portraits, and genre paintings. The artworks on display offer a comprehensive overview of Spanish art from the 19th century, showcasing the evolution of artistic styles and themes during this period.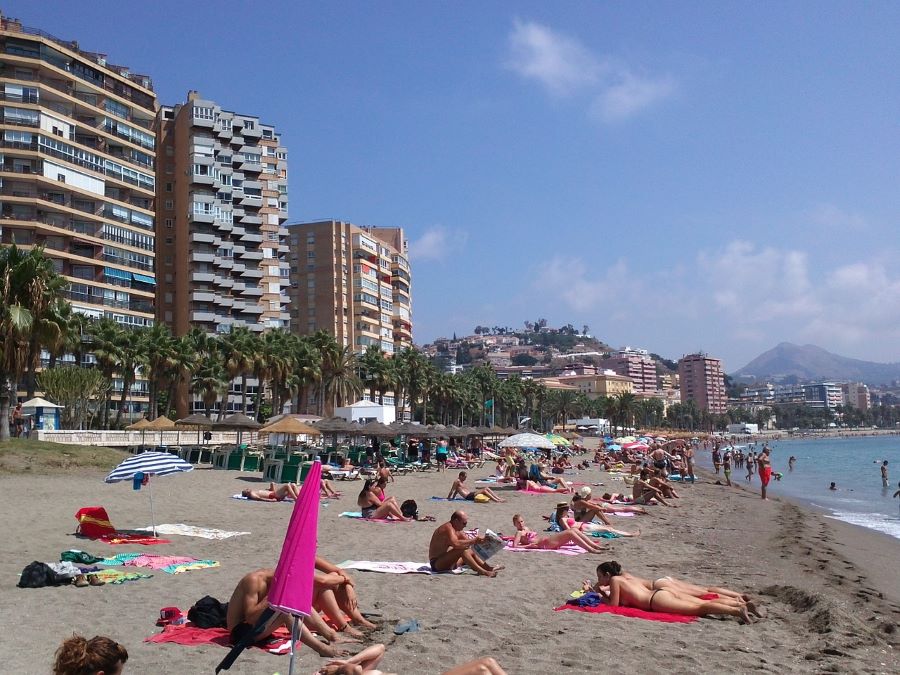 16, Malaga Beaches
You can spend some time at the city's popular beaches, such as Playa de la Malagueta, for sunbathing, swimming, and water sports. It's a fun and relaxing day on the beach or walk along the promenades and grab a bite along the way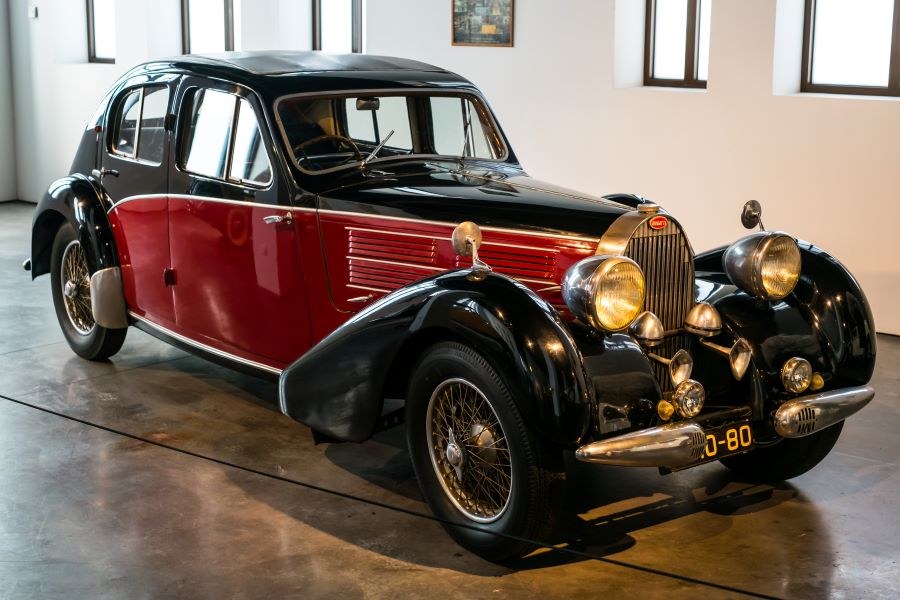 17. Automobile and Fashion Museum
Car enthusiasts will appreciate the impressive collection of vintage cars, while the fashion museum showcases haute couture and clothing from various eras. . It is situated in the heart of the city, making it easily accessible to visitors.
This unique museum showcases a remarkable collection of vintage cars, including rare and iconic automobiles from different eras. Car enthusiasts can admire the craftsmanship and design of these vehicles, which represent the evolution of automotive engineering and style.
In addition to the automotive section, the museum boasts a fashion museum that displays a wide range of clothing, accessories, and haute couture items from various periods in history. It offers a glimpse into the world of fashion and how it has evolved over time.
Malaga offers a diverse range of attractions, catering to history buffs, art enthusiasts, foodies, and beach lovers. It's a city that beautifully combines its ancient heritage with a modern, vibrant atmosphere, making it a captivating destination in southern Spain.
More inside tips to visiting Malaga City and the "Local Spots"
Exploring Malaga City beyond the main attractions can lead to delightful discoveries and a deeper appreciation of the city's authentic culture. Here are some insider tips for experiencing the local life and hidden gems in Malaga:
El Palo and Pedregalejo Beaches: These charming neighborhoods offer a more relaxed beach experience compared to the crowded Malagueta Beach. Enjoy fresh seafood at local chiringuitos (beachside restaurants) and experience the true coastal lifestyle.
SoHo District: Malaga's emerging arts district, known as SoHo, is home to vibrant street art, galleries, and cultural events. Stroll through its streets to discover urban art and creativity.
Mercado de la Merced: Visit this bustling local market for a taste of authentic Malaga. You'll find fresh produce, seafood, cheeses, and tapas stalls, making it an excellent place to sample local cuisine.
**Atico: **For panoramic views of the city, head to the rooftop bar at the AC Hotel Malaga Palacio. Sip on cocktails while taking in breathtaking vistas of Malaga and the Mediterranean Sea.
Teatro Cervantes: Check the schedule for events at Teatro Cervantes, Malaga's historic theater. It hosts concerts, ballets, and theatrical performances, providing a unique cultural experience.
El Jardín de Cervantes: Located near the Roman Theater, this serene garden offers a peaceful escape from the city's hustle and bustle. It's a hidden oasis where you can relax and enjoy some quiet time.
Bodega El Pimpi: A famous local haunt, Bodega El Pimpi is a traditional wine bar known for its Andalusian charm and live music. Try local wines and tapas in a historic setting.
Antigua Casa de Guardia: Visit this historic wine bar, founded in 1840, for a taste of Malaga's sweet wines. It's an authentic experience, and the wines are served straight from the barrels.
Montes de Malaga: Take a short drive or bus ride to the Montes de Malaga Natural Park. Here, you can explore hiking trails, enjoy a picnic, and immerse yourself in the scenic beauty of the surrounding hills and forests.
El Rincón de la Victoria: A coastal town just east of Malaga, El Rincón de la Victoria offers beautiful beaches, historic caves, and a quieter atmosphere. It's an excellent day trip option.
Exploring these off-the-beaten-path spots and experiencing local traditions will allow you to discover the true essence of Malaga and its rich cultural heritage. Don't be afraid to venture beyond the tourist areas to uncover these hidden treasures.
Check out these other Malaga articles for information
Specialty foods of Malaga, Spain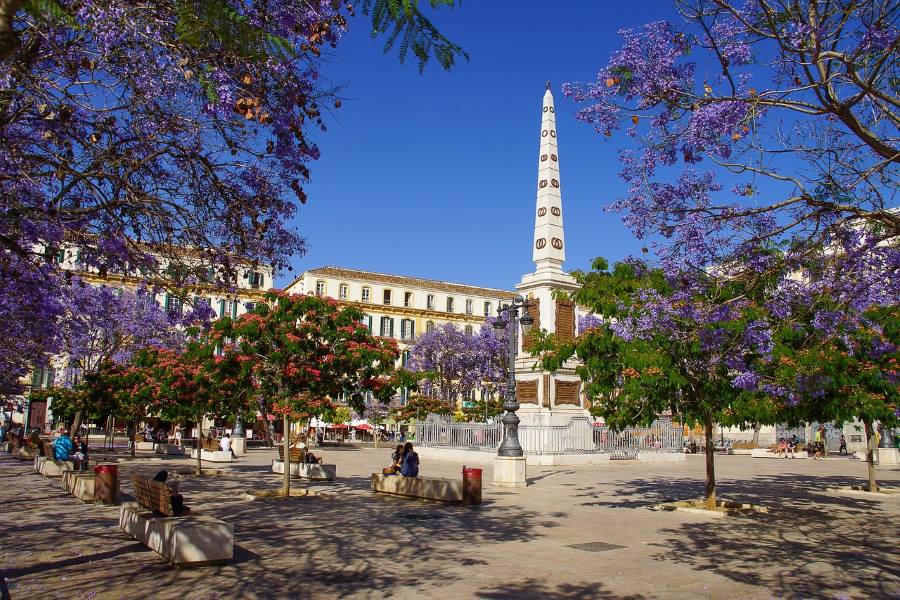 Conclusion to visiting Old Town Malaga
Visiting Old Town Malaga is like stepping into a living tapestry of history and culture. This charming district, with its narrow cobblestone streets, historic buildings, and vibrant atmosphere, offers a rich and immersive experience that showcases the soul of the city.
As you explore Old Town Malaga, you'll encounter a myriad of attractions, from the iconic Alcazaba and Gibralfaro Castle to the captivating Picasso Museum. You'll have the chance to savor traditional Andalusian cuisine at local tapas bars, stroll through picturesque plazas, and admire the intricate architecture of Malaga Cathedral.
Beyond the main attractions, Old Town Malaga unveils its own secrets, from hidden courtyards to bustling markets, providing a sense of authenticity and local life. The warmth and friendliness of the people here invite you to connect with the city's cultural heritage.
Thanks for checking out this post on Visiting Spain and Mediterranean, please come back again for other travels around Spain.