Cádiz in Andalusia Spain: A visit to this historic city along the Costa Del Sol
The historic city of Cádiz is located in the southern part of Spain, situated within the Andalusia region, just below Seville. It is interestingly not frequently sought after by international tourists, which gives it a unique atmosphere distinct from the bustling tourist hotspots often encountered in Spain. During our extensive month-long journey across Spain, we chose to explore Cádiz. Our decision proved to be incredibly rewarding, as Cádiz offers a notably more relaxed ambiance. The city is characterized by fewer crowds and a smaller population, instantly inducing a sense of relaxation. We highly recommend opting for accommodations in the "old town" section of the sand spit peninsula that forms Cádiz. Coincidentally, this is where you'll discover most of the attractions mentioned in the upcoming list. Continue reading for a compilation of 10 activities to partake in while in Cádiz, and you'll undoubtedly uncover well beyond 10 reasons to develop an affection for this tranquil, charming coastal town.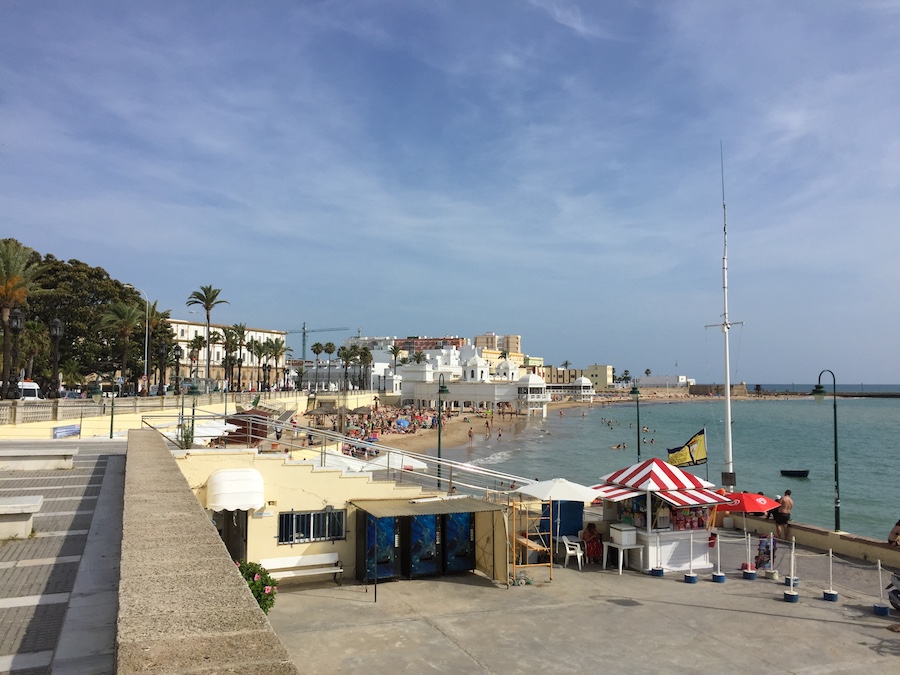 A brief history of Cadiz in Andalusia
Certainly, here's a brief history of Cádiz in Andalusia:
Cádiz, located in the Andalusia region of southern Spain, boasts a rich and intriguing history. Its origins trace back to around 1100 BC when it was established by the Phoenicians, making it one of the oldest continuously inhabited cities in Europe.
Over the centuries, Cádiz flourished as a vital port and trading hub due to its strategic location along maritime routes. It fell under the influence of various civilizations, including the Carthaginians, Romans, and Moors, each leaving their mark on the city's architecture and culture.
In 1262, Cádiz was captured by King Alfonso X of Castile, marking its integration into the Christian Kingdom of Spain. The subsequent Age of Exploration brought newfound prominence to the city, as it became a crucial departure point for Spanish explorers like Columbus on his second voyage to the Americas.
During the 18th century, Cádiz played a pivotal role in Spain's fight against Napoleon's forces. The city served as a temporary Spanish capital and hosted the Cortes of Cádiz, which drafted the liberal Spanish Constitution of 1812.
In the modern era, Cádiz continued to evolve as a bustling port and maritime center. Its historic significance, combined with its unique charm and cultural heritage, make it a captivating destination for both history enthusiasts and travelers seeking a glimpse into Spain's past.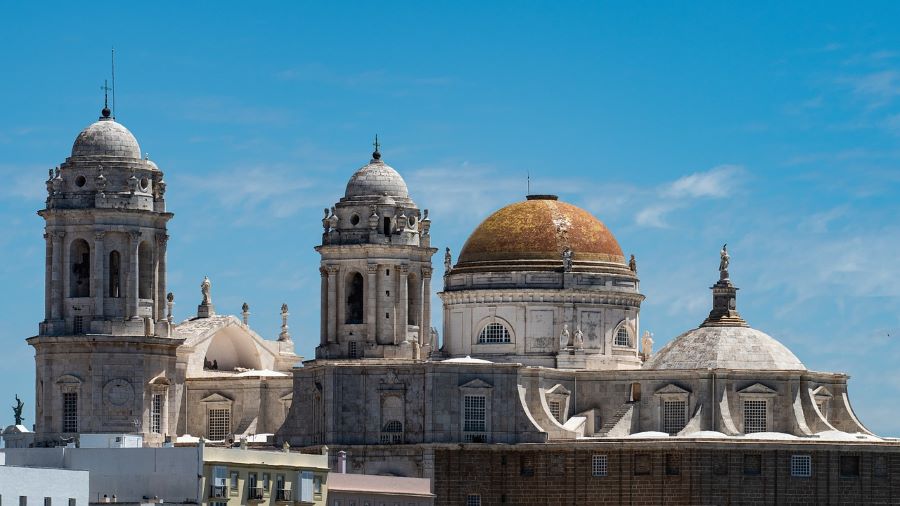 Weather and best time to visit Cadiz, Spain
Cádiz, Spain, experiences a Mediterranean climate characterized by mild, wet winters and warm, dry summers. The city's coastal location also moderates temperature extremes, providing pleasant conditions for much of the year.
The best time to visit Cádiz is during the shoulder seasons of spring (March to May) and fall (September to November). During these periods, the weather is typically comfortable, with temperatures ranging from around 15°C to 25°C (59°F to 77°F). The tourist crowds are generally smaller than in the peak summer months, allowing for a more relaxed experience while exploring the city's attractions.
Summer (June to August) is the peak tourist season in Cádiz, as well as in many coastal areas of Spain. While the weather remains warm and sunny, with temperatures often reaching the high 20s to low 30s°C (mid-80s to mid-90s°F), it can get quite crowded. If you prefer the lively atmosphere of beach towns during peak summer and enjoy the warmest water temperatures for swimming, this might be the time for you.
Winter (December to February) in Cádiz is mild compared to many other parts of Europe, with temperatures ranging from around 10°C to 15°C (50°F to 59°F). Rainfall is more frequent during this time, but it's still possible to enjoy the city's attractions and cultural offerings without the crowds.
In summary, the ideal time to visit Cádiz is during the spring and fall when the weather is pleasant and the tourist crowds are more manageable. However, Cádiz's coastal charm and relatively mild climate make it a year-round destination for those who appreciate its unique ambiance in different seasons.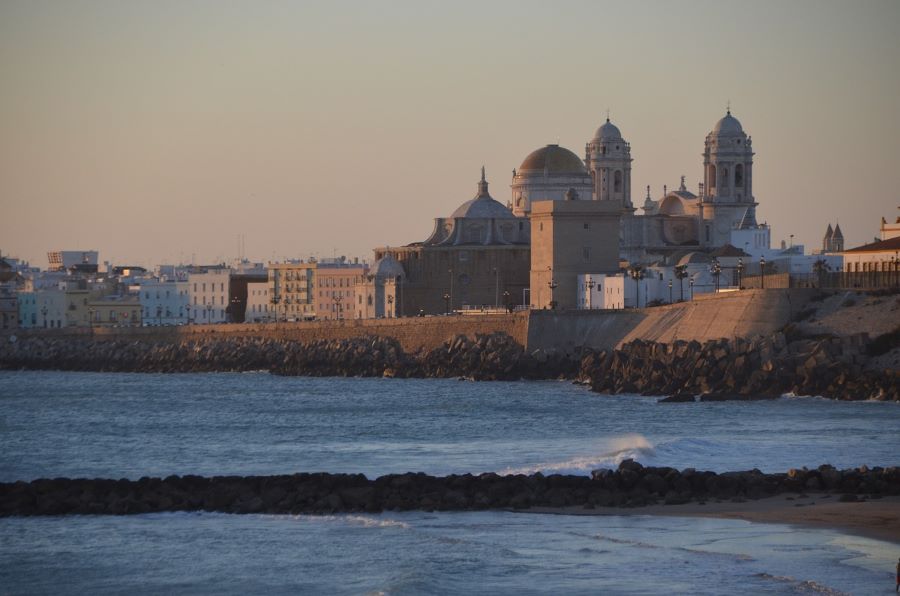 Cádiz Playa (Beaches)
Cádiz finds itself enveloped on all sides by stretches of sandy coastline, making it no surprise that the city is abundantly endowed with a plethora of exceptional beaches. Our foremost recommendation undoubtedly points to Playa La Caleta. This shoreline gracefully skirts the historical confines of Cádiz's old town and historically served as a natural harbor for civilizations spanning millennia. What we found particularly appealing about Playa La Caleta was its dual nature – bustling and lively, yet maintaining an uncrowded ambiance. With Cádiz basking in an average of 8-12 hours of daily sunshine year-round (excluding winter), beach enthusiasts linger along the sands well into the twilight hours.
Within Cádiz's domain, an assemblage of 83 distinct beaches awaits exploration. Among these, Playa la Victoria garners distinction as an EU Environmentally Certified haven, while Playa Tarifa beckons the kitesurfing aficionados. We are confident that Cádiz caters to an array of beach preferences. With the generous tally of 83 beaches awaiting discovery, we suggest packing a sustainable backpack and filling it with essentials to ensure sustained energy for traversing this extensive expanse of coastal beauty.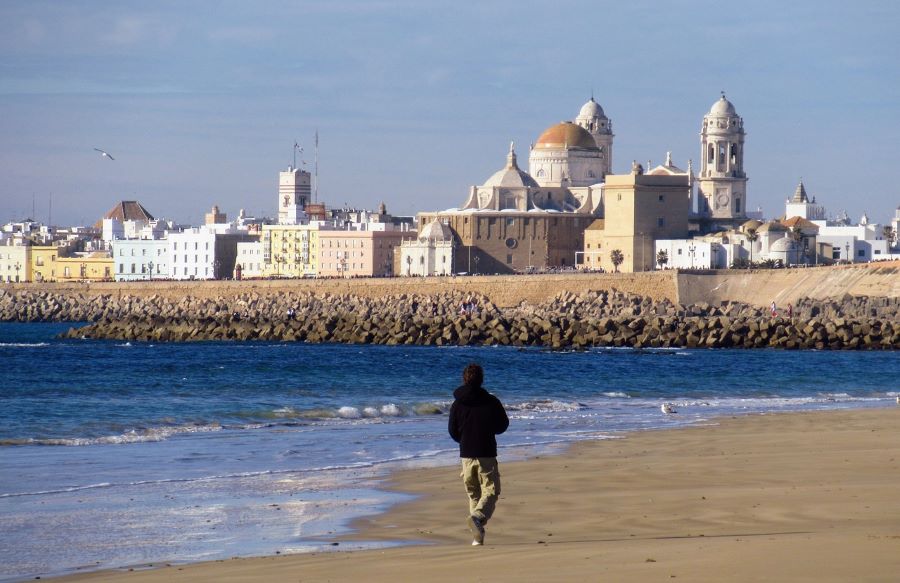 Visit Cadiz Old Town
Exploring Cadiz's Old Town is like stepping into a living tapestry of history and culture. The labyrinthine streets, steeped in stories from ages past, invite you to discover a wealth of enchanting attractions.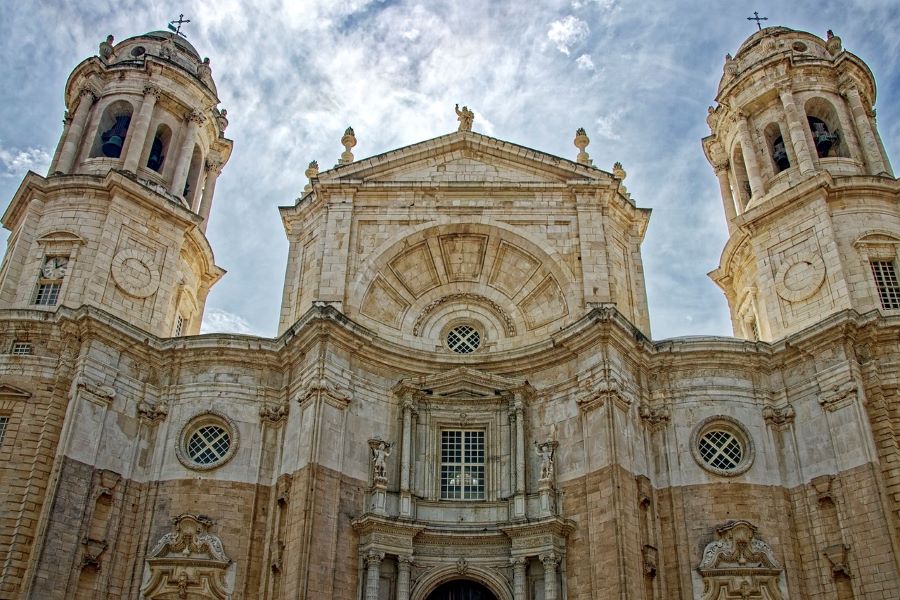 Cathedral of Cadiz (Catedral de Cádiz): This iconic cathedral stands as a masterpiece of Baroque and Neoclassical architecture. Its golden dome is a city landmark, and its interior boasts intricate details and stunning views from the tower.
Plaza de las Flores: A picturesque square lined with colorful flower stalls, this plaza exudes a vibrant atmosphere. It's a great spot to soak in the local scene, enjoy a coffee, or simply people-watch.
Tavira Tower (Torre Tavira): Offering panoramic views of the city, the tower was historically used to spot ships approaching the harbor. Experience the Camera Obscura, a unique optical device that projects live images of the city onto a concave surface.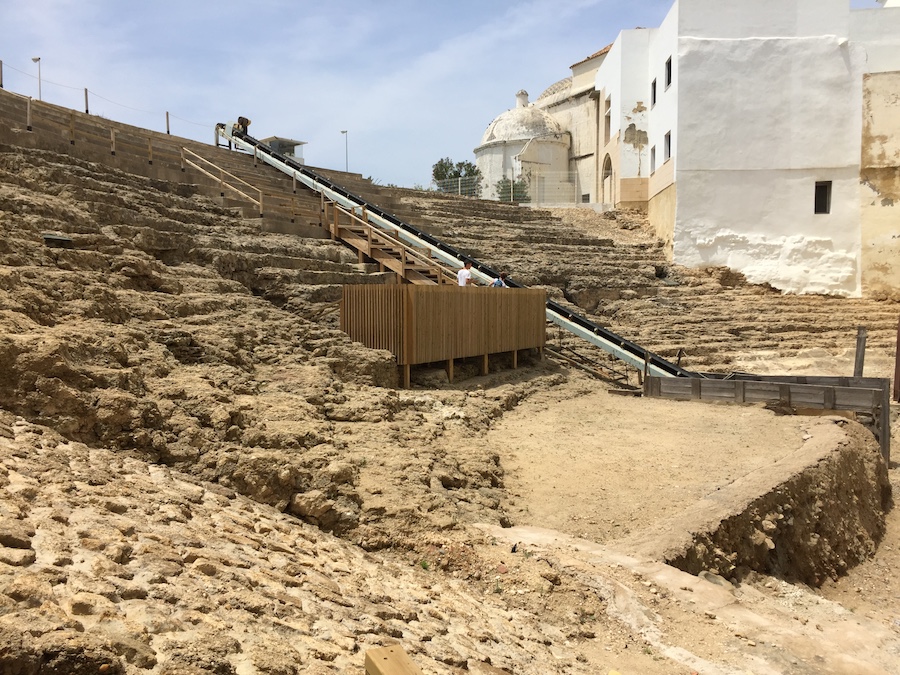 Roman Theater (Teatro Romano): Delve into ancient history at the Roman Theater ruins, a testament to Cadiz's past as a Roman settlement. The site showcases the remains of a grand theater that once entertained audiences centuries ago.
Oratorio de la Santa Cueva: This unique chapel features a circular design and neoclassical style. It houses a collection of religious art and offers a serene space for contemplation.
La Viña Neighborhood: A charming district within the Old Town, La Viña is known for its narrow streets, traditional fisherman's houses, and vibrant local culture. It's also a great area to enjoy seafood in local eateries.
Cadiz City Hall (Ayuntamiento de Cádiz): Admire the stunning facade of the City Hall, a grand building that exemplifies the city's architectural splendor.
San Juan de Dios Square: A lively square surrounded by cafes and shops, perfect for relaxing and enjoying the Cadiz way of life.
Cadiz Museum (Museo de Cádiz): Immerse yourself in Cadiz's history through a diverse collection of art, artifacts, and archaeological finds. It offers insight into the city's Phoenician, Roman, and Moorish past.
Central Market (Mercado Central): Discover the heart of local cuisine at this bustling market, where you can find fresh produce, seafood, and traditional products.
Navigating Cadiz's Old Town is an enchanting journey, each corner revealing a piece of its storied past. With its architectural splendor, vibrant plazas, and a blend of historical and contemporary charm, the Old Town invites you to immerse yourself in the soul of Cadiz.
Here's a virtual walk through of the old town of Cadiz
Visit the Castle of San Sebastian
Nestled by the beach yet intricately woven into Cádiz's historical fabric is the Castle of San Sebastián. This military stronghold, dating back to 1706, graces a petite island situated approximately one kilometer from the shores of La Caleta. Since 1860, a broad causeway has connected the castle to the mainland, a path over which the high tide's spray still lightly kisses those who venture forth to explore the fortress. The stroll itself augments a leisurely promenade or a brisk daily jog, and for history enthusiasts, the fortress's interior beckons. Its grounds, accessible to visitors from 9:30 AM to 5:30 PM daily, offer a captivating glimpse into the past.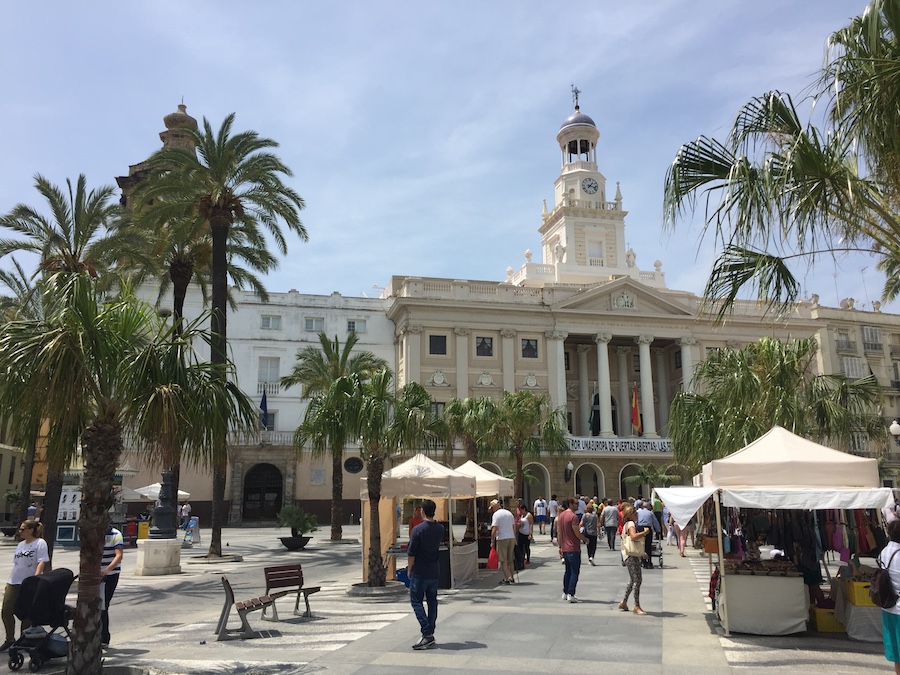 Hang out in Cadiz plazas or public squares
Apart from its 83 beaches, Cádiz also boasts an array of charming squares, at least ten of which consistently appear on must-visit lists around the city. To explore the old town, we devised a walking route that connected one plaza to the next, offering convenient respites for moments of fatigue, heat, or thirst. These squares provide idyllic settings for leisurely meals and refreshing drinks, perfect for whiled-away languid afternoons.
Many of them are adorned with al fresco establishments along their perimeters or tucked away on adjacent side streets. Among our favorites was Plaza de Flores, adorned with a vibrant flower market at its heart. Meanwhile, Plaza Candelaria cast a spell with its delightful assortment of shade-providing trees, and its benches served as a gathering spot for spirited discussions among Cádiz's seasoned residents along the shaded walkways.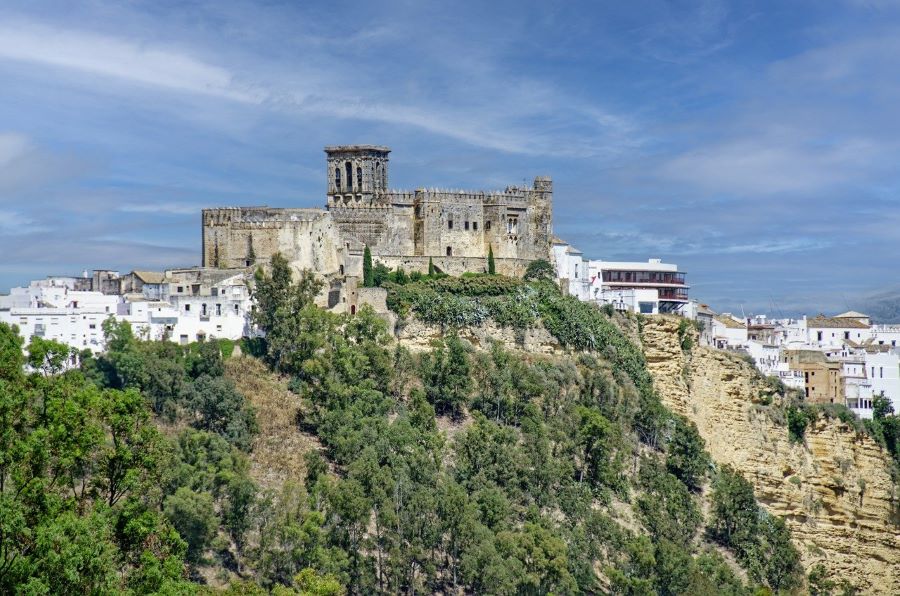 Check out these other places to visit in Andalusia
Here are some other nearby places to consider visiting around Cádiz:
Jerez de la Frontera: Located just inland from Cádiz, Jerez is renowned for its sherry wine production and equestrian traditions. Explore historic bodegas, witness impressive equestrian performances, and immerse yourself in Andalusian culture.
Puerto de Santa María: This coastal town offers beautiful beaches, seafood delights, and a charming historic center. It's another great spot to enjoy the coastal atmosphere and indulge in local cuisine.
Tarifa: Known as the wind and kitesurfing capital of Europe, Tarifa is located at the southernmost point of mainland Spain. Its vibrant energy, stunning beaches, and view of the Strait of Gibraltar make it a unique destination.
Vejer de la Frontera: A picturesque white-washed village perched on a hill, Vejer boasts narrow streets, Moorish architecture, and panoramic views of the surrounding countryside.
Cádiz Province's Beaches: Beyond the city, the Cádiz province offers numerous pristine beaches. La Victoria Beach, Zahara de los Atunes, and Bolonia Beach with its ancient Roman ruins are just a few examples.
Sanlúcar de Barrameda: Known for its seafood, Sanlúcar is famous for its annual horse races on the beach, the Manzanilla wine, and its historic quarter.
El Puerto de Santa María: This town offers a mix of beaches, historic sites, and seafood restaurants, making it a great place for leisurely exploration.
Medina-Sidonia: Another picturesque white village, Medina-Sidonia is perched on a hill with views extending to the coast. It's steeped in history and offers a glimpse into traditional Andalusian life.
Grazalema Natural Park: A bit further inland, this natural park offers stunning landscapes, hiking trails, and the charming town of Grazalema.
Cádiz Bay: Explore the various towns and villages around Cádiz Bay, each offering their own unique attractions, from historic sites to leisurely beachfront strolls.
These nearby destinations provide a diverse range of experiences, from historical exploration to enjoying the beautiful coastal landscapes of the region. Whether you're interested in history, outdoor activities, or simply soaking in the local culture, there's something for everyone in the vicinity of Cádiz.
Enjoy the beautiful art and galleries of Cadiz
For those with an appreciation for art, exploring a few of Cádiz's historical edifices offers a chance to immerse in the creations of esteemed Spanish masters within their original settings. Within the intimate depths of the Oratorio de la Santa Cueva, ornate embellishments come alive with works by Spanish luminaries such as Francisco Goya and Zacarías González Velázquez, alongside the contributions of lesser-known painters and sculptors. Meanwhile, a visit to the Hospital de Mujeres presents an opportunity to step into the petite chapel adjoined to this grand Baroque structure, where a masterpiece by El Greco awaits: "The Ecstasy of Saint Francis." This encounter allows art enthusiasts to connect with these treasured works while being enveloped in the historical context that nurtured their creation.
Here are some galleries and museums in Cádiz that focus on art:
Museum of Fine Arts (Museo de Bellas Artes): Located in Cádiz, this museum features an array of Spanish paintings, sculptures, and decorative arts from the 16th to 19th centuries, showcasing the city's artistic heritage.
Centro Cultural Reina Sofía: This cultural center in Cádiz hosts contemporary art exhibitions, workshops, and cultural events, providing a platform for local and international artists.
Centro de Arte Flamenco La Merced: Dedicated to the art of flamenco, this center in Cádiz offers exhibitions, performances, and workshops related to this iconic Spanish art form.
El Mercado Central de Abastos: While primarily a market, this central market in Cádiz also features murals and artworks that provide glimpses into the city's history and culture.
Popular places to eat in Cadiz
Cádiz offers a delectable culinary landscape that satisfies both traditional tastes and contemporary cravings. Here are some popular places to relish the gastronomic delights of the city:
Mercado Central de Abastos: This central market is a treasure trove of fresh produce, seafood, and local products. You can enjoy tapas and seafood dishes at the market's bars while immersing yourself in the lively atmosphere.
El Faro: A renowned institution in Cádiz, El Faro is celebrated for its classic seafood dishes and innovative twists on Andalusian cuisine. The tapas here are particularly recommended.
La Candela: Offering a blend of Spanish and international flavors, La Candela presents creative dishes in a cozy setting. It's an excellent spot for a contemporary take on traditional Spanish cuisine.
Restaurante Café Royalty: Located in a historic building, this restaurant exudes elegance and charm. It's known for its refined ambiance and a menu that combines local ingredients with modern culinary techniques.
Casa Manteca: A rustic tavern that embodies the essence of Cádiz, Casa Manteca is famed for its authentic Andalusian tapas and lively atmosphere.
Bar Juanito: Established in 1910, Bar Juanito is a family-run restaurant renowned for its traditional Andalusian dishes, including fresh seafood and flavorful stews.
Taberna El Tío de la Tiza: Offering a cozy and welcoming atmosphere, this tavern is celebrated for its tapas, ranging from classic to inventive, paired with a selection of wines.
Café Levante: Overlooking the sea, this café provides a stunning backdrop for enjoying local seafood and other Spanish specialties. The ocean views add a touch of magic to the dining experience.
Restaurante Romerijo: A seafood lover's paradise, Romerijo serves a variety of fresh seafood in a casual setting. It's a great place to savor Cádiz's coastal bounty.
Balandro: Nestled by the beach, Balandro offers a blend of Mediterranean and fusion cuisine. Its seaside location enhances the dining experience, especially during sunset.
From historic markets to charming taverns and elegant restaurants, Cádiz's dining scene caters to a wide range of tastes and preferences. Whether you're indulging in traditional tapas, fresh seafood, or contemporary creations, these popular eateries promise an unforgettable culinary journey through the flavors of Cádiz.
Check out this post on the typical foods and tapas of Cadiz below
How to get to Cadiz, Spain
Getting to Cádiz, Spain is relatively straightforward and can be done through various transportation options. Here's a guide on how to reach Cádiz:
By Air:
Jerez Airport (XRY): The nearest airport to Cádiz is Jerez Airport, located about 44 kilometers (27 miles) away. From the airport, you can take a taxi, rent a car, or use public transportation to reach Cádiz.
Seville Airport (SVQ): Seville Airport is another viable option, situated approximately 130 kilometers (81 miles) from Cádiz. From Seville, you can take a train, bus, or rent a car to reach Cádiz.
By Train: Cádiz is well-connected to Spain's national train network. The RENFE train service offers connections from major cities like Seville and Madrid. The Cádiz train station is centrally located in the city, making it convenient to reach various parts of the city once you arrive.
By Bus: Long-distance buses are available to Cádiz from major Spanish cities and towns. The central bus station is conveniently situated in the city center, offering easy access to various parts of Cádiz.
By Car: If you prefer the flexibility of driving, you can rent a car and reach Cádiz via the well-maintained road network. The AP-4 highway connects Cádiz with Seville and other major cities. Keep in mind that parking in the city center might be limited, so it's advisable to check parking options in advance.
By Ferry: Cádiz is also accessible by ferry from various locations, including the Canary Islands and North Africa. Ferries offer a unique way to reach the city while enjoying scenic views of the coastline.
Once you arrive in Cádiz, the city's compact size makes it easy to explore on foot, and public transportation options are available for getting around. Whether you choose to arrive by air, train, bus, car, or ferry, your journey to Cádiz promises to be a gateway to the historical and coastal treasures of this captivating Spanish city.
Visiting Andalusia posts for reference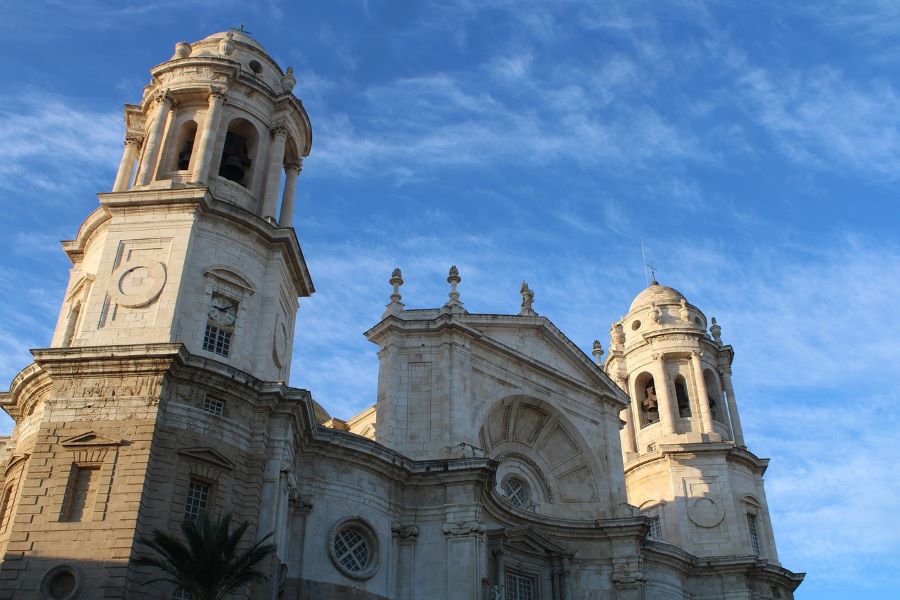 Conclusion to visiting Cádiz in Andalusia, Spain
In conclusion, embarking on a journey to Cádiz, nestled within the heart of Andalusia, Spain, promises an enchanting experience rich in history, culture, and coastal allure. With its origins dating back to ancient civilizations, Cádiz stands as a living testament to the layers of time that have shaped its character.
Whether you're drawn to Cádiz for its historical significance, its maritime charm, or its relaxed ambiance, this coastal gem offers a unique escape from the bustling tourist trails often associated with Spain. As you bask in the warmth of its Mediterranean climate and the hospitality of its locals, Cádiz beckons you to uncover its hidden treasures, creating memories that will linger long after you depart its shores.
Thanks for checking out this post on Visit Spain and Mediterranean, if you enjoyed the post, please bookmark it or share it with any of the social media channels around the post.