3 days in Seville: explore the highlights to this magical Andalusian city
Seville is one of those historic cities in Andalusia that is totally magical. The hot and dry heat during the spring to late fall season brings such a tribute to the ancient Islamic culture and early Christian takeover of the architecture and landmarks that dot this magnificent landscape and riverfront areas of the city.
The capital of Andalusia showcases stunning architecture, rich history, and beautiful gardens. You'll find top-notch tapas bars that will delight your taste senses, while the passionate flamenco performances will make your feet dance along. The old districts, brimming with charm, will captivate you with their unique character.
We will show you the best things to do in a 3 day itinerary visiting the different historical sites, neighborhoods and fun places to explore around the city and surrounding areas and getting immersed in this vibrant and colorful city and attractions.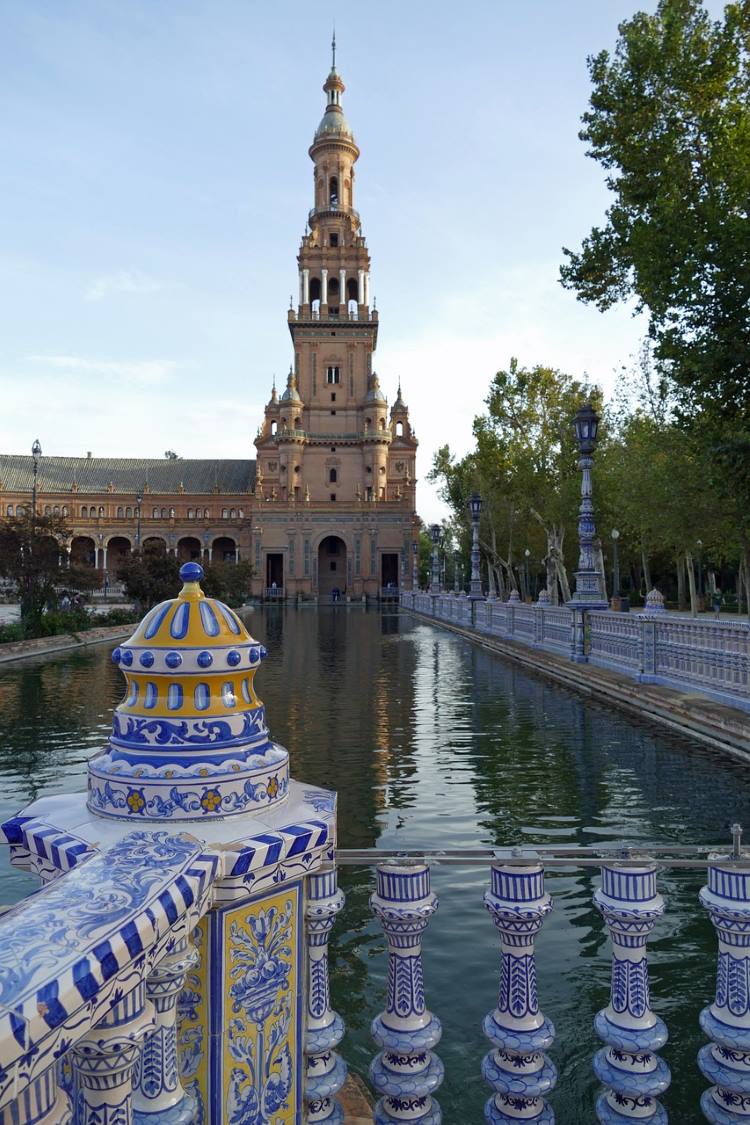 A brief history of Seville, Spain
Here's a concise overview of Seville's history, Spain:
Seville, a city in Spain with a rich past, has witnessed the passage of centuries. Founded by the Romans, it prospered as a significant trading hub under their rule. Later, it was ruled by various civilizations including the Moors, who left an indelible mark on its architecture and culture.
During the Age of Exploration, Seville played a pivotal role as a gateway to the New World, overseeing trade and treasure from the Americas. This period of prosperity is reflected in the city's grand buildings and opulent churches.
In the subsequent centuries, Seville saw both triumphs and challenges, from the Golden Age of Spanish art and literature to economic fluctuations. The World's Fair of 1929 brought modernization and development to the city.
Today, Seville stands as a vibrant metropolis that beautifully blends its historical legacy with contemporary life, making it a captivating destination for visitors from around the globe.

Getting around Seville
Seville is tight and walkable throughout the historic district and many neighborhoods. We share some of the other means of transportation options you might want to consider in this three day itinerary.
Walking: Seville is a very pedestrian-friendly city, especially in the historic center. Many of the main attractions are within walking distance of each other, and strolling through the narrow streets allows you to soak in the local atmosphere.
Biking: Seville has a public bike-sharing system called "Sevici," which allows you to rent bicycles to explore the city. The flat terrain and dedicated bike lanes make cycling a convenient and eco-friendly option.
Public Transportation: Seville has an efficient public transportation system that consists of buses, trams, and a metro line. You can use the same ticket for all these modes of transport. The metro is particularly useful for longer distances, while buses and trams cover a broader network.
Metro: Seville's metro system has a single line (Line 1) that connects many important areas of the city, including the city center, the Santa Justa train station, and the university.
Buses: The city's bus network is extensive and covers areas not served by the metro. Buses are a good option for reaching destinations that might be a bit farther from the center.
Tram: The tramway runs from the San Bernardo station to the San Jerónimo neighborhood, passing through various key points such as the Prado de San Sebastián bus station and the historic center.
Taxis: Taxis are readily available throughout the city and can be hailed on the street or found at designated taxi stands. They are a convenient option, especially if you're traveling in a group or with luggage.
Tourist Bus: Seville offers hop-on-hop-off tourist buses that provide a convenient way to see the city's main attractions. These buses usually have multilingual audio guides that provide information about the sites you're passing.
Car Rentals: While not the most practical option for navigating the historic center due to limited parking and narrow streets, renting a car might be useful if you plan to explore the surrounding areas or make day trips.
Horse Carriages: A unique and traditional way to explore Seville is by taking a horse-drawn carriage ride. This can be a romantic and leisurely way to see some of the city's landmarks.
Remember to consider the Seville Card or other transportation passes, as they might offer discounts and unlimited travel on public transportation during your stay. With these transportation options at your disposal, you'll have no trouble getting around and enjoying all that Seville has to offer.
3 day itinerary exploring Seville, Spain
If you are ready to get started, let's get going and starting exploring this magical city and all its vibrant attractions and places to visit.
Day 1 visiting Seville in Andalusia
After you enjoy a nice breakfast at your hotel or a local eatery, head out to one of the most historic attractions of the city at the Alcazar of Seville.

Alcazar of Seville
The Alcazar of Seville, also known as the Royal Alcazar of Seville, is a stunning palace complex located in the heart of Seville, Spain. It is one of the most exquisite examples of Mudéjar architecture and a UNESCO World Heritage Site. I would allocate at least the entire morning to lunch and consider taking a docent tour of the palace and gardens to get a complete picture of the history, architecture and amazing craftsmanship here.
Key features and aspects of the Alcazar of Seville include:
Architecture: The Alcazar showcases a blend of architectural styles, reflecting its history of being built and renovated by various rulers over the centuries. The complex features elements of Moorish, Gothic, Renaissance, and Mudéjar architecture, resulting in a unique and captivating aesthetic.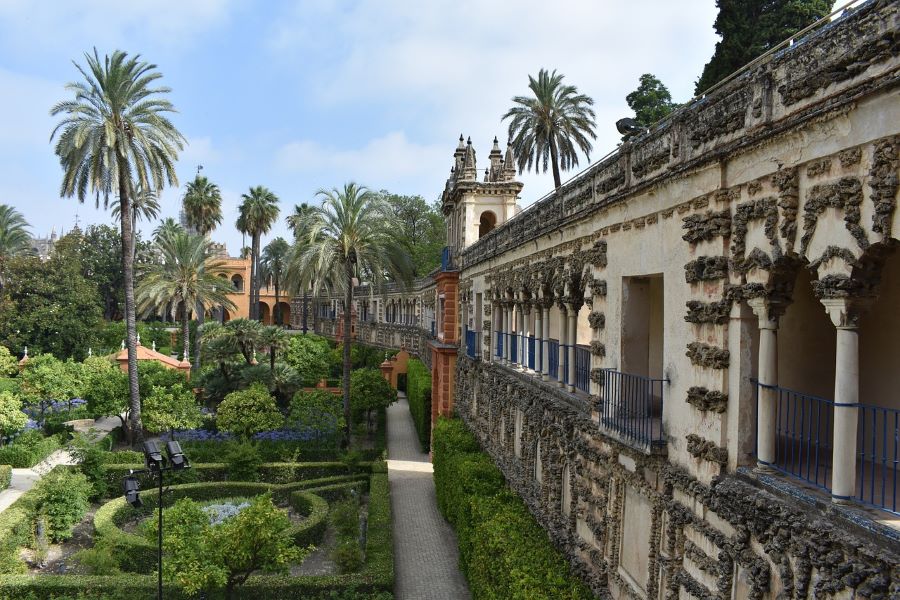 Palace Complex: The Alcazar is comprised of a series of interconnected courtyards, halls, chambers, and gardens. Its layout reflects the diversity of cultures and artistic influences that have shaped its evolution.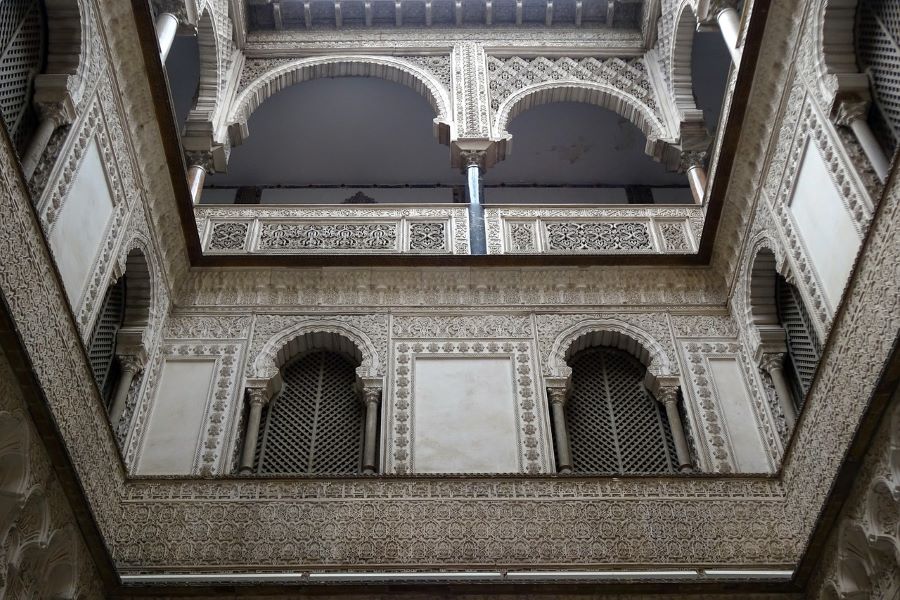 Mudéjar Details: Mudéjar architecture is characterized by its intricate geometric patterns, ornate stucco work, and delicate tilework. The Alcazar is a prime example of this style, with intricate carvings, colorful ceramic tiles, and beautifully adorned ceilings.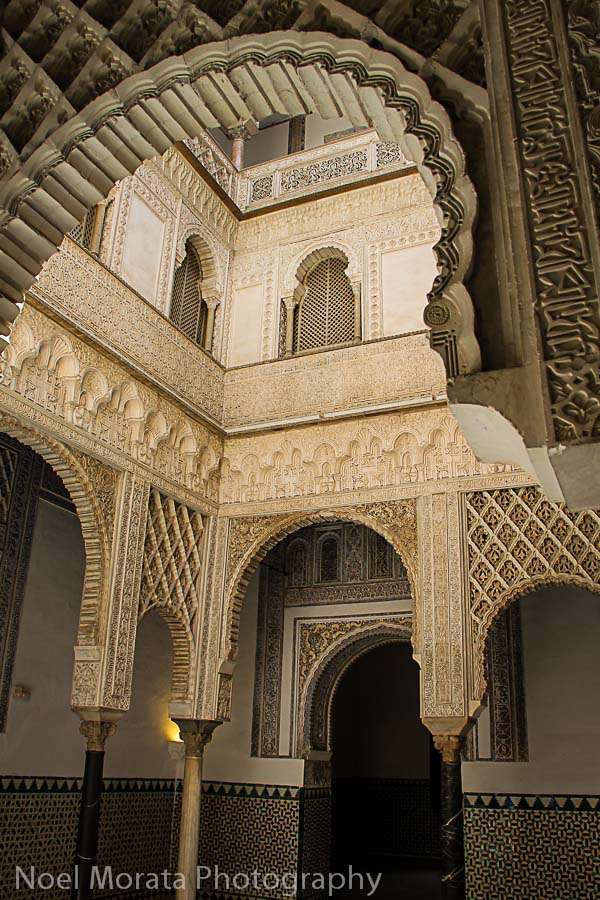 Palace Rooms: The palace boasts a range of stunning rooms, each with its own distinct design and purpose. Notable rooms include the Ambassadors' Hall (Sala de Embajadores), with its impressive dome and intricate details, and the Hall of the Dolls (Sala de las Muñecas), known for its ornate wooden ceiling.
Courtyards: The Alcazar features several enchanting courtyards, each with its own character. The Courtyard of the Maidens (Patio de las Doncellas) is famous for its reflecting pool, lush gardens, and intricate arches. The Courtyard of the Dolls (Patio de las Muñecas) is smaller but equally enchanting.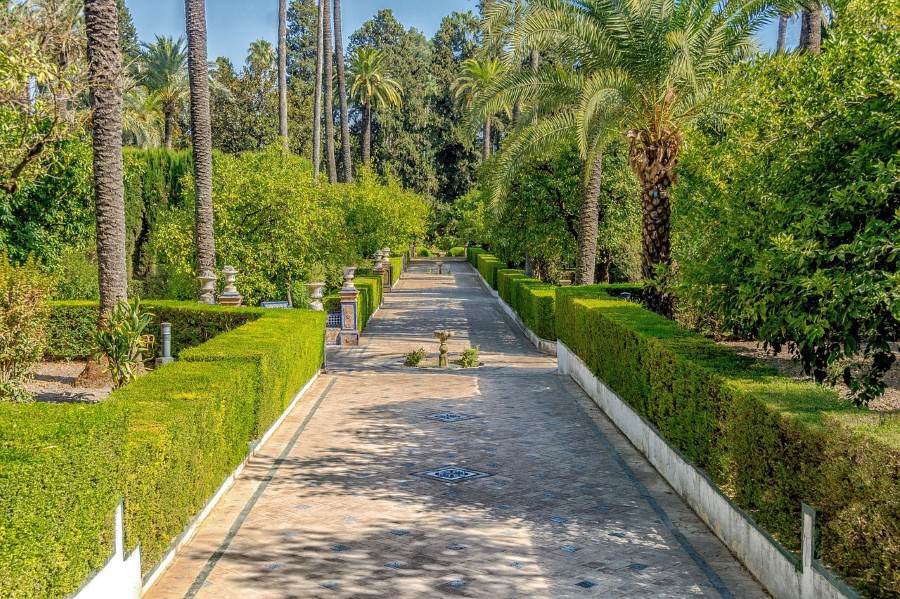 Gardens: The Alcazar's gardens are a highlight of the complex. The Gardens of the Alcázar (Jardines del Alcázar) are a lush oasis of greenery, fountains, and fragrant blooms. The Garden of the Poets (Jardín de los Poetas) and the English Garden (Jardín Inglés) are among the various garden spaces you can explore.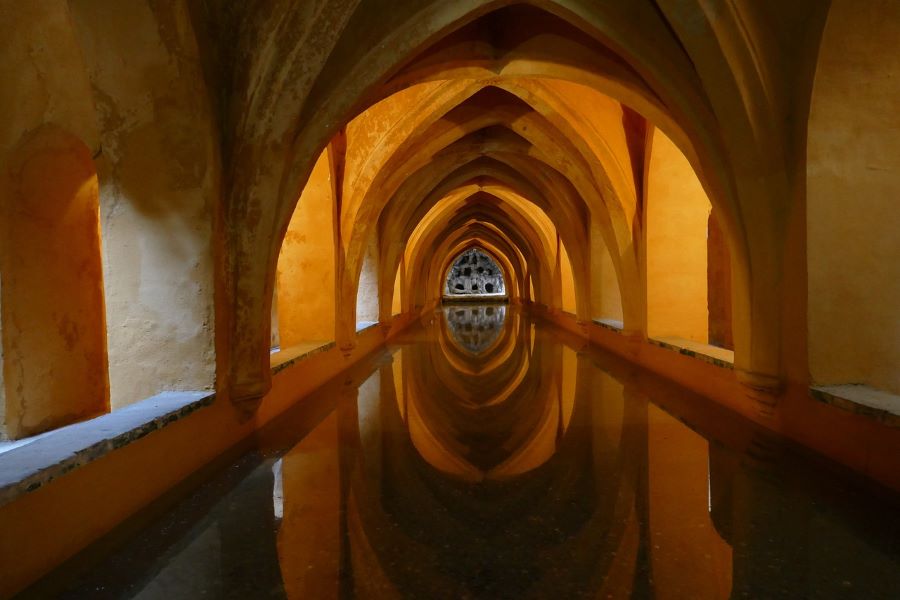 Historical Significance: The Alcazar has served various purposes throughout history, including as a royal palace, fortress, and residence for various monarchs. It continues to be used by the Spanish royal family for official functions, adding to its significance.
Cultural Influences: The Alcazar's architectural richness and historical importance have inspired writers, artists, and filmmakers, making it a location of cultural and artistic significance.
Visiting the Alcazar of Seville allows you to immerse yourself in the intricate beauty of its architecture, gardens, and history. It's recommended to book tickets in advance, as this popular attraction can get crowded, especially during peak tourist seasons. Whether you're interested in architecture, history, or simply appreciating breathtaking beauty, the Alcazar is a true gem in the heart of Seville.
Organized tours
You might want to have an organized tour arranged for this so you avoid all the lines and booking details to this important site. Consider any of these tour outfitters and tours provided.
You can check out the main website of the Alcazar here if you prefer to DIY tour on your own and explore on your schedule.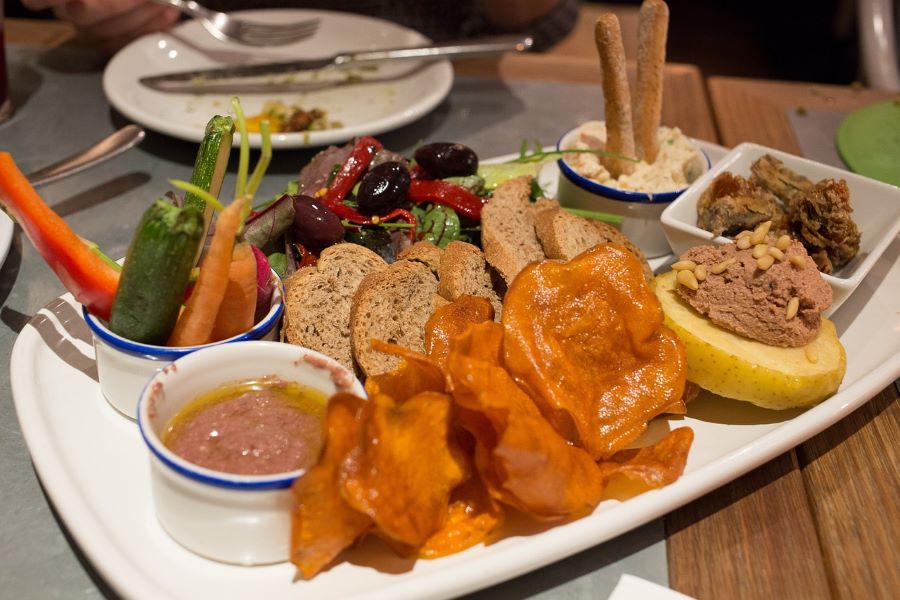 Enjoy a nice lunch close to the Alcazar
Once you have enjoyed an amazing tour of this historic palace, it's time to recharge and have a relaxing lunch with some delicious local food to enjoy closeby. Consider having a nice meal at any of these fun dining venues in the area.
There are several restaurants near the Alcazar of Seville where you can enjoy delicious local cuisine. Here are a few options to consider:
Bar Santa Marta: This charming restaurant offers traditional Andalusian cuisine in a cozy setting. You can savor dishes like salmorejo (a cold tomato soup), Iberian ham, and various tapas. It's located just a short walk from the Alcazar.
Taberna del Alabardero: Situated right across from the Alcazar, this restaurant offers both traditional and modern Spanish dishes. With a focus on quality ingredients and a lovely courtyard setting, it's a great place to enjoy a leisurely meal.
Casa Roman: This restaurant is known for its classic Andalusian flavors and welcoming atmosphere. Try dishes like grilled fish, paella, and local seafood. It's conveniently located near the Alcazar and offers both indoor and outdoor seating.
Bodeguita Romero: A popular tapas spot, Bodeguita Romero is known for its fantastic atmosphere and variety of tapas options. It's a great place to taste local flavors like Iberian ham, grilled prawns, and montaditos (small sandwiches).
La Azotea Santa Cruz: This trendy restaurant offers a mix of traditional and innovative Spanish cuisine. Their menu includes a variety of tapas, fresh seafood, and creative dishes. It's located in the historic Santa Cruz neighborhood, not far from the Alcazar.
Vineria San Telmo: If you're looking for a cozy wine bar with a focus on local wines and creative tapas, Vineria San Telmo is a great choice. The menu changes frequently based on seasonal ingredients, ensuring a fresh and delightful experience.
Las Teresas: This traditional tavern is known for its Iberian ham and classic tapas. The historic setting and authentic ambiance add to the dining experience. It's a bit further from the Alcazar but worth the walk.
Casa Morales: With a history dating back to 1850, Casa Morales is a historic tavern that offers a range of traditional Andalusian dishes and wines. The rustic atmosphere and hearty food make for a memorable meal.
Remember that opening hours and availability might vary, so it's a good idea to check ahead and make reservations if possible, especially during peak dining times. Enjoy exploring the local flavors and dining options around the Alcazar of Seville!
Afternoon tours continue for Day 1 of Seville
From the Royal Alcazar palace you can do an easy afternoon stroll to the next major attraction in the area at the Seville Cathedral. Less than a two minute walk from the Alcazar, this next attraction is easily done on foot.

Visit Seville Cathedral
The cathedral stands as a colossal masterpiece, ranking among the foremost attractions of Seville. As the world's largest cathedral and the third-largest church, it holds a prominent place. This remarkable structure is a Roman Catholic place of worship and gained UNESCO World Heritage Site status in 1987.
The Seville Cathedral, a marvel of architecture and history, offers a wealth of captivating sights to explore. Here's what you can't miss when visiting and seeing all of these main attractions at this massive church:
Giralda Tower: The iconic Giralda Tower stands as a symbol of Seville. Originally a minaret during the mosque's time, it now serves as the cathedral's bell tower. Ascend its ramps to enjoy panoramic views of the city.
Main Altar: Adorned with intricate gilded carvings and featuring a stunning altarpiece, the Main Altar is a focal point of the cathedral's interior.
Capilla Mayor (Royal Chapel): This chapel is the final resting place of Christopher Columbus. His ornate tomb is held aloft by four figures representing the kingdoms of Castile, Aragon, Navarre, and Leon.
Capilla Real (Royal Pantheon): A chamber containing the tombs of Spanish monarchs, the Royal Pantheon boasts rich decorations and ornate architecture.
The Choir: The intricately carved choir stalls showcase exceptional craftsmanship. The choir also houses the impressive Organ of the Seville Cathedral.
Treasury: A collection of ecclesiastical treasures, including religious artifacts, artworks, and precious metals, offers a glimpse into the cathedral's historical significance.
Patio de los Naranjos: The Orange Tree Courtyard is a tranquil space with fragrant orange trees and a Moorish-style fountain, providing a moment of respite.
Tomb of Fernando III: This tomb honors King Ferdinand III of Castile, known as Saint Ferdinand, who played a pivotal role in the Christian conquest of Seville.
Puerta del Perdón: The Gate of Forgiveness features a remarkable façade adorned with intricate Gothic and Mudéjar decorations.
Chapel of the Virgin Mary: Dedicated to the Virgin Mary, this chapel boasts an exquisite statue known as La Virgen de la Sede.
Chapter House: The Chapter House features a beautiful domed ceiling and intricate tilework, serving as a space for meetings of the cathedral chapter.
Art and Statues: Throughout the cathedral, you'll encounter a myriad of artworks, sculptures, and religious relics that showcase the region's rich cultural heritage.
Tip – Remember that the Seville Cathedral can get busy, especially during peak tourist times, so consider arriving early to enjoy the sights with fewer crowds or head out here during lunch when everyone else is eating. The combination of history, architecture, and religious significance makes a visit to the cathedral an unforgettable experience.
Check out the details on this post visiting the Seville Cathedral here for more images and information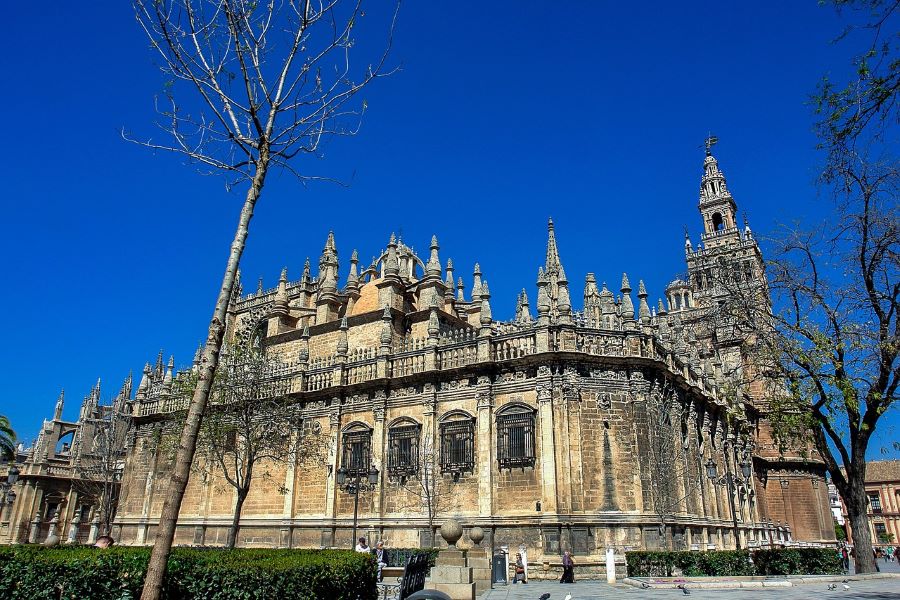 Climb the  Giralda Tower for magnificent views
Continuing your exploration of Seville, your next destination is La Giralda – the renowned bell tower of the Seville Cathedral, which stands as an iconic symbol of the city. La Giralda is a prominent element of the UNESCO World Heritage site designation.
Soaring to an impressive height of nearly 350 feet, this tower offers an opportunity to ascend and enjoy breathtaking 360-degree vistas of the city. The tower, originally the minaret of the pre-existing mosque, holds historical significance within its architectural transformation into the cathedral's bell tower.
Entrance fees
There are entry fees to visit the Cathedral and Giralda so you may want to take a tour or skip the line entry below
Skip the lines and entry to Church and Giralda

Explore Barrio Santa Cruz
Spend some of the afternoon timeframe to check out the narrow streets shops and historic disrtrict of Barrio Santa Cruz nearby, a captivating area in Seville that invites you to wander its narrow streets and experience its rich history and charm.
Barrio Santa Cruz, is a labyrinth of picturesque alleys, traditional whitewashed houses, and hidden plazas. Once the Jewish quarter during medieval times, the neighborhood carries an air of mystery and tales of centuries gone by.
As you meander through its cobblestone pathways, you'll encounter charming courtyards adorned with vibrant flowers, ornate wrought-iron balconies, and the soothing sound of trickling fountains. Each turn offers a new discovery, whether it's a cozy tapas bar tucked away in a corner or a boutique selling local crafts.
The neighborhood's history is intertwined with the echoes of its past residents, and you'll find remnants of its Jewish heritage and Moorish influence in the architecture and design. A particularly noteworthy spot is the Casa de Pilatos, a grand mansion blending Mudéjar, Gothic, and Renaissance styles that offer a glimpse into Seville's aristocratic history.
Barrio Santa Cruz is also home to the Patio de Banderas, a tranquil courtyard offering views of the Giralda Tower and the cathedral. This area exudes a peaceful ambiance, allowing you to take a moment to soak in the beauty of your surroundings.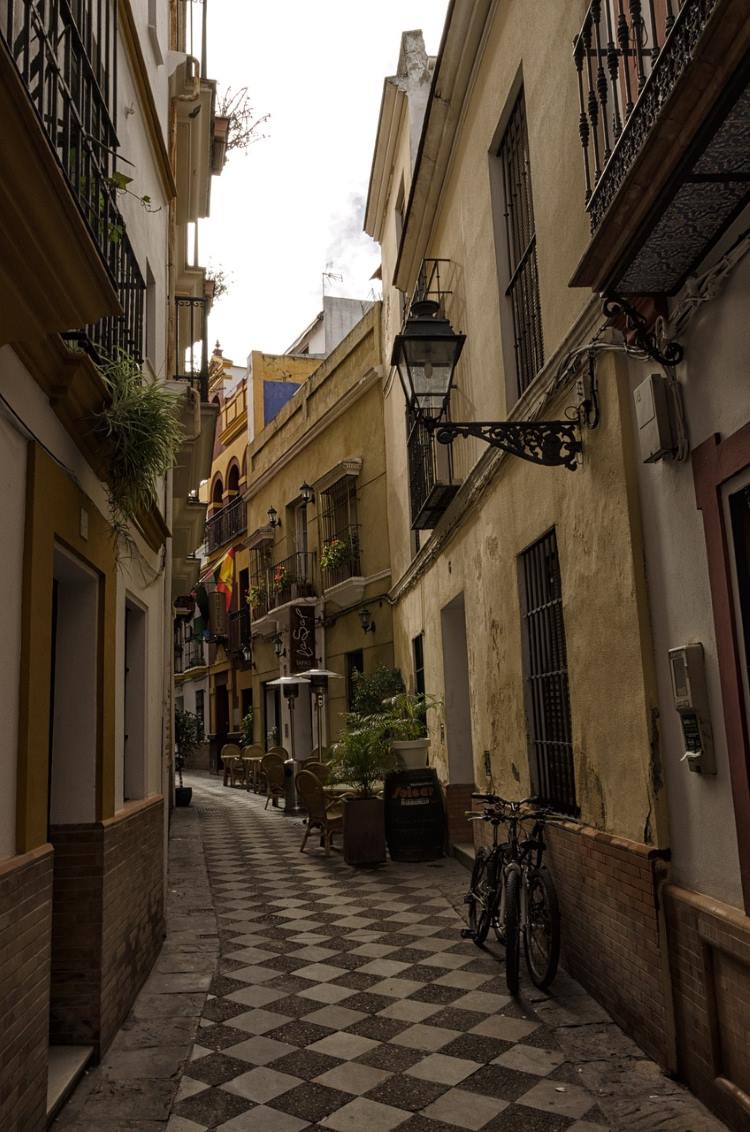 Exploring the narrow streets, you might stumble upon hidden squares like Plaza de Santa Cruz, which boasts a charming mix of cafes, orange trees, and the sound of Spanish guitar drifting in the air.

Tapa Experience around Barrio Santa Cruz
While you are out exploring the Barrio Santa Cruz district, you'll find some local tapa bars in the area that you may want to take a break and relax with some nice small bites and a local drink. Check out these places that would be fun to enjoy in the area.
Bodega Santa Cruz: This traditional bodega offers a cozy and authentic atmosphere, making it a popular choice for tapas. Try their Iberian ham, local cheeses, and a variety of classic tapas.
Casa Roman: Known for its Andalusian flavors, Casa Roman offers a range of tapas that reflect the region's culinary heritage. Their grilled seafood and selection of wines are worth trying.
Las Teresas: With a history dating back to 1870, Las Teresas is a renowned tapas bar with a wide selection of dishes. Their Iberian ham is a highlight, and you'll find a variety of classic tapas options to choose from.
Bodeguita Romero: This charming spot is loved for its traditional tapas and friendly atmosphere. From grilled prawns to montaditos (small sandwiches), you'll find a variety of local flavors to enjoy.
El Pasaje: This tapas bar offers a mix of traditional and modern dishes in a lively setting. Their creative tapas menu and local wines make for a delightful culinary experience.
Bar Giralda: Located near the Giralda Tower, this bar offers a selection of tapas made from fresh ingredients. It's a great place to enjoy a meal after exploring the sights.
Bar Santa Marta: Just a short walk from the cathedral, this bar offers Andalusian specialties and tapas in a relaxed setting. Their salmorejo (cold tomato soup) and Iberian ham are recommended.
Bodegón Alfonso XII: With a rustic ambiance, this bar serves up traditional tapas and a variety of wines. The patatas bravas and fried fish are popular choices.
Bar Las Columnas: Known for its bustling atmosphere, this bar offers an array of tapas and fresh seafood. It's a favorite among locals and visitors alike.
Taberna El Panduro: This small tavern offers a mix of classic and creative tapas options. The cozy setting and welcoming staff add to the experience.
Remember that tapas culture often involves trying small portions of various dishes, so don't hesitate to order a variety and share with your companions. Enjoy the flavors and the vibrant atmosphere as you explore the local tapa bars in Barrio Santa Cruz!
After a nice tapa experience, you can opt to walking around more or less and check in for the night after a long and successful first day experience in Seville.
Day 2 visiting Seville in Andalusia
Enjoy a nice breakfast at your hotel or local eatery close by and then head out to your first destination of the day at Plaza Espana.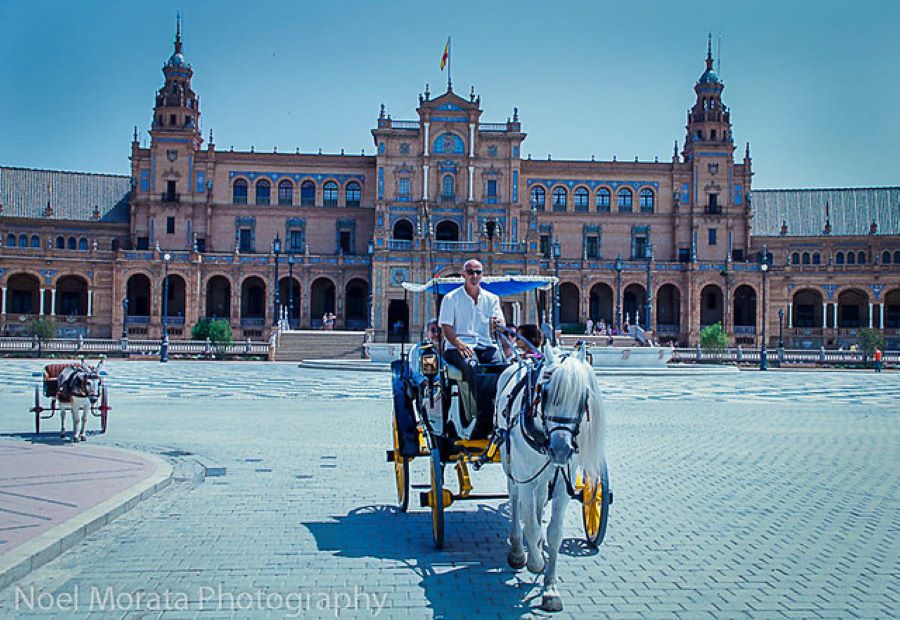 Explore the Plaza Espana
Visiting the Plaza de España in Seville is like stepping into a grand architectural masterpiece that captures the essence of Spain's history and culture. This remarkable square, located within the María Luisa Park, offers a unique blend of stunning design, intricate tilework, and a sense of grandeur that leaves a lasting impression.
As you approach the Plaza de España, you're greeted by a semi-circular building adorned with a series of bridges, canals, and ornate balustrades. This building is a true marvel of Spanish Renaissance Revival architecture, showcasing a fusion of styles and influences that celebrate the nation's diversity.
The focal point of the plaza is a central fountain that adds a touch of elegance and charm. The semi-circular façade is flanked by alcoves, each representing a different province of Spain. These alcoves are adorned with beautiful ceramic tiles known as azulejos, which depict scenes from Spanish history, folklore, and culture. It's a visual journey through the country's past and a testament to the artistry of the region.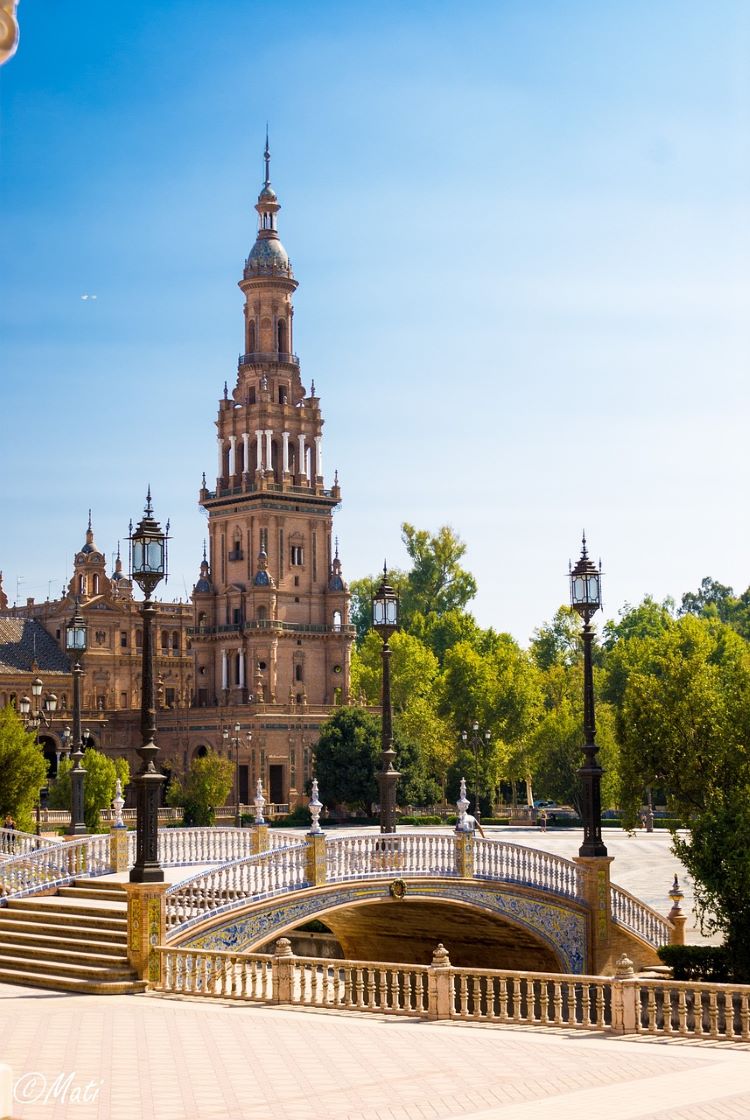 You can take a leisurely stroll around the plaza, admiring the intricacies of the azulejos and the architectural details. Many visitors find it fascinating to learn about the stories behind each alcove and the regions they represent.
Boat rides along the canal that wraps around the plaza provide a different perspective and offer a serene way to enjoy the surroundings. The gentle lapping of the water against the stone embankments adds to the ambiance.
The spacious square invites you to relax on its benches, take in the views, and appreciate the harmonious blend of architecture and nature. It's a common sight to see families, couples, and travelers sitting, chatting, and simply enjoying the atmosphere.
The Plaza de España's grandeur becomes even more captivating as the sun sets and the lights illuminate the architecture. The evening atmosphere adds a touch of magic, making it an ideal time for a romantic stroll or simply to savor the moment.
A visit to the Plaza de España is not just a sightseeing experience; it's a sensory journey that connects you with the heart of Spain's rich history and cultural diversity. It's a place that beckons you to slow down, appreciate the beauty, and take a piece of Spain's enchantment with you as you continue your journey through Seville.
Check out my post on visiting Plaza de Espana here for more images and information to visiting this historic site.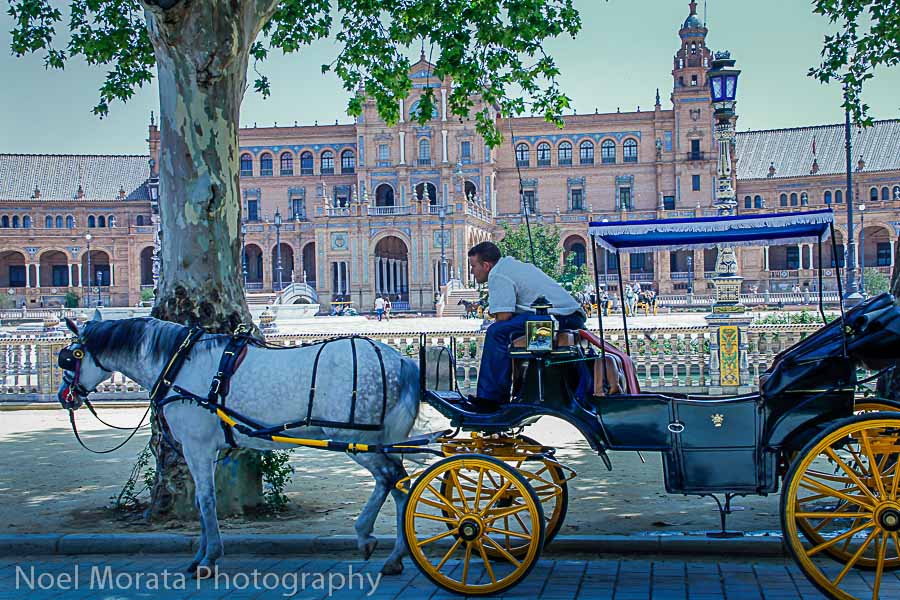 Check out Maria Luisa park
After visiting the main attraction of Maria Luisa park at the Plaza Espana, you can check out the forested areas and other places of interest around Maria Luisa park area.
This expansive park is a tranquil escape from the city's hustle and bustle, inviting you to explore its diverse landscapes and captivating features.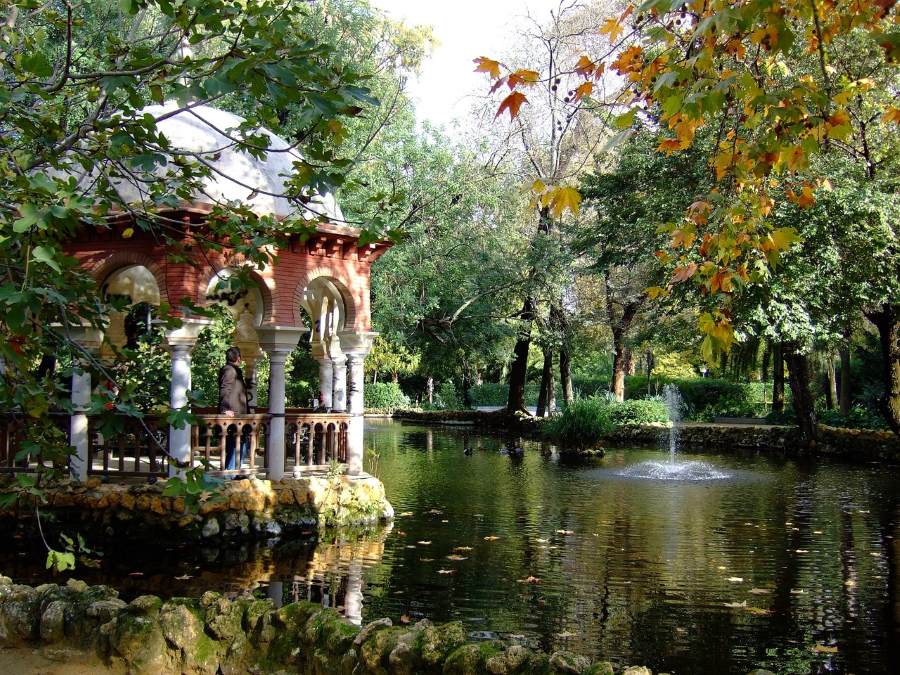 Paseo de las Delicias: This tree-lined promenade offers a relaxing stroll along the Guadalquivir River. The picturesque views of the river and the cityscape create a serene ambiance.
Moorish Garden: This lush and well-maintained garden features a blend of Moorish and Andalusian design elements. Stroll along the pathways, surrounded by fragrant flowers, fountains, and shaded seating areas.
Island of the Birds: A small island sanctuary within the park is dedicated to birdlife. It's a serene spot to observe various species of birds and enjoy the tranquility of nature.
Gardens of the King's Palace: The lush gardens around the King's Palace offer a peaceful retreat. You can explore the manicured lawns, flowerbeds, and fountains that create a refreshing oasis.
The Glorieta de Bécquer: This charming gazebo pays tribute to the Spanish poet Gustavo Adolfo Bécquer. It's a serene spot to pause and enjoy the park's surroundings.
Water Features: Throughout the park, you'll encounter various water features, from tranquil ponds to flowing fountains. These elements add to the park's soothing atmosphere.
Horse Carriage Rides: Horse-drawn carriage rides are a popular way to explore the park's beauty while enjoying a leisurely and romantic experience.
Cafés and Relaxation: Numerous cafés and shaded spots are scattered throughout the park, inviting you to sit, relax, and soak in the atmosphere.
Whether you're seeking a leisurely stroll, a peaceful picnic, or simply a place to unwind, Maria Luisa Park has something for everyone. Its blend of historic architecture, natural beauty, and cultural attractions make it a cherished gem in Seville – a space where you can connect with nature, art, and the city's vibrant spirit.

Visit the many museums and landmarks around Plaza de America
Plaza de América: This square is home to several of Seville's prominent museums, including the Archaeological Museum and the Museum of Popular Arts and Customs. The buildings themselves are architectural wonders and offer fascinating insights into art, history, and culture. Here are a few notable ones:
Archaeological Museum of Seville (Museo Arqueológico de Sevilla): Located within Plaza de América, this museum houses an extensive collection of artifacts that span various periods of history, including prehistoric, Roman, and Islamic eras. The exhibits provide a window into the region's rich archaeological heritage.
Museum of Popular Arts and Customs (Museo de Artes y Costumbres Populares): Also situated in Plaza de América, this museum offers a glimpse into traditional Andalusian life. Its displays include folk art, traditional costumes, crafts, and everyday objects that showcase the cultural heritage of the region.
Royal Pavilion (Pabellón Real): This pavilion was built for the 1929 Ibero-American Exposition and is part of the Maria Luisa Park complex. While not a museum in the traditional sense, it's worth noting for its historic significance and elegant architecture.
Museum of Science and Technology (Museo de la Ciencia y la Tecnología): Located near the park, this museum focuses on the advancement of science and technology. It features interactive exhibits that engage visitors of all ages in various scientific disciplines.
Seville Pavilion (Pabellón de Sevilla): Another legacy from the 1929 exposition, this pavilion showcases traditional Sevillian architecture and design. It's a charming spot to explore and offers a glimpse into the city's past.
Casa de la Ciencia (House of Science): This interactive science center is adjacent to Maria Luisa Park. While not a historic museum, it's a great place for families and curious minds to learn about scientific principles through hands-on exhibits.
These museums provide a diverse range of experiences, from archaeological treasures to glimpses of everyday life in Andalusia's history. They also offer a cultural and educational complement to the park's natural beauty, making for a well-rounded exploration of Seville's heritage.

Lunch time around the Plaza de America
There are several places to eat around Plaza de América in Seville where you can enjoy a variety of culinary delights. Here are a few options:
El Mirador de Sevilla: This restaurant offers a mix of traditional Andalusian and Mediterranean cuisine. With a lovely terrace overlooking the Plaza de América, it's a great spot to enjoy a meal with a view.
Bar La Raza: Known for its tapas and Spanish dishes, Bar La Raza is a popular choice for both locals and visitors. Their terrace provides a pleasant outdoor dining experience.
Restaurante Becerrita: Offering a blend of contemporary and traditional Spanish cuisine, this restaurant provides an elegant setting for a meal. Their menu includes a range of dishes, from seafood to Iberian ham.
Cervecería Internacional: If you're in the mood for international flavors, this beer and tapas bar offers a diverse selection of dishes from around the world. It's a relaxed spot for a casual meal.
Bar Estrella: Located within the Archaeological Museum, this café offers a range of light meals, sandwiches, and beverages. It's a convenient option if you're looking for a quick bite.
Bar Casa Rufino: This traditional tapas bar is known for its classic Spanish dishes and friendly atmosphere. It's a cozy spot to enjoy local flavors and socialize.
Cervecería Vía Crucis: Situated near Plaza de América, this bar offers a variety of tapas and drinks. It's a great place to unwind after exploring the nearby museums.
Café de las Delicias: If you're looking for a place to relax with coffee or light refreshments, this café offers a pleasant setting and a range of options.
Bar Recreo de Las Cadenas: With a focus on traditional Spanish cuisine, this bar provides a range of dishes, including tapas and larger plates. The ambiance is cozy and inviting.
Remember that opening hours and availability might vary, so it's a good idea to check ahead or make reservations if needed. Whether you're in the mood for local flavors or international cuisine, you'll find something to satisfy your taste buds around Plaza de América.
Afternoon explorations for Day 2, Seville

Enjoy a leisurely walk around the downtown area of Seville
You can easily enjoy the rest of the afternoon visiting the historic downtown areas of Seville to enjoy some of the promenades, public squares and fun shopping around the historic district of the city. Places to explore in the downtown area includes:
Shopping Venues:
Calle Sierpes and Calle Tetuán: These pedestrian streets are lined with a mix of high-end boutiques, international brands, and local shops. They offer a diverse shopping experience, from fashion to accessories.
Plaza Nueva: This square is surrounded by shops, including traditional Andalusian crafts, clothing stores, and souvenir shops. It's a lively area with a mix of shopping and dining options.
Avenida de la Constitución: This avenue connects the city's main attractions and is lined with shops offering clothing, jewelry, and more. It's a convenient route for exploring while shopping.
El Corte Inglés: Located near Plaza del Duque, this department store is a one-stop-shop for fashion, accessories, cosmetics, and more. It's a popular destination for both locals and tourists.
Promenades:
Paseo de Colón: Running along the Guadalquivir River, this promenade offers picturesque views of the water and the city. It's a lovely place for a leisurely stroll.
Paseo de las Delicias: Another scenic promenade by the river, this area is lined with gardens, sculptures, and pleasant spots to enjoy the view.
Avenida de la Constitución: As a central avenue, it serves as both a shopping area and a promenade, connecting key landmarks in the city.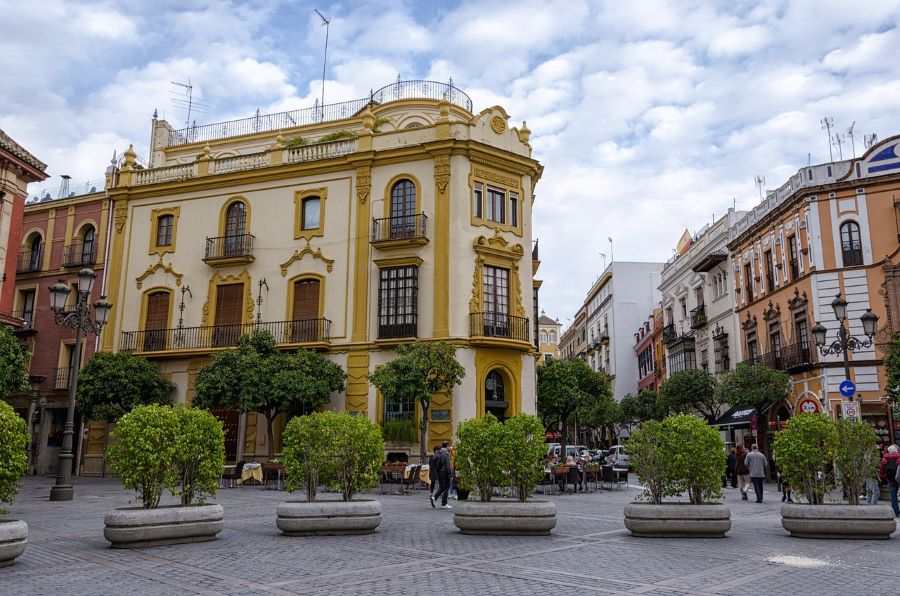 Squares:
Plaza Nueva: This square is not only a shopping area but also a lively gathering spot with cafes, restaurants, and a constant flow of people.
Plaza del Salvador: Surrounded by cafes and shops, this square is known for its lively atmosphere and proximity to the Salvador Church.
Plaza de la Campana: Located near Calle Sierpes, this square is often bustling with activity and is close to shopping venues and attractions.
Plaza de San Francisco: This square is surrounded by historical buildings and offers a mix of shops, cafes, and the City Hall.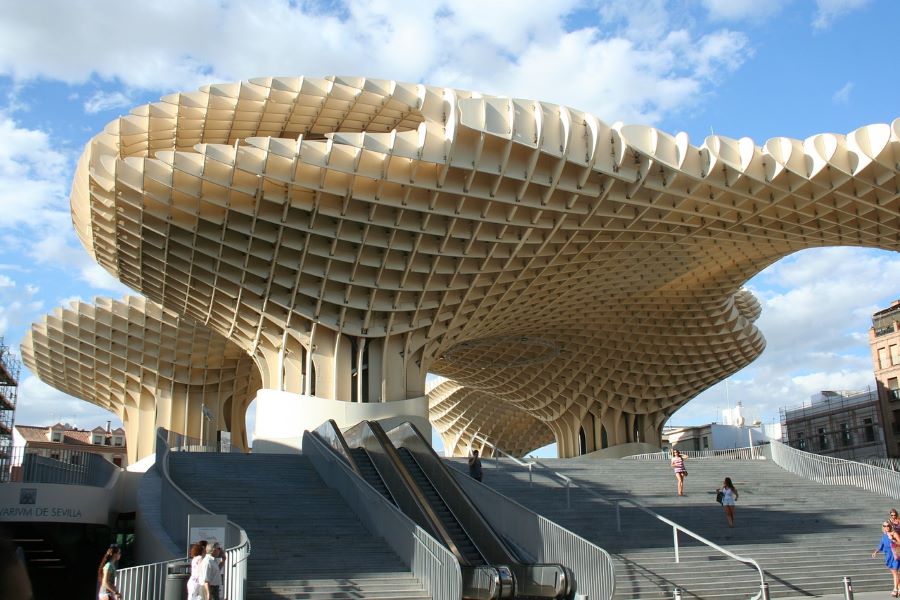 Plaza de la Encarnación: Home to the Metropol Parasol structure, this square has a modern touch and is surrounded by shops and eateries.
Metropol Parasol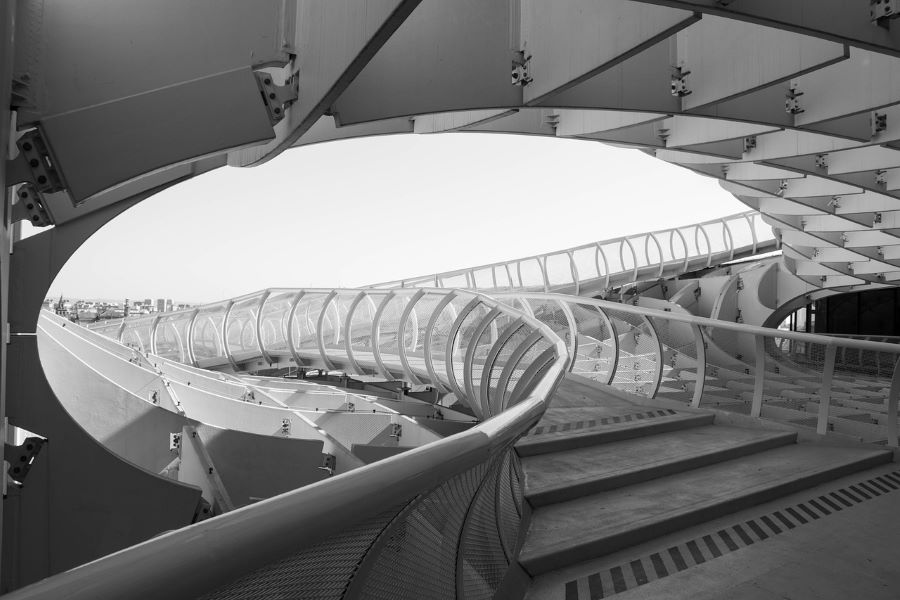 The Metropol Parasol is a striking architectural structure located in Seville, Spain. Also known as the "Mushrooms of the Incarnation," it's a contemporary landmark designed by the German architect Jürgen Mayer. The Metropol Parasol consists of six enormous wooden structures resembling intertwined mushrooms or honeycombs.
These wooden structures create a vast canopy that offers both shade and a unique vantage point for visitors. The upper level of the Metropol Parasol features a spacious walkway with stunning panoramic views of Seville's historic center, making it a popular spot for tourists and locals alike. The lower levels house an archaeological museum and a market area.
The design of the Metropol Parasol contrasts with the surrounding historic architecture, providing a modern and innovative touch to the city's skyline. The structure's bold design and its combination of contemporary materials and historical references have made it a symbol of Seville's architectural diversity and creativity.
These shopping venues, promenades, and squares in Seville's downtown district contribute to the city's vibrant and lively atmosphere, offering a diverse range of experiences for both shopping enthusiasts and those seeking leisurely strolls.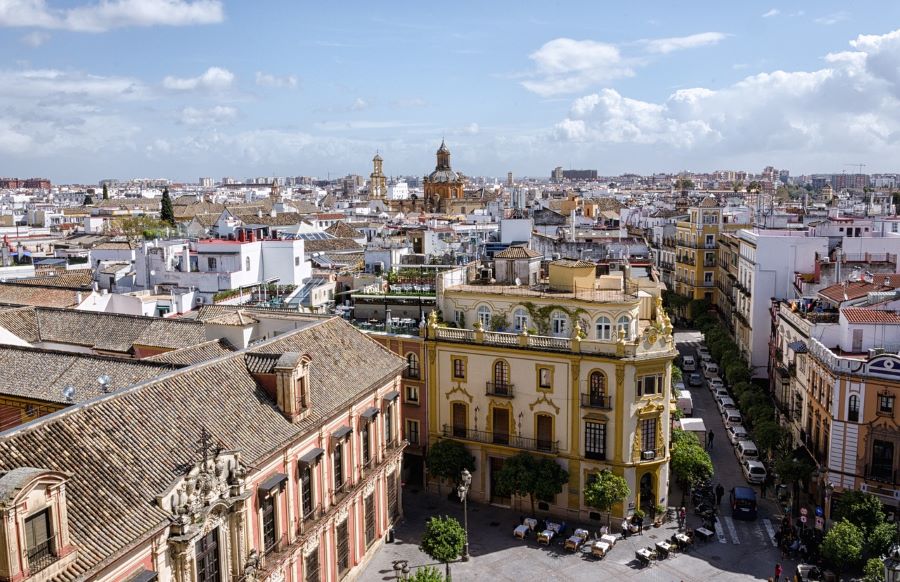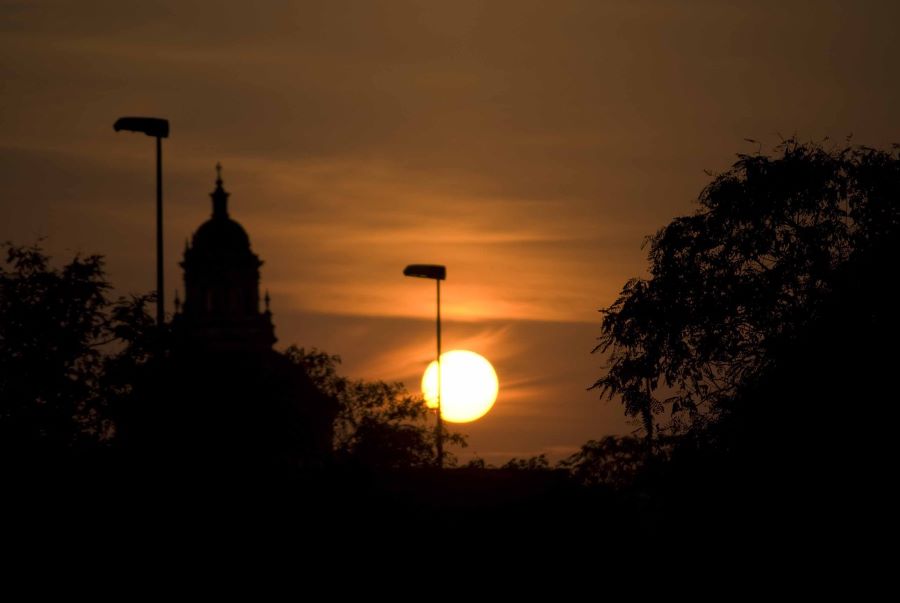 There are so many fantastic things to enjoy around Seville if you have more energy to enjoy the nightlife after a delicious dinner in town. Here are a few more fantastic options of what to do and see at night time in the city when the area really comes alive.
Evening River Cruise: Take a relaxing cruise along the Guadalquivir River and enjoy the illuminated skyline of Seville. Many operators offer guided boat tours that provide a unique perspective of the city's landmarks.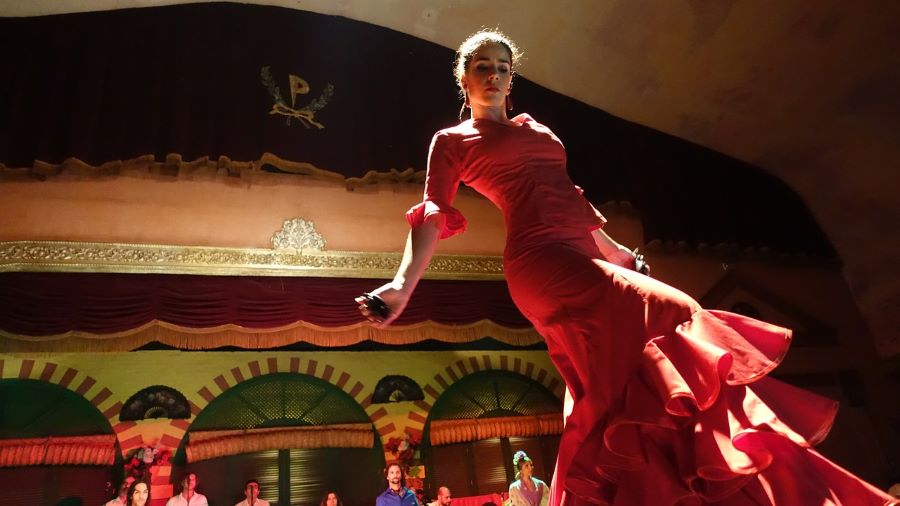 Flamenco Show: Experience the passionate art of flamenco, a traditional Spanish dance and music form. Many venues offer authentic flamenco performances where you can immerse yourself in the rhythms and emotions of this captivating art.
Nighttime Tapas Tour: Explore Seville's culinary scene on a tapas tour. Join a guided tour to sample a variety of local dishes while wandering through the city's charming streets.
Visit Alameda de Hércules: This lively square is a hub of activity at night, with numerous bars, cafes, and restaurants. It's a great place to people-watch, socialize, and enjoy the vibrant atmosphere.
Roof Terrace Bars: Many of Seville's hotels and buildings have rooftop terraces that offer stunning views of the city skyline. Enjoy a drink under the stars while taking in the panoramic vistas.
Nighttime City Tour: Some companies offer guided night tours that showcase the city's illuminated landmarks and historic sites. It's a different way to learn about Seville's history while enjoying the beauty of the nighttime scenery.
Live Music and Concerts: Check out local venues and theaters for live music performances, concerts, and cultural shows. You might discover traditional Spanish music, jazz, classical performances, and more.
Late-Night Shopping: Some shops and boutiques in the downtown area stay open late, offering a chance for some nighttime shopping and exploring.
Stroll through Barrio Santa Cruz: Wander through the charming streets of the historic Jewish quarter, Barrio Santa Cruz, at night. The atmosphere is different after dark, and the illuminated buildings create a magical ambiance.
Observatory Stargazing: If you're interested in astronomy, consider visiting an observatory for a night of stargazing and learning about the constellations.
Nighttime Photography: Seville's architecture and landmarks take on a different character at night. Grab your camera and capture the beauty of illuminated buildings, bridges, and squares.
Enjoy a Nightcap: Wind down your evening by visiting a local café or bar for a nightcap. Spanish tradition often includes a leisurely chat with friends over coffee or a small drink.
From flamenco rhythms to illuminated landmarks, Seville offers a vibrant array of activities that make for an unforgettable night in this enchanting city.
Day 3 visiting Seville in Andalusia
Enjoy a leisurely breakfast at your hotel or local restaurant and then we head out to one of the most distinctive neighborhoods of Seville at Triana.
Explore the Triana neighborhood
The Triana neighborhood in Seville is a lively and historic district that exudes a unique charm and character. Situated on the west bank of the Guadalquivir River, Triana has a rich history and a strong sense of identity. Its narrow streets, colorful houses, and vibrant atmosphere make it a captivating area to explore. Here are some of the main attractions and highlights of the Triana neighborhood:
Triana Bridge (Puente de Isabel II): This iconic bridge connects Triana with the city center and offers stunning views of the river and Seville's skyline. It's a great spot for a leisurely stroll and photographs.
Mercado de Triana: Triana's market is a bustling hub of activity where you can find fresh produce, meats, seafood, and local products. It's a great place to experience the local food culture and pick up some souvenirs.
Calle Betis: This picturesque riverside street is lined with bars, restaurants, and cafes. It's a popular area to enjoy a meal or a drink while taking in the views of the river and the city.
Iglesia de Santa Ana: This historic church is a prominent landmark in Triana. Its Mudéjar-style architecture and intricate details make it a fascinating sight to behold.
Calle San Jacinto: Triana's main commercial street is filled with shops, boutiques, and traditional ceramic workshops. It's a great place to shop for unique souvenirs and gifts.
Casa de las Columnas: This historic building was once a convent and is now a cultural center. It often hosts exhibitions, concerts, and other events.
Castillo de San Jorge: While not open to the public, this castle is an important historical site that played a role in Seville's history. It's located near the Triana Bridge.
Ceramic Workshops: Triana is known for its ceramic craftsmanship. You can visit workshops and stores that offer beautifully crafted tiles, pottery, and ceramics.
Triana Market Square (Plaza del Altozano): This lively square is a central meeting point in Triana. It's surrounded by cafes and shops, making it a great spot to relax and people-watch.
Calle Pureza: Known for its lively nightlife, this street is dotted with bars and flamenco venues. It's a popular area for experiencing authentic flamenco performances.
Triana Pottery Museum (Museo de la Cerámica de Triana): Learn about the neighborhood's ceramic history and admire a collection of traditional tiles and pottery.
Triana is a neighborhood that's deeply rooted in Seville's history and culture. Its vibrant streets, historic sites, and strong sense of community create an inviting atmosphere that's a must-visit for anyone exploring the city.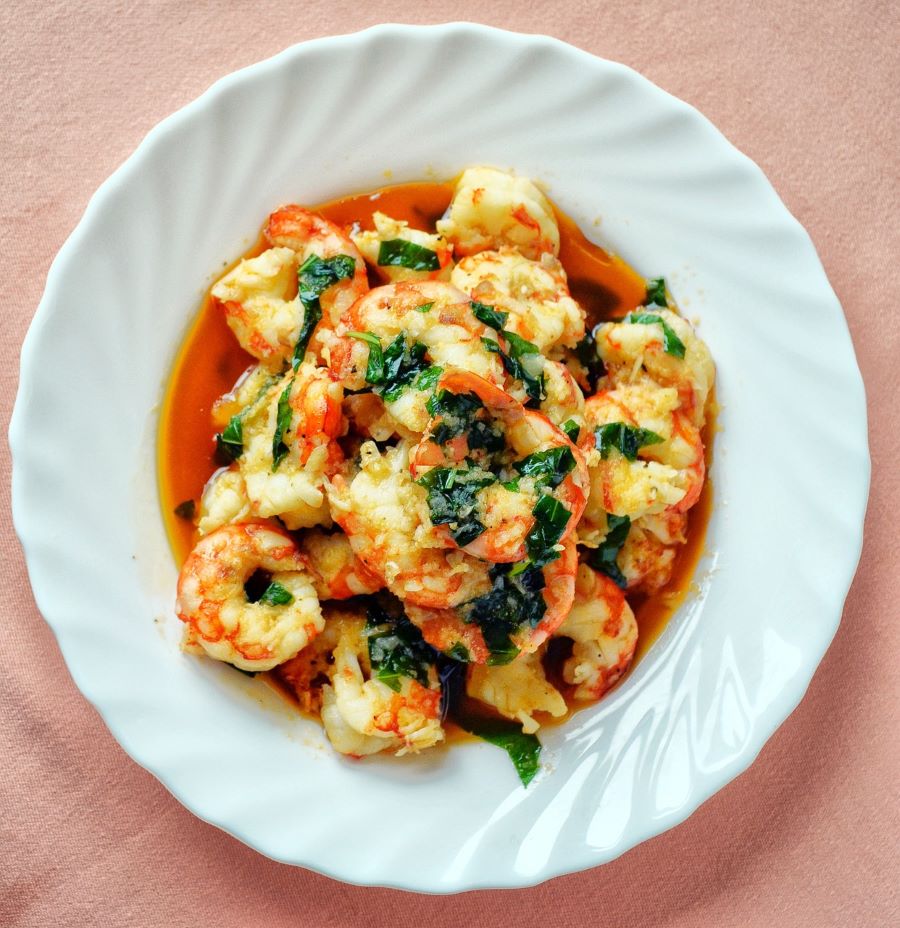 Places to have lunch in Triana
Here are some places in Triana, Seville where you can enjoy a delicious lunch:
La Tertulia – A charming restaurant known for its traditional Andalusian dishes and cozy atmosphere.
El Faro de Triana – Offers a mix of seafood and local cuisine with views of the river. Their tapas are especially recommended.
Mercado de Triana – The local market offers various food stalls where you can enjoy fresh and diverse options for lunch.
Bar Casa Cuesta – A classic bar serving tapas and local dishes, perfect for a quick and authentic lunch experience.
Vera de Triana – This restaurant offers modern interpretations of traditional Andalusian cuisine in a stylish setting.
Taberna Sol y Sombra – A cozy tavern with a wide range of tapas and dishes, providing a taste of local flavors.
Blanca Paloma – Known for its fresh seafood and riverside views, this restaurant is a great place to enjoy a leisurely lunch.
Pura Tasca – A small and cozy spot offering a variety of tapas and a friendly atmosphere.
Antigua Abacería de San Lorenzo – A historic spot with a rustic ambiance, offering Andalusian specialties and tapas.
Bar Santa Ana – A local favorite with a variety of tapas and traditional dishes, located in the heart of Triana.
Remember that Spanish lunch hours can be later than in some other countries, often starting around 1:30 PM or even 2:00 PM. It's always a good idea to check the opening hours and make a reservation if possible, especially at popular spots. Enjoy your lunch in Triana!
Last afternoon timeframe in Seville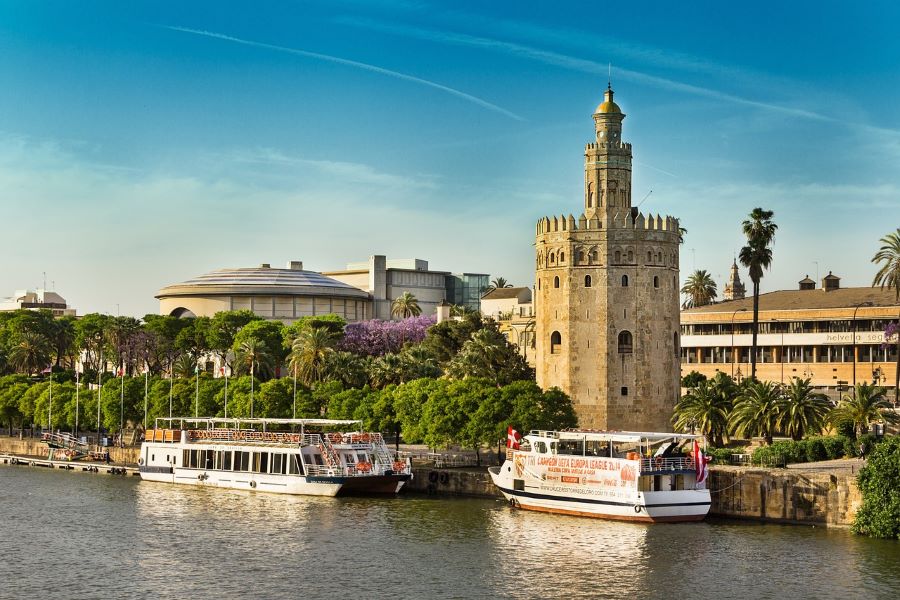 Visit the riverfront areas around the Guadalquivir River
Walk along the Riverfront areas of Seville to enjoy a cool breeze, taking a nice cruise on the Guadalquivir River or exploring the Golden tower. Here are some great options for your leisurely afternoon stroll and hang out spots.
The Guadalquivir River winds gracefully through Seville, offering a range of captivating attractions along its picturesque banks. Here are some notable places to visit along the river:
Triana Bridge (Puente de Isabel II): This iconic bridge connects the city center with the vibrant Triana neighborhood. Its intricate ironwork and historic significance make it a charming entry point to Triana.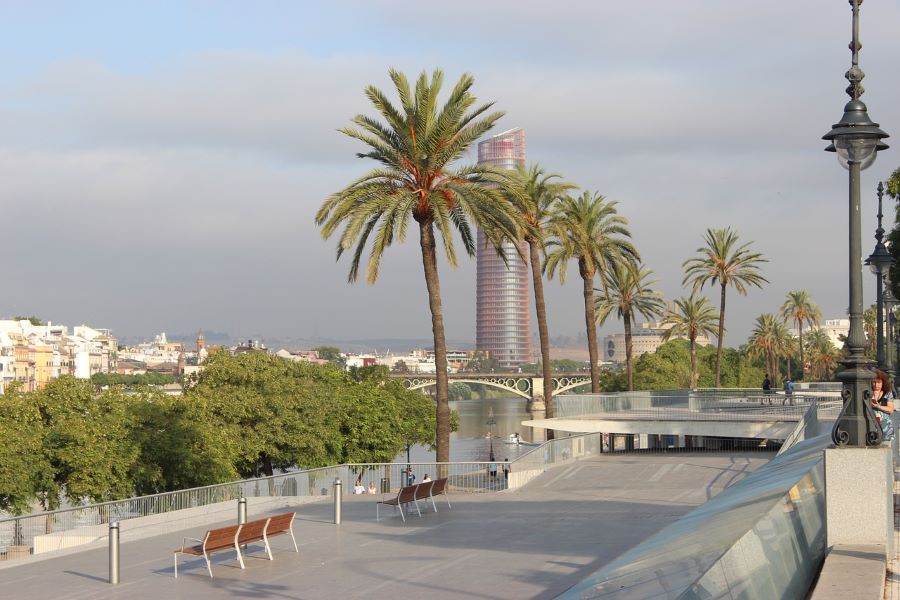 Betis Street: Running parallel to the river in Triana, Betis Street is lined with a variety of bars, restaurants, and cafes. It's a popular spot to enjoy views of the river while savoring Andalusian cuisine.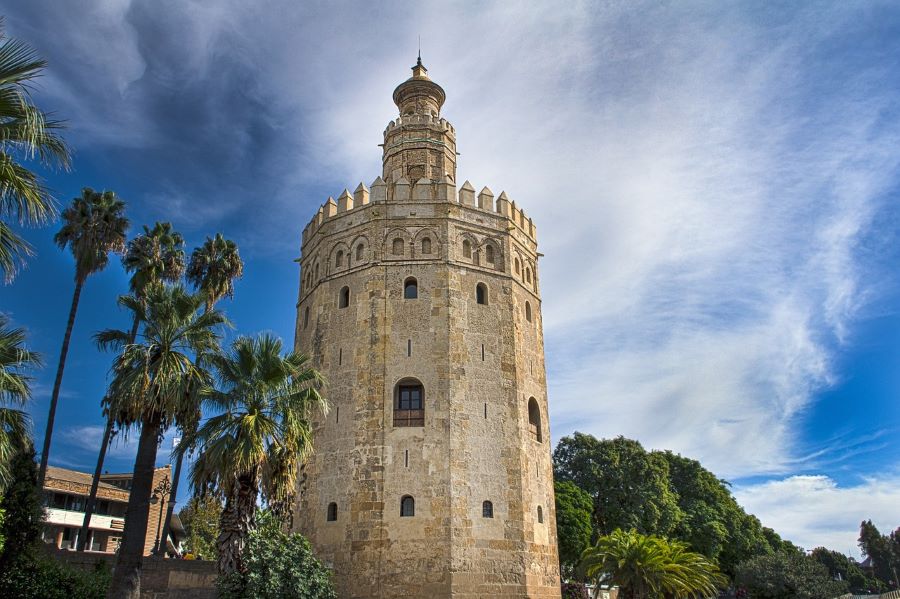 Torre del Oro: This medieval tower once served as a watchtower and defensive structure. Now a maritime museum, visitors can learn about Seville's maritime history and enjoy panoramic views from the top.
Muelle de las Delicias: A contemporary riverside promenade known for its modern architecture and cultural venues. It's a great place for a leisurely stroll with views of the river and the city's skyline.
Seville Aquarium: Situated along the river, this aquarium showcases marine life from both the Atlantic Ocean and the Guadalquivir River. It's an engaging and educational stop for visitors of all ages.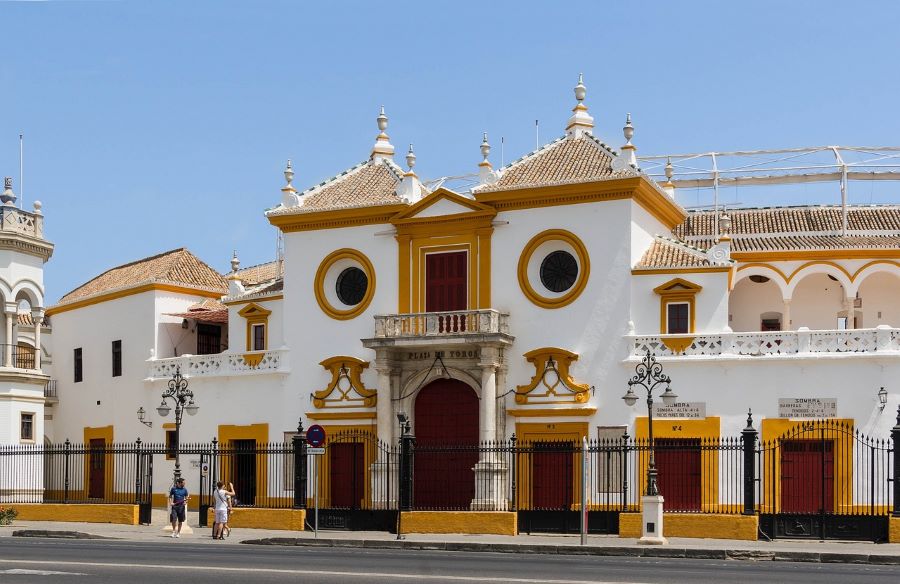 La Maestranza: The bullfighting arena in Seville is named the "Plaza de Toros de la Real Maestranza de Caballería de Sevilla," although it's commonly referred to as "La Maestranza." It holds the distinction of being Spain's oldest bullring.
As you explore the Guadalquivir River's banks, you'll find a blend of history, culture, and modernity that truly captures the essence of Seville's character. Find a nice spot to enjoy sunset and views along the riverbank and you'll treasure this last day of your 3 day itinerary here.
If you have extra time to explore Seville, check out these other places to visit around town.
Beyond the well-known landmarks, Seville holds some hidden treasures that offer a unique and authentic experience. Here are a few lesser-known attractions worth exploring:
Hospital de los Venerables: A Baroque building with stunning architecture, it hosts the Foundation of Focus-Abengoa, displaying art exhibitions and providing insight into Seville's history.
Casa de Pilatos: Often overshadowed by the Alcázar, this palace is a blend of Mudéjar, Gothic, and Renaissance styles. Its serene courtyards and intricate details are a peaceful escape.
Palacio de las Dueñas: The residence of the Duke of Alba, this palace features beautiful gardens, opulent interiors, and a captivating history that's less crowded than other palaces.
Convento de Santa Paula: A hidden gem where cloistered nuns bake traditional pastries. The peaceful atmosphere and chance to purchase their delicacies offer a glimpse into their way of life.
Archivo de Indias Courtyard: While many visit the archives, the serene courtyard often goes unnoticed. It's a tranquil spot surrounded by historical significance.
Antique Tile Factory (Cerámica Santa Ana): Delve into the art of ceramic-making in this historic factory, and even try your hand at painting tiles.
Basilica de la Macarena: Often overshadowed by the Cathedral, this basilica houses the revered statue of the Virgin Mary known as "La Macarena."
Mushrooms Market (Mercado de la Encarnación): Below the Metropol Parasol, discover this bustling market offering fresh produce, local products, and a chance to mingle with locals.
Barrio León: A quaint neighborhood with narrow streets and hidden squares, perfect for a leisurely stroll and a glimpse of local life.
Casa de la Memoria: A flamenco venue that showcases passionate performances by talented artists in an intimate setting.
These lesser-known attractions provide a chance to experience Seville from a different angle, away from the crowds, and offer a deeper connection to the city's culture and history.
Check out these other posts on Seville

Conclusion of 3 days in Seville itinerary
As your 3-day adventure in Seville comes to an end, take some time to soak in the city's unique blend of history, culture, and passion. Whether it's the intricate architecture, the emotional rhythms of flamenco, or the taste of authentic Spanish cuisine, Seville will undoubtedly leave a lasting impression on your heart and mind. Bookmark this post for planning your visit to this amazing city and hopefully, you will get a chance to see all of these amazing attractions and try out the fantastic tapa bars in town.
Depart with cherished memories and a newfound appreciation for the beauty of Andalusia. Until we meet again, thanks for visiting Visit Spain and Mediterranean.
Thanks for checking out this post on Seville, Spain with Visiting Spain and Mediterranean.com, hope that this was helpful for planning a visit with things to do, attractions and other fun places to explore. Please come back again for more adventures in Spain and the Mediterranean coast.