One day in Ronda, Spain: Explore the attractions, historic sites and gorgeous vistas around this city in Andalusia
There's plenty to see and do with just one day in Ronda, Spain to visit.  You can easily explore all the main attractions, vista points, the bullring and other historical sites along with some of the more unique Ronda venues and fantastic viewpoints over looking the mediterranean landscape below.
Ronda, Spain has a unique history and story to tell and we share many of those highlights and special places to visit below. You'll enjoy visiting Ronda and in just one day you can see all of the main attractions around town and experience this beautiful Andalusian city.
A short history about Ronda, Spain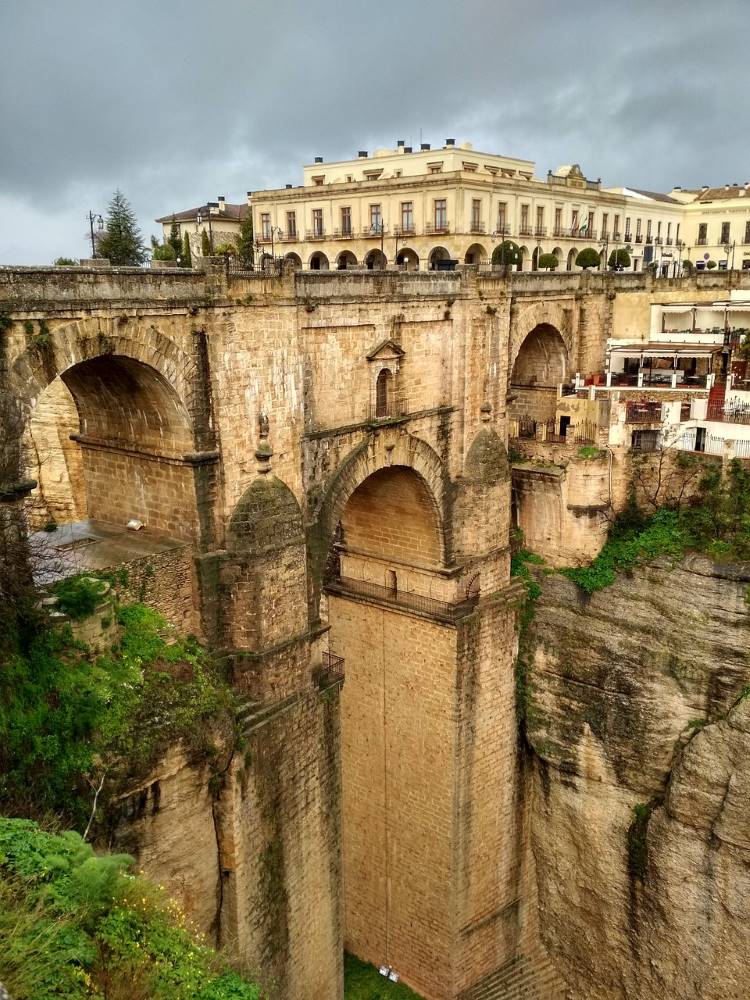 Ronda is a picturesque town located in the province of Málaga, Andalusia, Spain. Its history dates back thousands of years, making it one of the oldest towns on the Iberian Peninsula. The town's strategic location on a rocky plateau, surrounded by deep gorges carved by the Guadalevín River, has contributed to its historical importance.
Ancient Origins: Ronda has been inhabited since prehistoric times, with evidence of settlements from the Neolithic period. It was later inhabited by the Celts, Phoenicians, and Romans, who named the town "Arunda."
Roman and Visigothic Period: During the Roman era, Ronda flourished as a prosperous city. It was known for its trade and production of agricultural goods. With the decline of the Roman Empire, Ronda fell under the control of various groups, including the Visigoths.
Moorish Rule: One of the most significant periods in Ronda's history was its Moorish occupation, which began in 711 AD. The Moors constructed the iconic Puente Nuevo (New Bridge) that spans the El Tajo Gorge, connecting the old Moorish town with the newer part of the city. Ronda became a vital cultural and commercial center under Moorish rule.
Reconquista and Christian Rule: In the late 15th century, Ronda was reconquered by the Catholic Monarchs, Ferdinand and Isabella, as part of the broader Christian reconquest of Spain from the Moors. This marked the end of Muslim rule in Ronda and led to significant changes in the city's architecture and culture.
Modern Era: Ronda's historical significance continued through the subsequent centuries. It played a role in various conflicts and wars, including the Napoleonic Wars and the Spanish Civil War. The town's unique blend of architectural styles, reflecting its diverse history, has attracted artists, writers, and travelers over the years.
Cultural and Literary Influence: Ronda has inspired numerous artists and writers, including Ernest Hemingway, who mentioned the town in his novel "For Whom the Bell Tolls." Its dramatic landscapes, historic bridges, and white-washed buildings have made it a subject of artistic expression.
Today, Ronda is a popular tourist destination that offers visitors a chance to explore its rich history, stunning landscapes, and cultural heritage. Its mix of Roman, Moorish, and Spanish influences can be seen in its architecture, traditions, and way of life. The town's historical significance and natural beauty continue to captivate those who visit.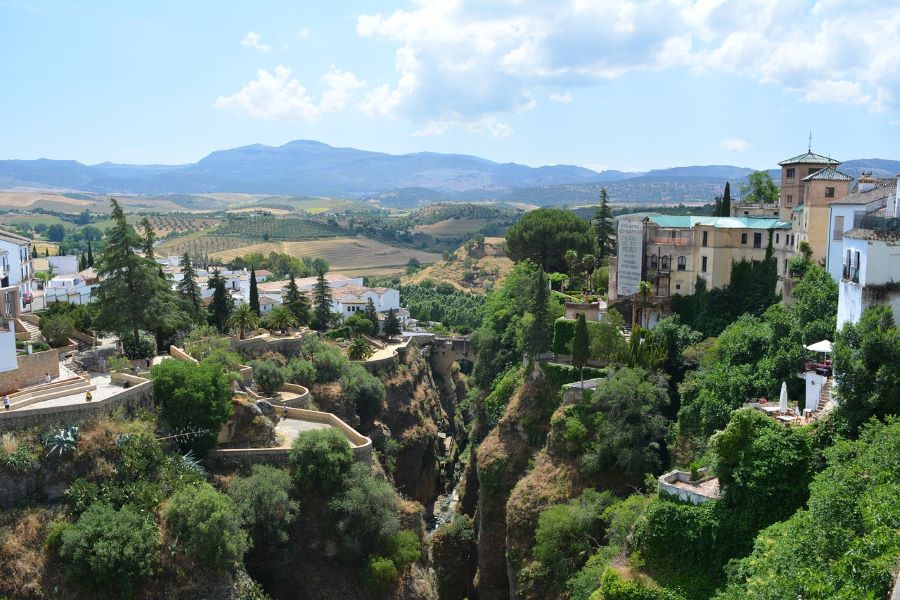 How to get to Ronda, Spain
Getting to Ronda, Spain is relatively straightforward due to its popularity as a tourist destination and location around the Costa del Sol. The trip to Ronda from Malaga City takes about 1 hour 18 minutes driving or by public transportation. Here are some common ways to reach Ronda below:
By Train: Ronda is connected by train to major cities like Malaga and Seville. The train journey offers beautiful scenic views as it winds through the picturesque countryside. Trains are operated by Renfe, the Spanish national railway company.
By Bus: Buses are a convenient and affordable way to reach Ronda. Several bus companies operate routes connecting Ronda with cities like Malaga, Seville, and Granada. The bus station in Ronda is centrally located.
By Car: If you prefer driving, you can rent a car and take advantage of Spain's well-maintained road network. Ronda is easily accessible by car, and the drive through the countryside can be quite enjoyable.
Guided Tours: Many tour companies offer guided day trips to Ronda from nearby cities like Malaga or Seville. These tours often include transportation, guided tours of Ronda's attractions, and the opportunity to explore the town's history and culture.
Once you're in Ronda, it's easy to explore the town on foot, as many of the attractions are within walking distance of each other. The town's historic center, the Puente Nuevo (New Bridge), the old Moorish quarter, and various museums are some of the key highlights you might want to explore.
Key attractions and places to visit around Ronda, Spain
Ronda is a picturesque and charming town in Spain with a rich history and a variety of key attractions and places to visit. You can take in as many of these attractions and places of interest as you want and enjoy a day visiting Ronda.
Here are some of the top highlights of places to visit around town: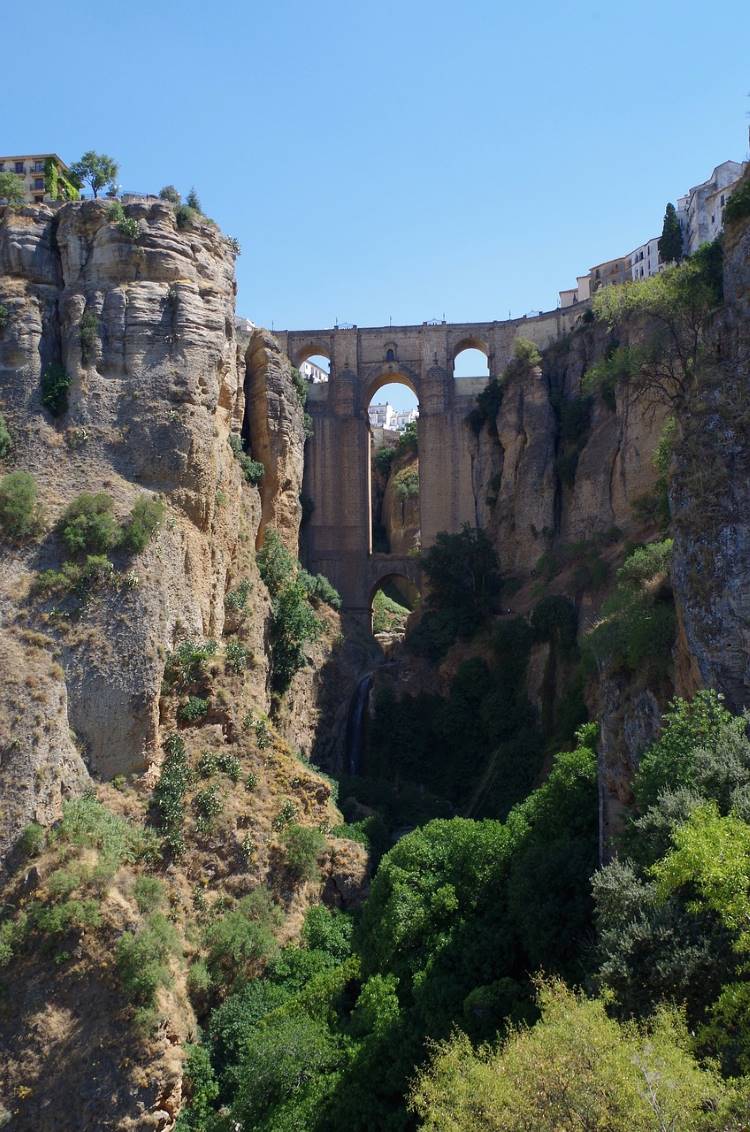 Puente Nuevo (New Bridge): One of Ronda's most iconic landmarks, the Puente Nuevo is a breathtaking bridge that spans the El Tajo Gorge, offering stunning views of the surrounding countryside. The bridge connects the newer part of the town with the old Moorish quarter.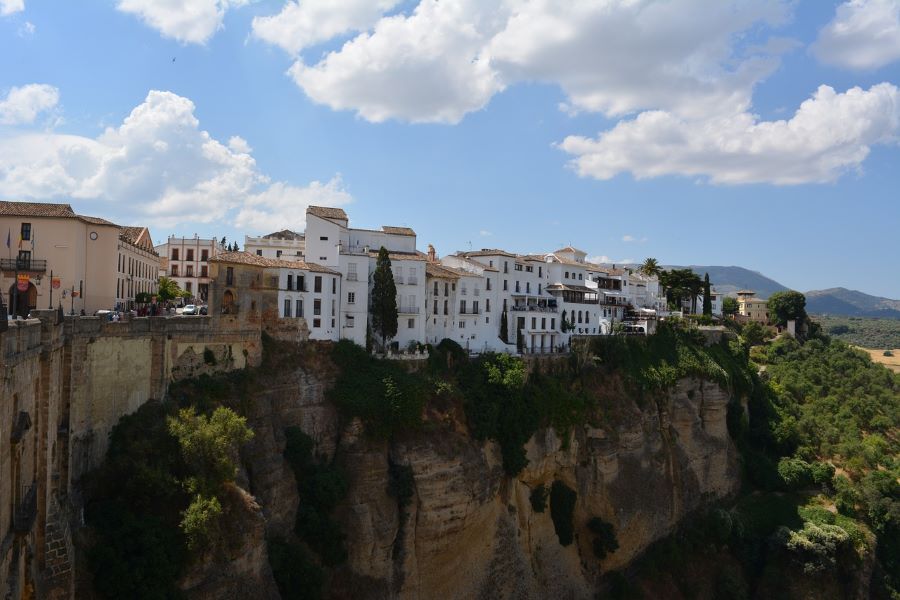 Old Town (La Ciudad): Ronda's historic old town is a maze of narrow streets, whitewashed buildings, and charming squares. Exploring this area on foot allows you to discover quaint shops, traditional restaurants, and the town's Moorish heritage.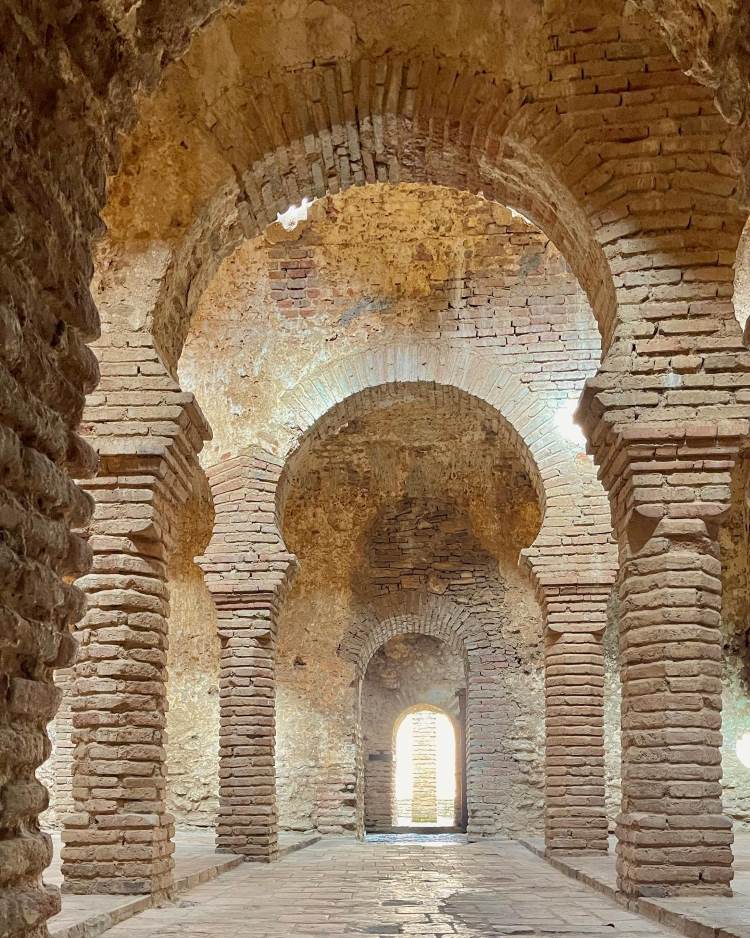 Arab Baths: The Banos Arabes (Arab Baths) in Ronda are among the best-preserved examples of Moorish bathhouses in Spain. These baths provide insight into the Moorish influence on the town's history and architecture.
Palacio de Mondragón: This palace was once the residence of Ronda's Moorish rulers. It now houses the Municipal Museum, where you can learn about the town's history through various artifacts and exhibits.
La Casa del Rey Moro (House of the Moorish King): This historic building features beautiful gardens and a network of stone steps that lead down to the bottom of the gorge. The Water Mine, an ancient system used to supply water to the town, can be explored here.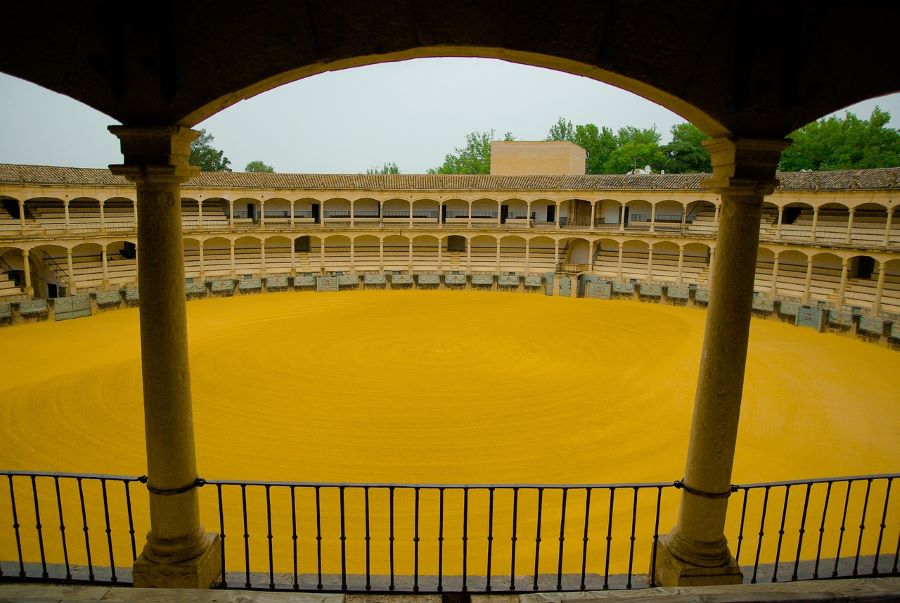 Plaza de Toros (Ronda Bullring): Ronda is known as the birthplace of modern bullfighting, and its bullring is one of the oldest and most iconic in Spain. The Bullring Museum provides insights into the history and cultural significance of bullfighting.
Here's a quick view of a bullfight video experience in Ronda below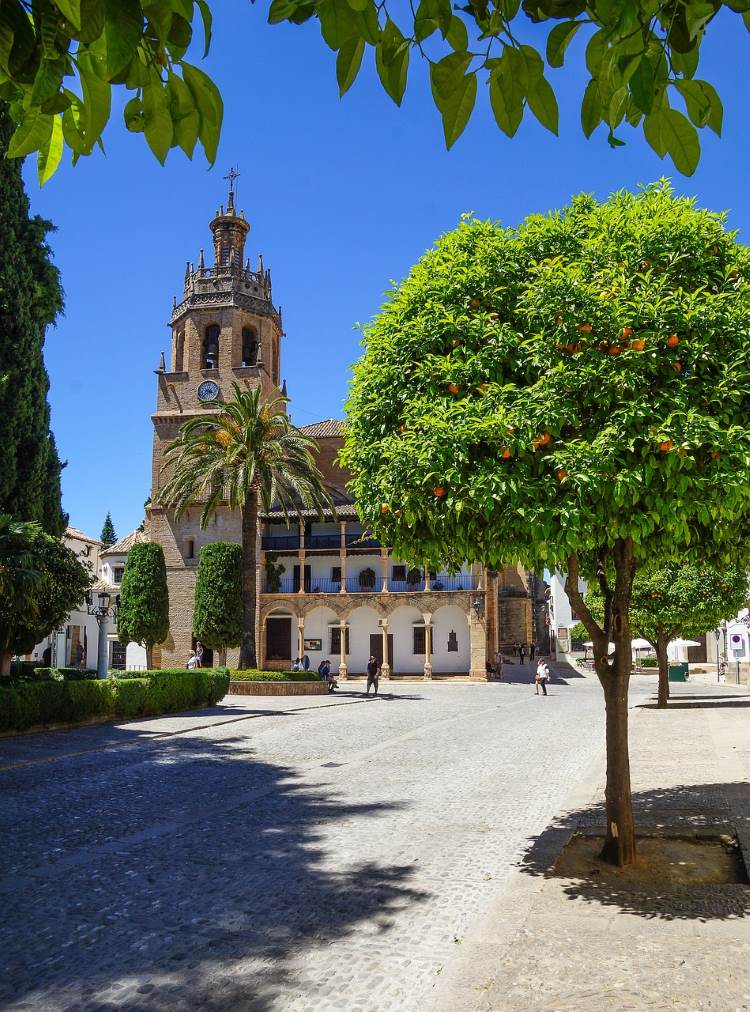 Church of Santa María la Mayor: This church combines different architectural styles, including Gothic and Renaissance. It houses impressive altarpieces and artworks, showcasing the town's religious heritage.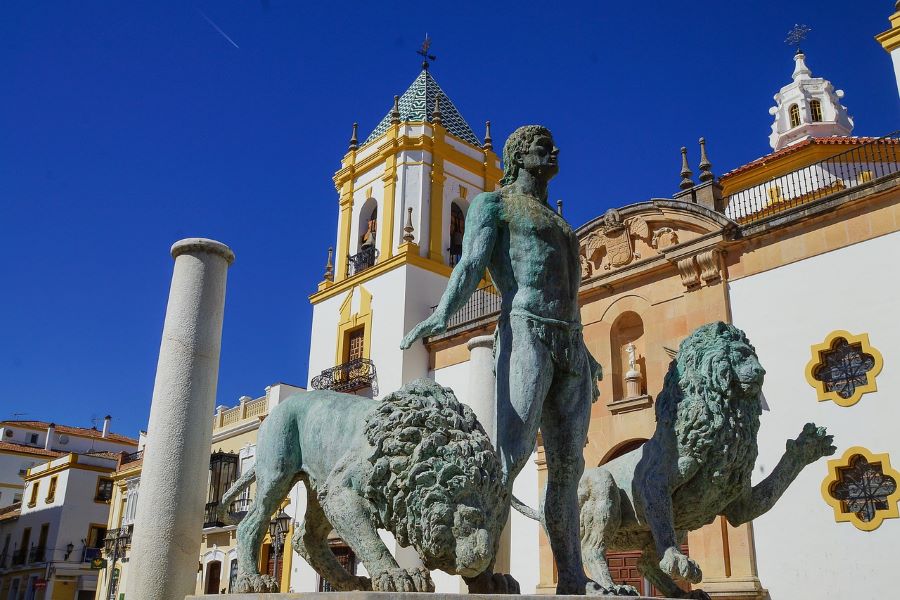 Plaza del Socorro: stands as Ronda's most charming square, adorned with numerous monuments. Taking the spotlight is the church called Iglesia del Socorro, (Church Of Our Lady Of Socorro in Ronda), a captivating blend of Gothic and Renaissance architectural styles, boasting a construction period spanning over two centuries.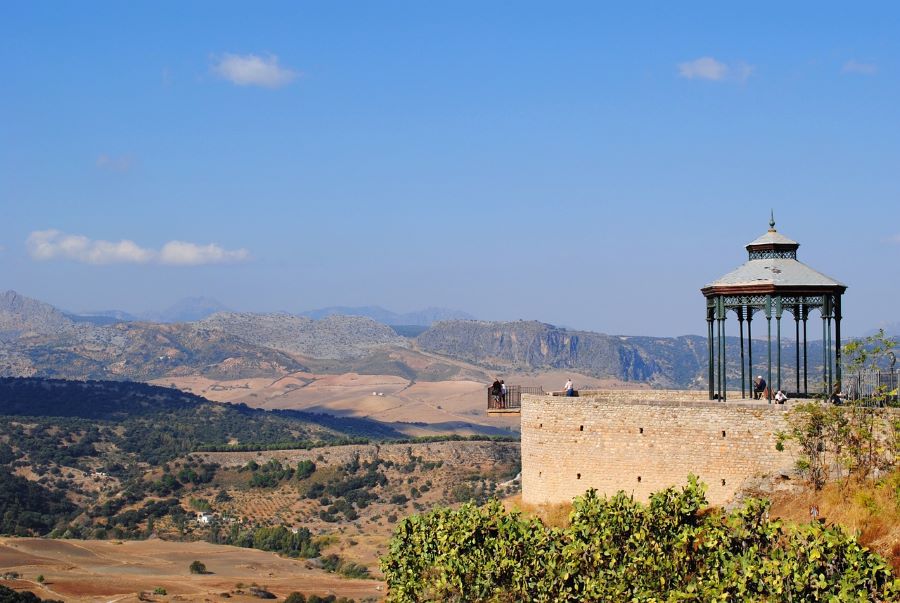 Alameda del Tajo: This scenic viewpoint offers panoramic views of the El Tajo Gorge and the surrounding countryside. It's a great spot to take in the natural beauty of the area.
Jardines de Cuenca (Cuenca Gardens): These gardens are beautifully landscaped and offer a peaceful place to stroll and relax. You'll find fountains, sculptures, and colorful flowers throughout the gardens.
Museo Lara: This quirky museum houses a diverse collection of antique items, ranging from clocks and firearms to vintage toys and scientific instruments.
Wine Cellars and Wineries: Ronda is known for its wine production. Consider visiting local wineries to taste regional wines and learn about the winemaking process.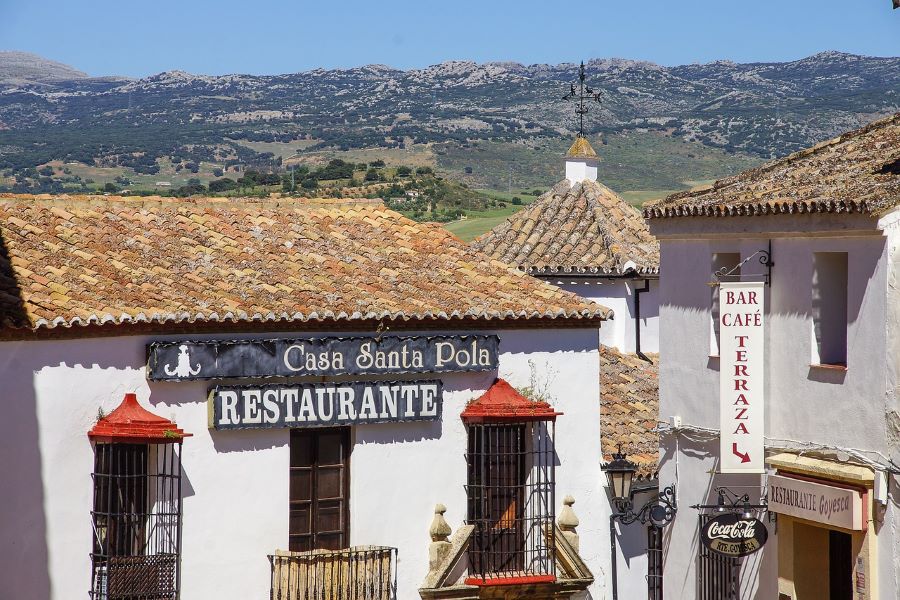 Where to eat in Ronda
Ronda offers a delightful culinary scene that showcases Andalusian flavors and local specialties. Here are some recommendations for places to eat locally in Ronda:
Traga Tapas: A popular spot for tapas lovers, Traga Tapas offers a variety of traditional Spanish small plates with a modern twist. The menu features a range of options, including both classic and innovative tapas.
Restaurante Almocabar: Set in a historic building, Restaurante Almocabar offers a menu featuring Andalusian cuisine with a focus on locally sourced ingredients. It's a great place to savor traditional dishes in a charming setting.
Bodega San Francisco: This restaurant is known for its welcoming atmosphere and excellent food. They offer a mix of Spanish and Andalusian dishes, and their extensive wine list includes local wines from the region.
Casa María: A family-run restaurant with a warm ambiance, Casa María specializes in hearty, homemade Andalusian dishes. Their menu often includes grilled meats, fresh seafood, and a selection of regional specialties.
Bar Los Cazadores: A local favorite, Bar Los Cazadores is known for its friendly service and authentic tapas. The bar is small, but it offers a vibrant atmosphere and a chance to sample a variety of local flavors.
Restaurante El Lechuguita: This charming restaurant offers a mix of Spanish and Mediterranean cuisine. Their menu includes a selection of fresh salads, seafood, and grilled meats.
Restaurante Don Miguel: Don Miguel is a fine dining option in Ronda, known for its elegant atmosphere and creative cuisine. Their menu features innovative dishes inspired by local ingredients.
Restaurante Albacara: Situated near the Puente Nuevo, Restaurante Albacara offers both indoor and outdoor dining spaces with stunning views. They specialize in traditional Spanish dishes and fresh seafood.
Taberna Quinto Tramo: This cozy taberna serves classic tapas and larger portions of Andalusian dishes. It's a great place to experience local flavors in a relaxed setting.
Restaurante Los Cazadores: Known for its rustic charm, Restaurante Los Cazadores serves traditional Spanish and Andalusian dishes, often featuring game meat and hearty stews.
When dining out in Ronda, it's a good idea to make reservations, especially during peak tourist seasons. Additionally, many restaurants in Spain observe siesta hours, where they may close during the mid-afternoon and reopen in the evening. Be sure to check the opening hours and make any necessary arrangements to ensure a smooth dining experience. Please note that restaurant details and offerings can change, so it's advisable to consult recent reviews and information before making your dining choices.
Weather and best time to visit Ronda, Spain
Ronda, Spain, enjoys a Mediterranean climate with warm summers and mild winters. The best time to visit Ronda largely depends on your preferences for weather, crowd levels, and the activities you want to engage in. Here's a breakdown of the weather and the recommended times to visit:
Spring (March to May): Spring is one of the most popular times to visit Ronda. The weather is pleasantly warm, and the landscape is adorned with colorful flowers and blossoms. It's an ideal time for sightseeing, as the temperatures are comfortable and the crowds are relatively smaller than in the peak summer months.
Summer (June to August): Summer is the high tourist season in Ronda. The weather is hot, with temperatures often reaching the mid-30s Celsius (mid-90s Fahrenheit). While the days are long and sunny, this period can be crowded, especially around major attractions. If you don't mind the heat and prefer a lively atmosphere, summer can be a great time to explore the town.
Autumn (September to November): Early autumn can be a pleasant time to visit Ronda. The weather is still warm in September, making it a good choice for travelers who want to avoid the peak summer crowds. October and November see milder temperatures, making it comfortable for outdoor activities like hiking.
Winter (December to February): Winter is the quietest time for tourism in Ronda. While temperatures are cooler, they rarely drop below freezing. It's a great time for travelers who enjoy a peaceful atmosphere and want to explore the town without the crowds. Just keep in mind that some attractions might have shorter opening hours during the low season.
In general, the best time to visit Ronda for a balance of good weather and manageable crowds is during the spring (March to May) and early autumn (September to October). These months offer pleasant temperatures and are less crowded compared to the peak summer season.
Keep in mind that weather patterns can vary from year to year, so it's a good idea to check the weather forecast closer to your travel dates. Also, since my last update in September 2021, there might have been changes or developments in tourism or weather patterns, so it's always advisable to consult up-to-date sources before planning your trip.
Check out this video tour of Ronda and the old town below
Visit these fun places and white villages close by to Ronda, Spain
There are plenty of nearby attractions to explore outside of Ronda, Spain. Here are some more options to consider:
El Torcal de Antequera: A unique natural park known for its impressive limestone rock formations that have been shaped by erosion over millions of years. It's a great place for hiking and enjoying stunning views.
El Chorro Gorge and Caminito del Rey: A famous hiking route that takes you along the narrow pathway attached to the steep walls of the gorge. It's a thrilling experience with breathtaking views.
Antequera: This historic town offers attractions like the Alcazaba, a medieval fortress, and the Dolmens of Antequera, ancient megalithic structures that are UNESCO World Heritage sites.
Istan: A picturesque white-washed village near Marbella, known for its Moorish architecture, charming streets, and proximity to the Istán Reservoir.
Nueva Andalucía: Located near Marbella, this area is known for its upscale neighborhoods, golf courses, and trendy restaurants.
Frigiliana: A stunning village with narrow streets, white houses adorned with colorful pots of flowers, and beautiful views of the surrounding hills.
Benalmádena: Visit the Benalmádena Pueblo, a traditional Andalusian village, and explore attractions like the Butterfly Park and the Benalmádena Marina.
Mijas: Known for its donkey taxis, Mijas offers a mix of traditional Spanish charm and modern amenities, with beautiful views of the coastline.
Casares: A picturesque village perched on a hill, offering panoramic views of the surrounding countryside and the Mediterranean Sea.
Gaucín: Nestled in the mountains, Gaucín offers stunning views, charming streets, and is a great starting point for hiking in the area.
El Bosque: This village is a gateway to the Sierra de Grazalema Natural Park and offers opportunities for outdoor activities like hiking and bird-watching.
Vélez-Málaga: Explore the historic center with its castle and old churches, and then head to the nearby beaches for relaxation.
Castellar de la Frontera: A medieval fortress town located within a preserved castle, offering a unique atmosphere and beautiful views.
These attractions provide a diverse range of experiences, from natural landscapes to historic villages and coastal towns. Whether you're interested in outdoor adventures, cultural exploration, or simply enjoying the beauty of the region, you'll find plenty to do in the areas surrounding Ronda.
Check out these other posts to visiting the Andalusia region below
One day visit to Malaga, Spain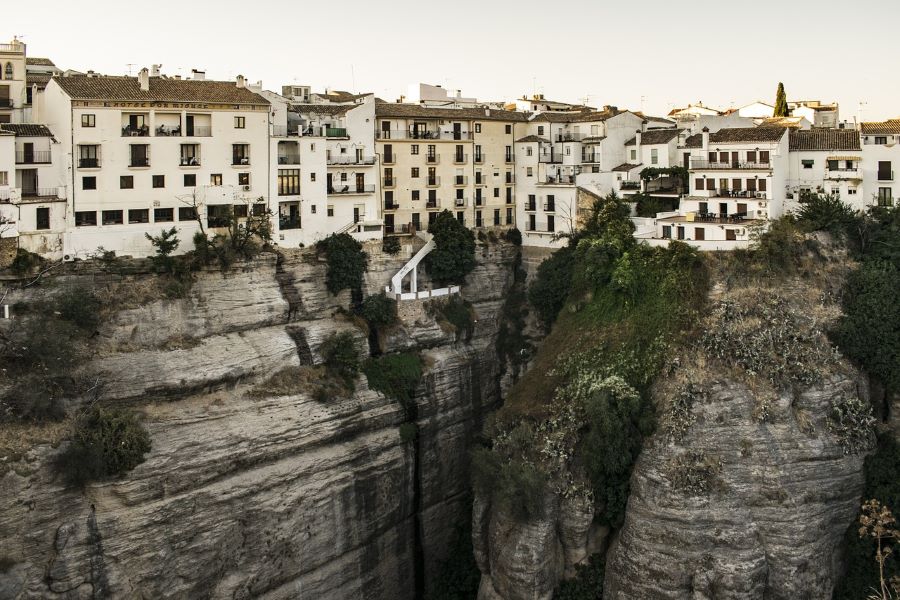 Conclusion to visiting Ronda in Andalusia
Visiting Ronda in Andalusia promises a captivating experience merging history, culture, and stunning scenery. The town's blend of Moorish and Spanish influences, highlighted by landmarks like the Puente Nuevo and the old town's winding streets, offers a deep dive into its heritage. Culinary adventures abound, showcasing Andalusian flavors in tapas bars and fine dining establishments.
Whether you're wandering through historic sites, taking in panoramic views from Alameda del Tajo, or simply savoring the town's ambiance, Ronda's beauty and allure make it a must-visit destination in Andalusia. Its rich history, warm hospitality, and stunning landscapes come together to create an experience that lingers long after your visit.
Thank you for checking out this post on Visit Spain and Mediterranean, hope you an visit us again soon!