Malaga to Ronda: explore the various options of travel between both cities
Ronda remains the popular destination spot to visit in Andalusia and a visit from Malaga or the many cities and towns nearby are looking for how to plan a trip to Ronda by private rental car, bus or train service. We share the many options to explore the city and how to get there and budgeting to your needs and schedule.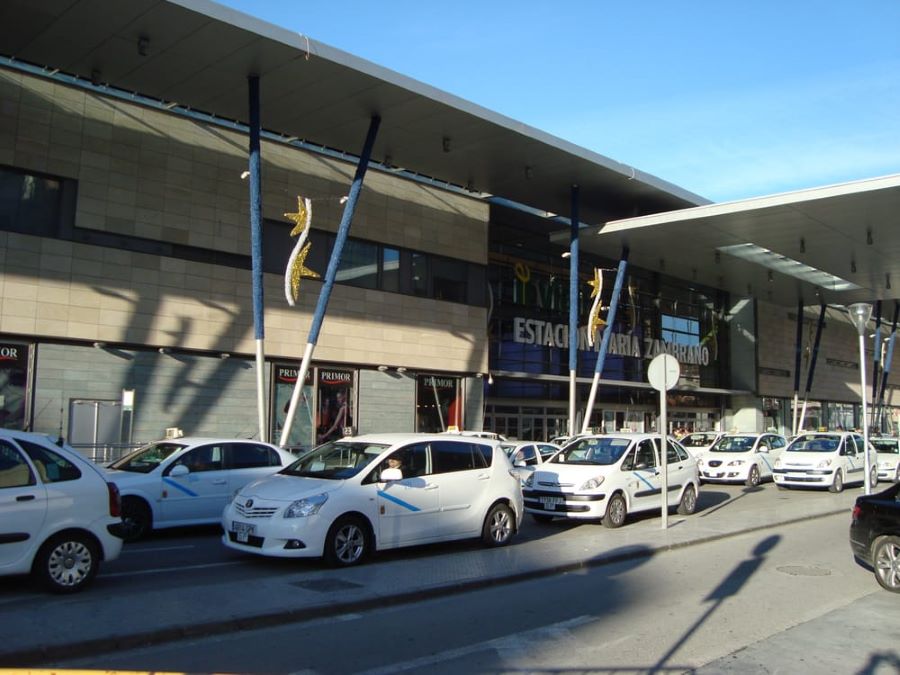 Options on travel between Malaga to Ronda, Spain
Traveling from Malaga to Ronda, Spain, offers various transportation options to explore this beautiful Andalusian town. Here are some common ways to make the journey:
By Car rental to Ronda
Renting a car is a convenient option if you prefer flexibility and want to explore the scenic countryside between Malaga and Ronda. The distance is approximately 100 kilometers (62 miles), and the drive takes around 1.5 to 2 hours. You can take the A-357 and A-367 highways, which offer picturesque views of the Sierra de las Nieves Natural Park.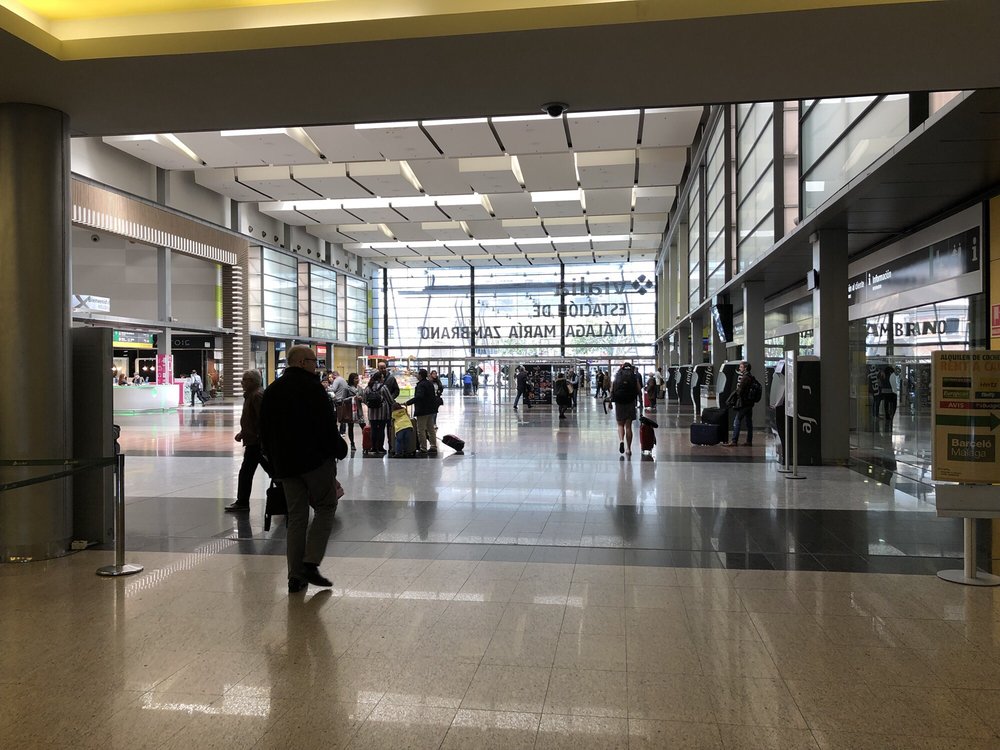 By Train service to Ronda, Spain
The train journey from Malaga to Ronda is scenic and comfortable. You can take the C-1 commuter train from Malaga's María Zambrano Station to Ronda. The journey takes around 2.5 to 3 hours, depending on the type of train. This option allows you to relax and enjoy the landscape along the way.
The C-1 commuter train is a convenient and efficient mode of transportation that connects Malaga with the picturesque town of Ronda in southern Spain. Here's an explanation of the C-1 train service:
Route: The C-1 train route runs from Malaga to Ronda, with several stops along the way. It passes through various towns and scenic landscapes, making it a popular choice for both commuters and tourists.
Duration: The journey on the C-1 train from Malaga to Ronda takes approximately 2.5 to 3 hours, depending on the specific train service and stops. The train ride itself is a scenic experience, with beautiful views of the Andalusian countryside.
Stations: Some of the key stations and stops along the C-1 train route include Malaga María Zambrano (the main train station in Malaga), Alora, El Chorro, Ardales, and finally, Ronda. Each station provides access to nearby attractions and transportation connections.
Frequency: Trains on the C-1 route run multiple times per day, with varying frequencies depending on the time of day and season. It's a good idea to check the train schedule in advance, especially if you have a specific departure time in mind.
Comfort: The C-1 train offers a comfortable and relatively modern travel experience. Passengers can expect air-conditioned cars with seating, making it a pleasant way to enjoy the scenic journey to Ronda. Some trains may also have snack and beverage services.
Tickets: You can purchase tickets for the C-1 train at the train station, through ticket vending machines, or online via the official website of the Spanish rail operator, Renfe. It's advisable to buy tickets in advance, especially during peak travel times or the tourist season.
Scenic Views: One of the highlights of the C-1 train journey is the stunning scenery along the way. You'll pass through olive groves, vineyards, and rolling hills, with the highlight being the views of the El Tajo gorge as you approach Ronda.
The C-1 commuter train is a popular choice for visitors looking to explore Ronda and its beautiful surroundings without the hassle of driving. It offers a comfortable and leisurely way to appreciate the scenic beauty of Andalusia as you travel from Malaga to Ronda.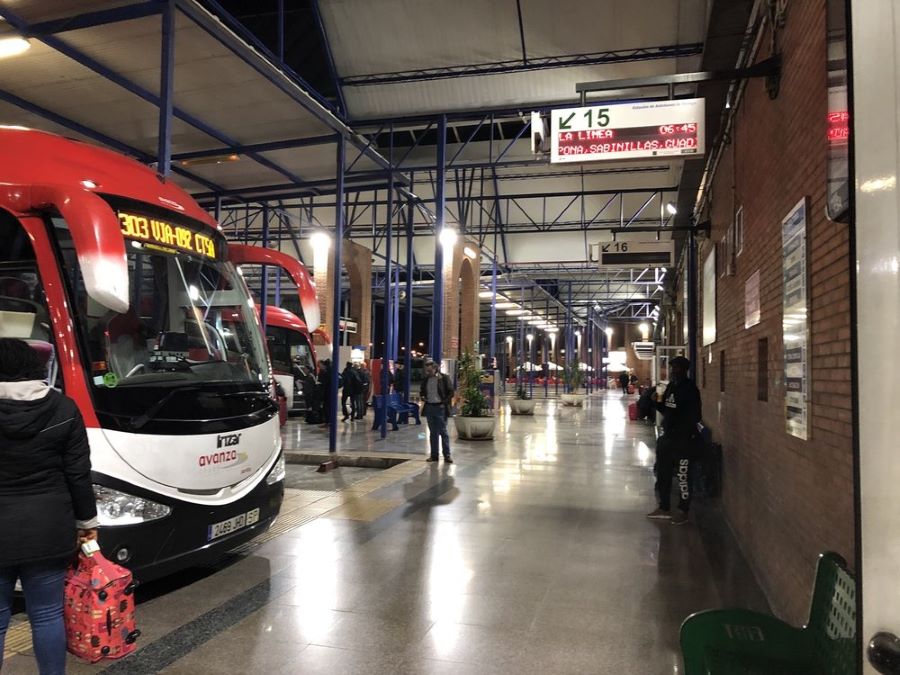 By Bus to Ronda
Several bus companies operate routes between Malaga and Ronda. The bus journey takes around 2 to 2.5 hours. You can find buses departing from Malaga's main bus station (Estación de Autobuses de Málaga) or from the Malaga María Zambrano Train Station. Check schedules and ticket prices with companies like Avanza or Los Amarillos.
Traveling to Ronda by bus is another convenient option, offering a different perspective on the journey compared to the train or car. Here's an expanded explanation of taking the bus to Ronda:
Bus Services: Several bus companies provide regular services connecting Malaga with Ronda. Among them, Avanza and Los Amarillos are well-known operators offering reliable transportation options.
Departure Points: Buses to Ronda typically depart from Malaga's main bus station, Estación de Autobuses de Málaga, which is centrally located in the city. This station is easily accessible by public transportation or taxi.
Duration: The bus journey from Malaga to Ronda takes approximately 2 to 2.5 hours, depending on traffic conditions and the specific route taken. The route offers picturesque views of the Andalusian countryside and the surrounding hills.
Comfort: Modern buses used for long-distance routes are generally comfortable and equipped with air conditioning, comfortable seating, and onboard amenities such as restrooms. Some buses may offer Wi-Fi and entertainment options.
Ticket Purchase: Tickets for the bus journey can be purchased at the bus station's ticket counters or online through the official websites of the bus companies. Booking tickets in advance is advisable, especially during peak travel seasons or weekends.
Schedules: Bus schedules vary depending on the time of day and the day of the week. There are typically multiple departures each day, allowing you to choose a convenient time for your trip. Be sure to check the schedule and plan your journey accordingly.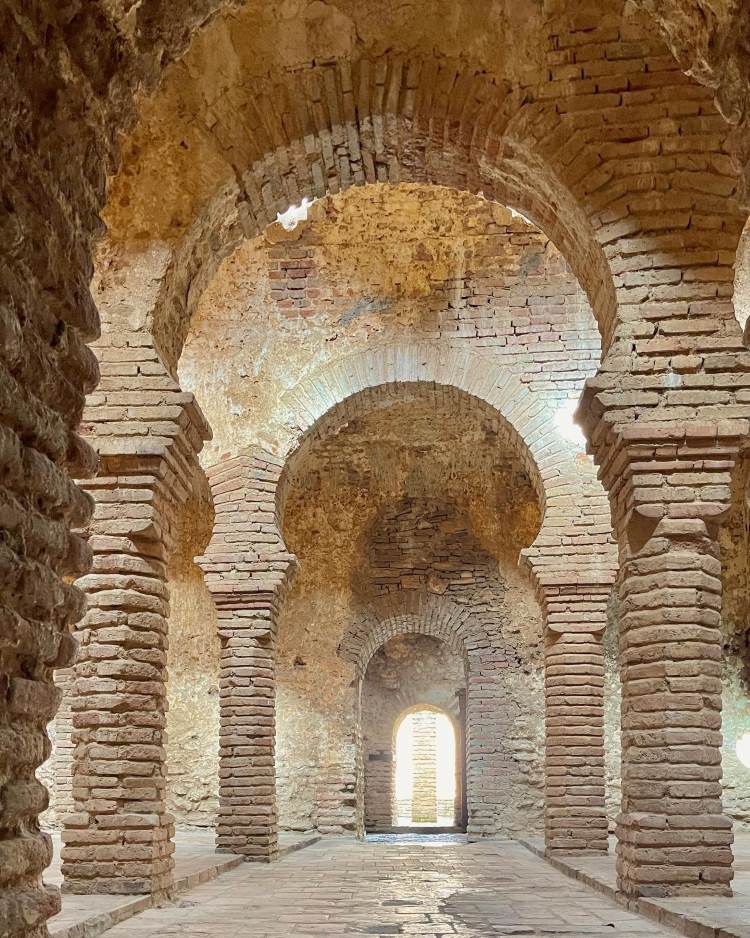 Guided Tours to Ronda
If you prefer a guided experience, you can join a day tour from Malaga to Ronda. These tours often include transportation, a guide, and visits to key attractions like Ronda's historic bullring, Puente Nuevo bridge, and old town.
Private Transfer to Ronda
Another option is to arrange a private transfer or taxi service from Malaga to Ronda. This can be convenient if you have a group or want a more personalized experience.
The choice of transportation depends on your preferences, budget, and travel schedule. Whether you opt for a scenic train ride, the convenience of a car rental, or a guided tour, Ronda's stunning landscapes and historic charm make it a worthwhile destination to explore from Malaga.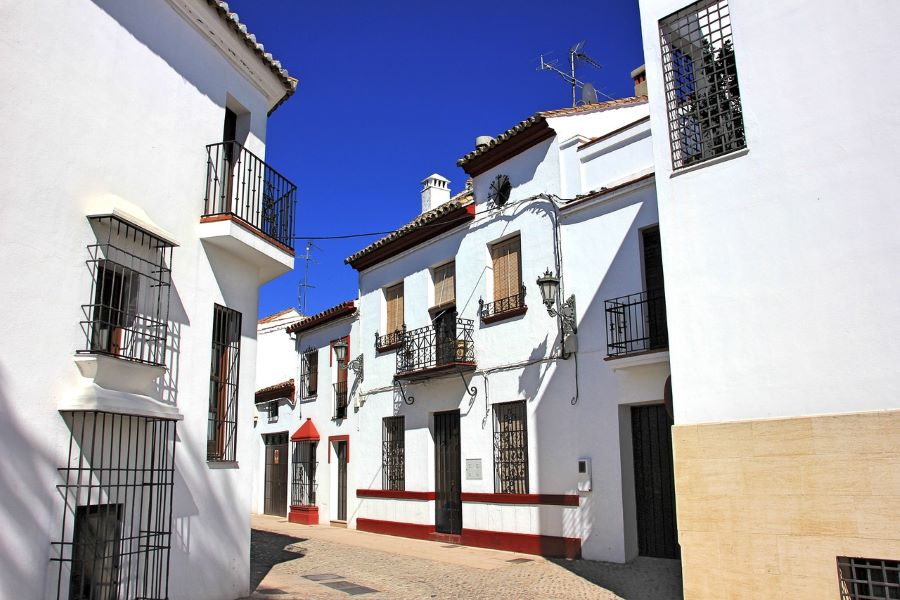 How to get around Ronda, Spain
Getting around Ronda, Spain, is relatively straightforward, as the town is compact and pedestrian-friendly. Here are the main ways to navigate Ronda:
Walking: Ronda's historic center, where most of the attractions are located, is best explored on foot. Stroll through its narrow streets, visit landmarks like the Puente Nuevo bridge and historic bullring, and enjoy the scenic views of the surrounding countryside.
Taxis: Taxis are available in Ronda and can be useful for reaching specific destinations or for those with limited mobility. You can typically find taxi stands near popular tourist areas and transportation hubs.
Bicycles: Renting a bicycle is a fun and eco-friendly way to explore Ronda and its surroundings. You can find bicycle rental shops in town. However, be aware that some areas may have steep hills, so choose your routes wisely.
Public Buses: Ronda has a local bus service that connects various parts of the town, including the newer areas outside the historic center. The bus network can be convenient for reaching specific locations not easily accessible on foot.
Guided Tours: Consider joining guided walking tours or sightseeing tours if you prefer to explore Ronda with the assistance of a knowledgeable guide. These tours often cover the town's main attractions and provide historical context.
Car Rentals: While not necessary for getting around within the town, renting a car can be useful if you plan to explore the wider region and visit nearby attractions or natural parks. Be mindful of parking, as spaces can be limited in the historic center.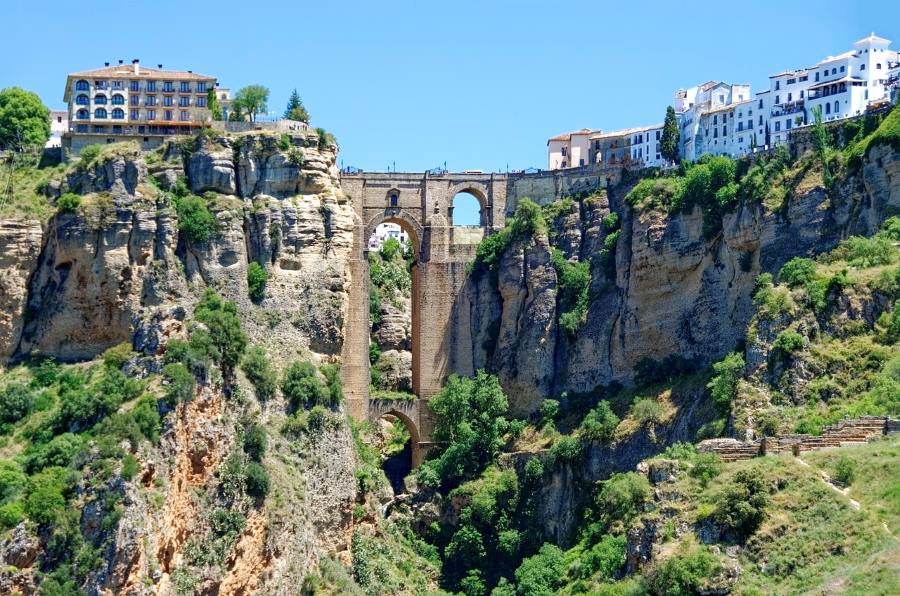 Top attractions to visit around Ronda, Spain
Once you have arrived at Ronda, you can visit many of the attractions around the Old Town and historic sites of the city. Check out these top things to do and see below for inspiration.
Puente Nuevo (New Bridge): This iconic bridge spans the deep El Tajo gorge and offers breathtaking views of the surrounding countryside. It's one of Ronda's most famous landmarks.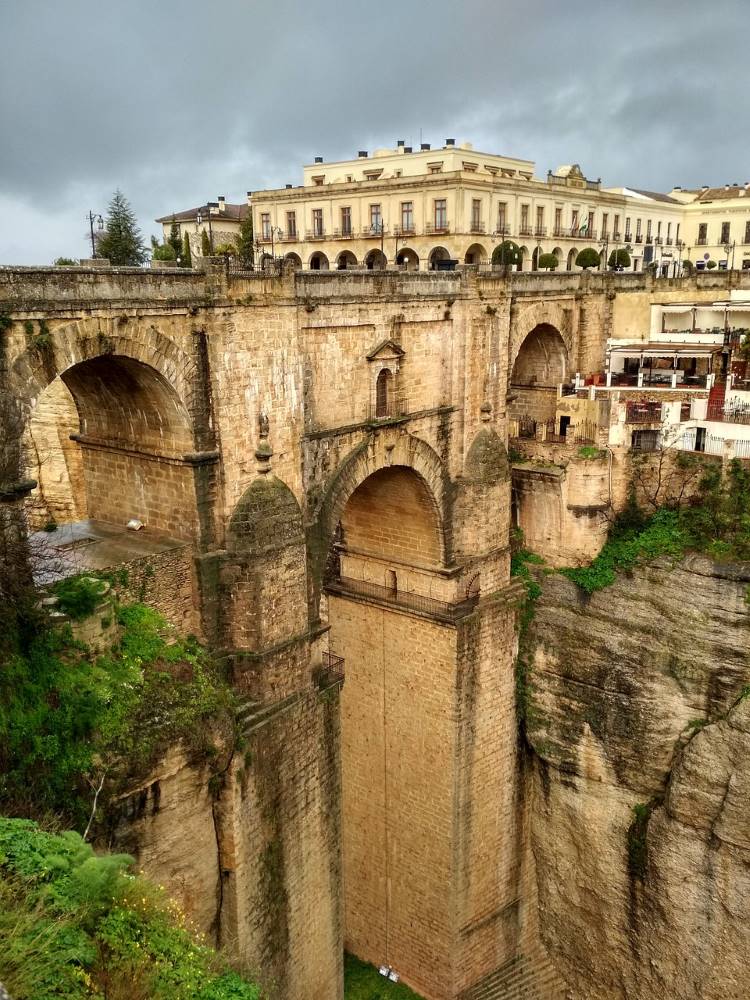 Puente Viejo (Old Bridge): Another historic bridge, Puente Viejo, is adjacent to the Puente Nuevo and offers a different perspective of the gorge.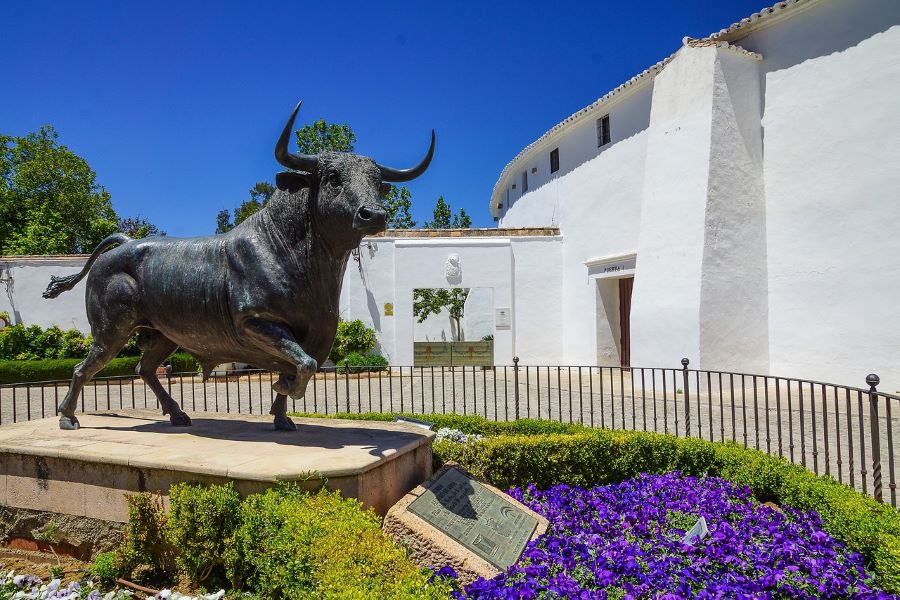 Ronda's Bullring (Plaza de Toros): Known as one of the oldest bullrings in Spain, Ronda's bullring is a significant cultural site. You can visit the bullring and its museum to learn about the history of bullfighting.
El Tajo Gorge: Explore the El Tajo gorge itself, which is a natural wonder with dramatic cliffs and scenic viewpoints. The Alameda del Tajo park offers stunning vistas.
Arab Baths (Baños Árabes): These well-preserved Moorish baths provide insight into the town's historical past and architectural heritage.
Check out this video on the Arab Baths below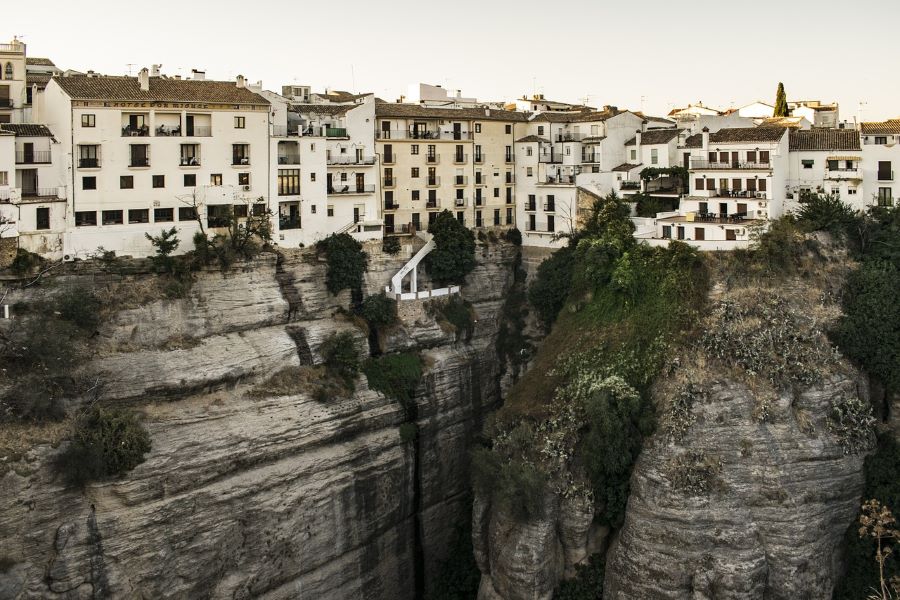 Ronda's Old Town: Wander through the charming narrow streets of Ronda's old town (La Ciudad), which is filled with historic buildings, shops, and cafes.
Palacio de Mondragón: This historic palace houses the Ronda Museum and features beautiful gardens, courtyards, and exhibits on the region's history.
Casa del Rey Moro (House of the Moorish King): Explore the gardens and visit the underground mine and water mine system, known as La Mina, for a unique historical experience.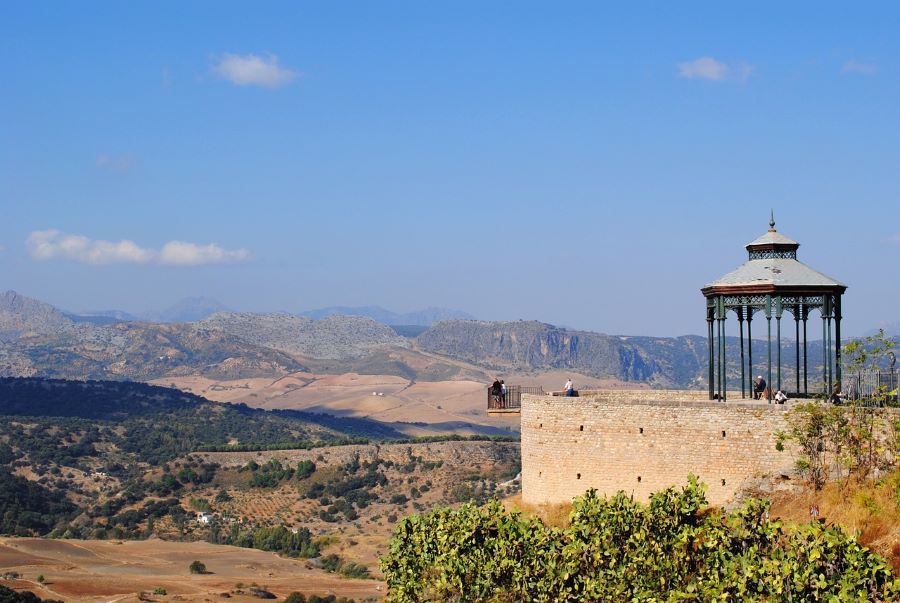 Mirador de Aldehuela: This viewpoint provides stunning panoramic views of the El Tajo gorge and the town of Ronda.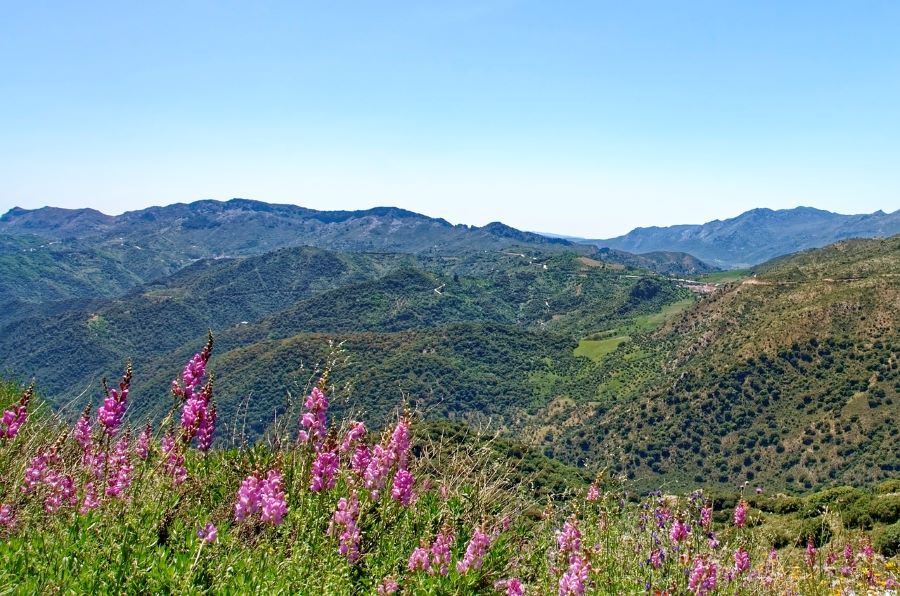 Natural Parks: Ronda is surrounded by natural parks, including Sierra de las Nieves Natural Park and Sierra de Grazalema Natural Park. These parks offer opportunities for hiking, birdwatching, and exploring diverse ecosystems.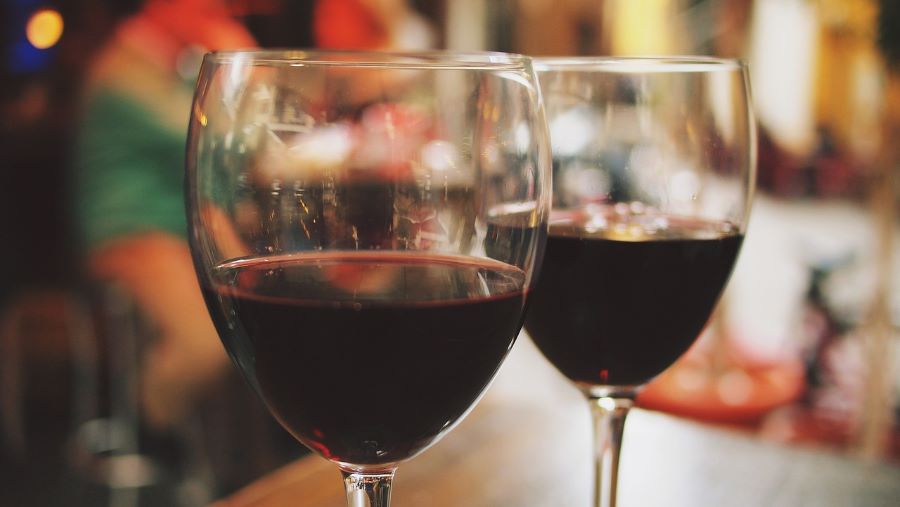 Wine Tasting: Ronda is part of the Sierras de Malaga wine region, known for its wine production. Consider visiting local wineries and vineyards for wine tasting tours.
Cueva del Gato: This cave, located near Benaoján, is famous for its crystalline waters and unique geological formations. It's a popular spot for swimming and exploring.
Check out this video on exploring the caves of Benaojan below
Check out the Visit Ronda website here for more details to visiting this historic city and surrounding landscapes.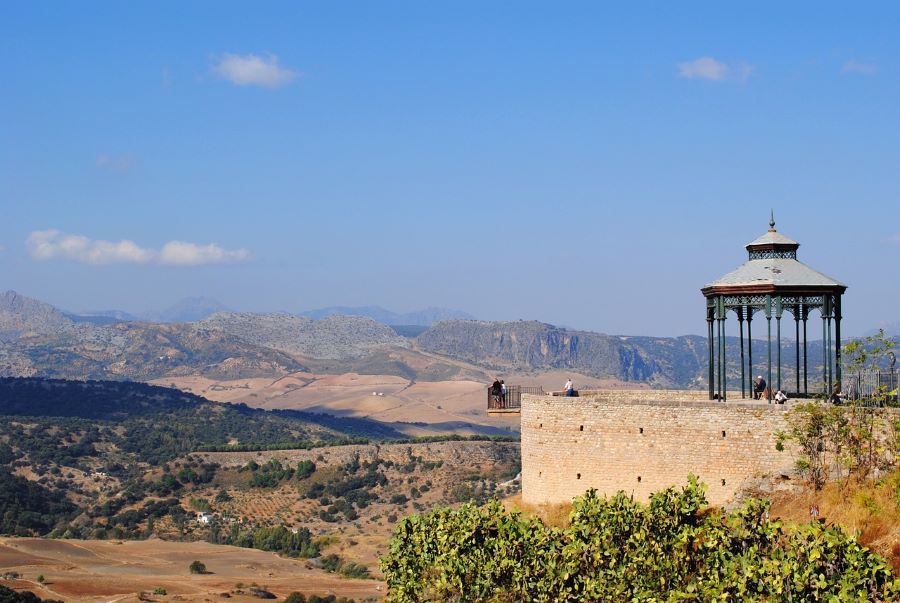 Weather and best time to visit Ronda
The best time to visit Ronda, Spain, largely depends on your weather preferences and the type of activities you'd like to enjoy. Here's a breakdown of the seasons and the best times to visit:
Spring (March to May):
Weather: Spring in Ronda is pleasantly mild, with temperatures ranging from 15°C to 25°C (59°F to 77°F).
Best Time to Visit: Spring is an excellent time to visit Ronda, as the weather is comfortable for outdoor activities, and the landscape is lush and green.
Summer (June to August):
Weather: Summer in Ronda can be hot, with temperatures often exceeding 30°C (86°F) and occasionally reaching 35°C (95°F) or higher.
Best Time to Visit: If you enjoy warm weather and don't mind the heat, summer offers long daylight hours and is perfect for exploring the town's historic sites and enjoying the local festivals.
Autumn (September to November):
Weather: Autumn is a lovely time to visit Ronda, with temperatures ranging from 15°C to 28°C (59°F to 82°F).
Best Time to Visit: This season is ideal for avoiding the summer crowds while still experiencing pleasant weather. It's a great time for outdoor activities like hiking and exploring the scenic countryside.
Winter (December to February):
Weather: Ronda's winters are mild, with temperatures averaging between 8°C and 18°C (46°F and 64°F).
Best Time to Visit: Winter is a quieter time in Ronda, making it a peaceful destination for those seeking a more tranquil experience. While it's not as warm as other seasons, it's still suitable for sightseeing.
Keep in mind that Ronda's altitude (around 750 meters or 2,460 feet above sea level) can result in cooler evenings, even in the warmer months, so it's a good idea to bring layers for your visit.
In conclusion, the best time to visit Ronda depends on your weather preferences and what you want to experience. Spring and autumn are typically considered the best overall seasons for comfortable weather and fewer crowds, while summer offers a lively atmosphere and long daylight hours.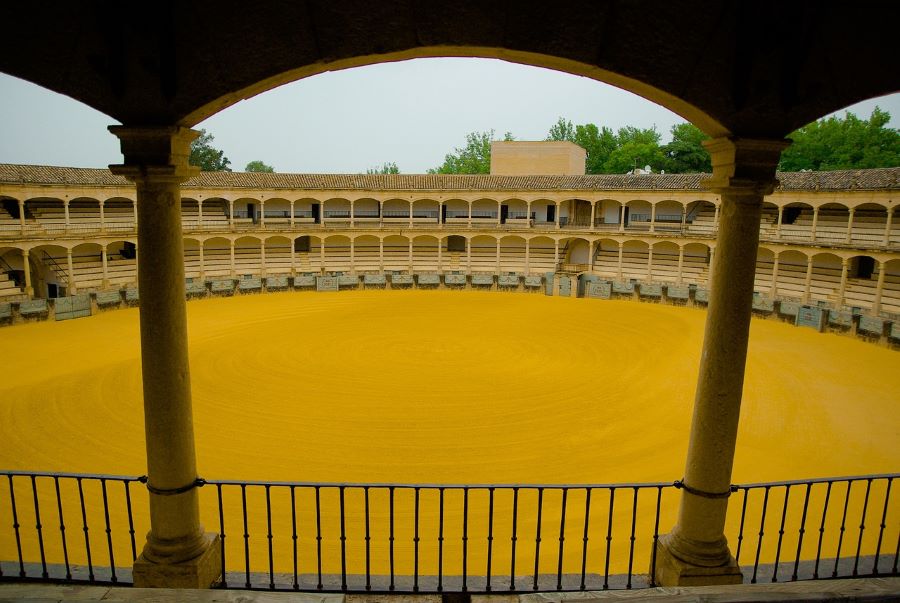 Check out these posts to visiting Ronda, Spain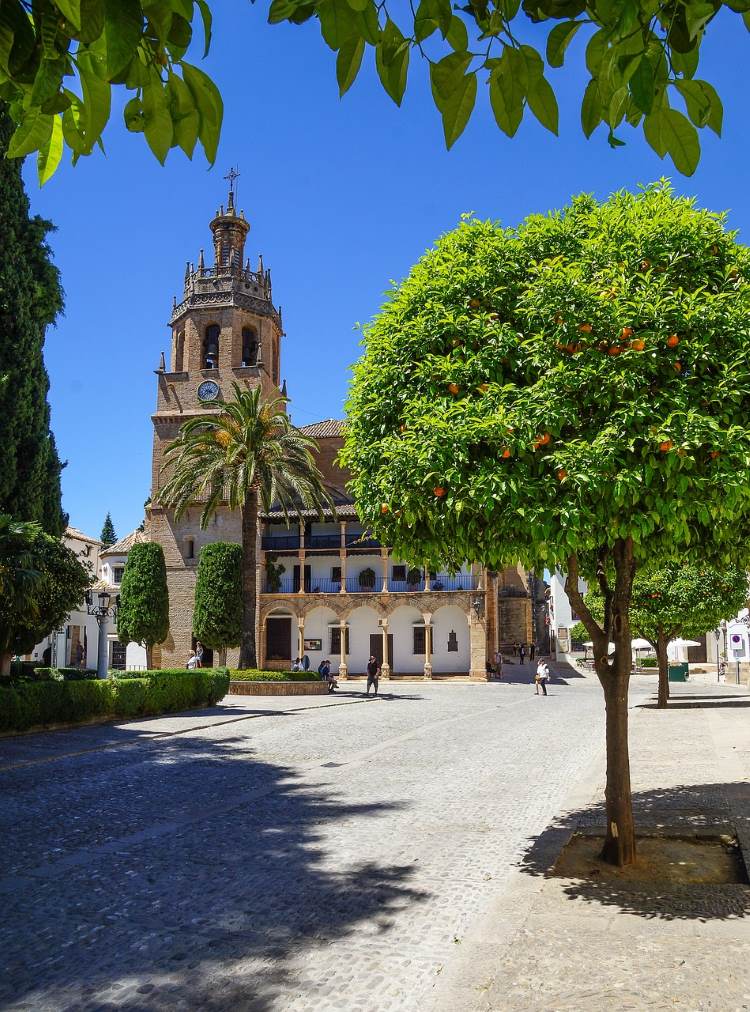 Conclusion to visiting Ronda from Malaga, Spain
Visiting Ronda from Malaga, Spain, offers a picturesque journey with various transportation choices. Discover its historic charm, natural beauty, and delightful cuisine. Consider spring or autumn for the best weather and fewer crowds, or experience the liveliness of summer. Ronda is a captivating destination for history, culture, and relaxation in Andalusia.
Thanks for checking out this post on Visit Spain and Mediterranean and hope you come and check out upcoming posts in the near future. Please do bookmark this website for your planning and research.