Barcelona to Valencia – best transportation options, places to visit and other tips to visiting the region
A relatively easy and short day trip or longer from Barcelona to Valencia, the city is colorful, vibrant and a great combination of historic and cultural gems to modern architecture, museums and cool venues. We share the best transportation options to get to Valencia, top things to do and some inside tips and local venues to visit outside of the touristy areas.

You have several transportation options for getting from Barcelona to Valencia, depending on your preferences for speed, convenience, and budget. Here are the most common ways to make the journey:
Train:
The train is a convenient and comfortable option for traveling from Barcelona to Valencia. The journey typically takes around 3 to 3.5 hours on high-speed AVE (Alta Velocidad Española) trains.
Trains depart from Barcelona Sants station and arrive at Valencia Joaquín Sorolla station. Be sure to check the train schedules and book tickets in advance.
Bus:
Several bus companies operate long-distance routes between Barcelona and Valencia. The bus journey is generally longer, taking around 4 to 5 hours.
Buses depart from Barcelona Nord bus station and arrive at Valencia's main bus station, Estación de Autobuses de Valencia.
This option can be more budget-friendly than the train, but it takes longer.
Flights:
If you're looking for the quickest way to get from Barcelona to Valencia, consider taking a domestic flight. Several airlines operate daily flights between Barcelona-El Prat Airport (BCN) and Valencia Airport (VLC).
The flight itself is relatively short, typically around 1 hour, but you should factor in additional time for airport security, boarding, and travel to and from the airports.
Car Rental:
You can also rent a car and drive from Barcelona to Valencia. The journey takes approximately 3.5 to 4 hours, depending on traffic and the route you take.
The most common route is via the AP-7 toll highway, which provides a relatively straightforward and well-maintained road between the two cities.
Carpooling and Ride-Sharing:
If you're open to sharing a ride, you can check carpooling and ride-sharing platforms like BlaBlaCar, where you can find drivers offering seats in their cars for the trip.
Before you decide on your preferred mode of transportation, consider factors such as your budget, time constraints, and personal comfort. It's also a good idea to check schedules and book tickets or reservations in advance, especially during peak travel times, to ensure you have a smooth journey from Barcelona to Valencia.

Weather and best time to visit Valencia
Valencia, a beautiful city on the eastern coast of Spain, enjoys a Mediterranean climate with mild, wet winters and hot, dry summers. The best time to visit Valencia largely depends on your preferences for weather and activities. Here's a breakdown of the seasons and what to expect during each:
Spring (March to May):
Spring is a fantastic time to visit Valencia. The weather is mild and pleasant, with temperatures ranging from 15°C to 25°C (59°F to 77°F).
The city's gardens and parks come to life with colorful flowers, making it a great time for outdoor activities and sightseeing.
You can also experience the famous Fallas Festival, held in March, which features elaborate sculptures and fireworks.
Summer (June to August):
Summer in Valencia can be quite hot and dry, with temperatures often exceeding 30°C (86°F), and sometimes even reaching 40°C (104°F).
This is the peak tourist season, with many visitors flocking to the city to enjoy its beautiful beaches and vibrant nightlife.
If you can tolerate the heat, summer is a good time for beach vacations and water sports.
Autumn (September to November):
Early autumn is a pleasant time to visit Valencia, as temperatures gradually cool down from the summer highs.
September and October are ideal for beachgoers who want to avoid the summer crowds but still enjoy warm waters.
Fall also brings the Rice Festival (Fiesta de Arroz) in September, where you can savor delicious paella, a local specialty.
Winter (December to February):
Winters in Valencia are mild compared to many other European cities, but they can still be quite cool and damp.
Average temperatures range from 8°C to 15°C (46°F to 59°F). It's the rainiest season, so be prepared for occasional showers.
The city is less crowded during this time, making it a good choice for travelers who prefer a quieter atmosphere.
In summary, the best time to visit Valencia depends on your weather preferences and the type of activities you want to enjoy. Spring and early autumn are generally considered the most pleasant seasons for sightseeing and outdoor adventures. If you love the beach and don't mind the heat, summer is perfect for coastal fun. Winters offer a more relaxed atmosphere but with cooler and potentially rainy weather.
Top things to do around Valencia, Spain
Valencia, Spain, is a vibrant and culturally rich city with plenty of attractions and activities to enjoy. Here's an outline of the top things to do around Valencia:
Visit the City of Arts and Sciences:
Explore this futuristic architectural complex featuring a science museum, an opera house, an IMAX cinema, an oceanographic park, and stunning futuristic buildings.
Don't miss the Hemisfèric, an eye-catching building resembling a giant eye that houses a planetarium and an IMAX theater.
Check out more information on their website here for visiting this architectural complex.
Also, you can enjoy a quick video tour of the complex here for more information below.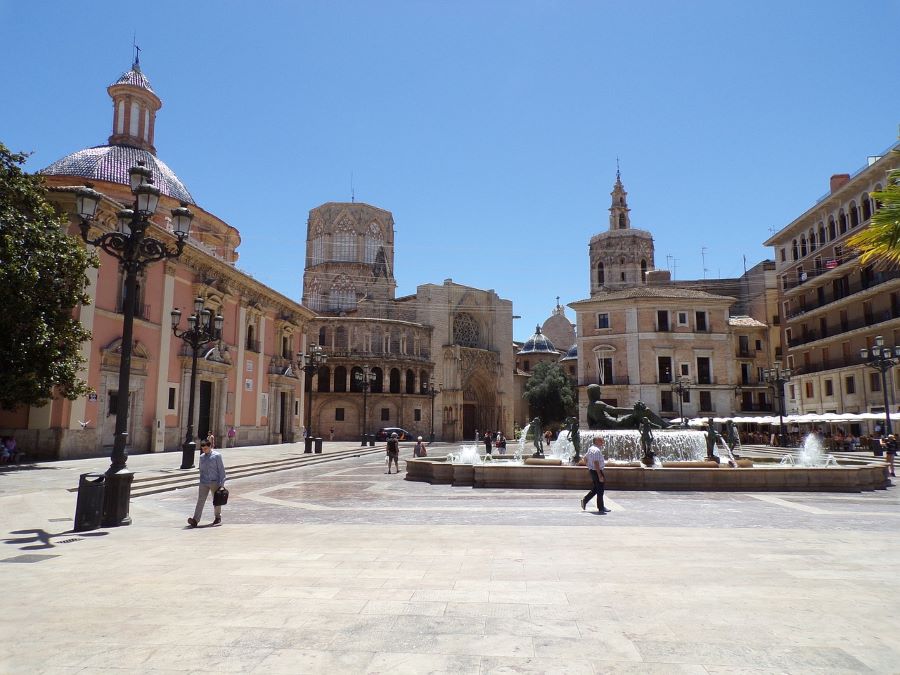 Stroll Through the Historic Center:
Wander through the narrow streets of the old town, known as El Carmen, and admire its medieval architecture, charming squares, and historical sites.
Visit the Valencia Cathedral, home to the Holy Grail, and climb the Miguelete Bell Tower for panoramic views of the city.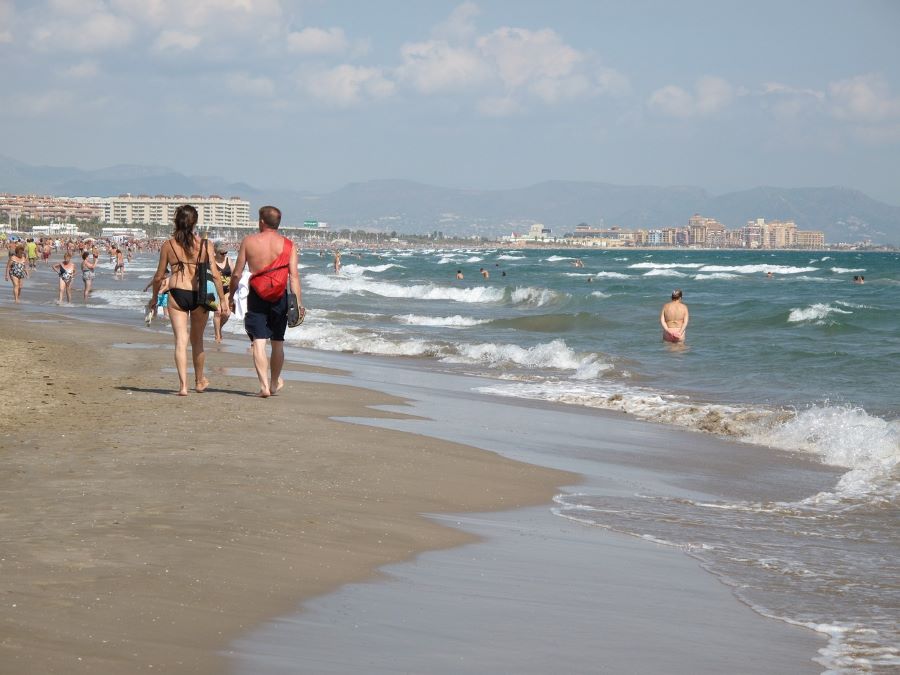 Relax on the Beach:
Valencia boasts beautiful urban beaches, including Playa de la Malvarrosa and Playa de las Arenas, where you can swim, sunbathe, and enjoy seafood at beachfront restaurants.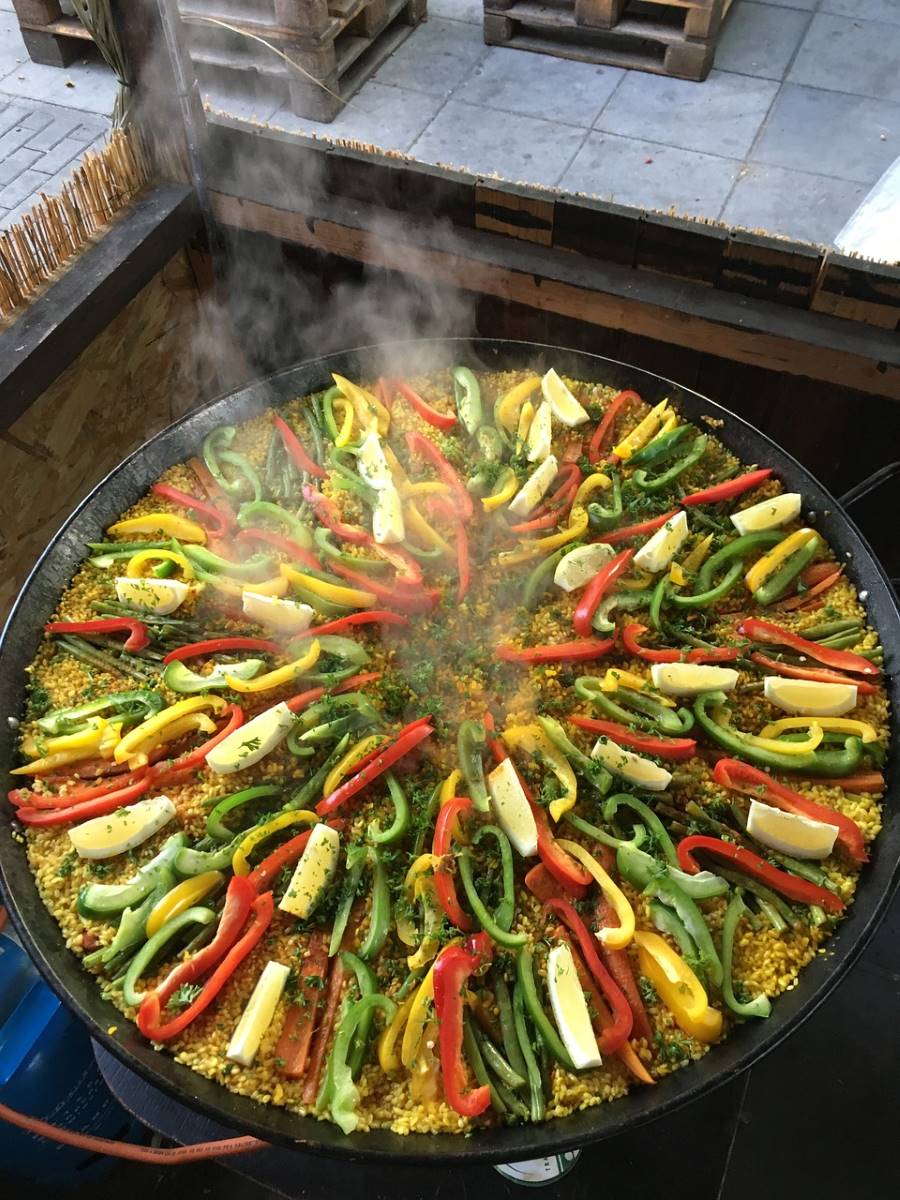 Indulge in Paella:
Valencia is the birthplace of paella, so be sure to try this iconic dish at a local restaurant. You can find many variations, including seafood, Valencian, and vegetable paella.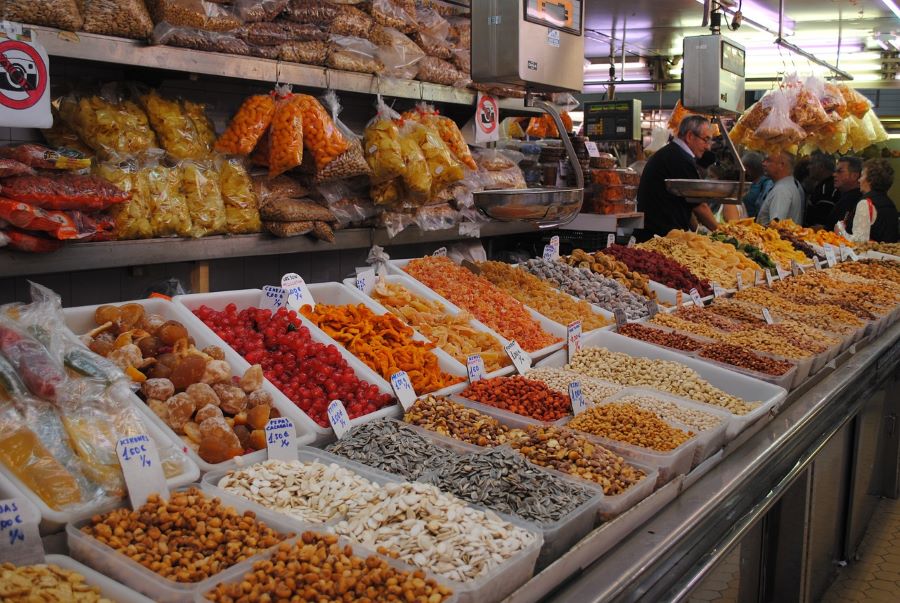 Explore Central Market:
Visit Mercado Central, one of Europe's largest and most impressive food markets. It's a great place to sample local produce, cheeses, meats, and other delicacies. Designed in 1910 and completed in 1928, the Central Market is the largest in Europe with over 86,000 square feet or 8,000 square meters of exhibit and food stalls in the entire facility.
Check out more details to the Central Market website here for more information.
Visit the Central Market on this video tour introductions below.
Discover the Silk Exchange (La Lonja de la Seda):
Admire the stunning Gothic architecture of this UNESCO World Heritage Site, which served as a center for silk trade in the 15th century. Built between 1482 and 1533, the group of buildings represents the center of commerce in the silk trade in Valencia. Find out more information on the Unesco website here for more details about this historic site.
Visit the Bioparc Valencia:
This innovative zoo features naturalistic habitats that allow you to see animals in a more immersive and ethical environment.
Check out this video tour of the Bioparck in Valencia below to see the highlights on this walking tour.
Enjoy Turia Gardens:
Walk or bike through the beautiful Turia Gardens, a former riverbed converted into a green park that runs through the city. You can also visit the Gulliver Park and the City of Arts and Sciences located within the park. The artificially built course and park is now a popular spot along the dry riverbed area for many outdoor activies along with over 12 sections of the park and Moorish inspired influences.
Check out the details to visiting the park here for more information and images.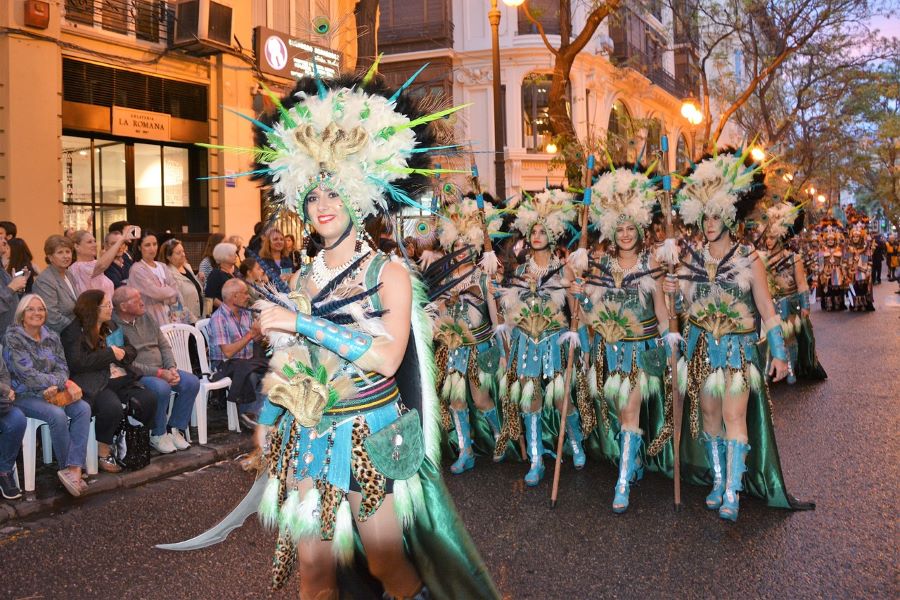 Attend a Festive Event:
If your visit coincides with Las Fallas in March, experience this unique festival with massive sculptures, fireworks, and vibrant street celebrations.
Valencia also hosts various cultural events, including music festivals and bullfights.
Savor Horchata and Fartons:
Try Valencia's traditional drink, horchata, made from tiger nuts, often accompanied by sweet, elongated pastries called "fartons."
Take a Boat Ride on Albufera Lake:
Located just outside Valencia, Albufera Natural Park offers boat rides on the picturesque Albufera Lake. You can enjoy the tranquil natural surroundings and taste local dishes like arroz a banda (rice with fish).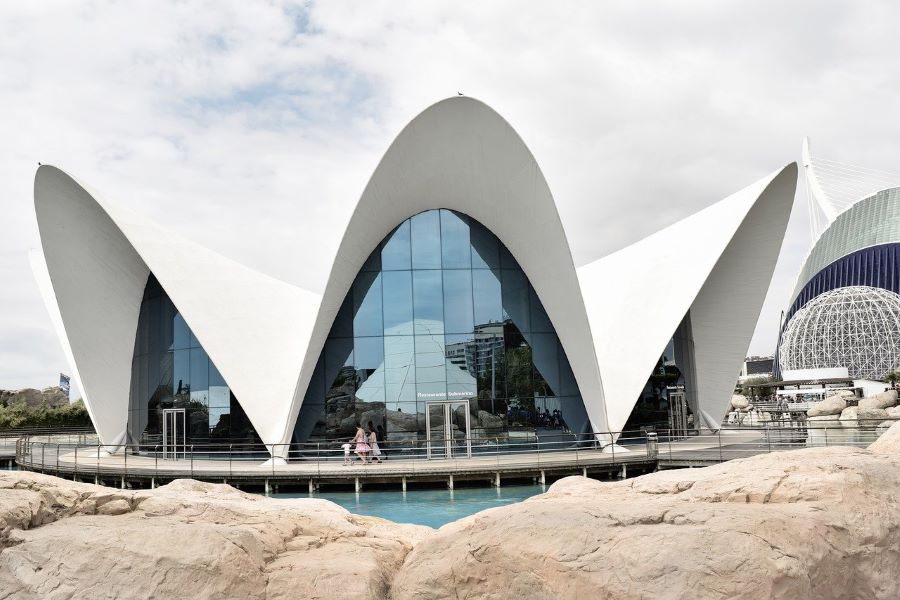 Visit the Oceanografic:
Explore Europe's largest aquarium, part of the City of Arts and Sciences complex, featuring a diverse range of marine life in various ecosystems. Paying tribute to the sea and oceans of the world, the Oceanographic faithfully tries to reproduce the most important marine environments in the world it represents in the aquarium.
Find out more information to visiting the Oceanografic here for more details and entry.
Valencia offers a diverse range of experiences, from modern architecture to historic charm, delicious cuisine, and outdoor activities. Whether you're interested in culture, nature, or simply relaxing on the beach, there's something for everyone in this vibrant Spanish city.

What types of food should you try in Valencia?
Valencia, Spain, is known for its rich and diverse culinary tradition. When visiting Valencia, make sure to try these delicious dishes and foods that are representative of the region:
Paella: Valencia is the birthplace of paella, and trying this iconic rice dish is a must. You can find various versions, including Valencian paella (with chicken and rabbit), seafood paella, and vegetarian paella.
Arroz a Banda: Similar to paella but cooked with fish stock and often served with aioli sauce, this dish showcases the region's seafood.
Fideuà: A cousin of paella, fideuà is made with short, thin noodles instead of rice and is typically prepared with seafood and a rich tomato sauce.
Horchata: Valencia is famous for its horchata, a sweet, milky beverage made from tiger nuts. It's often enjoyed with "fartons," sweet elongated pastries.
Agua de Valencia: A popular Valencian cocktail made from a combination of orange juice, cava (Spanish sparkling wine), vodka, and gin. It's a great choice for a refreshing drink.
All i Pebre: A traditional Valencian stew made with eel, potatoes, garlic, and paprika, typically cooked with a hearty fisherman's sauce.
Empanadillas: Small, savory pastries filled with ingredients like tuna, spinach, or meat. They are perfect for a quick snack.
Buñuelos: These small, round fritters are a popular dessert in Valencia, especially during Las Fallas festival. They can be sweet or savory.
Turrón: A sweet nougat made with almonds and honey, typically enjoyed during the Christmas season.
Octopus: Valencia's proximity to the Mediterranean means that fresh seafood is abundant. Grilled or stewed octopus is a delightful choice.
Arros Negre: A unique rice dish, arros negre is black rice made with squid ink, giving it a distinct flavor and color.
Tigernut-Based Sweets: Besides horchata, Valencians use tiger nuts to create various desserts like tigernut cake (tarta de chufa) and tigernut ice cream.
Oranges: Valencia is famous for its sweet oranges. Enjoy fresh orange juice, or try dishes that incorporate oranges, like duck with orange sauce.
Mistela and Moscatel Wines: Sample the region's sweet wines, such as Mistela and Moscatel, which pair well with desserts.
Almonds: Valencia is also known for its almonds. You can find them in various forms, from marzipan to almond nougat.
Exploring Valencia's cuisine is a delightful culinary adventure, and trying these dishes and drinks will give you a taste of the region's rich gastronomic heritage. Be sure to visit local restaurants and markets to savor the authentic flavors of Valencia.

More inside tips to visiting Valencia, Spain
Exploring Valencia beyond the main attractions can offer you a more authentic and local experience. Here are some inside tips to help you discover the hidden gems and unique aspects of the city:
Barrio del Carmen's Backstreets: While the Barrio del Carmen is a well-known historic neighborhood, take the time to explore its less crowded backstreets. You'll find quaint squares, street art, and hidden courtyards filled with local charm.
Ruzafa Neighborhood: This trendy district is becoming increasingly popular among locals and travelers alike. Stroll through Ruzafa's streets to discover hip cafes, vintage shops, and vibrant street art. It's an excellent place to experience Valencia's contemporary culture.
Mercado de Russafa: Visit this local market in the Ruzafa neighborhood for a more authentic shopping experience. You'll find fresh produce, local cheeses, and a variety of Spanish specialties. It's an excellent spot for food enthusiasts.
El Cabanyal: Explore this historic fishing district to experience a different side of Valencia's coastal culture. Wander through its colorful streets, admire the unique architecture, and enjoy seafood at local taverns.
Almudín: This medieval building was once a grain warehouse and is now a cultural center. It often hosts art exhibitions and events. Check its schedule for unique cultural experiences.
Café Culture: Valencia has a thriving café culture. Instead of sticking to the mainstream coffee shops, seek out cozy local cafés where you can sip on coffee or enjoy a "tostada" (toasted bread with toppings) while people-watching.
Local Festivals: Try to time your visit with local festivals and events. These can provide a deeper insight into Valencia's culture and traditions. For example, the Moors and Christians festival is celebrated in various neighborhoods throughout the year.
Bike Rentals: Renting a bike is a fantastic way to explore Valencia beyond the tourist areas. The city has a network of bike lanes and parks, making it easy to pedal around and discover hidden gems.
Street Food Markets: Keep an eye out for street food markets that pop up in various neighborhoods. These offer a chance to taste local and international dishes in a vibrant atmosphere.
Local Bars and Tascas: Venture into neighborhood bars and "tascas" (taverns) for a taste of authentic Valencian cuisine and a chance to mingle with locals. Order tapas and ask for recommendations from the bartender.
Art Galleries: Explore Valencia's contemporary art scene by visiting independent art galleries and studios. You may stumble upon unique exhibitions and meet local artists.
Street Performers and Musicians: Valencia often has street performers and musicians showcasing their talents in parks and squares. Take some time to appreciate their artistry and maybe even join in the fun.
By venturing off the beaten path and embracing local culture, you can gain a deeper appreciation of Valencia and create memorable experiences that go beyond the main tourist attractions.

Conclusion on a road trip from Barcelona to Valencia
A road trip from Barcelona to Valencia offers diverse landscapes, culture, and cuisine. It combines city life in Barcelona, coastal relaxation in Valencia, and hidden gems along the way. This flexible journey lets you savor local flavors, engage with locals, and enjoy scenic beauty, making it a memorable Spanish adventure.
Thanks for checking out this post on Visit Spain and Mediterranean and hope you come and check out upcoming posts in the near future. Please do bookmark this website for your planning and research.