Malaga to Granada, Spain: visit this historic city by bus, train or car
In Andalusia, Spain, Malaga and Granada are situated just 93 miles (149 kilometers) apart and an easy day trip or longer stay to savor and enjoy the Moorish influence and historic city. You can conveniently travel from Malaga to Granada in under two hours by either train or car, or in approximately two hours by bus. Granada is one of the most beautiful and preserved Moorish inspired city with palaces, gorgeous architecture, historic districts, a cathedral and many other important monuments and attractions to explore.
You can easily rent a car and explore places along the way and schedule your own time visiting places that interest you. The cheapest routes tend to be by bus to Granada with over 18 buses daily between both cities.
Figuring the best way depends on your schedule and budget. If you're flexible the train service is a great way to travel, but if time is limited then taking a tour or DIY rental car is probably the best option if you plan on just visiting on a day trip or an overnight stay.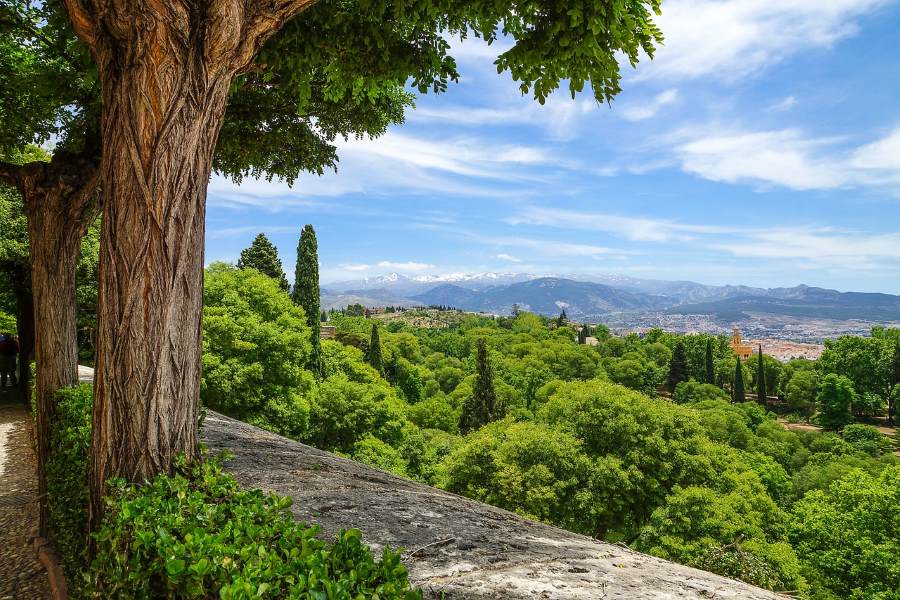 Transport options between Malaga to Granada, Spain
There are several transportation options available for traveling from Malaga to Granada: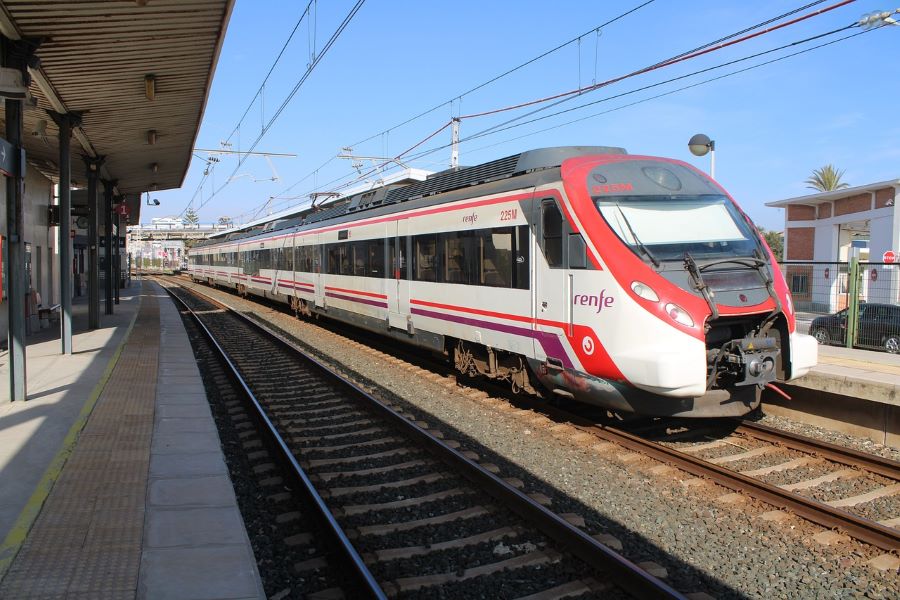 Train:
Duration: The train journey from Malaga to Granada takes approximately 1 hour and 30 minutes to 2 hours, depending on the type of train. High-speed trains tend to be faster.
Comfort: Trains offer a comfortable and scenic way to travel. You can relax and enjoy the picturesque views of the Andalusian countryside during your journey.
Availability: There are multiple daily departures, making it a convenient option for travelers.
Stations: Trains depart from Malaga's main train station, Malaga María Zambrano, and arrive at Granada's train station, Granada Railway Station.
Ticketing: You can purchase tickets online or at the station, but it's advisable to book in advance, especially during peak travel times.
Car:
Duration: The drive from Malaga to Granada typically takes around 1 hour and 30 minutes to 2 hours, depending on traffic conditions and the route you choose.
Flexibility: Renting a car gives you the flexibility to explore the region at your own pace. You can stop at interesting spots along the way.
Roads: The journey involves traveling on well-maintained highways, such as the A-45, which connects the two cities.
Parking: In Granada, there are parking facilities available, but it can be a bit challenging to find parking in the city center. Consider parking in designated areas and using public transport within Granada.
Bus:
Duration: Bus travel from Malaga to Granada typically takes around 2 hours.
Affordability: Buses are often more budget-friendly than trains or flights, making them a cost-effective choice for travelers.
Stations: Buses depart from Malaga Bus Station (Estación de Autobuses) and arrive at Granada Bus Station (Estación de Autobuses de Granada).
Schedules: Various bus companies operate this route with multiple departures throughout the day. You can check schedules and book tickets in advance.
Private Shuttle:
Comfort: Private shuttle services offer comfort and convenience. You'll have a dedicated vehicle and driver for your journey.
Customization: You can often customize your travel itinerary to suit your preferences, making stops along the way if desired.
Booking: You can book private shuttle services through transportation companies or online platforms.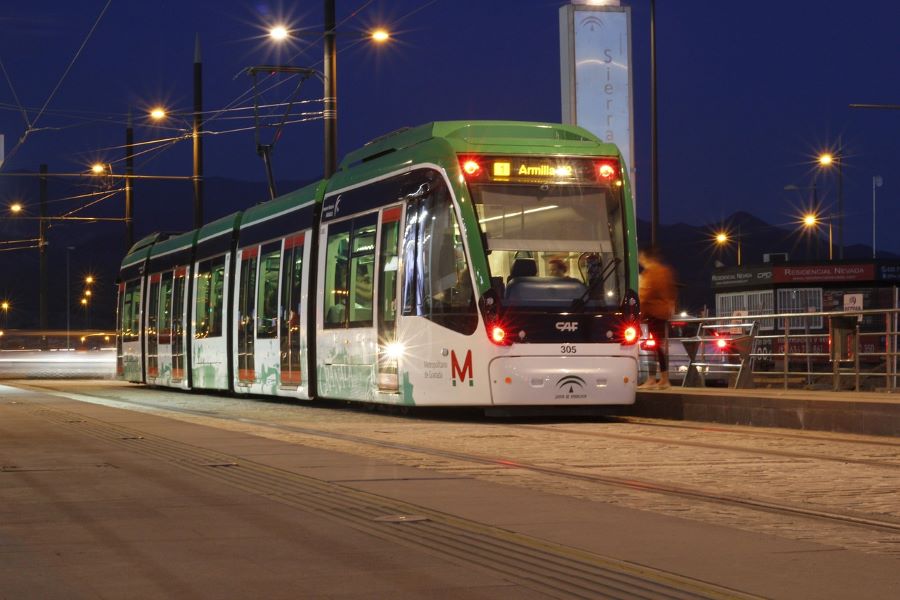 How to get around Granada city
Getting around Granada city is relatively easy, and there are several transportation options to explore the city and its attractions:
Walking:
Granada's city center is compact and pedestrian-friendly, making walking an excellent way to explore.
Many of the major attractions, including the Alhambra, Albayzín, and the Cathedral, are within walking distance of each other.
Be prepared for some hilly terrain, especially in the Albayzín neighborhood.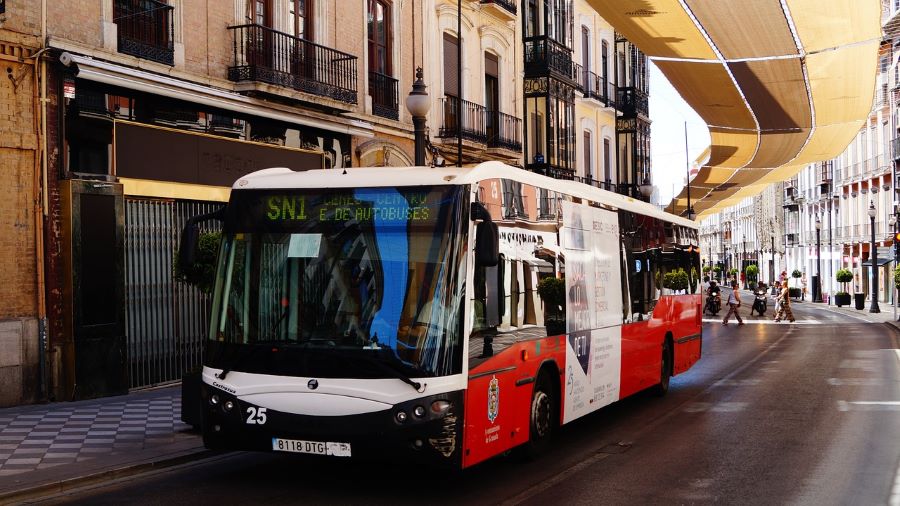 Public Bus:
Granada has an extensive public bus network operated by the company Transportes Rober.
Buses are an affordable and convenient way to reach various parts of the city, including neighborhoods and areas farther from the city center.
You can purchase bus tickets on board or at kiosks.
Tourist Train:
The Granada City Train (Tren Turístico) is a popular option for tourists. It offers narrated tours of the city's main attractions.
It's a convenient way to get an overview of Granada's sights and history.
Taxi:
Taxis are readily available in Granada and can be hailed on the street or found at taxi stands.
They are a comfortable option for getting around the city, especially if you have heavy luggage or want to reach specific destinations quickly.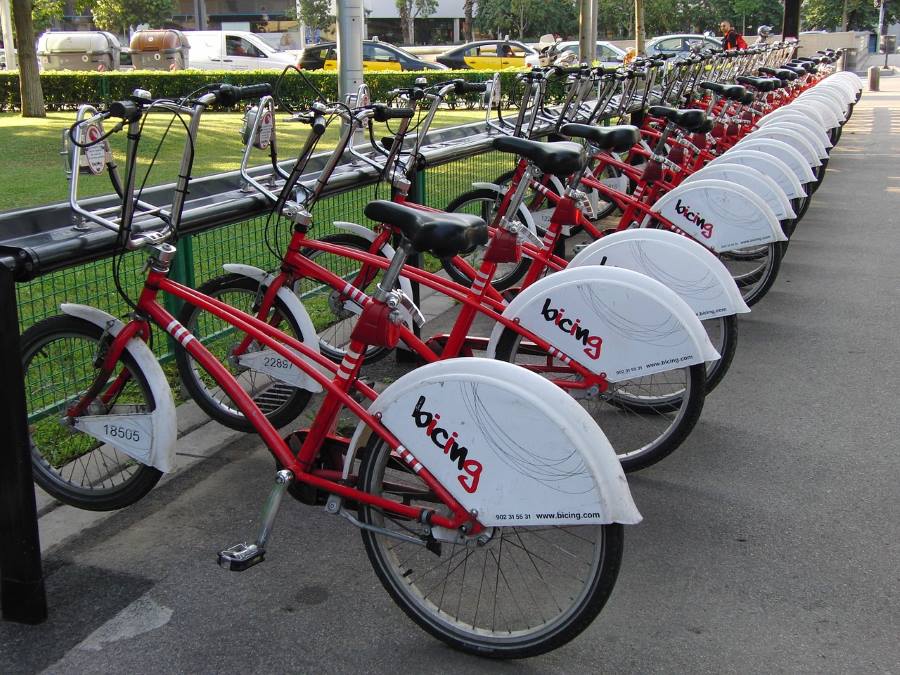 Biking:
Granada has a bike-sharing system called "Sierra Nevada en Bici." You can rent bicycles and explore the city at your own pace.
Some areas, like the city center, have dedicated bike lanes.
Car Rental:
While not necessary for exploring the city center, renting a car may be convenient if you plan to explore the surrounding areas or take day trips to the Sierra Nevada mountains.
Be aware that parking can be limited and challenging in some parts of Granada, especially in the historic center.
Alhambra Shuttle Bus:
If you're visiting the Alhambra, a shuttle bus (C3) operates from the city center to the Alhambra entrance.
It's a convenient way to reach this famous attraction, and the bus ticket often includes admission to the Alhambra.
Tram (Under Construction):
Granada is currently developing a tram system, which will provide an additional mode of transportation when completed.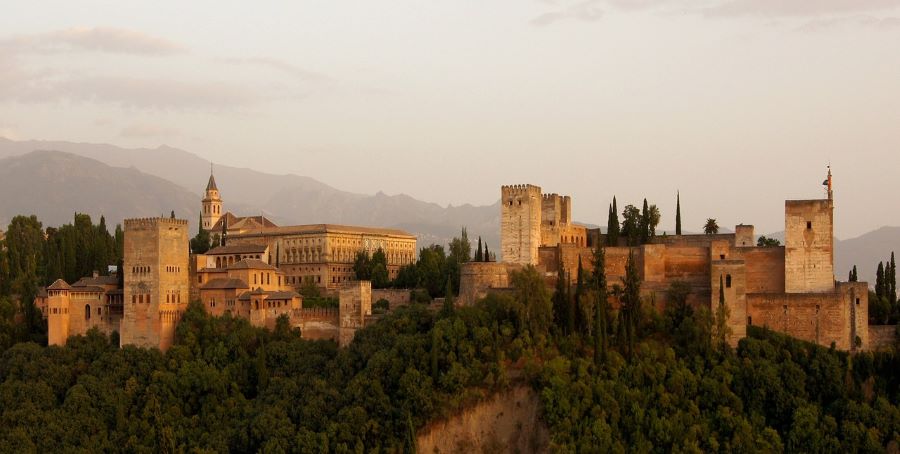 Top attractions and places to visit in Granada
Granada is a city rich in history, culture, and natural beauty. Here are some of the top attractions and places to visit in Granada: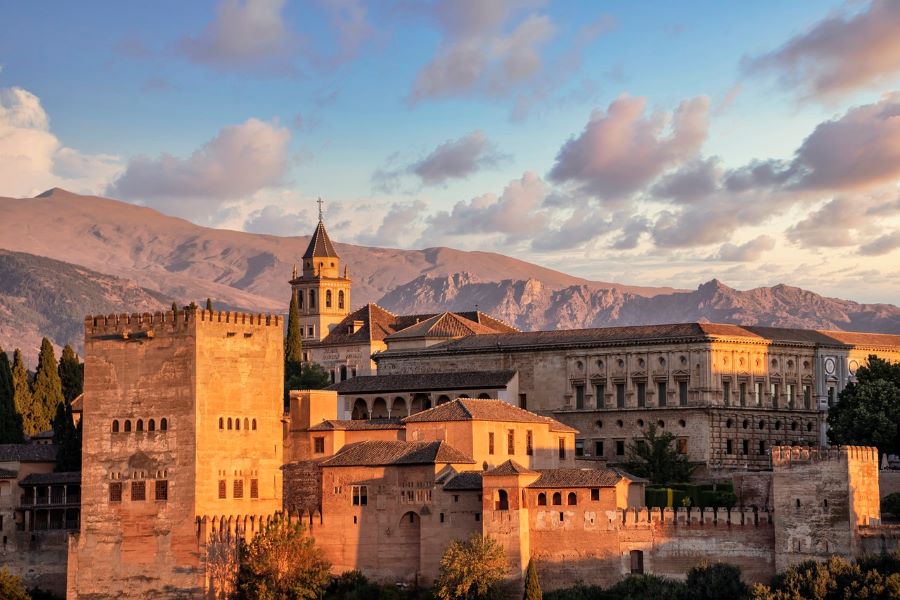 Alhambra: The Alhambra is arguably the most famous attraction in Granada and one of Spain's most iconic landmarks. This palace and fortress complex showcases stunning Islamic architecture, beautiful gardens, and breathtaking views of the city and Sierra Nevada mountains. Be sure to book your tickets well in advance.
Generalife Gardens: Located adjacent to the Alhambra, the Generalife Gardens are a masterpiece of Islamic landscaping. Explore the meticulously designed gardens, water features, and enjoy the tranquil atmosphere.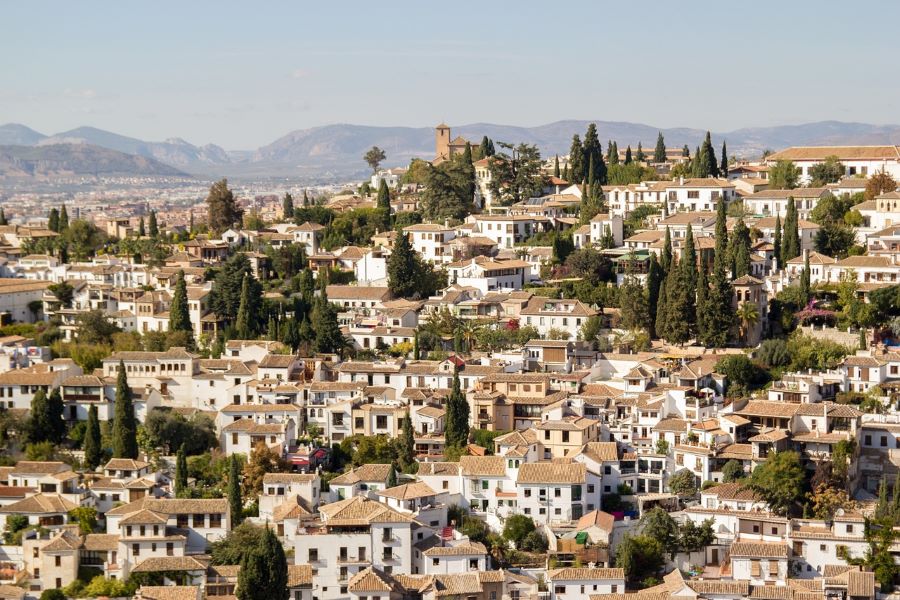 Albayzín: This historic Moorish quarter is a UNESCO World Heritage site and one of the most charming areas of Granada. Wander through narrow, winding streets, admire the white-washed houses, and discover hidden plazas. The views of the Alhambra from here are exceptional.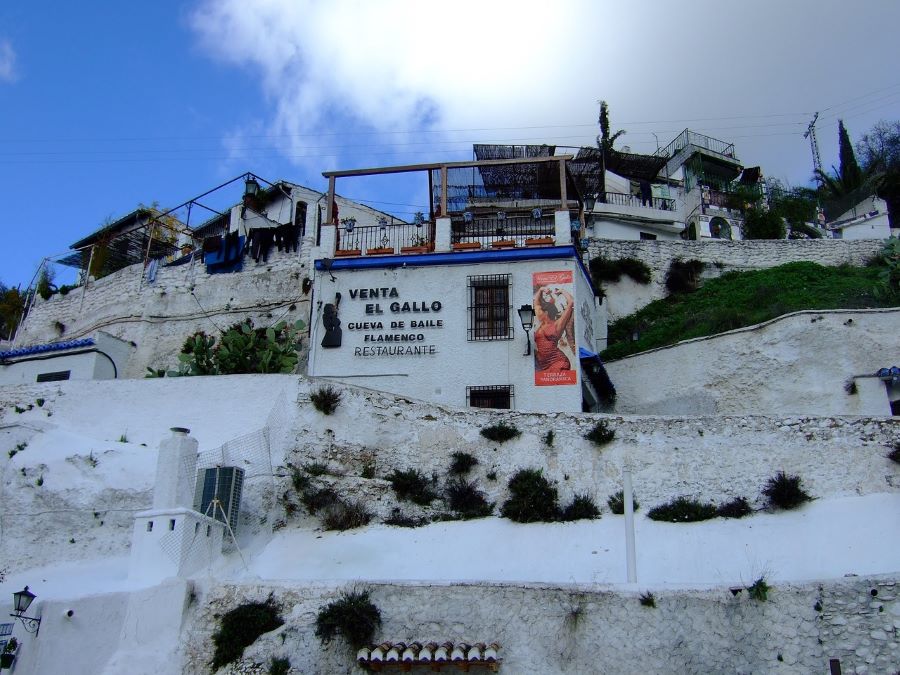 Sacromonte: Known for its cave houses and vibrant flamenco culture, Sacromonte is a unique neighborhood in Granada. You can attend a live flamenco show or simply explore the area's intriguing architecture.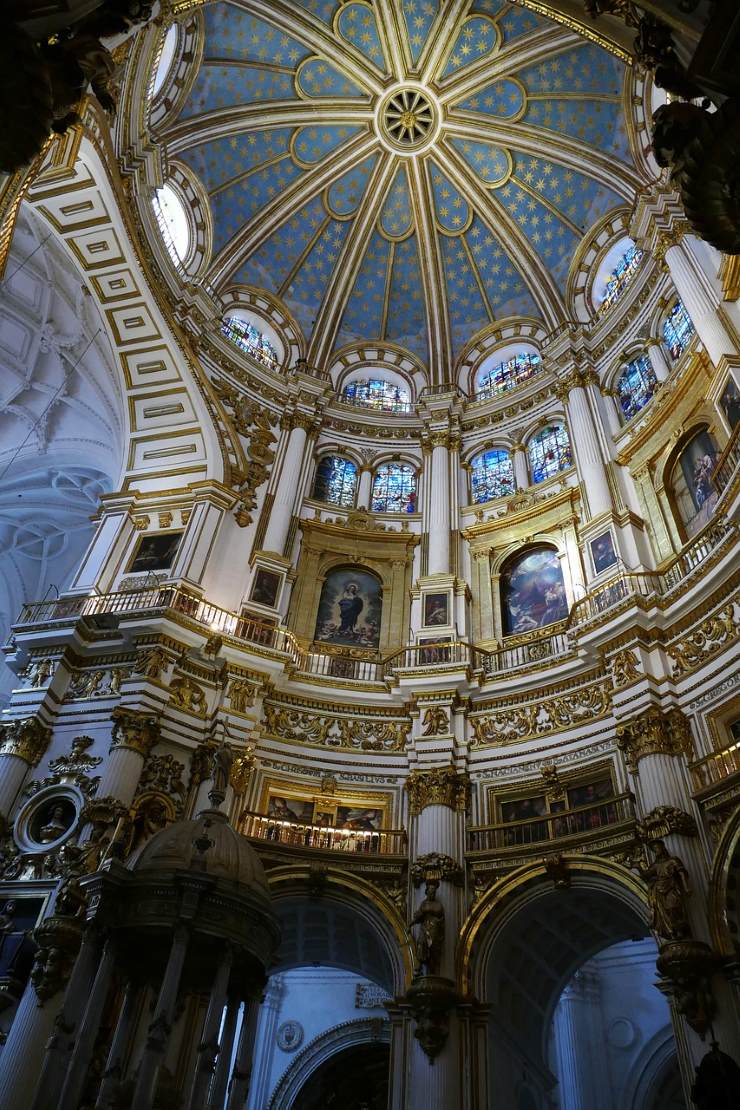 Granada Cathedral (Cathedral of the Incarnation): This Renaissance cathedral is an architectural marvel. Its façade combines Gothic and Baroque styles, and the interior boasts impressive artwork and chapels.
Royal Chapel of Granada: Located adjacent to the cathedral, the Royal Chapel houses the tombs of Catholic Monarchs Ferdinand and Isabella. It's a significant historical site.
Monastery of Saint Jerome (Monasterio de San Jerónimo): This beautiful monastery features exquisite Isabelline Gothic architecture. The cloister and church are highlights of the visit.
Science Park (Parque de las Ciencias): A great option for families and science enthusiasts, this interactive museum offers a wide range of exhibits related to astronomy, biology, and technology.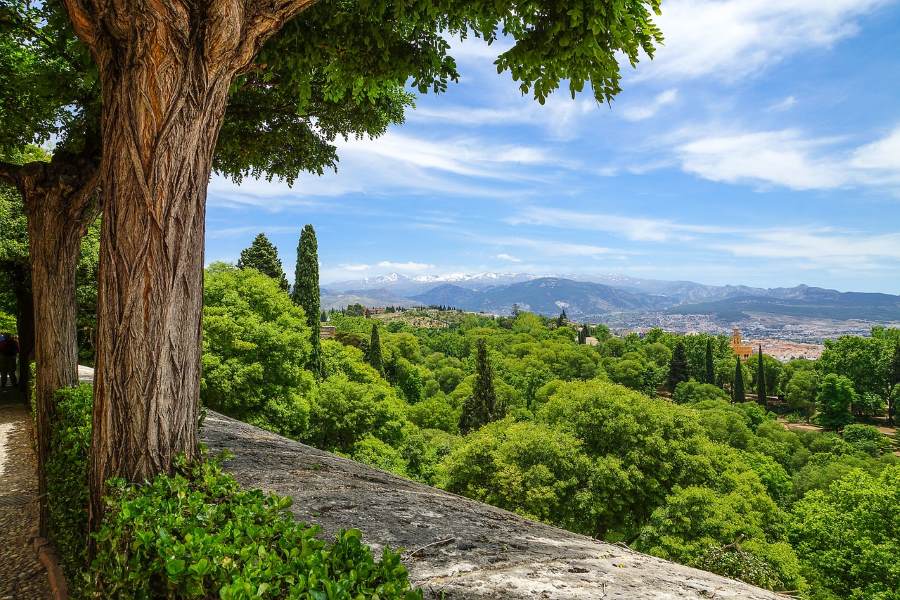 Carmen de los Mártires: These lush gardens near the Alhambra offer a serene escape from the city's hustle and bustle. Explore the gardens, fountains, and enjoy the panoramic views.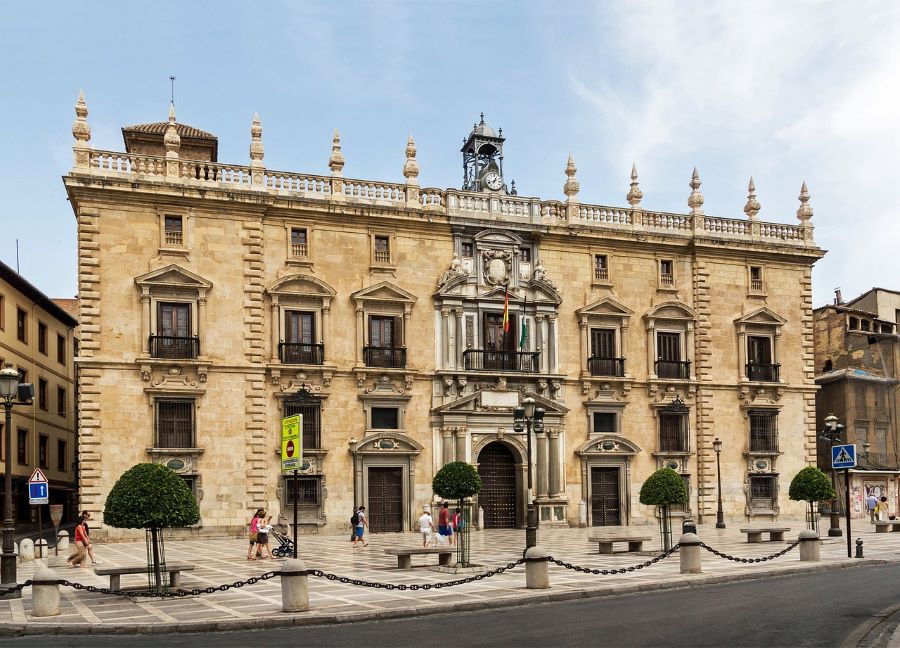 Plaza Nueva: This lively square is a hub of activity, surrounded by shops, restaurants, and bars. It's a great place to start your exploration of the city.
Corral del Carbón: Dating back to the 14th century, this Nasrid-era building is one of the oldest and best-preserved caravanserais in Spain. It offers a glimpse into the city's Moorish past.
San Juan de Dios Museum: Housed in a stunning Baroque building, this museum showcases religious art, artifacts, and a beautiful chapel.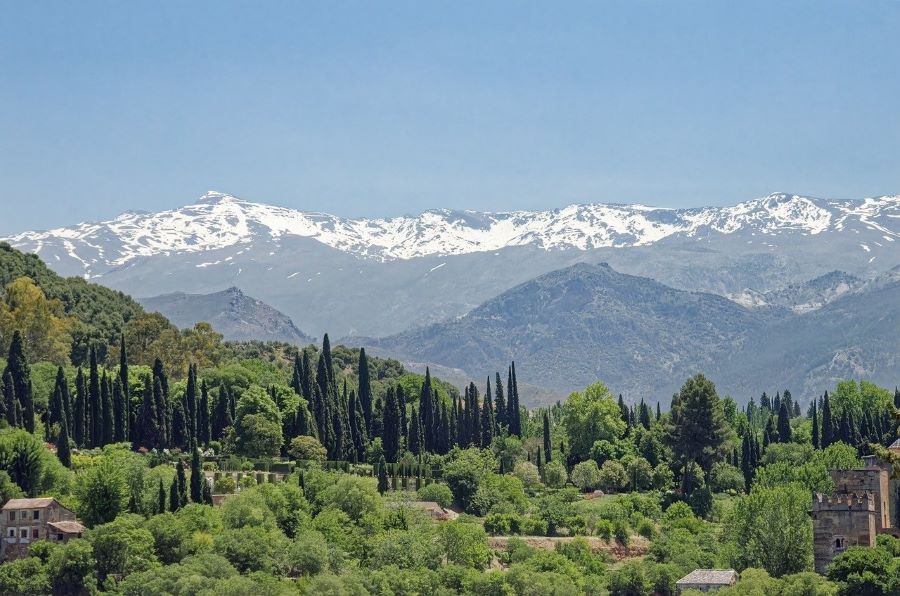 Sierra Nevada National Park: If you're a nature lover, consider taking a day trip to the Sierra Nevada mountains, which offer hiking, skiing (in winter), and incredible natural scenery.
Paseo de los Tristes: This picturesque promenade along the Darro River offers stunning views of the Alhambra and is lined with restaurants and cafes, making it a lovely spot for a leisurely stroll or a meal.
These attractions represent just a fraction of what Granada has to offer. The city's blend of Moorish and Spanish heritage, combined with its vibrant cultural scene, makes it a captivating destination for travelers.
Check out these other posts on visiting Granada and Malaga, Spain
Conclusion to visiting Granada and Malaga, Spain
Granada, with its crown jewel, the Alhambra, stands as a testament to centuries of Moorish and Spanish history. Exploring the Alhambra's intricate architecture, lush gardens, and sweeping vistas is an unforgettable journey into the past. The Albayzín's maze-like streets, the vibrant Sacromonte, and the city's cultural richness add depth to the Granada experience. A visit to Granada immerses you in the heart of Andalusia's Moorish heritage.
In conclusion, a visit to Granada and Malaga provides a well-rounded Spanish experience. From the rich history and architectural marvels of Granada to the coastal beauty and modern charm of Malaga, these two cities offer a delightful blend of cultural immersion, natural beauty, and culinary delights. Whether you're captivated by the intricate details of the Alhambra or the sunny shores of the Mediterranean, both cities have much to offer, making them a perfect combination for a memorable trip in southern Spain.