Day tour of Nerja, Spain: experience this coastal gem and its many cool treasures
Nerja is the real gem of the Costa del Sol and just a short 1.5 hour drive or bus trip from the main city of Malaga to the west of Nerja town. You'll find gorgeous cliffs and coastlines along with hidden caves, beautiful coves and nice long stretches of sandy beaches along with some cool outdoor adventures and the city center to explore in town. We will share the best things to do on a day trip or longer with options of what to do and see if you want to explore more of the surrounding area.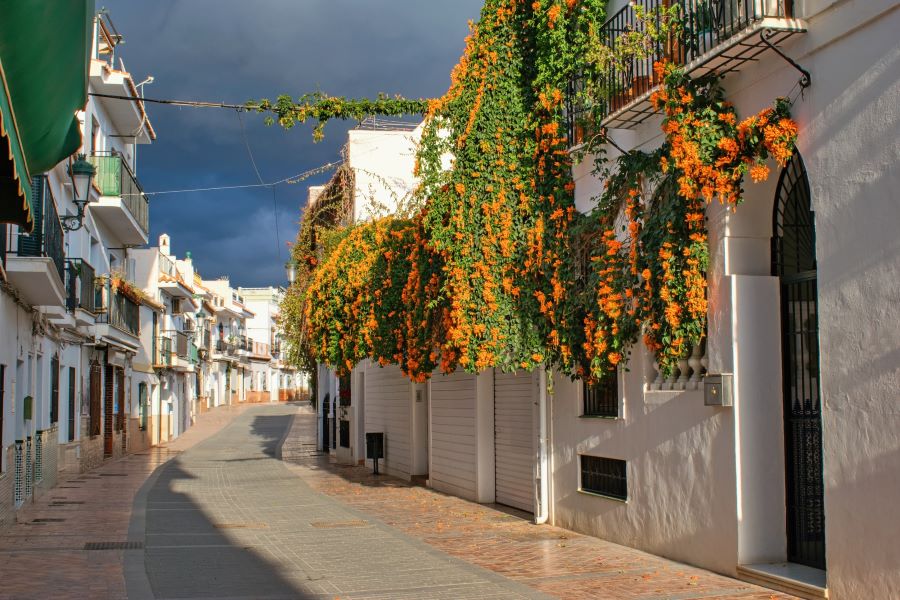 Where is Nerja located in the Costa del Sol?
Nerja is a picturesque coastal town located in the eastern part of the Costa del Sol, which is a popular tourist region in southern Spain. It is situated in the province of Malaga, in the Andalusia region, and is known for its stunning beaches, clear Mediterranean waters, and the famous Nerja Caves. The town of Nerja is positioned approximately 50 kilometers (about 31 miles) east of the city of Malaga, making it a well-located destination for travelers seeking sun, sea, and cultural experiences along the Costa del Sol.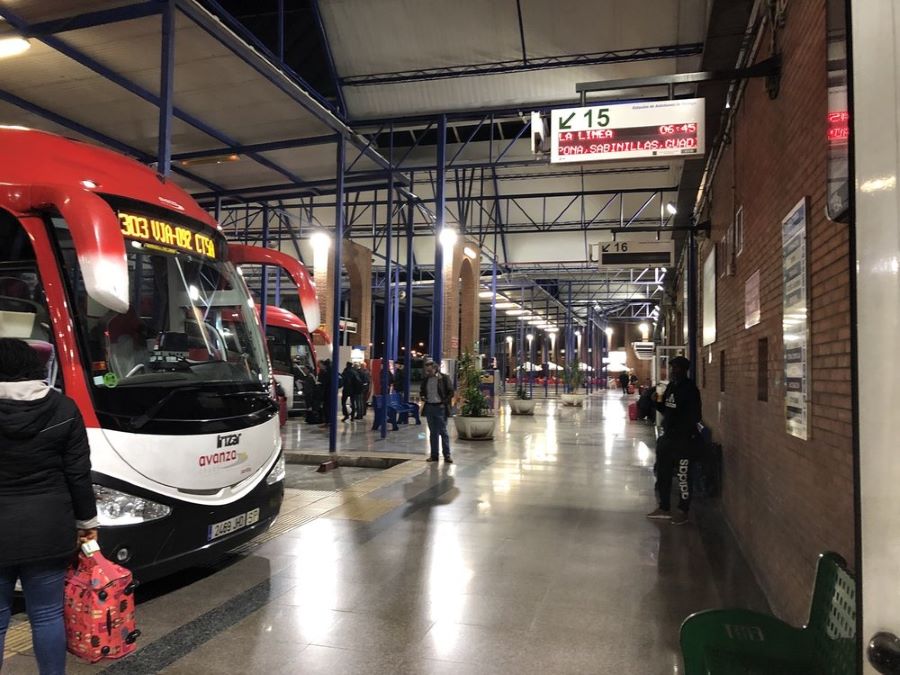 What are the best ways of getting to Nerja
Getting to Nerja from Malaga is straightforward, and you have a few transportation options to choose from:
1. By Bus:
Take a bus from the Malaga Bus Station (Estación de Autobuses de Málaga) to Nerja. Buses are operated by ALSA and depart regularly throughout the day.
The journey takes approximately 1 to 1.5 hours, depending on traffic and the specific route taken.
You can purchase tickets at the bus station or online in advance.
2. By Rental Car:
Renting a car is a convenient option for exploring Nerja and the surrounding areas at your own pace.
Head east on the A-7 (Autovía del Mediterráneo) highway from Malaga. Follow the signs for Nerja.
The journey by car typically takes around 1 hour, depending on traffic conditions.
Ensure you have a valid driver's license, proper insurance coverage, and a roadworthy vehicle for the trip.
3. By Taxi or Rideshare:
You can also take a taxi or use a rideshare service like Uber (if available) for a convenient and direct ride to Nerja.
Taxis are readily available at Malaga Airport, the main train station, and in the city center.
Rideshare services can be booked through a mobile app.
Visit the key attractions around Nerja
You can easily walk around the town district and check out these following attractions or have a more active experience with any of the outdoor or indoor activities. You can pick and choose what makes sense for you depending on your interests and time or if you plan on visiting Nerja for longer than a day trip.
Here are some key attractions and points of interest around Nerja: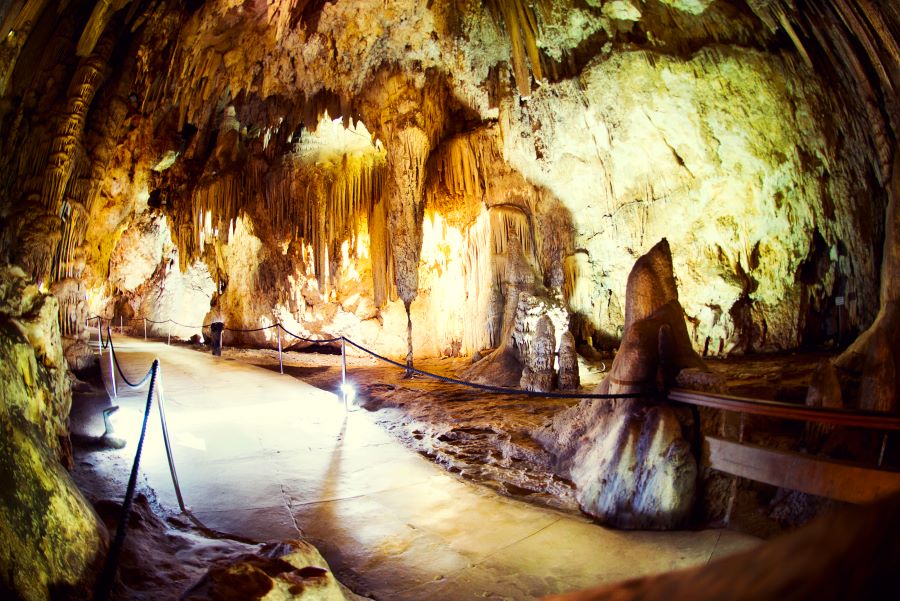 Nerja Caves (Cuevas de Nerja): These famous caves are one of Nerja's most iconic attractions. The vast underground chambers are adorned with impressive stalactites and stalagmites, and the caves are known for their archaeological discoveries. The annual Festival of Music and Dance is held in one of the caverns, adding to the caves' cultural significance. You might want to consider doing this first since it is a popular attraction to do and get your tickets first thing and sign up for a guided tour which takes about 45 minutes to 1 hour. Afterwards visit the museum and visitor center to learn more about the caves and formations.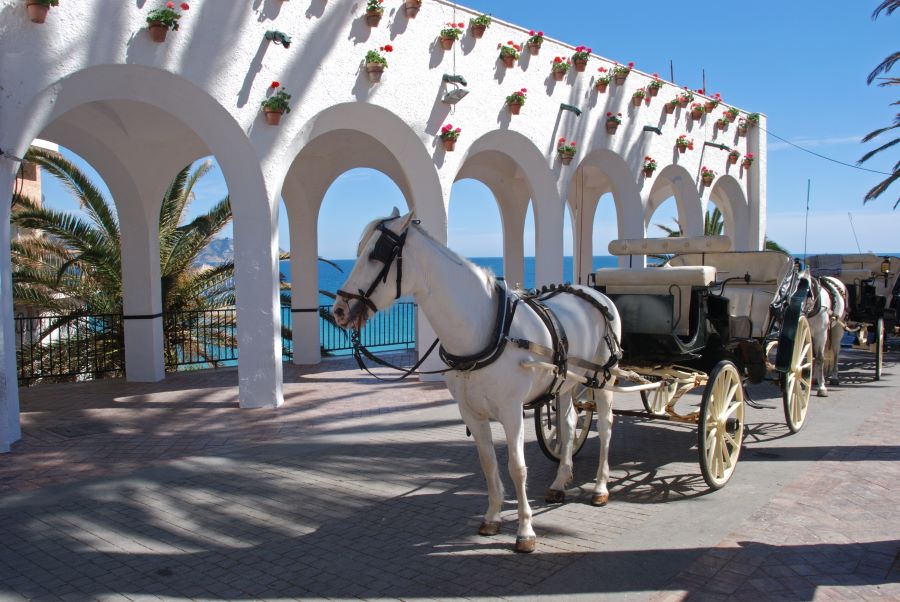 Balcony of Europe (Balcon de Europa): This scenic viewpoint offers breathtaking panoramic views of the Mediterranean Sea and the coastline. You'll find some amazing views of the coastline and beaches from the Bacon de Europa, it's a perfect spot for a leisurely stroll, enjoying the sea breeze, or watching the sunset.
Adjacent to the Balcony of Europe is the square which is lively and filled with cafes, shops and restaurants and good hang out spots to explore.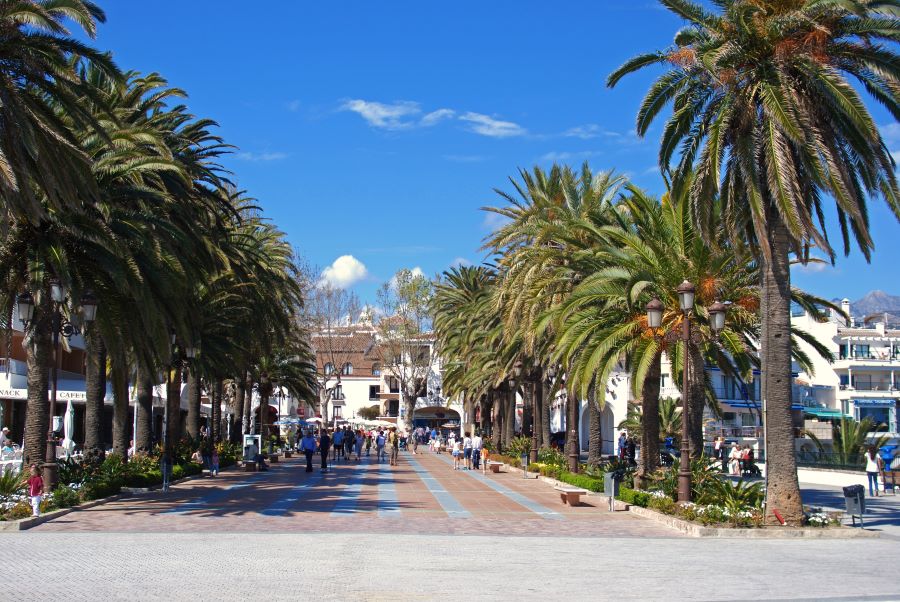 Balcon de Europa Plaza: the main square that fronts the Balcon de Europe with a large plaza surrounded with shops, cafes and restaurants and other places to hang out around the square.
Church of El Salvador (Iglesia de El Salvador): After you visit the Balcony of Europe you can next visit the historic church of El Salvador (iglesia de El Salvador) located next to the Balcony and has its striking architectural features to explore.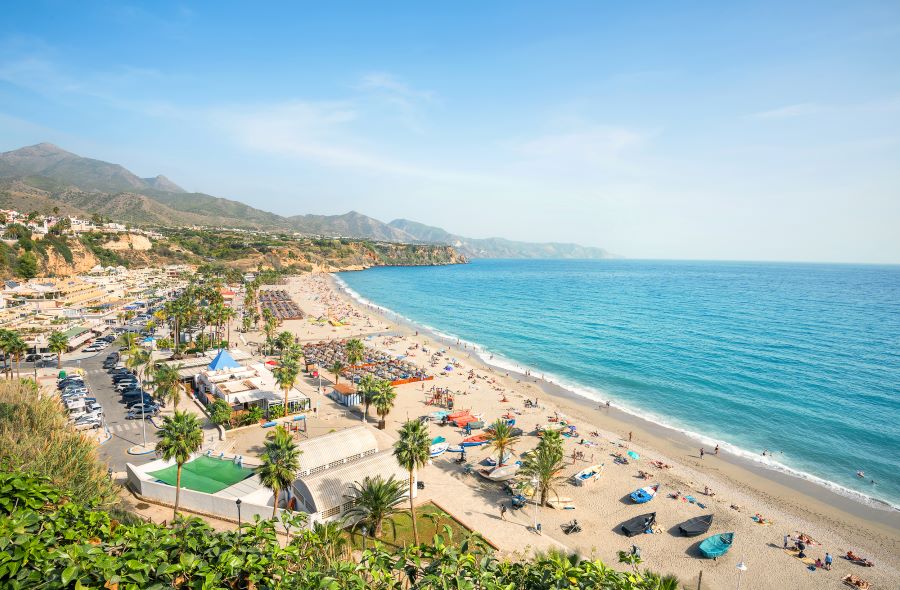 Nerja Beaches: The Balcony of Europe is surrounded by several beaches, including Calahonda Beach, Burriana Beach and Salon Beach. Take a walk down to the shoreline to enjoy the sun and see these golden sands, clear waters and water activities you can do. Unlike many of the beaches in Costa del Sol that are gravel beaches, the beaches here in Nerja are sandy and golden with easy access to ocean and no big waves. So enjoy a beach day or just wandering around the beaches of Nerja.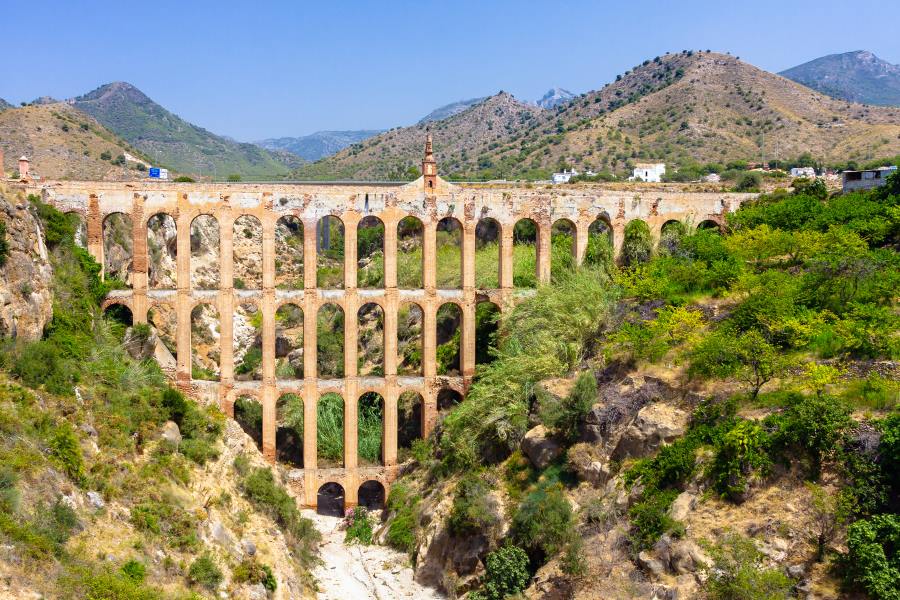 Acueducto del Águila: This 19th-century aqueduct, known as the "Eagle Aqueduct," is an impressive feat of engineering. It's a picturesque spot for a walk and a reminder of Nerja's historical infrastructure.
Nerja Donkey Sanctuary: A unique and heartwarming attraction, this sanctuary provides a safe haven for rescued donkeys. Visitors can interact with the donkeys and learn about their care. Check out their Facebook page linked for all the current information and visiting the sanctuary.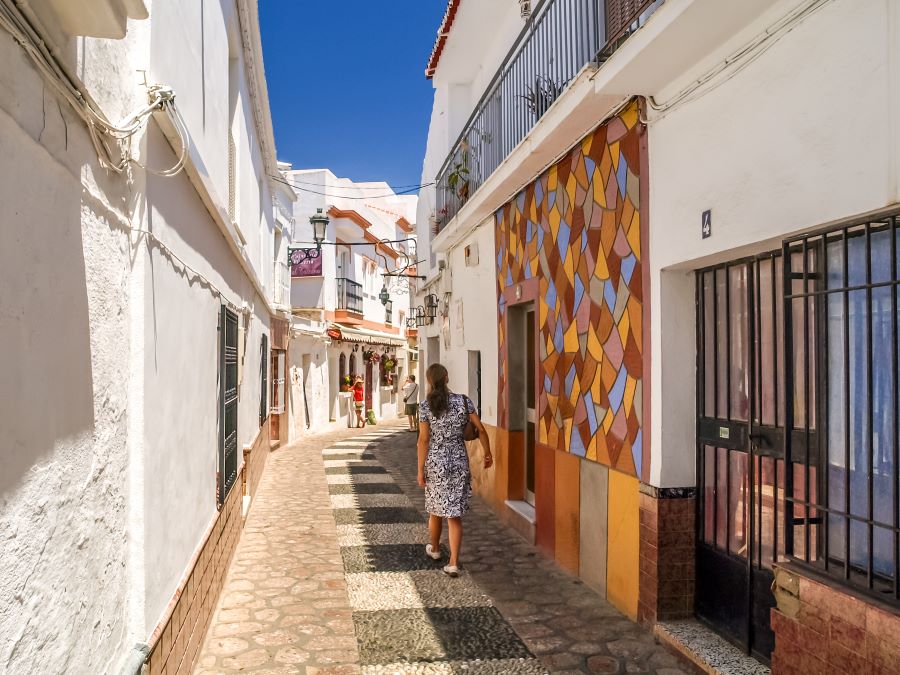 Explore the narrow streets around Nerja – The narrow streets of Nerja are lined with whitewashed buildings adorned with vibrant flowers, creating a postcard-worthy scene. The traditional Andalusian architecture, with its wrought-iron balconies and wooden shutters, adds to the town's visual appeal.
Be prepared to stumble upon hidden squares, tranquil courtyards, and cozy corners. These spots often feature small cafes, boutique shops, and artisanal stores where you can shop for unique souvenirs and gifts.
Nerja Museum (Museo de Nerja): This museum showcases the history and culture of Nerja, including its archaeological treasures. It's an excellent place to learn about the region's past.
Rio Chillar: Nature enthusiasts will enjoy hiking along the Rio Chillar river, where you can explore riverbeds, waterfalls, and scenic landscapes. Be sure to wear appropriate footwear and be prepared to get your feet wet.
Maro: A neighboring village to Nerja, Maro is known for its stunning beaches, including Playa de Maro, and the nearby Cliffs of Maro-Cerro Gordo Natural Park, which offers excellent opportunities for hiking and snorkeling.
Water Activities: Nerja's location along the Mediterranean makes it ideal for various water activities, such as snorkeling, scuba diving, paddleboarding, and boat tours.
Festivals: Throughout the year, Nerja hosts a variety of festivals and events, including the Nerja Carnival, Holy Week (Semana Santa) processions, and cultural festivals celebrating music and dance.
Nerja's combination of natural beauty, historical charm, and cultural richness makes it a captivating destination for travelers seeking a mix of relaxation and exploration along the Costa del Sol. Whether you're interested in exploring caves, enjoying the beach, or immersing yourself in local culture, Nerja has something to offer every visitor.
Popular and local places to eat around Nerja
If you love seafood then we have some fantastic places that serves fresh seafood, amazing tapas and regional cuisine from the surrounding area. Check out these popular and local food places to eat around Nerja:
El Pulguilla: This local institution is famous for its seafood dishes, particularly the grilled sardines and fresh seafood tapas. It's a lively and authentic spot for enjoying traditional Spanish flavors.
Ayo's: Located right on Burriana Beach, Ayo's is renowned for its massive paellas cooked over open fires. It's a beachfront dining experience that shouldn't be missed.
La Taberna de Pepe: A cozy and traditional Spanish tavern, La Taberna de Pepe offers a wide range of tapas and Andalusian specialties. Try their gazpacho, a refreshing cold tomato soup.
Chiringuito Mauri: This beachside chiringuito (beach bar) serves up fresh seafood, paella, and other Mediterranean dishes. It's a great place to relax with a sea view.
Mesón Antonio: Known for its friendly service and extensive menu, Mesón Antonio offers a mix of Spanish and international cuisine. Their steaks and grilled meats are particularly popular.
La Puntilla: A family-run restaurant near the Balcony of Europe, La Puntilla specializes in grilled fish and seafood. The ambiance is warm and welcoming.
El Pulgón: A charming tapas bar with a diverse selection of tapas, El Pulgón is a great place to experience Spanish small plates and enjoy a casual meal.
Bakus: This contemporary restaurant offers a fusion of Mediterranean and international cuisine. It's a stylish option with an extensive wine list.
La Marina: Located in Maro, a nearby village, La Marina is famous for its seafood and beachfront dining. Try their fresh fish dishes and enjoy the sea breeze.
Nerja Markets: Nerja has several markets where you can find fresh produce, cheeses, olives, and other local products. Pack a picnic or enjoy a simple meal with market-fresh ingredients.
Ice Cream Shops: Don't forget to indulge in some Spanish ice cream (helado) at local ice cream shops. The flavors are often creative and refreshing.
Nerja's dining scene offers a blend of traditional Andalusian flavors, fresh seafood, and international cuisine, making it a food lover's paradise along the Costa del Sol. Whether you're craving tapas, paella, or simply fresh seafood by the beach, you'll find plenty of options to satisfy your palate in this charming town.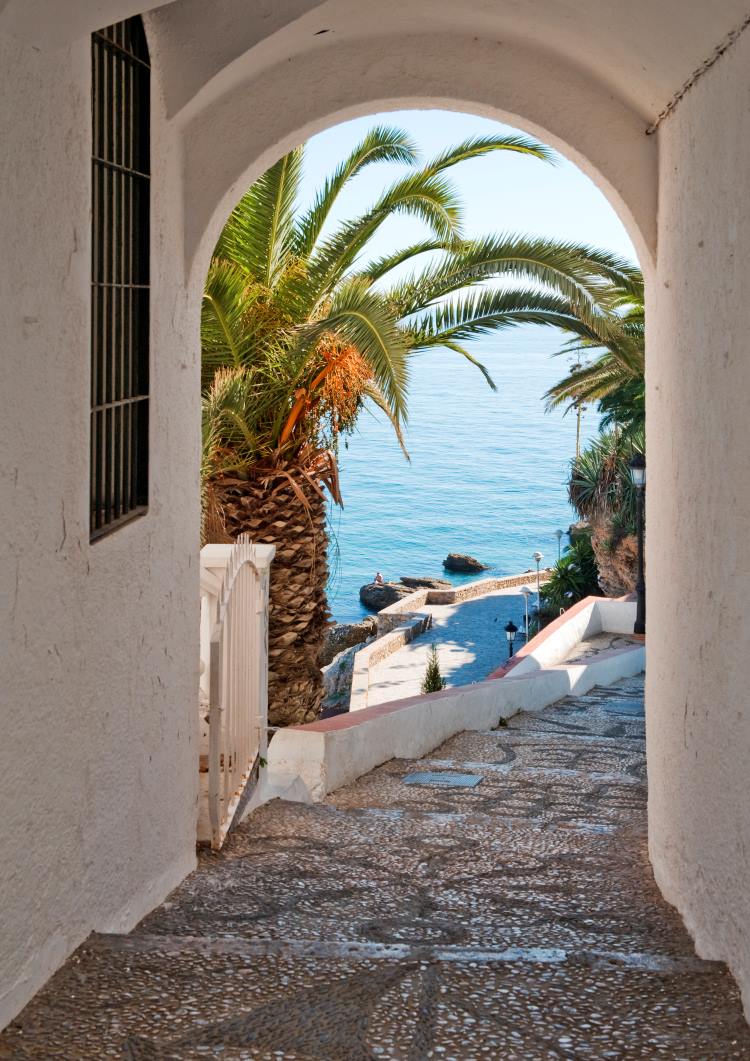 Weather and best time to visit Nerja, Spain
Here's a breakdown of the weather and the best times to visit Nerja:
Spring (March to May): Spring is an excellent time to visit Nerja. The weather begins to warm up, and you can expect mild temperatures with daytime highs ranging from 18°C to 24°C (64°F to 75°F). Spring is ideal for outdoor activities, sightseeing, and enjoying the blossoming flora.
Summer (June to August): Summer is the peak tourist season in Nerja, thanks to the warm and sunny weather. Daytime temperatures can soar to around 30°C to 35°C (86°F to 95°F). It's perfect for beach lovers, water sports enthusiasts, and those who enjoy the lively atmosphere of the town. Be prepared for larger crowds during this season.
Autumn (September to November): Early autumn is a wonderful time to visit Nerja as the weather remains pleasant, and the summer crowds begin to thin out. Daytime temperatures in September and October are typically between 24°C and 29°C (75°F to 84°F). November sees a gradual cooling with daytime highs around 19°C (66°F).
Winter (December to February): While winters in Nerja are mild compared to many other European destinations, it's the off-season for tourism. Daytime temperatures in December and January range from 14°C to 17°C (57°F to 63°F), making it a suitable time for cultural exploration, hiking, and enjoying the town's quieter side.
Best Time to Visit Nerja: The best time to visit Nerja depends on your preferences. If you enjoy warm weather, swimming in the sea, and the lively atmosphere of summer, June to August is ideal. For a balance of pleasant weather and fewer crowds, consider visiting in spring (March to May) or early autumn (September to October). These seasons provide comfortable temperatures for outdoor activities and sightseeing.
Keep in mind that Nerja's microclimate means it often enjoys milder winters and warmer autumns compared to other European destinations, making it a great year-round destination for travelers seeking sunshine and relaxation along the Costa del Sol.
Check out these other posts to visiting Nerja and surrounding areas.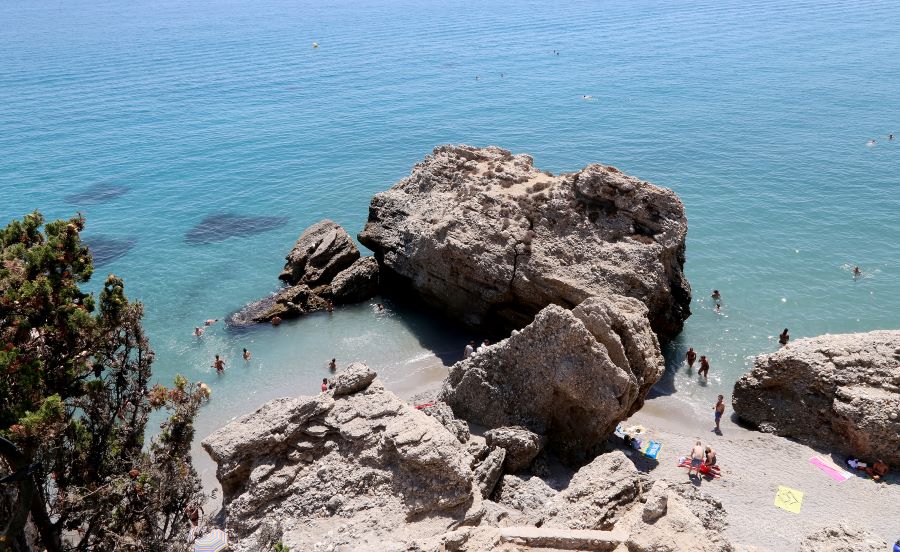 Conclusion to a day trip to Nerja, Spain
A day trip to Nerja, Spain, offers a captivating blend of natural beauty, cultural heritage, and culinary delights. Whether you're exploring the mesmerizing Nerja Caves, strolling along the Balcony of Europe with its stunning sea views, or savoring local seafood at charming eateries, Nerja promises a memorable experience. Here's a conclusion to your day trip:
As the sun sets over the Mediterranean, you'll carry with you the echoes of history from the caves, the salty breeze of the coastline, and the flavors of traditional Spanish cuisine. Nerja's unique charm and the warmth of its people make it a perfect destination for a day of exploration and relaxation. Whether you're a nature enthusiast, a history buff, or a food lover, Nerja welcomes you with open arms, leaving you with cherished memories and the desire to return for more adventures along the Costa del Sol.
Thanks for checking out this post on Visiting Spain and Mediterranean, please come back again for other travels around Spain.