Valencia to Barcelona: best transportation options to get you there fast and effortlessly
If you are looking for the best transportation options on getting from Valencia to Barcelona, Spain, check out this guide below. We detail the fastest, effortless and budget friendly options to get you there. You can review these options traveling by train, bus or airplane, or if you have more time then consider renting a car and stop and go as you please.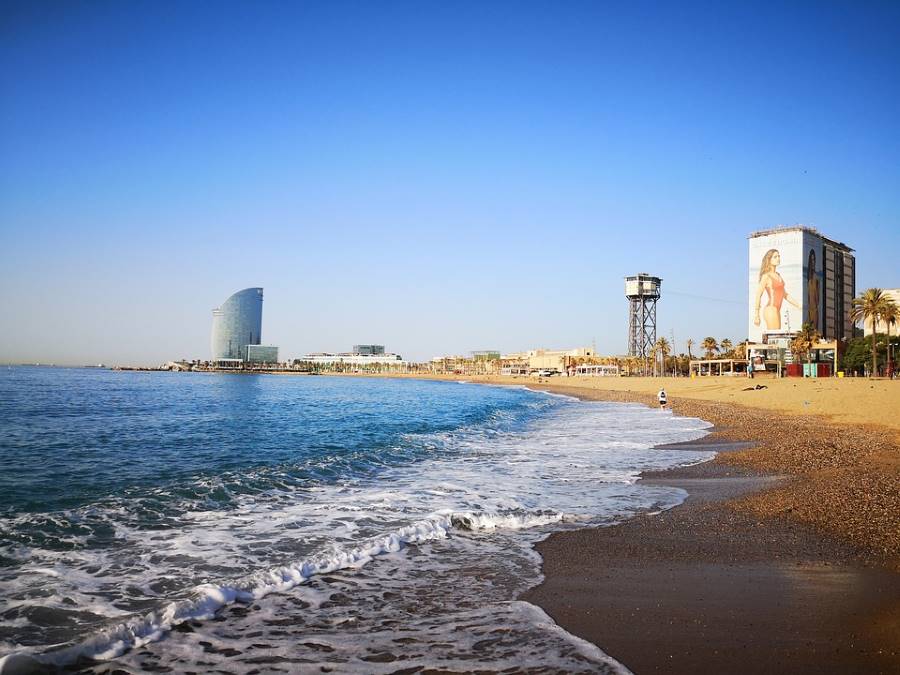 Weather and best time to visit Barcelona
Barcelona, located on the northeastern coast of Spain, enjoys a Mediterranean climate, which means mild, wet winters and hot, dry summers. The best time to visit Barcelona largely depends on your preferences for weather and the type of activities you want to engage in. Here's a breakdown of the seasons:
Spring (March to May):
Spring is a delightful time to visit Barcelona. The weather is mild and pleasant, with temperatures ranging from 15°C to 20°C (59°F to 68°F).
The city's parks and gardens are in full bloom, making it an excellent time for outdoor activities and sightseeing.
Be prepared for some occasional rain, especially in March and April.
Summer (June to August):
Summer is the peak tourist season in Barcelona. The weather is hot and sunny, with temperatures averaging between 25°C to 30°C (77°F to 86°F).
The beaches are popular during this time, but the city can get crowded, and hotel prices tend to be higher.
If you can handle the heat and the crowds, summer can be a great time for enjoying the vibrant atmosphere and outdoor events.
Autumn (September to November):
Early autumn is a fantastic time to visit Barcelona. The weather remains warm and pleasant, but the summer crowds start to thin out.
September is particularly pleasant, with temperatures around 23°C to 28°C (73°F to 82°F).
Fall is also when the city celebrates its annual festivals, including La Mercè in late September.
Winter (December to February):
Barcelona experiences mild winters compared to many other European cities, but it can be quite chilly, with temperatures ranging from 8°C to 15°C (46°F to 59°F).
Winter is a quieter time to visit, and you'll find fewer tourists. It's a good time for exploring museums, historic sites, and trying traditional Catalan dishes.
In summary, the best time to visit Barcelona for most travelers is during the spring (March to May) or early autumn (September to November) when the weather is pleasant, and the city is less crowded. However, if you enjoy the beach and don't mind the summer crowds, then June to August is also a popular time to visit. Ultimately, the best time for your trip depends on your personal preferences and the kind of experience you're seeking.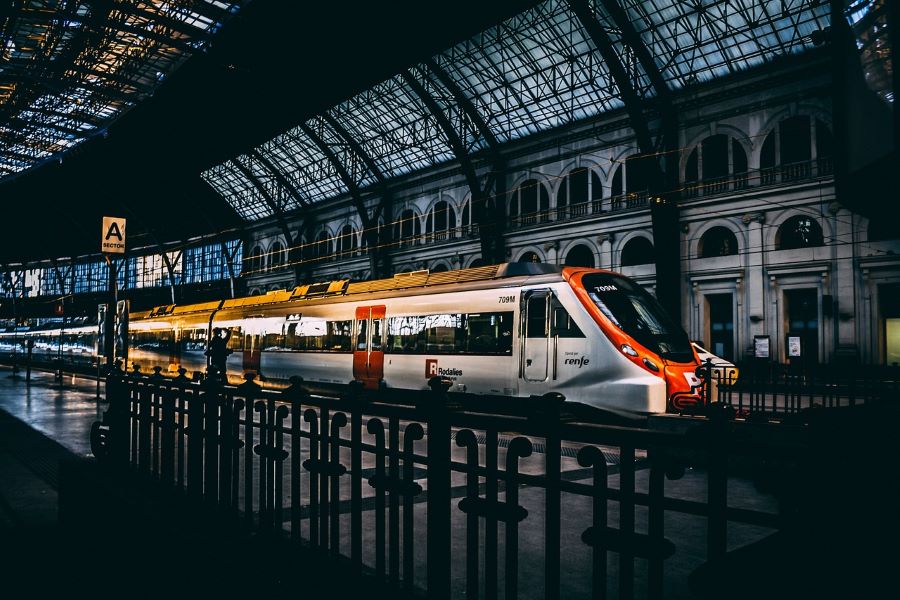 Here are the best transportation options available to get you to Barcelona from Valencia
To travel from Valencia to Barcelona, you have several transportation options, including by train, bus, car, or plane. Here's a step-by-step guide for each method:
Start at Valencia's primary train station, Estación del Norte (Valencia Nord). You can get there by taxi, metro, or bus, depending on your location in Valencia.
Purchase a train ticket to Barcelona. There are both high-speed AVE trains and slower regional trains available. The high-speed train is faster but may be more expensive.
Board your chosen train, ensuring you have a reserved seat if necessary. The journey takes approximately 3 to 4 hours on the high-speed AVE train.
Enjoy the scenic ride along the eastern coast of Spain as you travel from Valencia to Barcelona.
Arrive at Barcelona's main train station, Barcelona Sants (Estació de Sants).
By Bus:
Head to Valencia's main bus station, Estación de Autobuses (Estació d'Autobusos), which is centrally located in the city.
Purchase a bus ticket to Barcelona. Various bus companies operate this route, offering both standard and premium services.
Board the bus and find your seat. The journey by bus takes longer than the train, typically around 4 to 5 hours or more, depending on traffic and stops.
Enjoy the ride as you travel from Valencia to Barcelona. There may be rest stops along the way.
Arrive at the bus terminal in Barcelona. Bus terminals in Barcelona include Barcelona Nord or Estació de Sants, depending on the bus company.
By Car:
Rent a car in Valencia if you don't have one. There are various car rental agencies in the city and at the airport.
Plan your route. The most common route is via the AP-7 toll highway, which connects Valencia and Barcelona. Be prepared to pay tolls along the way.
Drive northeast on the AP-7, following signs for Barcelona. The journey by car takes approximately 3.5 to 4.5 hours, depending on traffic and stops.
Enjoy the flexibility of traveling by car and the opportunity to explore interesting places along the way, such as Tarragona or Sitges.
Once you reach Barcelona, follow signs to your specific destination within the city.
By Plane:
Check for available flights from Valencia Airport (Aeropuerto de Valencia) to Barcelona Airport (Aeropuerto de Barcelona-El Prat). There are several daily flights between the two cities operated by various airlines.
Book a flight that suits your schedule and budget.
Arrive at Valencia Airport and go through security and boarding procedures.
Take a short flight, usually around 1 hour, to Barcelona Airport.
Upon arrival at Barcelona Airport, you can use public transportation or taxi services to reach your final destination in the city.
Choose the transportation method that best suits your preferences, budget, and schedule when traveling from Valencia to Barcelona. Each option has its advantages, so you can decide based on your priorities for the journey.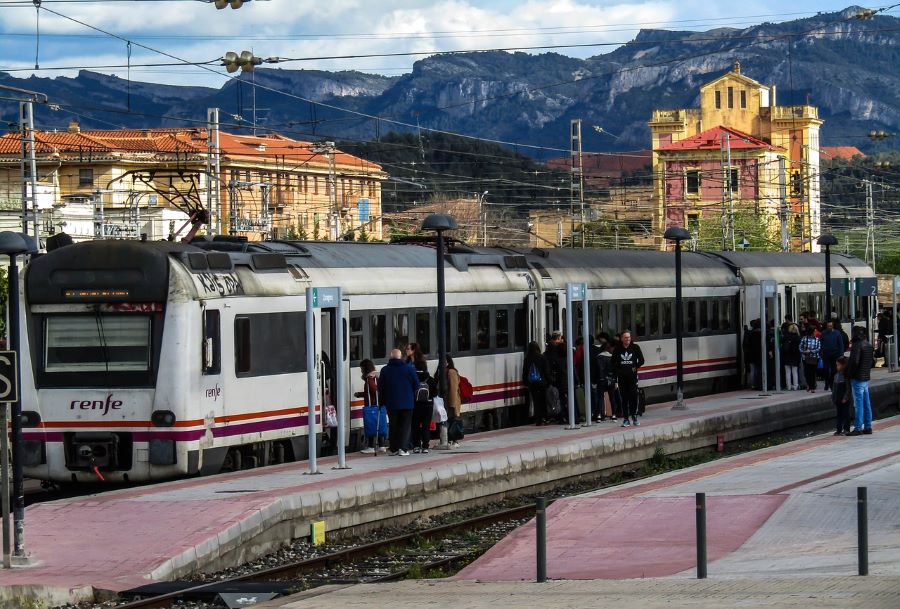 How to get around Barcelona on local transportation
Barcelona has an efficient and extensive public transportation system that makes it easy to get around the city. Here's a guide on how to navigate Barcelona using local transportation:
Barcelona's metro system is one of the most convenient ways to travel within the city.
The metro network consists of multiple lines, each identified by a different color. It covers most of the city's key areas and attractions.
You can purchase single tickets, multiple-ride cards (T-10), or unlimited travel cards for 2, 3, 4, or 5 days (HOLA Barcelona card) from metro stations, kiosks, or online.
Bus:
Barcelona's bus network complements the metro system and covers areas not easily accessible by subway.
Bus routes are extensive and well-marked, with information available at bus stops and online.
You can use the same tickets and travel cards for both the metro and buses.
Tram:
Trams operate on several routes within Barcelona, primarily in the outskirts of the city.
Like buses, you can use regular metro tickets and cards for tram rides.
The Cercanías commuter train system connects Barcelona with nearby towns and suburbs.
This system is useful if you plan to visit places like Montserrat or Sitges.
Taxis:
Taxis are readily available throughout Barcelona. Look for the green and black taxis.
Taxis in Barcelona are metered, and fares are reasonable compared to many other European cities.
Bicycles:
Barcelona has a bike-sharing program called Bicing. To use it, you'll need a membership, but it's an excellent way to explore the city on two wheels.
There are also many bike rental shops for tourists if you prefer to rent a bicycle for a day or more.
Electric Scooters:
Electric scooters are a popular and convenient mode of transportation in Barcelona. You can rent them using various smartphone apps like Lime or Bird.
Be sure to follow local regulations and safety guidelines while riding scooters.
Walking:
Barcelona is a pedestrian-friendly city with many attractions within walking distance of each other.
Walking is an excellent way to explore the historic neighborhoods like the Gothic Quarter and El Raval.
Funiculars and Cable Cars:
Barcelona has a few funiculars and cable cars, such as the one to Montjuïc, which offer scenic views of the city.
You can often use your regular transportation cards for these services.
Tourist Cards:
Consider purchasing a Barcelona Card or HOLA Barcelona Card, which offer unlimited travel on public transportation along with discounts on various attractions.
Remember to check the schedules and operating hours of public transportation, as they may vary, especially on weekends and holidays. Barcelona's public transportation system is well-connected and user-friendly, making it easy to explore the city and reach its famous landmarks and neighborhoods.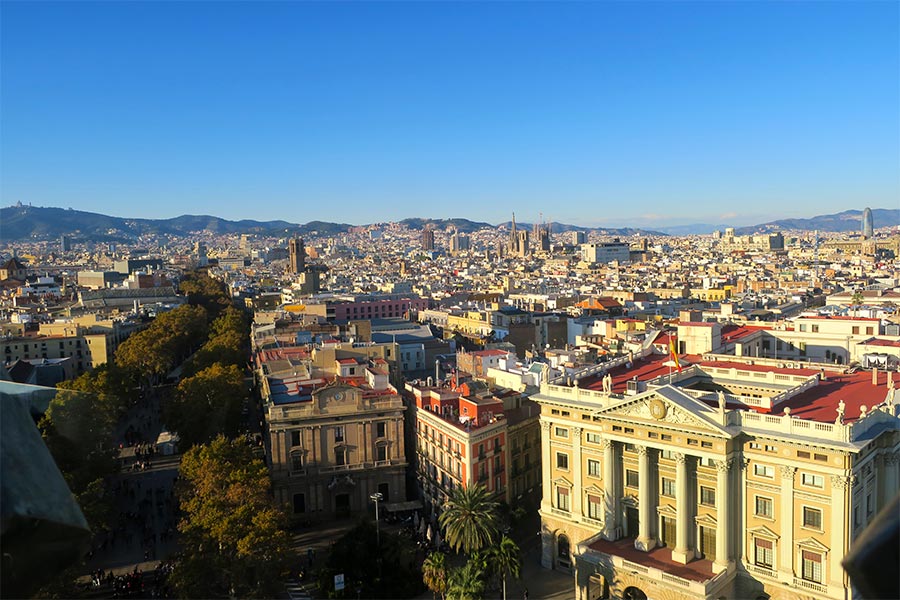 More inside tips to visiting Barcelona and travel around the city
Here are some inside tips for visiting Barcelona and making the most of your trip:
Explore Neighborhoods:
Beyond the popular tourist areas, explore local neighborhoods like Gràcia, El Raval, and Poble Sec to experience the city's authentic atmosphere and discover hidden gems.
Eat Like a Local:
Try traditional Catalan dishes such as "paella," "tapas," and "crema catalana" at local restaurants and tapas bars. Don't forget to explore the bustling food markets like La Boqueria.
Visit Off-Peak Hours:
To avoid crowds, visit popular attractions like Sagrada Família, Park Güell, and Casa Batlló early in the morning or later in the evening.
Stay Safe:
Be cautious of pickpockets, especially in crowded tourist areas and on public transportation. Keep your belongings secure and consider using a money belt or hidden pouch for valuables.
Learn Basic Phrases:
While many people in Barcelona speak English, learning a few basic Spanish or Catalan phrases can go a long way in making connections and showing respect for the local culture.
Tipping Etiquette:
Tipping in restaurants is common but not as generous as in some other countries. Typically, leave a small tip (5-10%) if service is not included in the bill.
Free Attractions:
Some attractions, like the Magic Fountain of Montjuïc and Park de la Ciutadella, offer free admission. Check for free or discounted entry on specific days or times.
Barcelona Card:
Consider purchasing the Barcelona Card, which provides unlimited access to public transportation, discounts on attractions, and free admission to some museums.
Festivals and Events:
Check the local event calendar for festivals and events happening during your visit. Barcelona hosts numerous cultural events, including music festivals, parades, and traditional celebrations.
Beach Tips:
While Barcelona has beautiful beaches, be mindful of beach safety. Keep an eye on your belongings, use sunscreen, and respect beach rules.
Gaudi Beyond the Obvious:
In addition to Sagrada Família and Park Güell, explore other Gaudí-designed buildings like Casa Vicens and Palau Güell for a deeper appreciation of his architecture.
Day Trips:
Consider taking day trips to nearby destinations like Montserrat, Sitges, or Tarragona to explore the beautiful Catalan countryside and historical sites.
Public Transportation Savings:
If you plan to use public transportation extensively, calculate whether a T-10 card (ten-ride metro/bus card) or HOLA Barcelona card (unlimited travel) will be more cost-effective for your stay.
Reservations:
For popular attractions and restaurants, make reservations in advance, especially during the peak tourist season, to avoid long lines and disappointment.
Respect Siesta Hours:
Keep in mind that many shops and businesses in Barcelona observe a siesta, which means they may close for a few hours in the afternoon. Plan your activities accordingly.
By following these inside tips, you can enhance your experience in Barcelona and create lasting memories of this vibrant and culturally rich city. Enjoy your trip!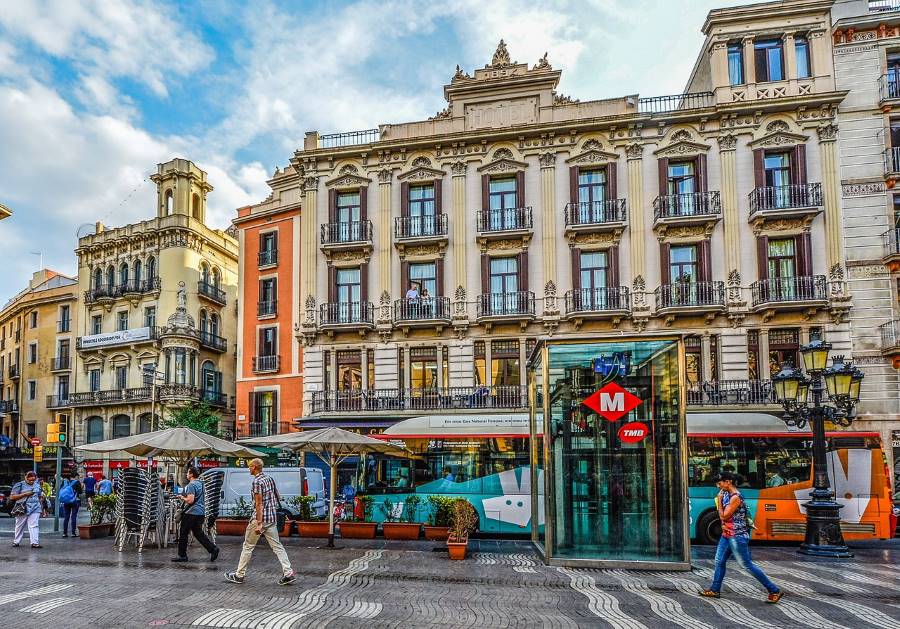 Check out these other posts on visiting Barcelona
Palau de la Musica Catalana, Barcelona
Mossen Costa i Llobera garden in Barcelona
Conclusion on travel from Valencia to Barcelona
In conclusion, traveling from Valencia to Barcelona offers a range of transportation options to suit your preferences and schedule. Whether you choose the high-speed convenience of the train, the flexibility of driving, the affordability of buses, or the speed of a flight, you'll find a method that works for you. Additionally, Barcelona's well-developed public transportation system makes it easy to explore the city once you arrive. By considering the best time to visit, planning your route, and following some inside tips, you can make your journey from Valencia to Barcelona enjoyable and memorable. Barcelona's rich culture, stunning architecture, and vibrant atmosphere await your exploration, promising a rewarding travel experience.
Thanks for checking out this post on Visiting Spain and Mediterranean, please come back again for other travels around Spain.