Barcelona Panoramic Views: Unveiling the City's Breathtaking Beauty from Above
The gorgeous Barcelona skyline is amazing, you can see so many views of the entire city from any of the hillside parks at Montjuic, or Park Guell and capture complete vistas of the city. It's such a compact city that you can see every important monument from Sagrada Familia, to the main cathedral in the Barri Gotic, or the gothic quarter, down to the bay front and the large monument to Columbus. You can find these Barcelona panoramic views by visiting these popular attractions and locations below.
Taking an exhilarating journey as we unveil the captivating allure of "Barcelona Panoramic Views: Unveiling the City's Breathtaking Beauty from Above." From the iconic spires of Sagrada Família to the sun-kissed shores of Barceloneta Beach, our exploration takes us to the city's most awe-inspiring vantage points. Climb to hilltops and sky-high terraces, where the panorama of Barcelona's architectural wonders and azure coastline unfolds before your eyes. Discover hidden gems and secret spots that offer a fresh perspective of this vibrant metropolis. Get ready to be spellbound by the city's grandeur as we ascend to new heights and capture Barcelona's panoramic splendor.
Following are images of the Barcelona skyline overlooking downtown and the bay, major monuments and unusual panoramas.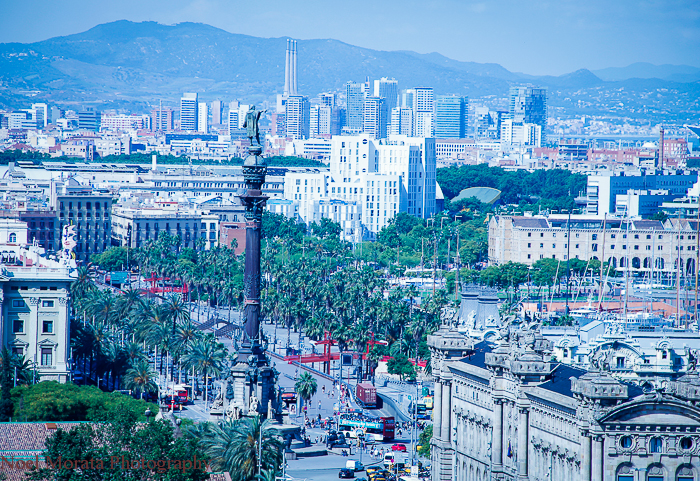 How to get around Barcelona and find these inspiring views?
When it comes to getting around Barcelona and finding those inspiring views, you have several options:
Public Transportation: Barcelona has an efficient public transportation system that includes metro, buses, and trams. The metro network is extensive and can take you to various parts of the city, including popular viewpoints. Buses and trams also offer convenient routes to reach different areas. Consider getting a T10 ticket, which allows for multiple trips at a discounted price.
Hop-on Hop-off Bus: Taking a hop-on hop-off bus tour can be a convenient way to explore Barcelona while enjoying panoramic views. These buses follow designated routes that cover major attractions and viewpoints. You can get on and off at any stop and spend as much time as you like at each location.
Cable Cars and Funiculars: Barcelona has cable cars and funiculars that provide unique perspectives and access to stunning viewpoints. For example, the Montjuïc Cable Car takes you from Montjuïc Mountain to the beach, offering breathtaking views of the city and the Mediterranean Sea. The Tibidabo Funicular provides access to the iconic Tibidabo Hill, known for its panoramic views over Barcelona.
Walking and Biking: Barcelona is a pedestrian-friendly city with many pedestrian paths and bike lanes. Exploring on foot allows you to discover hidden viewpoints and charming neighborhoods. You can also rent a bike and ride along the beach promenade or through the city streets to reach different viewpoints.
Taxis and Ride-Sharing: Taxis and ride-sharing services like Uber and Cabify are widely available in Barcelona. They provide convenient door-to-door transportation and can take you directly to specific viewpoints or landmarks.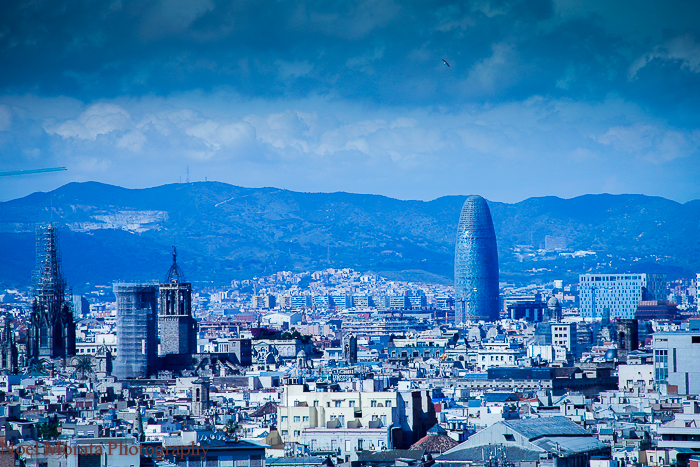 Visit to Montjuic Hill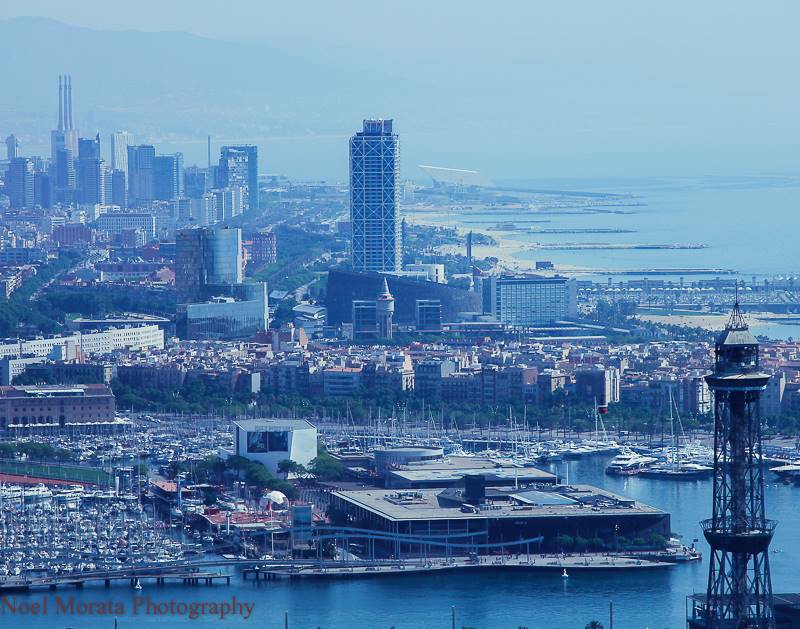 Montjuic hill is so beautiful and panoramic, there's so much to see and do there. You'll see amazing gardens, a historic fort, world re-known museums and a dancing fountain you can visit for a night show spectacular and free!
During a visit to Montjuïc Hill in Barcelona, you'll find several fantastic vantage points that offer breathtaking views of the city and its surroundings. Here are some must-visit spots to admire the panoramic vistas:
Montjuïc Castle: The Montjuïc Castle sits atop the hill and provides one of the most commanding views of Barcelona's skyline and the Mediterranean Sea. The historic fortress offers a perfect blend of history and panoramic beauty.
Mirador de l'Alcalde: This viewpoint, located near the Montjuïc Olympic Stadium, offers stunning views of the city's coastline, including the iconic W Barcelona Hotel and Barceloneta Beach.
Telefèric de Montjuïc: Take a cable car ride from the city up to Montjuïc Hill, where you'll enjoy a scenic journey with picturesque views of Barcelona below.
Miramar Gardens: Stroll through the Miramar Gardens and be rewarded with captivating views of the Port of Barcelona and the Mediterranean Sea. It's an ideal spot to relax and soak in the city's beauty.
Poble Espanyol: This Spanish village replica showcases architectural styles from different regions of Spain. From Poble Espanyol, you can savor panoramic views of the city and the distant mountains.
CaixaForum Rooftop: The rooftop of CaixaForum, an art and cultural center, offers a lesser-known viewpoint that presents striking vistas of Barcelona's skyline and Montjuïc's lush greenery.
Magic Fountain of Montjuïc: In the evening, the Magic Fountain hosts a dazzling light and water show set to music. Enjoy the spectacle while capturing the illuminated cityscape as a backdrop.
These viewpoints on Montjuïc Hill provide a remarkable opportunity to witness the beauty of Barcelona from above, capturing its charm and architectural splendor in all its panoramic glory.
Check out my post on visiting Montjuic here for more inspiration on visiting this iconic and imposing mountain in Barcelona.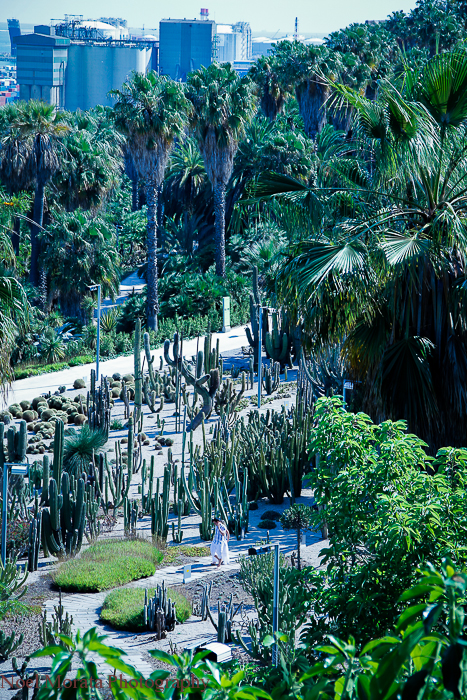 More places with views from above
Viewing Barcelona from above offers a mesmerizing perspective of the city's architectural wonders, natural beauty, and vibrant neighborhoods. Here are some of the places you can appreciate from elevated vantage points around Barcelona city.
Sagrada Família: Gaudí's masterpiece stands tall, and from above, you can admire the intricate details of its facades and the soaring spires that grace Barcelona's skyline.
Park Güell: The colorful mosaic-tiled terraces of Park Güell create a whimsical panorama against the backdrop of the city, with views that stretch from the Mediterranean Sea to the surrounding hills.
Tibidabo Hill: Atop Tibidabo, the majestic Sagrat Cor Church overlooks the city, and an amusement park adds a touch of nostalgia. The panoramic view stretches from the urban landscape to the distant sea.
Barceloneta Beach: From above, the sandy shores of Barceloneta Beach contrast with the sparkling Mediterranean waters, inviting relaxation and enjoyment of Barcelona's seaside charm.
Casa Batlló and Casa Milà (La Pedrera): These iconic Modernist buildings showcase the brilliance of Gaudí's architecture. Admire their distinctive rooftops and sculptural elements from elevated viewpoints.
The Gothic Quarter: The historic heart of Barcelona reveals its labyrinthine streets and medieval charm when viewed from above, offering a glimpse into the city's rich history.
W Barcelona Hotel: Shaped like a sail, the iconic W Barcelona Hotel dominates the coastline, standing out from above, where you can appreciate its unique design and stunning location.
Magic Fountain of Montjuïc: In the evening, the Magic Fountain's captivating light and water show come alive, offering a radiant spectacle against the night sky and the silhouette of the city.
From the heights of Barcelona's architectural marvels to the scenic beauty of its beaches and hills, observing the city from above presents a kaleidoscope of colors and textures that reveal the enchanting allure of this captivating Mediterranean metropolis.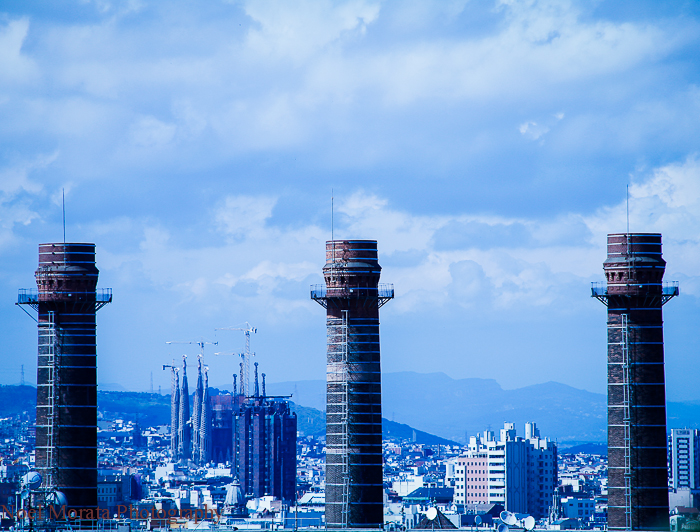 Weather and best time to visit Barcelona
The weather in Barcelona is generally pleasant throughout the year, making it a great destination to visit at any time. However, the best time to visit depends on your preferences and the activities you plan to engage in.
Spring (March to May) and Fall (September to November) are considered the best seasons to visit Barcelona. During these months, the weather is mild, with comfortable temperatures ranging from 15°C (59°F) to 25°C (77°F). It's a great time to explore the city, visit attractions, and enjoy outdoor activities without the intense summer heat or large crowds.
Summer (June to August) is peak tourist season in Barcelona, as the city welcomes a high number of visitors. The weather is hot and sunny, with temperatures averaging between 25°C (77°F) to 30°C (86°F). It's an ideal time for beach activities and outdoor festivals, but be prepared for larger crowds and higher accommodation prices.
Winter (December to February) in Barcelona is mild compared to many other European cities. While temperatures can drop to around 10°C (50°F), it rarely gets extremely cold. Winter is a quieter season with fewer tourists, making it a good time to explore museums, indulge in indoor activities, and experience the city's cultural offerings. However, it's advisable to check the opening hours of attractions, as some may have reduced schedules during this period.
Places to stay and rooms with a view
There's so many fantastic places to stay around Barcelona. Here are some of the best areas to stay in Barcelona in this easy guide.
Final Thoughts
It's worth climbing up to see any vistas that you can view the entire skyline of Barcelona from its hills and down to the ocean. The views are definitely worth the hike up and enjoy all the scenery.
If you enjoyed this post, check out these other Catalonia posts below
A Barcelona to Valencia road trip
Mossen Costa i Llobera garden in Barcelona
Museu Nacional D'art de Catalunya
Montjuic parks and botanic gardens in Barcelona
Palau de la Musica Catalana, Barcelona
Conclusion to the Barcelona Panoramic views from Above
In conclusion, experiencing the panoramic views of Barcelona is an unforgettable and awe-inspiring adventure. From the heights of iconic landmarks like Montjuïc and Park Güell to the stunning vistas from Tibidabo and the Magic Fountain, you'll be treated to breathtaking vistas that showcase the city's beauty and charm. Whether it's the sparkling Mediterranean Sea, the architectural wonders of the cityscape, or the sprawling urban landscape, the panoramic views of Barcelona offer a perspective that will leave you mesmerized and with a lasting impression of this vibrant city.
If you enjoyed this post on Barcelona panoramic views , please 'Like' my facebook page on the right sidebar to get more images, tips and inspiration on my travels. Also, if you have a favorite place or personal experience you want to share about Barcelona, please do so in the comments section below.