Montjuic parks and botanic gardens in Barcelona – gorgeous gardens on the hill
Whenever I get tired of all day urban adventures with packed schedules, I find that its nice to spend a little quiet time in a beautiful garden to relax or enjoy a meal. Fortunately, Barcelona has many green spaces, beautiful parks and botanical gardens scattered throughout the city.
Montjuic, the large imposing mountain in the middle of the city features important art and history museums along with an amazing collection of regional to mediterranean inspired gardens and one of the best Barcelona attractions to see it all in one area.
When you're visiting the city, make sure take the time to explore the Montjuic parks and botanic gardens in Barcelona.With fantastic views from above, Montjuic is the place to go for views, gorgeous gardens and world class museums.
What to see and do at Montjuic in Barcelona
Not only are there gorgeous botanical gardens to visit at Montjuic, but there are also historic places to include the Montjuic castle, museums like the National art museum of Catalunya, Catalan Museum of Archeology, Joan Miro Foundation, Museo de Carroses Funebres, Etnology Museum.
These alone will keep you busy at Montjuic of enjoy some culture, art and historical treasures to visit. But the main outdoor and beautiful gardens are the treasures to see at Montjuic and here are some of the best to enjoy walking around this massive mountain in the middle of Barcelona.
.

Take the cable car to the top and views from Montjuic
Spending an entire day up in the Montjuic area visiting many of the world-renowned museums is enjoyable but my head was starting to spin from all the art and treasure sensory overload.
It's fortunate that the area has many magnificent botanical gardens and parks to explore and enjoy at my leisure. Many of these parks have stunning views of the entire city, its worlth while to take some photographs of the skyline or panorama shots from different vista points. It's best to start your visits to Montjuic via cable car to the top and head directly to the fortress.
Afterwards, one can decide on which route to take or attractions that may be interesting to visit.  There are maps and points of interests at key road locations, giving directions and descriptions of the various attractions in Montjuic.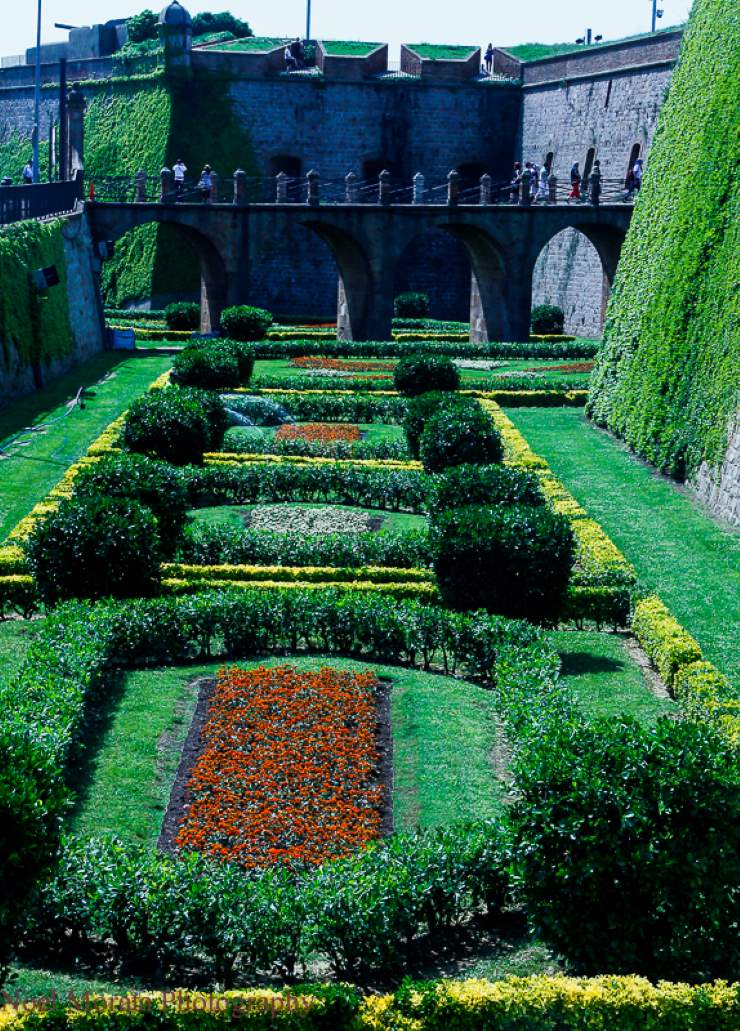 Montjuic castle and views
At the very top of Montjuic sits the castle of Montjuic. Originally a fortress built to defend the city, it was later converted into a castle and has had many incarnations back to a fortress, a prison and is now military museum.
The views from the top offer a 360 degree look of Barcelona from the mountains to the bayfront area and all the key attractions around the city. It's easy to just relax and enjoy the views or stroll along the ramparts of the fortress. In front of the entry is a nice colorful garden parterre filled in from the original moat.
Bright spring annuals to add more visual color and frame some nice photos of the fortress. It's worth spending a little time here to take a few photos of the fortress or some magnificent views of Barcelona.
Check out our post to visiting Montjuic castle for more inspiration and images.


Montjuic's botanical gardens
The botanical gardens and parks of Montjuic are quite impressive. They include the National botanical garden, the Laribal garden, the fortress and the desert gardens of Mossen Costa i Llobera.
Large directional maps are available on the thoroughfares along with well-marked walkways directing you to the various garden destinations. It's a pleasant mostly downhill walk through many shaded trails, vista points and monuments before arriving at each garden. The gardens are all unique and distinctive with a variety of plants species being represented. Some of the gardens are more formal with terraced and boxed-in garden rooms like the Laribal gardens. While other gardens like the National botanical gardens are more relaxed and park-like with indigenous plantings of the region and countryside.
There are also exotic gardens like the Mossen Costa i Llobera, which has an impressive collection of desert, cactus and sub-tropical plantings amassed into one of the largest cactus and succulent collections in the world.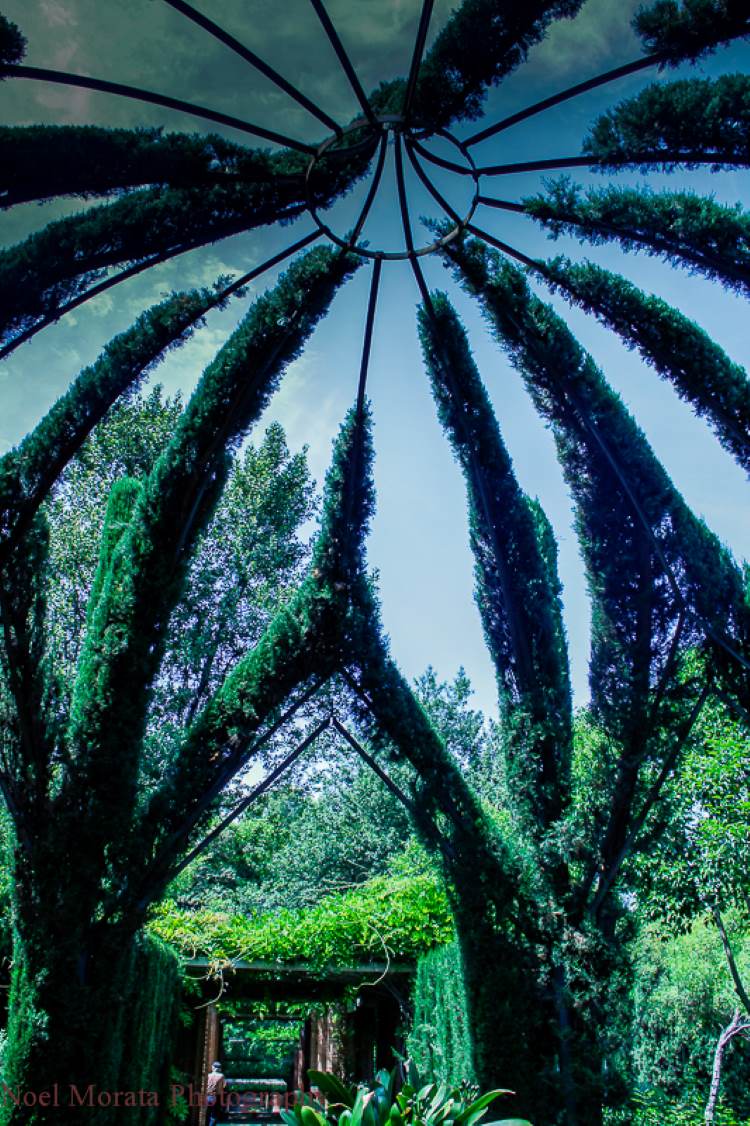 Laribal Gardens
Right after visiting the Joan Miro museum and the spectacular artwork of Barcelona's famous artist, I headed outside to the Laribal  gardens close by. A semi-formal garden with mediterrannean plantings, this garden is a delightful mix of boxed terraced beds, topiary mixed in with a variety of roses, covered pergolas, shaded walkways and colorful annuals.
The scenic views overlooking the downtown areas of Barcelona are attractive with roses framing the views, making it a perfect photo opportunity. It's easy to find some quiet time and shade in this garden from the intense mid-day sun while enjoying the attractive views below.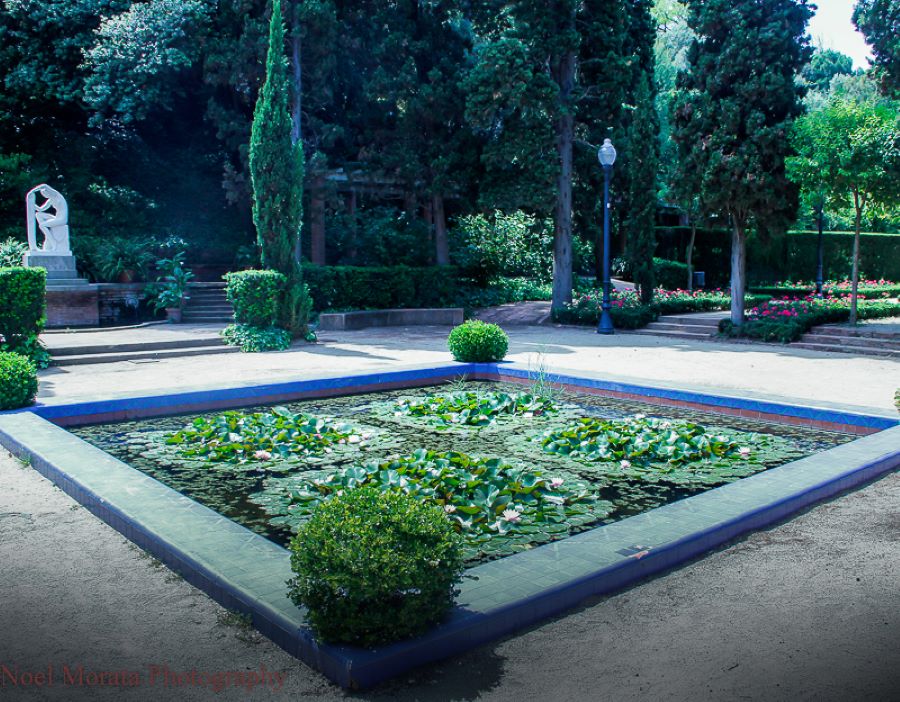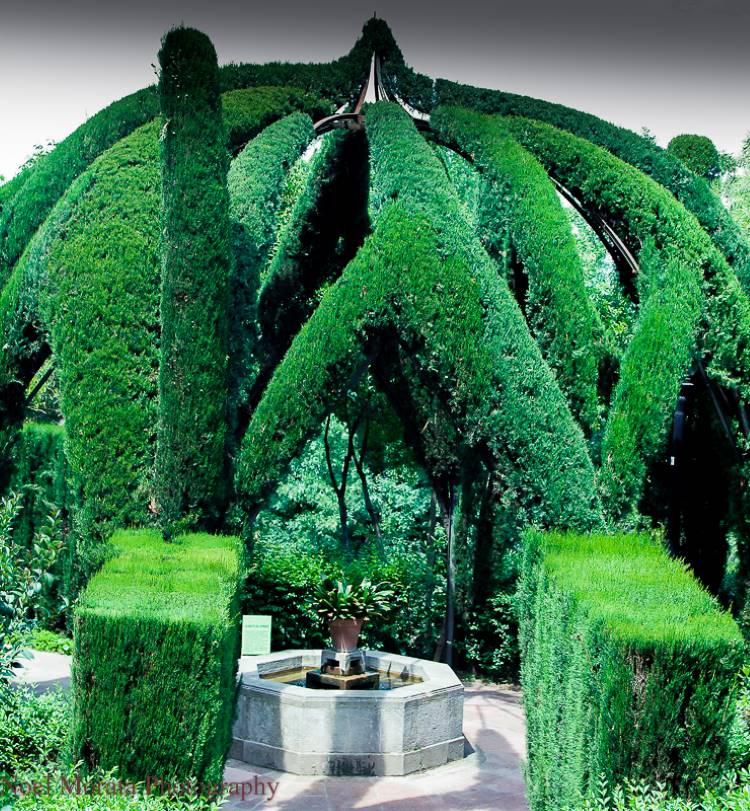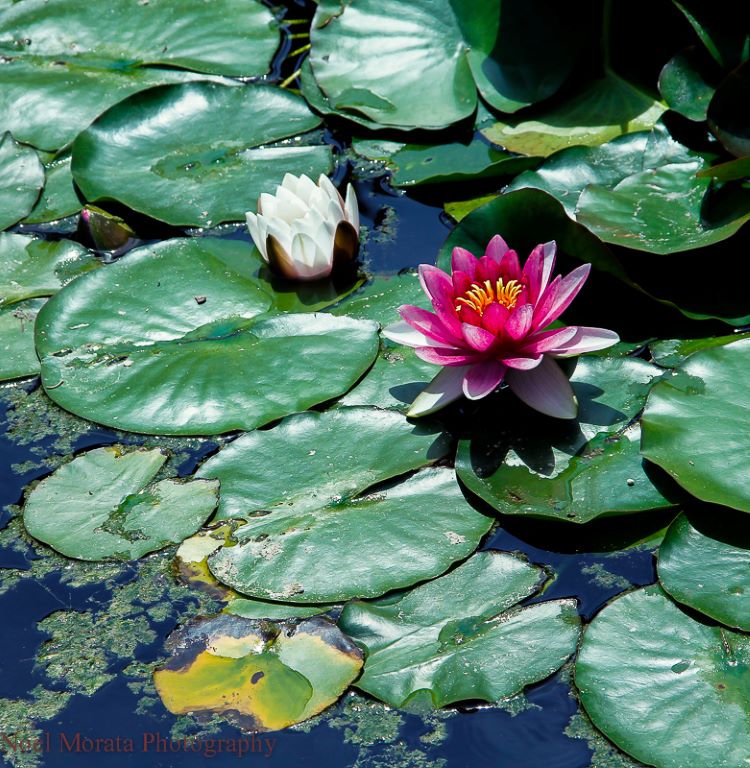 Views, stairs and fountains at Montjuic
There are many splendid views along the Montjuic mountains showing some of the key attractions of Barcelona including this image below with the familiar outlines of the Sagrada Familia in the distance. Here are some more views of from Montjuic, its parks and other vista points.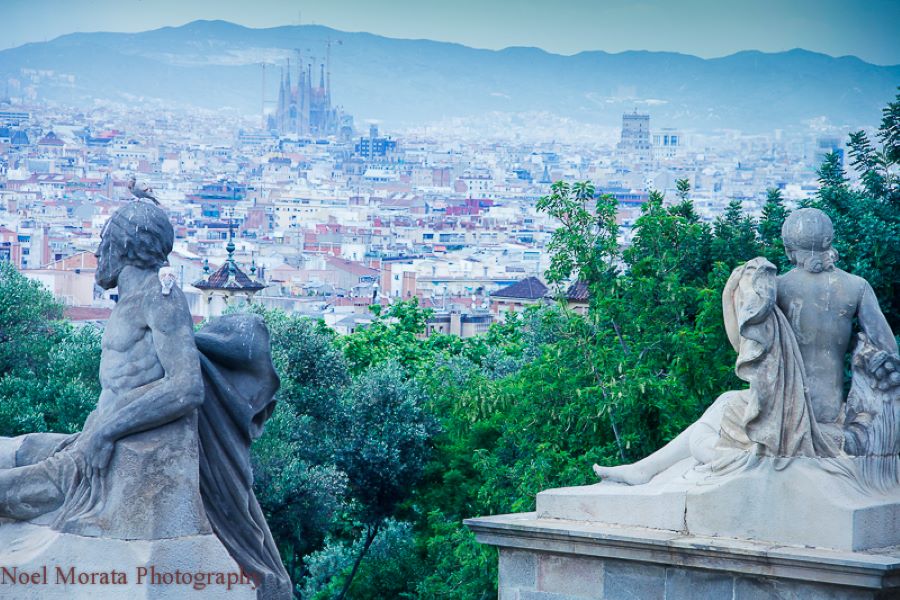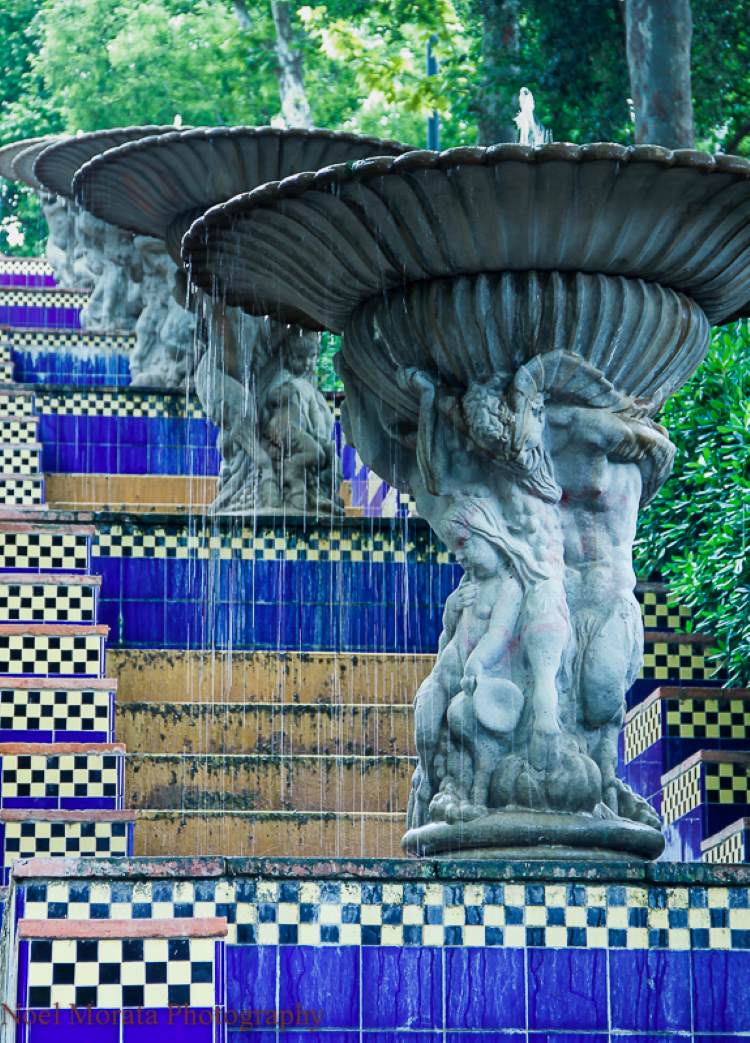 Weather and best time to visit Barcelona
Barcelona, the capital of Catalonia in Spain, enjoys a Mediterranean climate with mild, wet winters and warm, dry summers. The best time to visit Barcelona largely depends on your preferences for weather and the type of activities you want to engage in.
Spring (March to May): Spring is a wonderful time to visit Barcelona. The weather is mild and pleasant, with temperatures gradually rising as the season progresses. You can expect daytime temperatures ranging from around 15°C (59°F) in March to 22°C (72°F) in May. The city's gardens and parks start to bloom, creating a colorful and picturesque atmosphere. It's a great time for sightseeing, exploring the city's architectural wonders, and enjoying outdoor cafes.
Summer (June to August): Summer is the peak tourist season in Barcelona. The weather is warm to hot, with average daytime temperatures ranging from 25°C (77°F) to 30°C (86°F). This is when the city comes alive with festivals, events, and a vibrant beach scene. However, be prepared for larger crowds and higher accommodation prices. It's advisable to book your accommodations well in advance if you plan to visit during this period.
Autumn (September to November): Many consider autumn to be one of the best times to visit Barcelona. The weather is still pleasantly warm, and the summer crowds start to thin out. September and October offer comfortable temperatures ranging from around 20°C (68°F) to 25°C (77°F). It's an excellent time for exploring the city's cultural attractions, enjoying outdoor activities, and taking advantage of the more relaxed atmosphere.
Winter (December to February): Barcelona experiences mild winters compared to many other European cities, but it can still get chilly and damp. Daytime temperatures typically range from 10°C (50°F) to 15°C (59°F). While the city might not be as bustling as during the peak tourist season, it's a great time to experience a quieter Barcelona. You can enjoy indoor attractions like museums and art galleries, and even take advantage of lower hotel rates.
In summary, the best time to visit Barcelona really depends on your preferences for weather and crowd levels. Spring and autumn are generally considered ideal due to the pleasant weather and fewer tourists, but if you enjoy the bustling atmosphere of festivals and outdoor activities, summer could be your preferred choice. Winter can be a good option for budget travelers and those who prefer a quieter experience.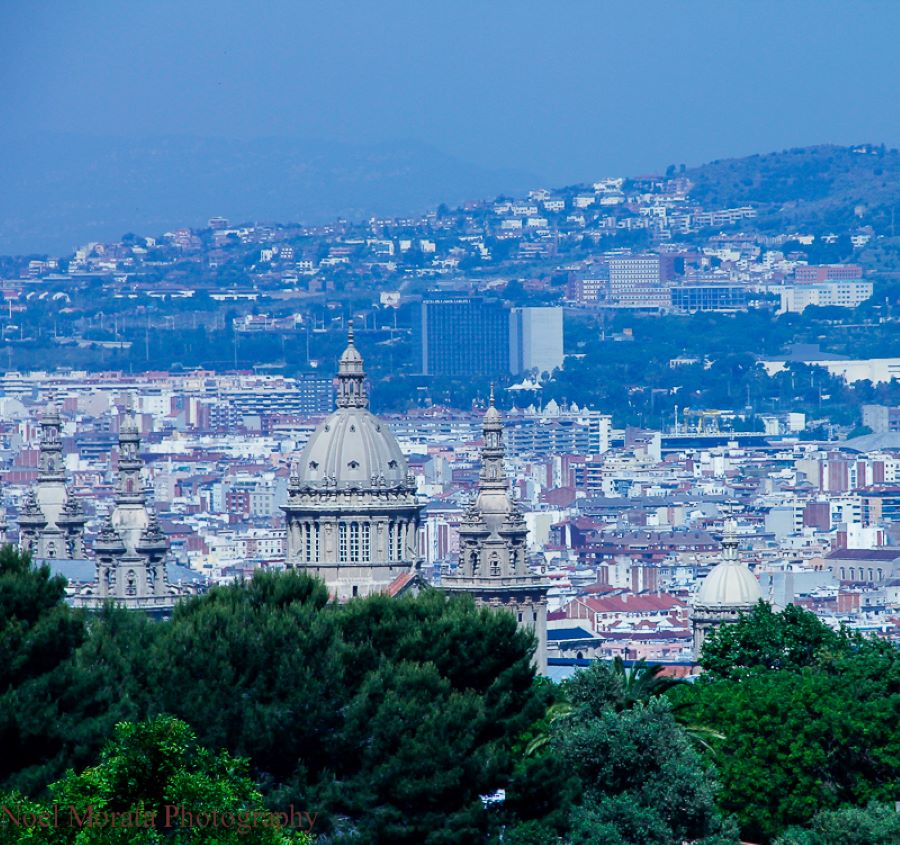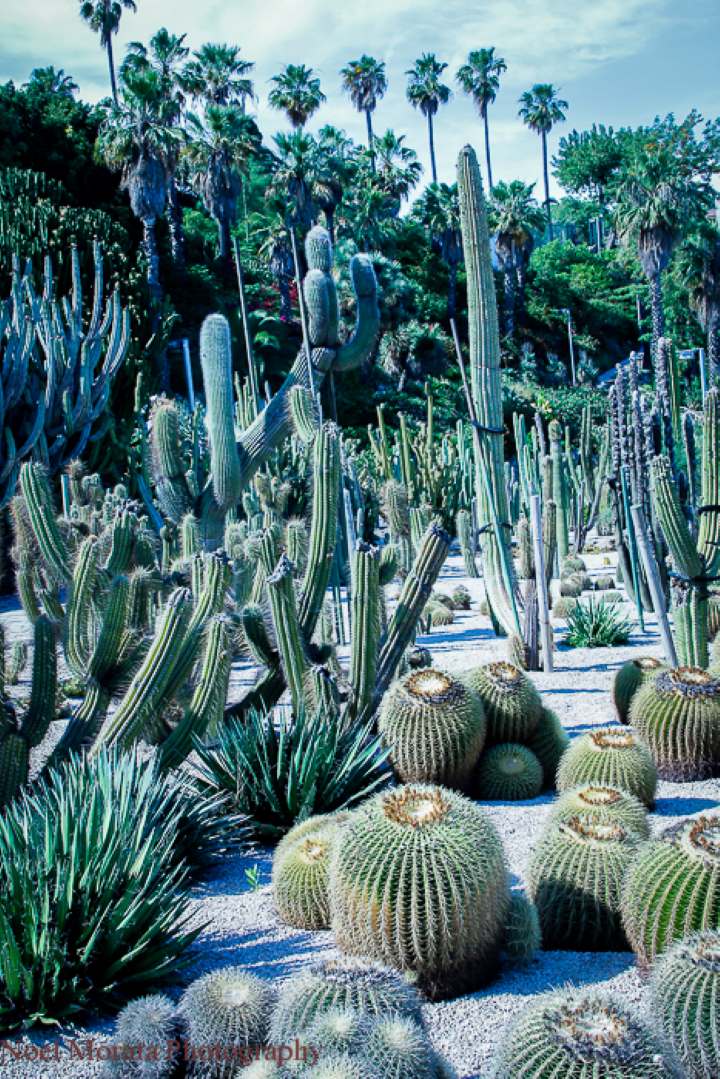 Mossen Costa I Llobera gardens
One of the more unusual and exotic gardens that I visited was the Mossen Costa i Llobera gardens on the hillside of Montjuic, affording magnificent views of the harbor and bay front area of Barcelona.  If you are in the mood for something unusual to do in Barcelona with almost no tourists jostling for space to take pictures, read my upcoming post on for this inspiring garden worth visiting in Montjuic.
For more beautiful imagery and background to the Mossen Costa I Lobera garden, check out my post below for more details and viuals of this exotic park in Montjuic definitely worth visiting, have a look here.
In case you didn't get to see it, I wrote a post recently about taking better nature and flower images with techniques on how to make your photo images pop, here's the link and I hope you take a look at some of my suggestions for improving your camera techniques on any floral or landscape photography.
More attractions at Montjuic hill to visit
Outside of gardens, museums and castles, you can visit a variety of historic cultural sites around Montjuic hill. Here are some of our favorite attractions to visit on the hill.

Magic Gardens of Montjuiic
The dancing fountains and music at Montjuic sit at the base of the Museum of National Art Catalunya and were created for the big Exposition in 1929 to the World's Fair in the city. You can watch this fantastic water and music show for free above the museum and the main square below at night time.
Check out our post about the Magic Fountains here for more information and images to visiting the fountains at night time.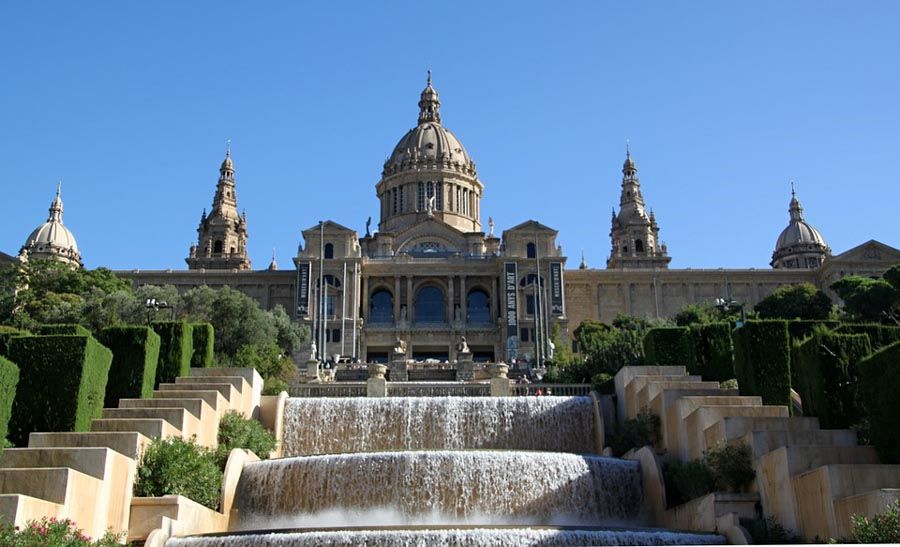 The National Museum of Catalan Visual Art is an iconic museum located on top of Montjuic hill and housed in in an impressive architectural building. The collection of artwork, sculpture and fine art here represents the most important and long period history artists of the region. It is worth a visit to learn about the artists and history of Barcelona through these beautiful interpretations of local culture, history and traditions through art.
Check out our post to visiting  the Museu Nacional d'Art de Catalunya here for more images and inspiration.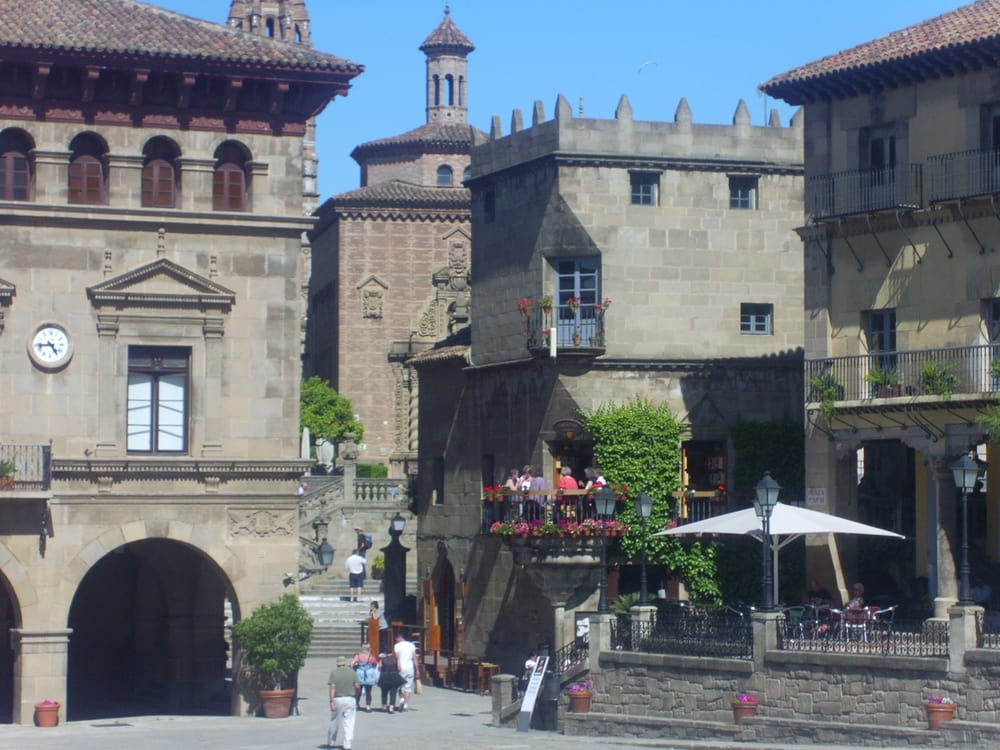 El Poble Espanyol
This fascinating open-air museum shows popular replicas of the most traditional Spanish buildings you'll find around the Pole country. Originally created for the 1929 International Exposition, the Poble Espanyol is now a popular local attraction that showcases Spanish culture and history, delicious cuisine of the region and wonderful arts, crafts, jewelry and other hand made treasures you can take home for souvenirs.
How to get to Montjuic area and gardens
Arriving by Teleferic
You can take the teleferic cable ride from the waterfront area directly to Montjuic Castle and enjoy the amazing views along the way to the top of the hill. Check out their website here for information on riding the teleferic to the top of Montjuic hill and castle.
Public Transportation
You can take bus number 150 and 13 from Plaza d'Espanya to the top of Montjuic Castle. Also bus 55 and 107 from different areas of the city climb to the top of Montjuic area
Uber / Taxi
You can easily catch a taxi or Uber to quickly get to Montjuic castle or other attractions around the hill of Montjuic
Where to stay in Barcelona
With so many fantastic places to enjoy and explore around the city, there are so many wonderful options for accommodations. Check out these top reviewed paces to stay here for reviews and updated prices
Alexandra Barcelona Hotel – a 19th century hotel with modern aesthetics and amenities with easy walks to Gracia and Las Ramblas, centrally located, good sized rooms, good breakfast and attentive staff.
Serras Barcelona – a luxury boutique hotel with award winning Michelin star restaurant, cool and trendy hotel with comfortable, with world class amenities and service
Majestic Hotel and Spa – a luxury traditional hotel centrally located and close walk to Ramblas with excellent service, amenities, rooftop terrace and outdoor pool
Check out these fantastic posts to visiting Barcelona
Barcelona attractions and key places to visit now
Traditional Catalan food you should try
Palau de la Musica Catalana, Barcelona
Free things to do in Barcelona
Mossen Costa i Llobera garden in Barcelona
Museu Nacional D'art de Catalunya

Thanks for checking out this post on Montjuic Hill and park in Barcelona with Visiting Spain and Mediterranean.com, hope that this was helpful for planning a visit with things to do, attractions and other fun places to explore. Please come back again for more adventures in Spain and the Mediterranean coast.
If you like what you see, come and check out my other social media channels for more updates, including Instagram, Pinterest and Twitter
Disclosure – There are affiliates links on this posts which provide a small commission to support this site at no extra cost to you. Thank you for reading, and happy travels