Day trip to Frigiliana, Spain: Discover this beautiful white hilltop village in Andalusia
Frigiliana is one of those iconic white villages set on a hill with stunning views and a gorgeous town to discover and wander through a traditional whitewashed Andalucian Village. I find that this town offers a really exceptional visit and easy day trip from Nerja or Malaga City.
Frigiliana is located approximately 67 kilometers (about 42 miles) east of Malaga, Spain. The journey between Malaga and Frigiliana can typically be covered by car in about 45 minutes to 1 hour, depending on traffic and the specific route taken. It's a scenic drive that takes you through the picturesque landscapes of the Costa del Sol, making it a convenient day trip from Malaga for those looking to explore this charming Andalusian village.
Frigiliana is located very close to Nerja in southern Spain. The distance between Nerja and Frigiliana is only about 6 kilometers (approximately 4 miles) inland. This short drive takes approximately 10 to 15 minutes, making it a convenient and easily accessible destination for visitors staying in Nerja who want to explore the picturesque village of Frigiliana.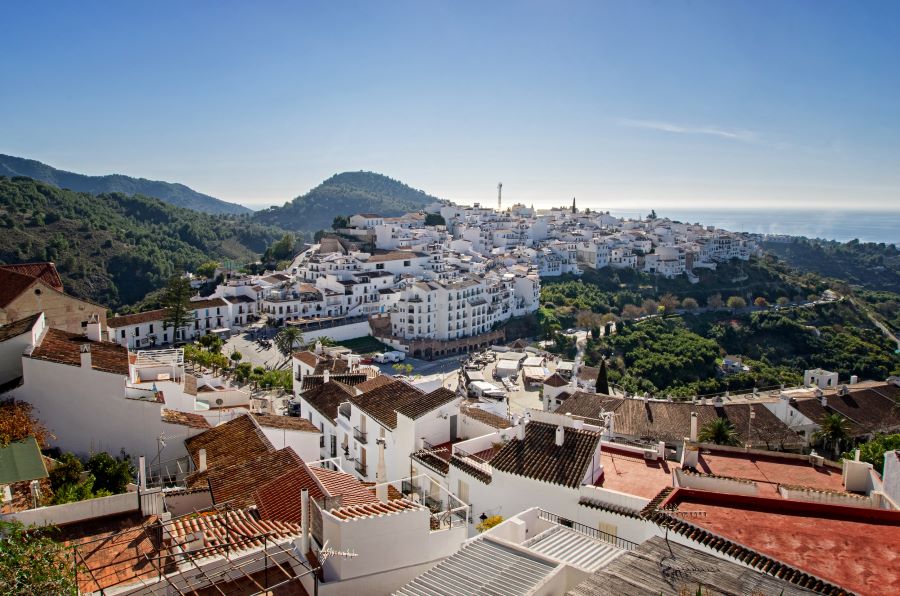 Why visit Frigiliana, Spain?
The beautiful whitewashed village on a hill is an iconic image of Frigiliana well renowned for its picture postcard looks and gorgeous village, narrow streets and look at a traditional Andalusian Village. The village exudes a Moorish heritage with its layout, narrow streets, architecture and the Moorish quarter of the town. With Frigiliana perched on a hill, you'll get some breathtaking views of the surrounding countryside and down to the Mediterranean sea and across to the Sierra de Almijara mountains. These are probably some of the best views you can experience and photograph around the Costa del Sol area.
Exploring all the narrow streets is a fun and delightful experience happening upon artisan shops, hidden courtyards and colorful squares with its own character and charm.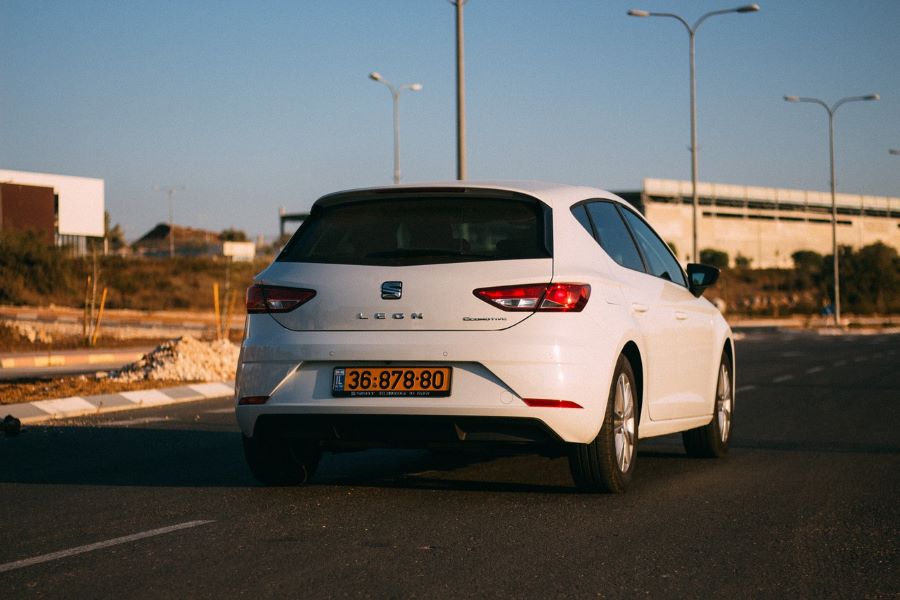 How to get to Frigiliana?
Getting to Frigiliana, Spain, is relatively straightforward, and you have several transportation options depending on your starting point:
1. From Malaga:
By Car: Frigiliana is about a 45-minute drive east of Malaga. Take the A-7 highway towards Almería and exit at Nerja. From Nerja, follow signs to Frigiliana.
By Bus: You can take a bus from Malaga's main bus station (Estación de Autobuses) to Nerja. From Nerja, you can either walk or take a short bus or taxi ride to Frigiliana, which is about 6 kilometers away.
2. From Nerja:
By Car: Frigiliana is a short 10-15 minute drive from Nerja. Simply follow the signs to Frigiliana, and you'll reach the village in no time.
By Bus: Nerja and Frigiliana are well-connected by bus services. You can catch a local bus from Nerja's bus station to Frigiliana, and the journey takes around 15-20 minutes.
3. From Other Costa del Sol Locations:
If you're staying in other coastal towns along the Costa del Sol, such as Torremolinos, Fuengirola, or Marbella, you can take a direct bus to Nerja and then proceed to Frigiliana.
4. By Taxi or Ride Share:
Taxis and ride-sharing services like Uber are available in the area. You can arrange for a taxi or use a ride-sharing app for a convenient and private transfer.
Once you arrive in Frigiliana, you can easily explore the town on foot. Its compact size and charming streets make it a delightful place to wander and discover its historical and cultural treasures. Whether you're coming from Malaga, Nerja, or elsewhere along the Costa del Sol, Frigiliana's accessibility makes it a convenient destination for a day trip or an extended stay.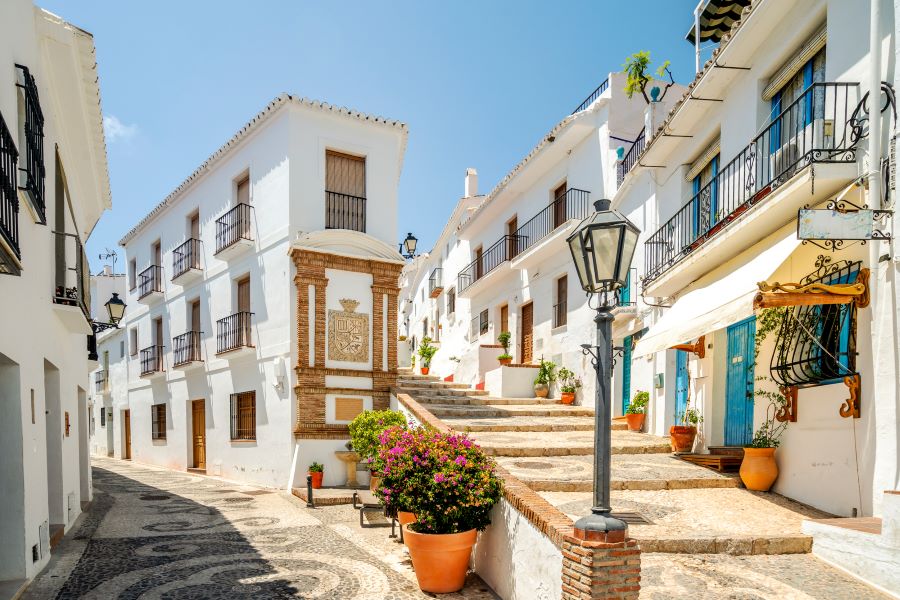 Top attractions and places to explore around Frigiliana
Frigiliana and its surrounding areas offer a wealth of attractions and places to explore, showcasing the natural beauty, history, and culture of the region. It's easy to wander around the narrow streets and happen upon squares and historic sites, but pick up a map and check out all these wonderful historical places and view points below.
Here are some of the top attractions and places to explore around Frigiliana: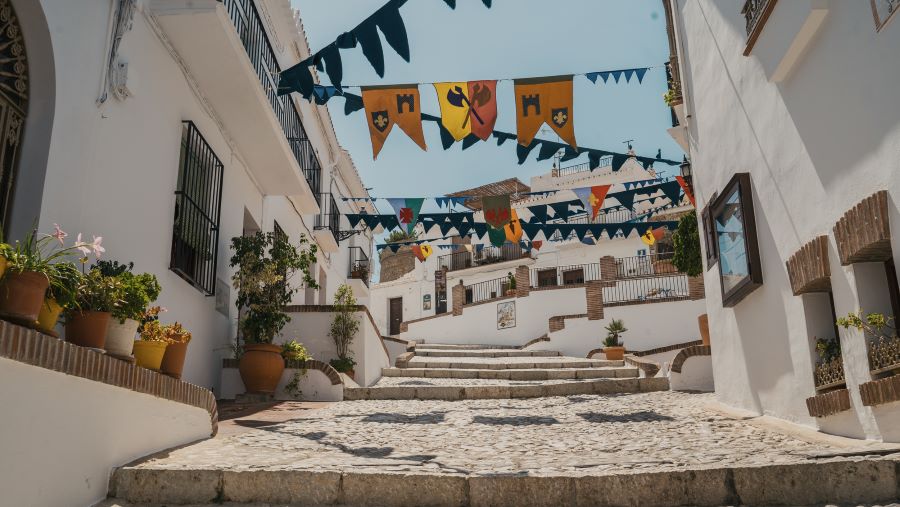 Frigiliana Old Town: Begin your exploration in Frigiliana's charming old town, characterized by narrow, winding streets, whitewashed buildings, and picturesque courtyards. Stroll through Calle Real, the main street, and admire the Moorish and Andalusian architecture.
Palace of the Counts of Frigiliana (Palacio de los Condes de Frigiliana): This historic palace is a notable landmark in the town. While not always open to the public, its exterior is impressive, and you can learn about its history as you explore the town.
Church of San Antonio: Visit the Church of San Antonio, a lovely 17th-century church located in the heart of Frigiliana's old town. Its interior is adorned with beautiful artwork and religious icons.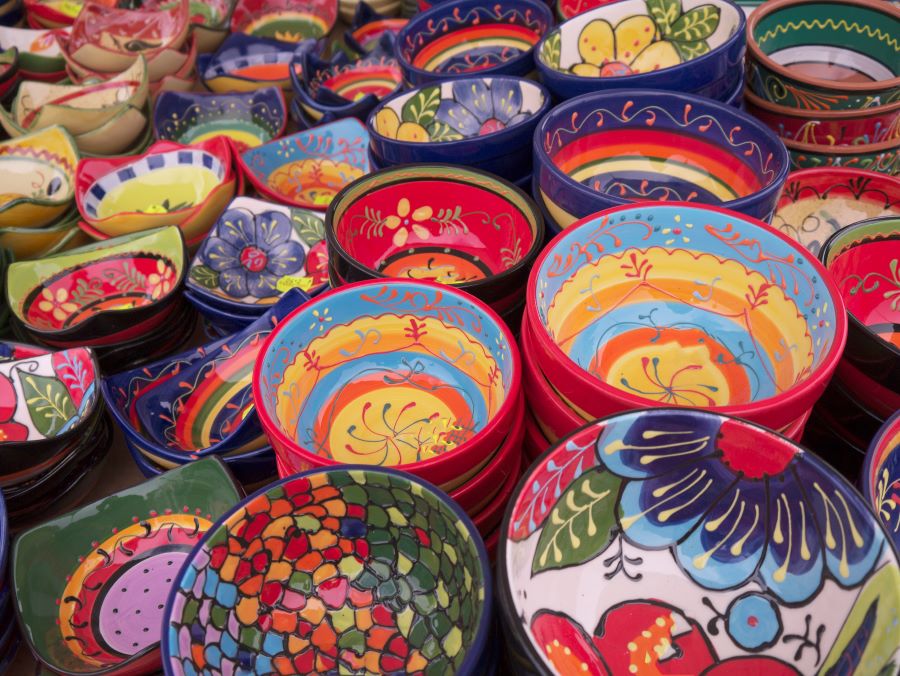 Shop around Calle Real: The main street in Frigiliana's old town, Calle Real, is lined with small shops and boutiques selling a variety of local products, including ceramics, pottery, and textiles. It's an excellent place to browse for handmade souvenirs and gifts.
Calle Real Fountain: Stop by the Calle Real Fountain, an attractive spot with a central fountain surrounded by colorful tiles. It's a lovely place to rest and take in the surroundings.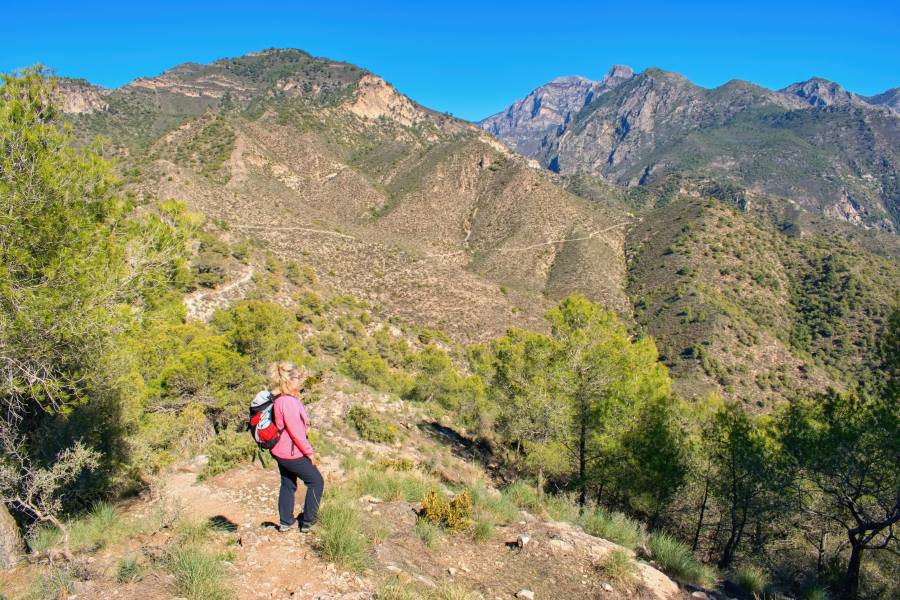 Natural Park of the Sierras de Tejeda, Almijara y Alhama: Frigiliana is surrounded by this stunning natural park, offering hiking trails and opportunities for outdoor activities. The park's rugged landscapes, waterfalls, and diverse flora and fauna make it a haven for nature enthusiasts.
Frigiliana Viewpoints: Enjoy panoramic views of the town and the Mediterranean Sea from several viewpoints, including Mirador de la Iglesia and Mirador de Líbar.
Maro-Cerro Gordo Natural Park: Located near Nerja and Maro, this coastal natural park offers pristine beaches, cliffs, and crystal-clear waters. It's an excellent place for snorkeling, hiking, or simply relaxing by the sea.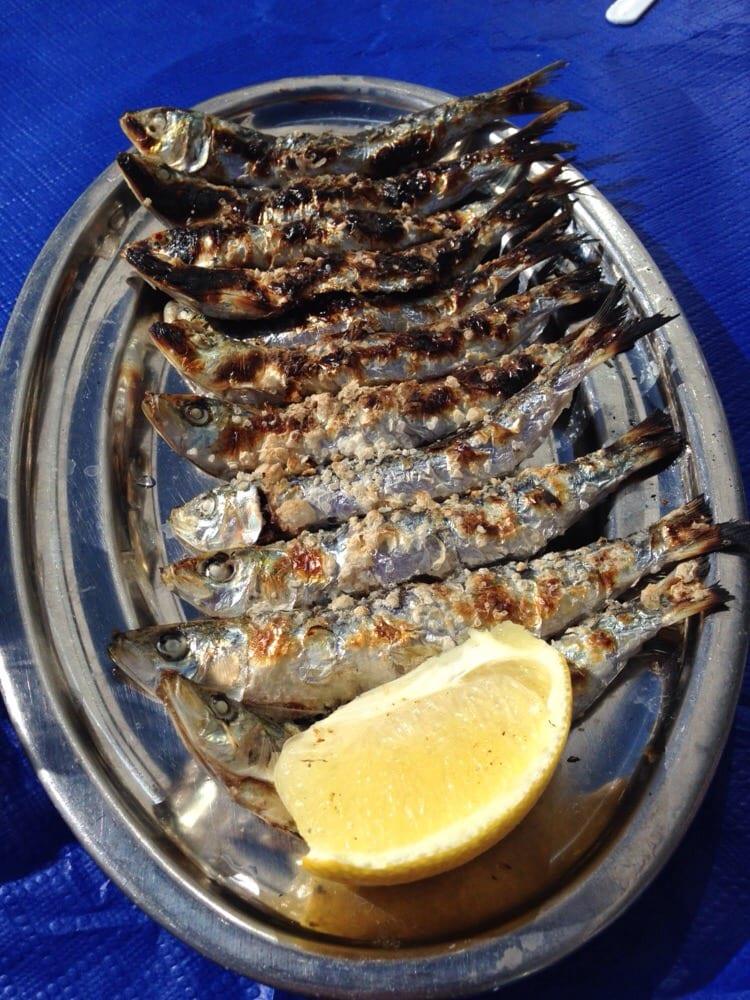 Local Cuisine: Savor the flavors of Andalusian cuisine in Frigiliana's restaurants and tapas bars. Try local dishes such as paella, grilled seafood, and migas (a traditional breadcrumb dish).
Local Festivals: Check the local event calendar for festivals and celebrations taking place in Frigiliana throughout the year. These events often feature traditional music, dance, and cultural exhibitions.
Frigiliana and its surroundings offer a blend of history, natural beauty, and cultural experiences, making it an ideal destination for those seeking a taste of authentic Andalusian life. Whether you're interested in exploring the town's historic streets, hiking in the natural park, or relaxing on the nearby beaches, there's something to suit every traveler's interests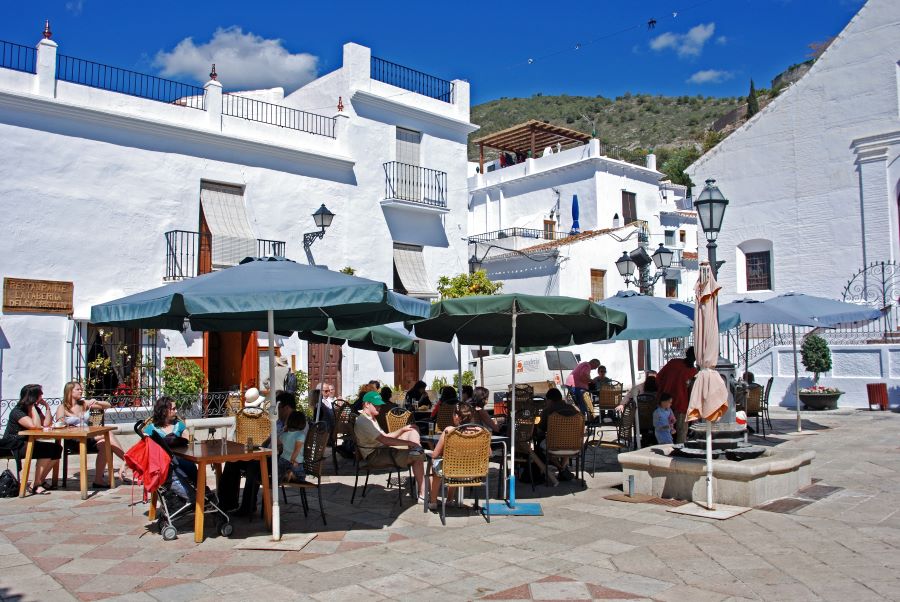 Popular restaurants and authentic foods from Frigiliana
Frigiliana, nestled in the heart of Andalusia, offers a range of dining options where you can savor both traditional Spanish dishes and local specialties. We list some of our favorite places along with some of the popular local dishes to look out for when you see them on the menu boards to the restaurants below.
Here are some popular restaurants and authentic foods to try in Frigiliana:
Popular Restaurants in Frigiliana:
The Garden Restaurant: Known for its picturesque setting, The Garden Restaurant offers a romantic ambiance with outdoor seating among lush gardens. They serve a mix of Mediterranean and international cuisine.
El Adarve: This cozy restaurant is famous for its grilled meats and seafood. It offers a lovely terrace with views of the surrounding hills.
Restaurante La Bodeguilla: A local favorite, La Bodeguilla serves traditional Andalusian dishes and tapas in a friendly atmosphere. Try their paella and seafood offerings.
Bar El Acebuchal: Located just outside Frigiliana, in the village of El Acebuchal, this rustic restaurant is known for its authenticity. The menu includes hearty dishes like lamb stew and grilled meats.
Restaurante La Taberna del Sacristán: This charming spot in Frigiliana's old town serves a variety of Spanish tapas and dishes, including fresh seafood and local specialties.
Authentic Foods to Try:
Migas: A traditional Andalusian dish, migas are breadcrumbs sautéed with garlic, olive oil, and a variety of ingredients like chorizo, sausage, and vegetables. It's a hearty and flavorful dish.
Ajoblanco: This cold soup is a specialty of the region. Made with almonds, garlic, bread, and olive oil, it's a refreshing and creamy starter, especially on warm days.
Fritura Malagueña: A popular seafood dish, fritura malagueña consists of a mix of fried fish and seafood, typically served with a squeeze of lemon.
Espetos de Sardinas: These are skewered and grilled sardines, often served on the beach. They are a simple yet delicious seafood option.
Paella: While not unique to Frigiliana, you'll find variations of this iconic Spanish dish in local restaurants. Paella typically includes rice, saffron, and a combination of seafood, meats, or vegetables.
Local Wine: Pair your meal with a glass of local wine from the region. Andalusia is known for its wine production, and you can find red, white, and dessert wines to complement your dining experience.
Desserts: End your meal with traditional Andalusian desserts like flan (caramel custard), torrijas (similar to French toast), or pestiños (honey-coated pastries).
Local Honey and Molasses: Frigiliana is famous for its honey and molasses production. These sweet treats make for excellent souvenirs or gifts to take home.
Exploring the culinary delights of Frigiliana and savoring the flavors of Andalusia is an integral part of the travel experience in this charming town. Whether you're dining in a local restaurant or enjoying tapas in a quaint tavern, you'll find that the food here is a celebration of regional traditions and ingredients.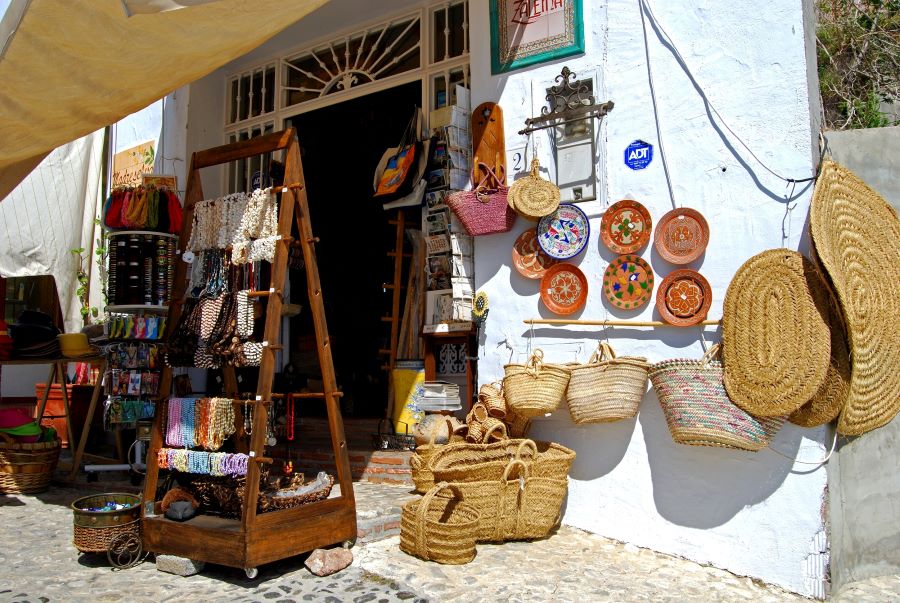 More inside tips to visiting Frigiliana, Spain
Visiting Frigiliana, Spain, offers a chance to dive deeper into the local culture and discover hidden gems beyond the main attractions. Here are some inside tips to enhance your experience in this charming village:
Explore Side Streets: While the main streets of Frigiliana are undoubtedly picturesque, don't hesitate to wander into the quieter side streets. You'll often stumble upon quaint corners, hidden courtyards, and unexpected details that capture the essence of the village.
Attend Local Festivals: Frigiliana hosts several festivals throughout the year, celebrating traditions, music, and culture. If your visit coincides with a festival, join in the festivities to witness the lively spirit of the community. The Three Cultures Festival, in particular, is a highlight.
Try Traditional Tapas: In addition to restaurant dining, explore the local tapas scene. Many bars offer complimentary tapas with your drink order, allowing you to sample a variety of flavors and dishes while enjoying a social atmosphere.
Visit During Sunset: Frigiliana is known for its beautiful sunsets. Take a leisurely evening stroll through the town, and head to one of the miradores (viewpoints) to watch the sun dip below the horizon. The views are breathtaking, and the atmosphere is serene.
Hiking in the Natural Park: If you enjoy hiking, consider exploring the trails in the Sierras de Tejeda, Almijara y Alhama Natural Park surrounding Frigiliana. It's an opportunity to experience the natural beauty and tranquility of the region.
Chat with Locals: Engaging in conversations with locals can provide valuable insights into the town's history, culture, and daily life. Don't be shy about striking up friendly chats with shop owners or residents.
Photography Opportunities: Frigiliana is a photographer's paradise. Capture the vibrant flowers, intricate doorways, and the play of light and shadow on the whitewashed walls. Early morning and late afternoon offer the best lighting for photography.
Visit the Olive Oil Mill: Arrange a visit to a local olive oil mill if possible. It's an educational experience where you can learn about the olive oil production process and taste freshly pressed olive oil.
Stay in a Boutique Accommodation: Consider staying in one of Frigiliana's boutique hotels or guesthouses. These accommodations often offer personalized service, unique decor, and an intimate atmosphere.
Enjoy Live Music: Some restaurants and bars in Frigiliana host live music events, especially during weekends. Check local event listings to see if there are any performances happening during your visit.
Respect Siesta Hours: Keep in mind that many businesses and shops in Frigiliana observe siesta hours in the early afternoon, so plan your activities and meals accordingly.
By immersing yourself in the local lifestyle, taking your time to explore, and engaging with the community, you'll gain a deeper appreciation for the authentic charm of Frigiliana and create lasting memories of your visit.
Check out these other posts on visiting the areas around Costa del Sol
Please check out these other topics/posts on places to visit in the area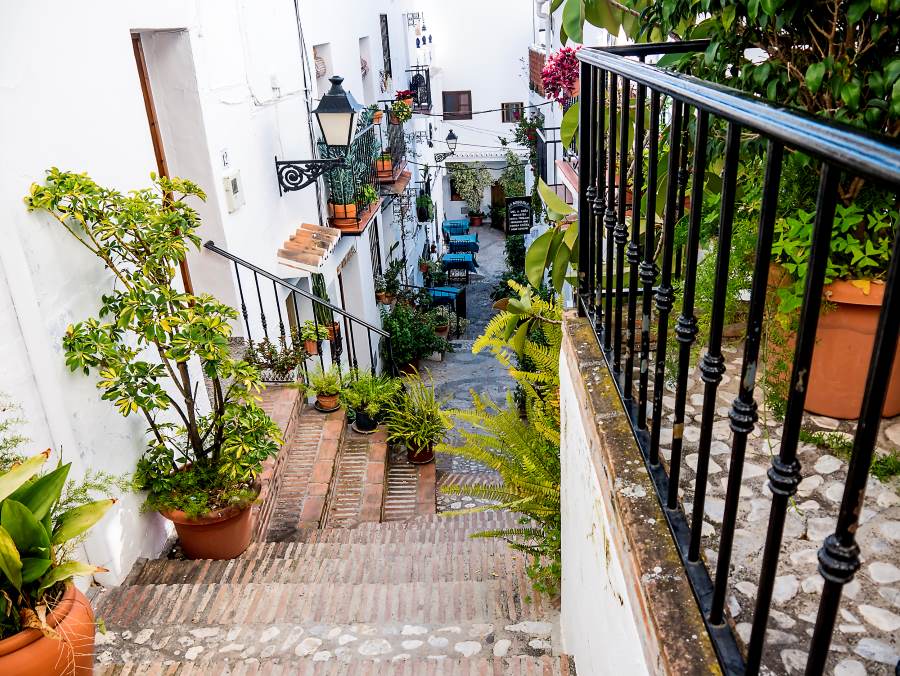 Conclusion to a day trip to Frigiliana, Spain
A day trip to Frigiliana, Spain, offers a captivating journey through time and tradition, revealing the heart and soul of Andalusia. Nestled in the hills, this picturesque village enchants visitors with its whitewashed streets, Moorish heritage, and warm hospitality.
From exploring the historic old town with its winding alleyways and charming courtyards to savoring authentic Andalusian cuisine in local restaurants, every moment in Frigiliana is a step into the rich tapestry of Spanish culture. The breathtaking views of the Sierras de Tejeda, Almijara y Alhama Natural Park and the Mediterranean Sea provide a backdrop of natural beauty that enhances the experience.
As the day draws to a close, you may find yourself reflecting on the sights, sounds, and flavors of this enchanting village. Frigiliana offers not only a glimpse into the past but also a taste of the warm and welcoming spirit of southern Spain. Whether you come for the history, the cuisine, or simply to escape into a tranquil world of whitewashed beauty, a day in Frigiliana leaves an indelible mark and a desire to return to this hidden gem on future journeys along the Costa del Sol.
Thanks for checking out this post on Visiting Spain and Mediterranean, please come back again for other travels around Spain.