20 Hidden gems in Madrid: find the cool, unique and off the beaten path around the city to explore
There are so many hidden gems in Madrid to explore after you visit all the main attractions and historic sites around the city to explore. Many of these places are relatively easy to get to on public transportation via metro or walking to discover some of the cool and fun places to visit around Madrid.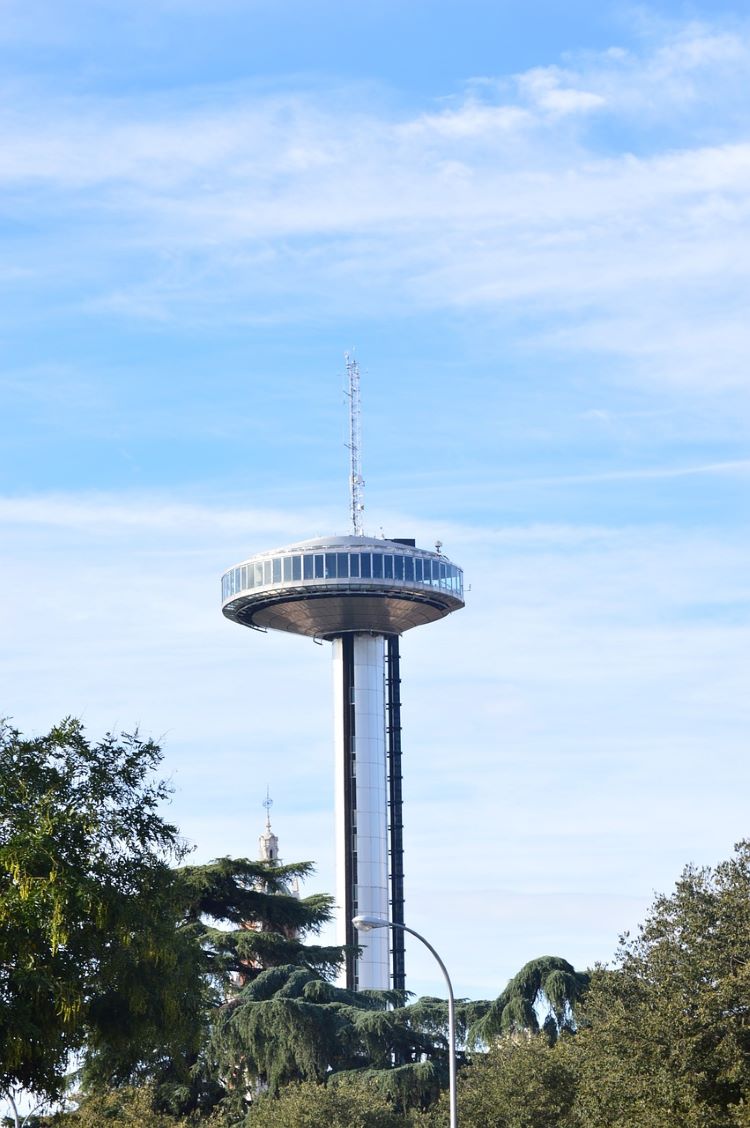 Weather and best time to visit Madrid, Spain
Madrid, the capital of Spain, experiences a continental Mediterranean climate with four distinct seasons. The best time to visit Madrid largely depends on your preferences for weather and the type of activities you want to enjoy. Here's a breakdown of the seasons and the ideal times to visit:
Spring (March to May): Spring is a delightful time to visit Madrid. The weather is mild, with temperatures gradually warming up throughout the season. Flowers are in bloom, and outdoor cafes start bustling. This is an excellent time for sightseeing and enjoying the city's parks and gardens.
Summer (June to August): Madrid summers are hot and dry, with temperatures often soaring above 30°C (86°F) or higher. If you enjoy warm weather and outdoor activities, this is the best time for you. However, be prepared for high temperatures, and make sure to stay hydrated. Many locals escape the city during the peak of summer.
Autumn (September to November): Autumn in Madrid is also a pleasant time to visit. The weather remains warm and comfortable during September and October. Fall foliage in the city's parks can be stunning. November starts to get cooler, but it's still a good time for exploring.
Winter (December to February): Winters in Madrid are cold and can be quite chilly, especially in December and January. Daytime temperatures typically range from 8°C to 15°C (46°F to 59°F). However, if you don't mind the cold, this can be an excellent time to experience fewer crowds and enjoy the city's cultural attractions, museums, and indoor activities.
In summary, the best time to visit Madrid for pleasant weather and outdoor activities is during the spring and early autumn (March to May and September to October). If you prefer hot weather and are comfortable with high temperatures, then summer (June to August) is suitable. Winters (December to February) are ideal for travelers who want to explore the city's indoor attractions and experience a quieter atmosphere.
Explore these 20 Hidden Gems in Madrid now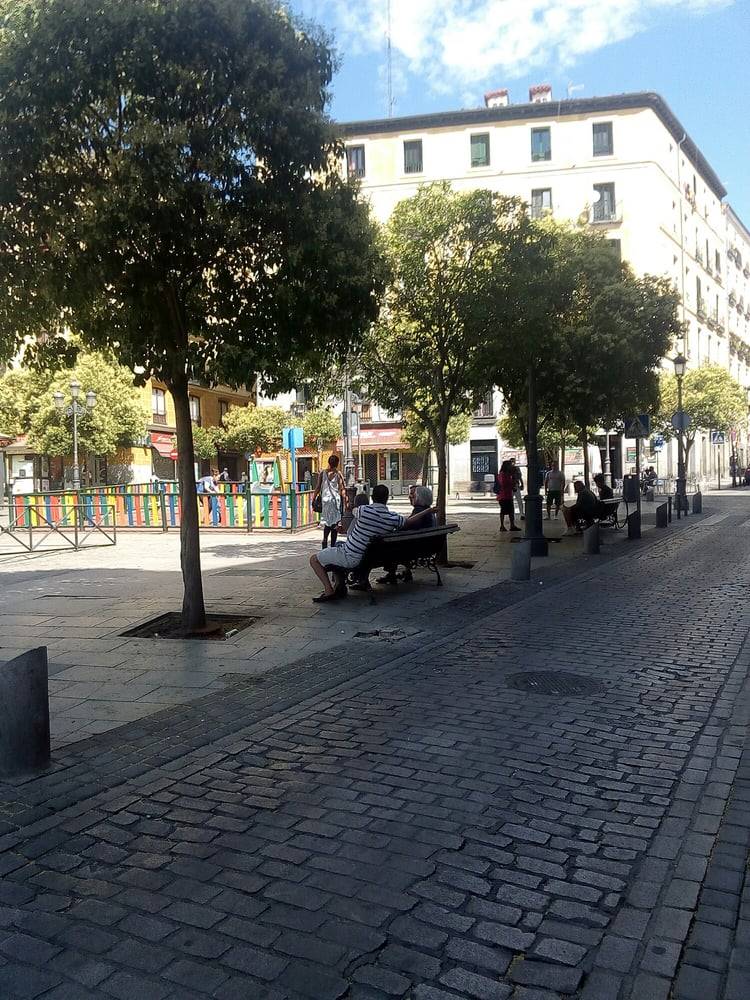 1. Visit to one of the coolest neighborhoods at Lavapies
Lavapiés, a vibrant neighborhood nestled between the city center and Atocha train station, is a radiant gem. It serves as the pulsating multicultural heart of Madrid. Its unique character is defined by its labyrinthine streets and apartment buildings constructed around expansive inner courtyards, known as "corralas." Lavapiés is home to thousands of people from diverse corners of the world who contribute to the preservation of their respective cultures and traditions.
A must-visit destination in this neighborhood is the Mercado de San Fernando. Recent renovations have transformed it into a modern, well-lit gastronomic hub while preserving the authentic essence of a neighborhood market. Even if you aren't in search of a meal, it's a worthwhile visit to explore the non-food stalls offering an array of items, from clothing to books.
2. A garden off the Sorolla Museum
The charming and petite Sorolla Museum, which has recently undergone restoration, resides within the mansion that the artist commissioned in 1910 to spend his later years. Today, the museum proudly showcases 250 of his works in his former studio on the main floor. The living room, dining area, and breakfast room have retained their original decor, allowing visitors to appreciate Sorolla's diverse decorative influence. Among its notable features, the garden stands out, drawing inspiration from Muslim aesthetics and featuring an Italian-style pergola. This garden provides a tranquil oasis of serenity, offering respite from the bustling city when needed.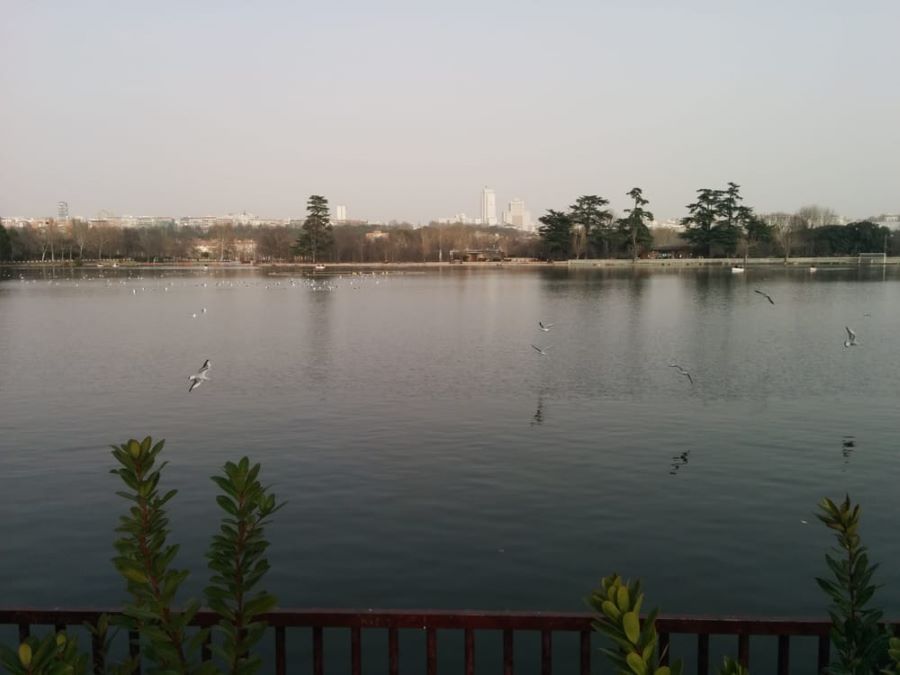 3. A large lake at Casa de Campo Park
Within the Casa de Campo park lies a genuine oasis, where a magnificent lake takes center stage. Conveniently reachable via the metro, this lake ranks among the city's prime spots for enjoying a leisurely open-air lunch. Could you imagine that there exists a vast and exquisite lake just a short distance from the heart of Madrid?
4. Visit the Bosque Encantado
The Enchanted Forest, known as the Bosque Encantado, is a botanical garden that is cool and mostly visited by locals or visitors in the know. Its uniqueness doesn't stem from the collection of over 500 plant species gathered from around the world but rather from the astounding sculptures crafted from lush greenery. Ranging from elephants, giraffes, and dragons to horse-drawn carriages, locomotives, and even a rock band, this magical park situated in San Martín de Valdeiglesias, 75 kilometers away from the heart of Madrid, features dozens of verdant statues that appear poised to spring to life.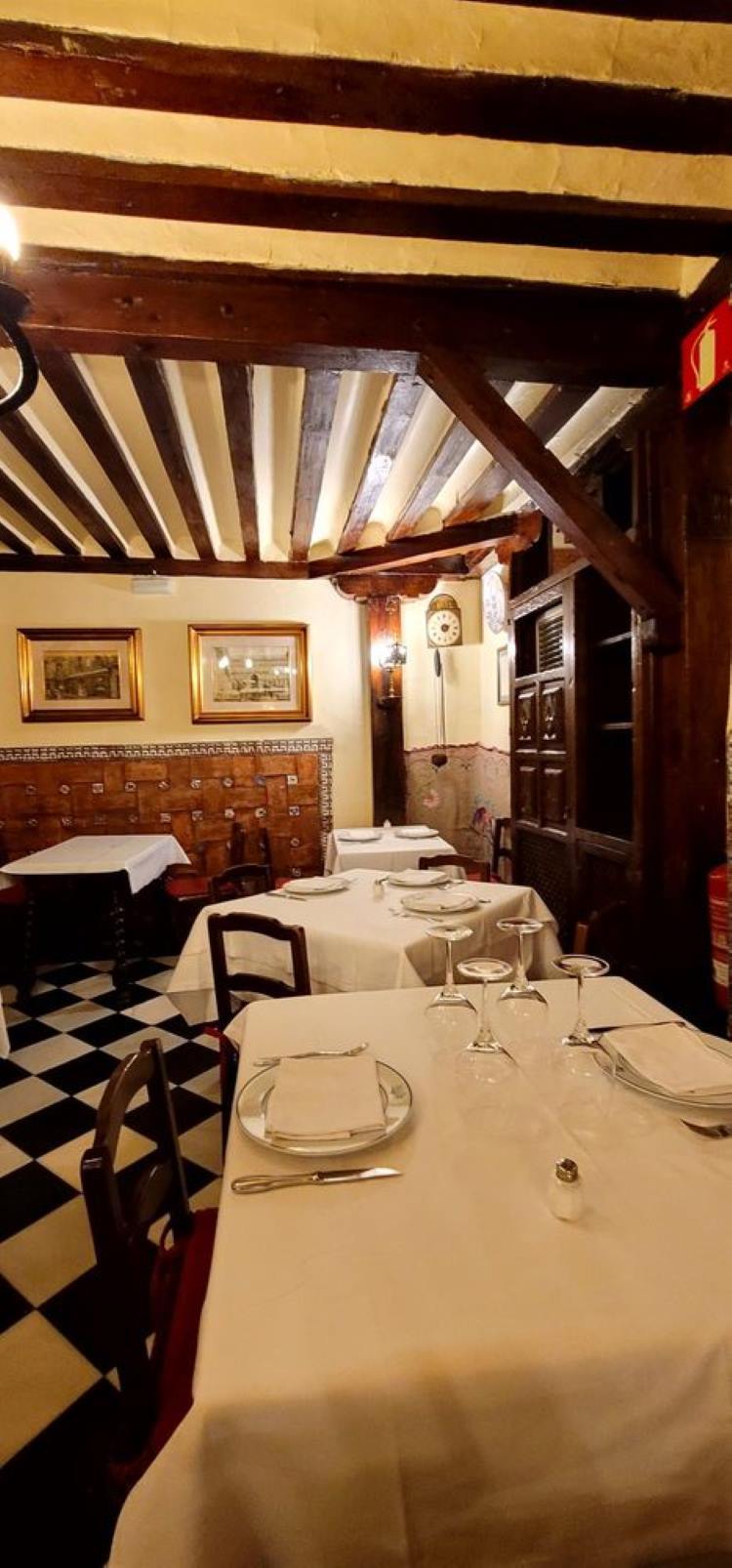 5. A unique 300 year old restaurant
Casa Botín, also known as El Sobrino de Botín, was established in 1725 by Jean Botin, a Frenchman. However, it later came under the ownership of the González Martín family. Over its nearly 300-year history, this renowned establishment has welcomed a diverse clientele, including tourists seeking authentic Spanish cuisine and well-known figures like Ernest Hemingway and Truman Capote.
6. San Antonio de la Florida and Goya masterpieces
San Antonio de la Florida is a charming chapel nestled in the southern corner of Parque del Oeste. Once you step inside, you'll be captivated by the elaborate ceiling and dome frescoes, which were personally painted by none other than Goya himself. It offers a captivating and pleasantly surprising opportunity to immerse yourself in the iconic artist's masterpieces, all for free and with significantly fewer visitors compared to the Prado Museum.
7. A hidden wall garden at Plaza de la Paja
A hidden walled garden in In an overlooked corner of Plaza de la Paja, within the La Latina neighborhood, you'll chance upon this concealed garden. Shielded by a brick wall, it safeguards Príncipe de Anglona's well-preserved secret: the garden he once strolled through during his 19th-century residence in the adjacent palace. At the heart of the enclosure lies a small stone fountain, serving as the origin or conclusion of several stone pathways. Within this park, you'll also discover an iron arbor and a pergola that bursts into a vibrant rose garden during the warmer months. Towering trees offer ample shade across the park, and owing to its elevated position on a slight incline, you can enjoy splendid vistas of the surrounding neighborhood from its higher end.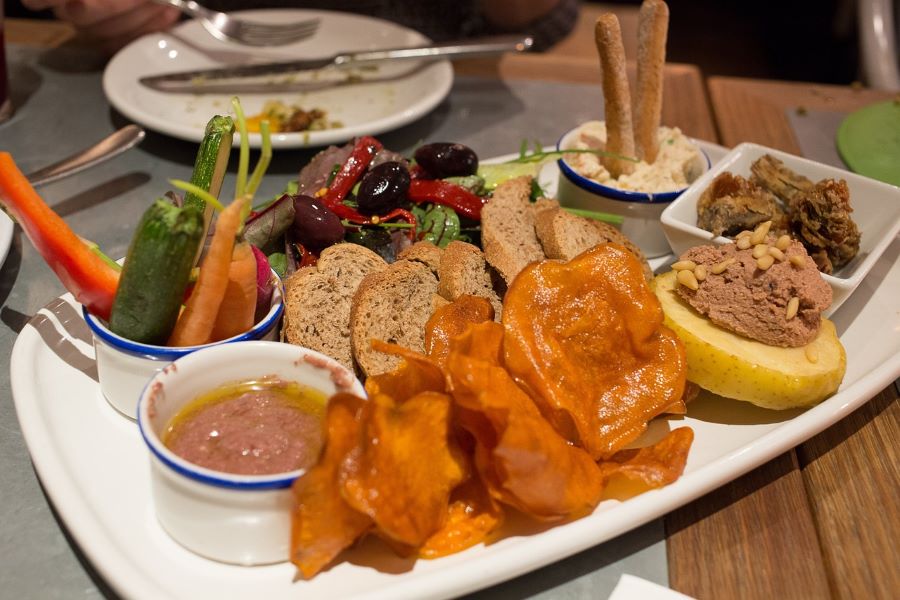 8. Popup Tapa Bar at Mercado de la Cebada in La Latina
As most of the other market stalls are closing down for the weekend, something special happens at the marisquerías, or seafood stalls. They undergo a transformation into pop-up bars. The very fishmongers who sell their fresh catch now turn into chefs, preparing your seafood order on the spot. Even with the added cost of a drink, it's a far more budget-friendly option compared to dining at a dedicated seafood restaurant.
While many tourists flock to Calle Cava Baja in La Latina, take a different route and head to the market. There, you can relish a unique seafood lunch experience amidst the company of locals.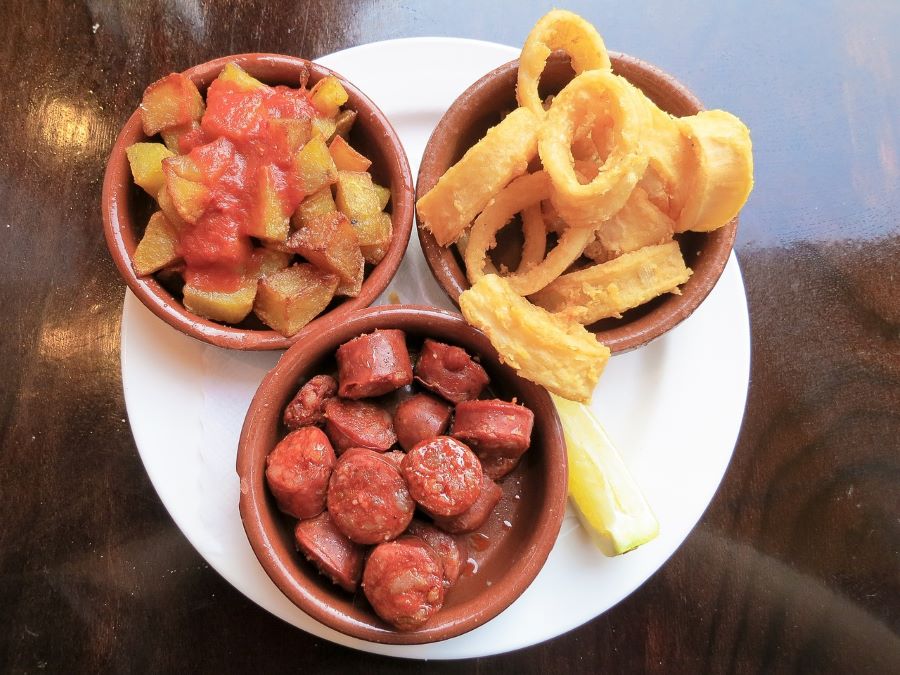 9. Local Tapas at Calle Ponzano
For those seeking an authentic local tapas experience, Calle Ponzano is the ultimate destination. Offering a homegrown alternative to Calle Cava Baja, this charming street in Chamberí boasts a remarkable lineup of 30 tapas bars within its 500-meter stretch. Whether you're in the mood for Micheladas and tacos, thoughtfully crafted charcuterie and cheese platters, or perhaps a taste of ramen and sake, Calle Ponzano has it all.
10. Rose garden at Parque del Oeste
Parque del Oeste offers more than just lush greenery; it's a vibrant canvas of colorful roses! The Rosaleda, recognized as one of the world's finest rose gardens by the World Federation of Rose Societies, invites you to step into this tranquil hidden gem in Madrid. Here, you can meander amidst a breathtaking array of roses, showcasing an incredible spectrum of colors.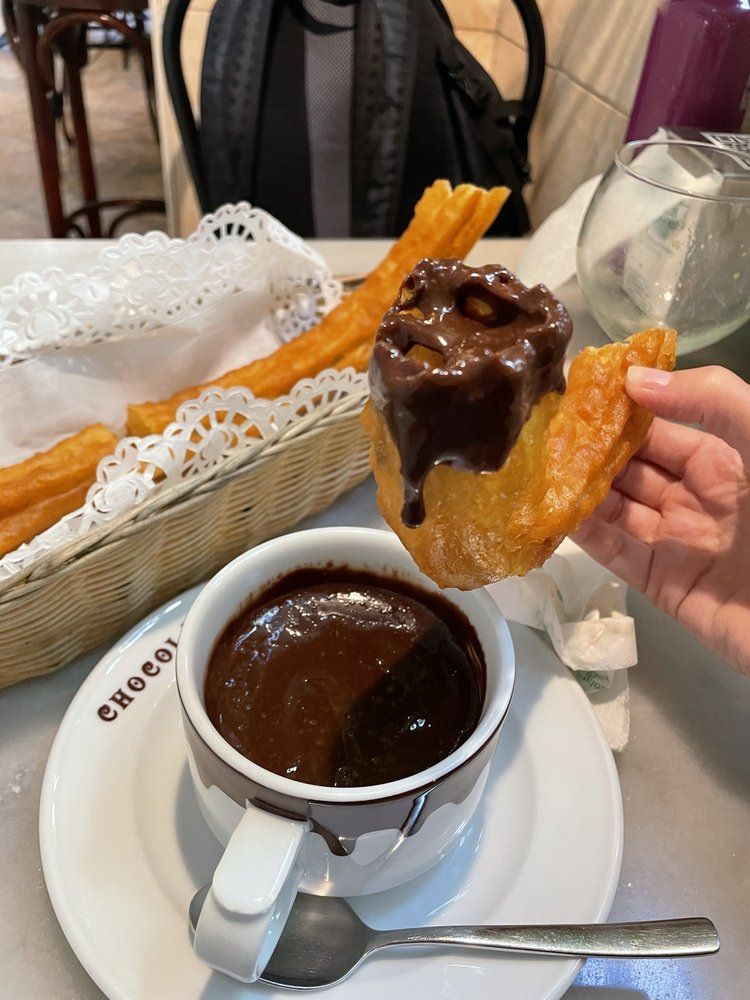 11. Churros with delicious chocolate for breakfast
One of Madrid's most delightful hidden treasures is the churros, and we're not talking about just any churros. Visit a local café that prepares them fresh upon order, such as Chocolat in the Literary Quarter which is a popular churro stop in the Huertas Neighborhood. Order this with a delicious Spanish-style hot chocolate, they create the ideal sweet breakfast or afternoon treat.
12. Park visit at at Madrid Rio
Madrid Rio stands as one of the city's most recent parks, providing a plethora of leisure and recreational opportunities. Venture here for a delightful bike ride along its well-maintained trails (with numerous affordable bike rental choices in Madrid), or opt for a serene spot to unwind, kick back, and savor the picturesque vistas of the Royal Palace.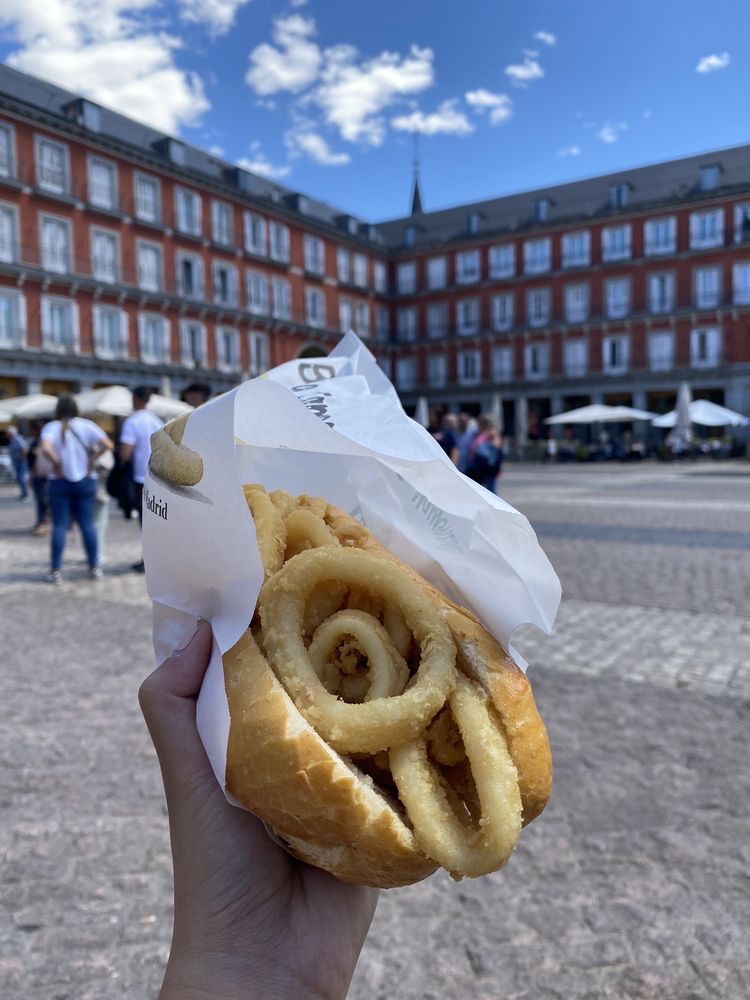 13. Try Madrid's favorite sandwich
The unpretentious bocadillo de calamares is a straightforward delight – a fried calamari sandwich tucked inside a crisp baguette-style bread, usually accompanied by a couple of lemon wedges as the only adornment.
Grab one to take away from the bars located just around the corner from Plaza Mayor (try La Campana, a favorite stop on many daytime food tours), and then find a spot in the plaza to savor your sandwich. This way, you can enjoy the best of both worlds: relishing your meal in Madrid's most iconic square without shelling out excessive amounts on mediocre restaurant fare from the surrounding eateries!
13. Visit the Hip and cool Malasana district
To the north of Gran Via, you'll discover the vibrant neighborhood of Malasaña, where century-old Spanish taverns coexist with modern brunch cafes and vegan doughnut shops. Including the adjacent sub-district of Conde Duque on its western border, Malasaña is your go-to destination for experiencing the burgeoning hipster culture of Madrid.
Malasaña boasts a plethora of vintage shops awaiting your exploration. Visiting them offers the chance to uncover unique, one-of-a-kind pieces that set you apart. Additionally, consider visiting the Humana shops scattered across Madrid, with your initial stop being Calle de Velarde. From there, you can venture deeper into the neighborhood and immerse yourself in Madrid's hidden gem—the vintage shops that await your discovery.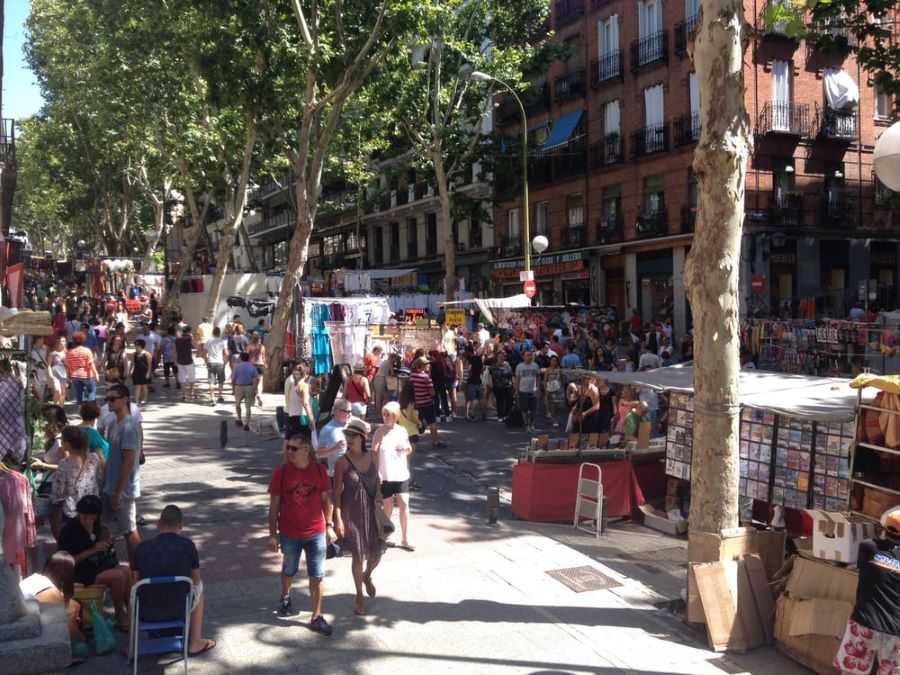 14. El Rastro Flea market
El Rastro While the main thoroughfare of Madrid's renowned flea market may captivate your attention with its pop-up stalls, there's more to explore. Venture into the side streets surrounding El Rastro to uncover antique and vintage shops that harbor some of Madrid's lesser-known hidden gems.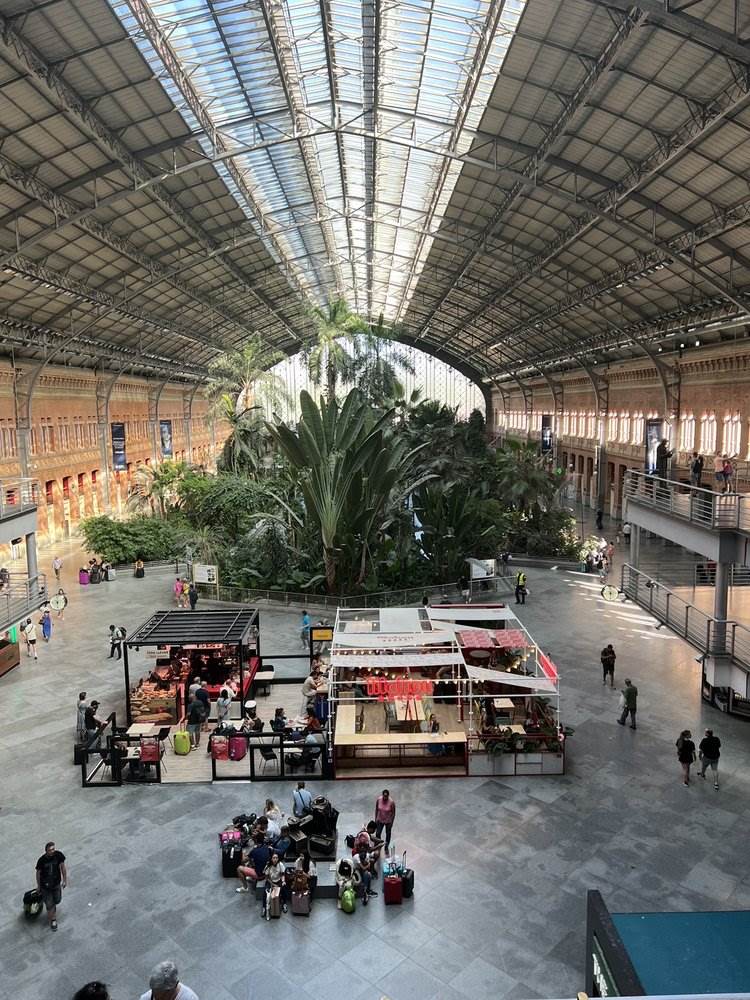 15. Exotic garden at Atocha Train Station
Constructed in the mid-19th century, the transport hub at Atocha Train Station continues to hold the title of Madrid's largest train station to this day.
However, what sets the station apart and makes it truly exceptional is its interior—a stunning tropical garden inaugurated in 1992. This extraordinary garden showcases approximately 7,000 plants, predominantly tropical varieties, with some towering nearly as high as the station's interior.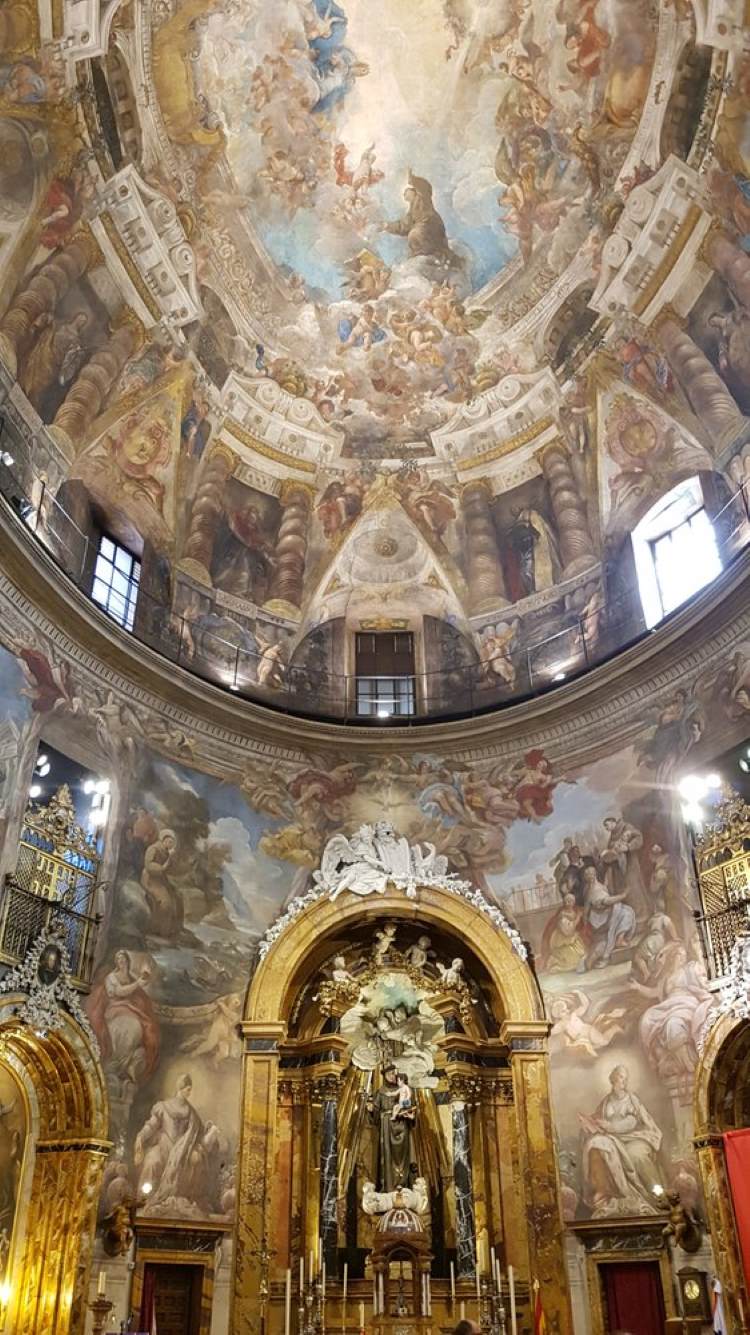 16. San Antonio de los Alemanes Church
The "Sistine Chapel of Madrid" is a nickname affectionately given to the San Antonio de los Alemanes church, one of the city's most stunning churches. While it does require a nominal €2 fee for entry, the experience is well worth the cost. The church boasts exquisite floor-to-ceiling frescoes and intricate detailing, making it unquestionably one of the most beautiful destinations to explore in the Spanish capital.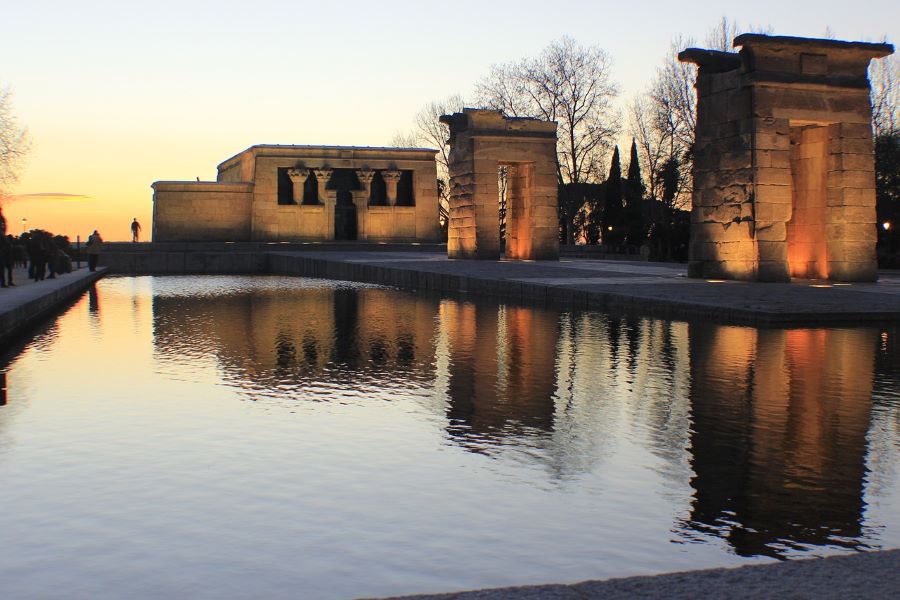 17. Egyptian Temple of Debod
Egyptian Temple of Debod For the best experience, it's recommended to visit the Egyptian Temple of Debod at sunset or into the night when vibrant hues paint the sky. This ancient monument dates back to the 2nd Century BCE and stands out in Europe as a unique treasure. The temple holds a distinctive status as a generous gift to Spain from Egypt.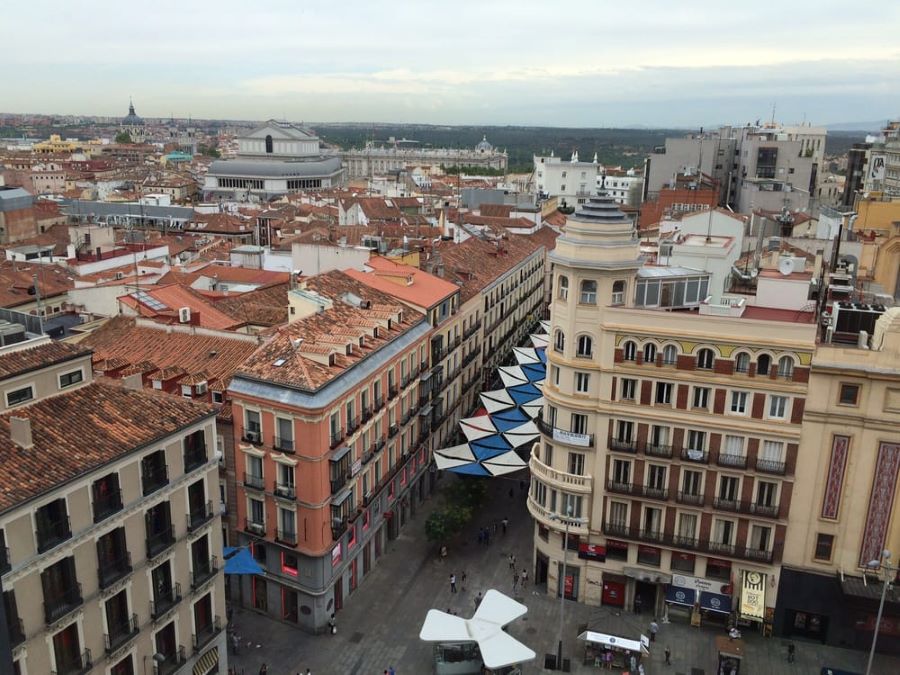 18. Discover the Rooftop Terrace at Corte Ingles
Corte Ingles in Callao stands as one of Madrid's largest shopping centers. What remains a hidden secret to many is that by taking the elevator to the top floor, you'll step out onto an astonishing rooftop space adorned with bars and restaurants. While it might be a bustling spot, the ample area accommodates plenty of visitors. If fortune smiles upon you, you may even secure an outdoor seat to relish the view. The best part? Admission is entirely free!
19. Sunset with the locals at Siete Tetas Park
If you're curious about how the locals in Madrid spend their time, make your way to Siete Tetas Park for a stunning sunset view. Officially known as Tio Pio, this park has earned the nickname "Siete Tetas" due to its seven hills, which quite literally translates to "The Park of the Seven Boobs" (yes, you read that correctly).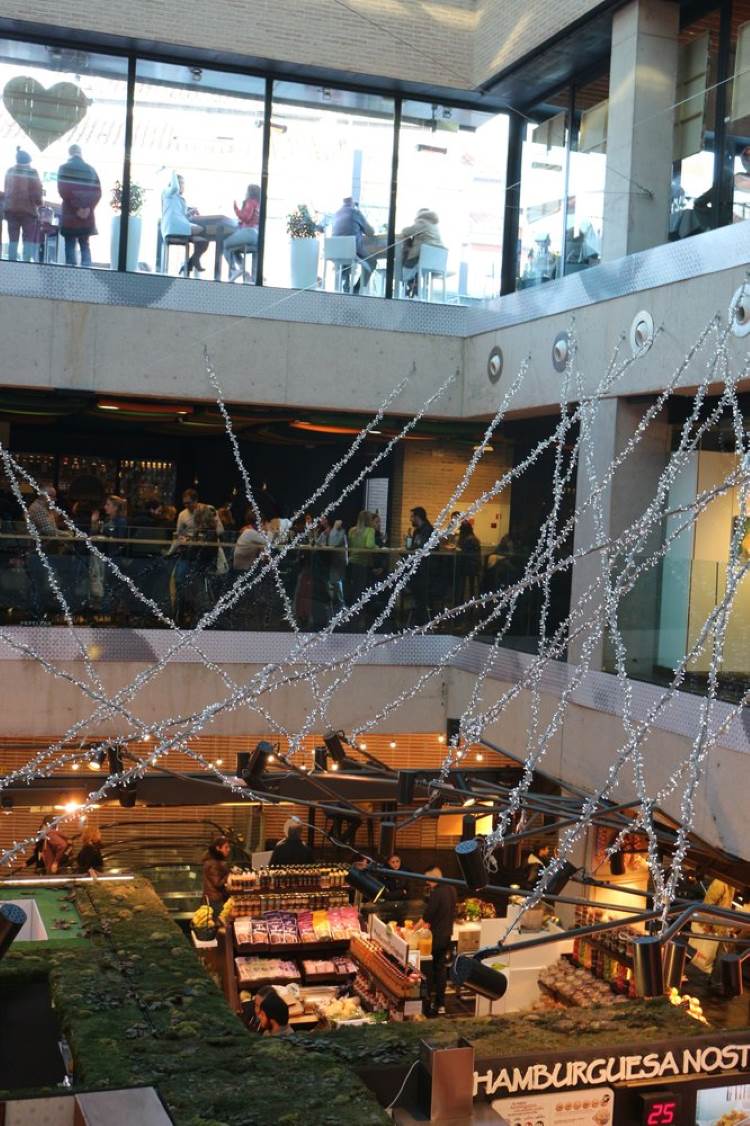 20. Culinary experience at Mercado de San Anton
Exploring an indoor food market has become one of the trendiest activities in Madrid to do and you can also have this fun experience. Situated in the heart of the Chueca Neighborhood is this three-story market. The market offers a delightful traditional fare in a classic market, an array of food stalls, and a rooftop restaurant and bar.
For a perfect afternoon, savor a leisurely late lunch, treat yourself to some delectable desserts  and conclude your visit with a refreshing drink in hand as you unwind and relish the picturesque views.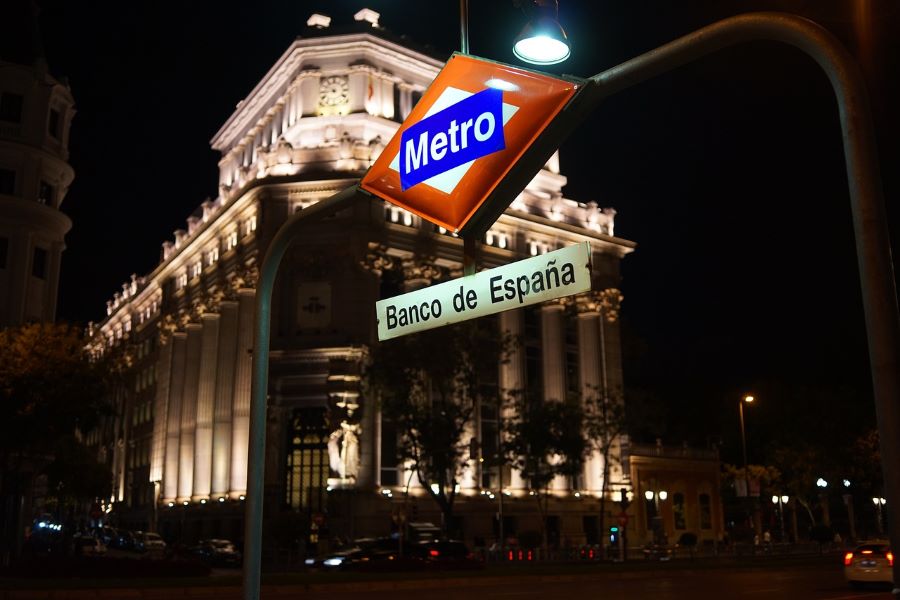 How to get around Madrid, Spain
Getting around Madrid, Spain, is relatively easy, thanks to the city's extensive transportation network. Here are some popular methods for navigating Madrid:
Metro: Madrid's metro system is one of the most efficient and convenient ways to get around the city. It has multiple lines that cover most areas of Madrid, including key tourist destinations. You can purchase single tickets or multi-ride passes. The metro typically operates from 6:00 AM to 1:30 AM (slightly different on weekends and holidays).
Bus: Madrid has an extensive bus network that complements the metro system. Buses operate throughout the city, including to areas not covered by the metro. You can use the same transport card for both the metro and buses.
Cercanías (Commuter Trains): Cercanías trains connect Madrid to nearby towns and suburbs. They can be useful for reaching destinations just outside the city center. You can use the same transport card as the metro and buses.
Taxi: Taxis are readily available in Madrid. Look for the white taxis with a red stripe. They are safe and metered, and you can flag them down on the street or find them at designated taxi stands.
Biking: Madrid has a growing network of bike lanes and bike-sharing programs. You can rent bikes for short trips and explore the city on two wheels.
Walking: Madrid is a walkable city, especially in the city center. Many attractions, shops, and restaurants are within walking distance of each other, making it a pleasant way to explore.
Car Rental: Renting a car is not recommended for getting around the city center due to traffic and limited parking. However, it can be useful for exploring areas outside Madrid.
Electric Scooters: Electric scooters from companies like Lime and Bird are available for short trips. You can rent them using a smartphone app.
Tram: Madrid has a tram system that serves some neighborhoods in the southern part of the city.
Tourist Travel Cards: Consider purchasing a tourist travel card, such as the Madrid Tourist Travel Pass, which provides unlimited rides on public transportation for a specified number of days.
Things to know before visiting Madrid, Spain
Before you set off on your tour exploring around Madrid, Spain, here are some valuable tips to enhance your travel experience:
Siesta Culture:
Madrid, like the rest of Spain, embraces the siesta tradition. Many shops and businesses close between 2:00 PM and 5:00 PM. So, plan your activities around this downtime, maybe indulge in a leisurely Spanish lunch.
Madrid is an Art Lover's Haven:
The Prado Museum, Reina Sofia, and Thyssen-Bornemisza Museum are must-visit places for art enthusiasts. However, remember that many museums in Madrid are closed on Mondays.
Late Dinners:
Spaniards eat dinner late, often after 9:00 PM. Be prepared for this shift in dining schedules and enjoy the vibrant nightlife after your meal.
Tapas Galore:
Madrid is a tapas paradise. Don't miss trying out various tapas dishes in local bars. It's a great way to savor a variety of flavors. Some famous places for tapas include Mercado de San Miguel and Cava Baja.
Public Transportation:
The metro and buses in Madrid are efficient and well-connected. Consider getting a public transportation card to explore the city without hassle.
Enjoy the many  Parks:
Madrid boasts beautiful parks, like Retiro Park and Casa de Campo. They're perfect for leisurely strolls or picnics, providing a serene escape from the urban hustle.
Language:
While you can get by with English in touristy areas, learning a few basic Spanish phrases will go a long way in interacting with locals and making your experience more immersive.
Local Markets:
Explore the local markets like El Rastro, where you can find unique souvenirs and vintage items. It's a Sunday tradition for many Madrileños.
Festivals:
Check the local event calendar. Madrid hosts various festivals and events throughout the year. Experiencing one of these can add a special touch to your visit.
Safety:
Madrid is generally a safe city, but be aware of pickpockets, especially in crowded tourist areas. Keep an eye on your belongings.
Madrid's unique blend of history, art, and vibrant street life make it an exceptional destination. The city's energy is infectious, and exploring it will undoubtedly provide a rich source of inspiration for your travel blog. Don't forget to capture the spirit of the city through your lens and savor the local cuisine – it's a culinary adventure waiting to happen. Enjoy your journey!
Check out these other posts about visiting Madrid
Free things to do in Madrid Spain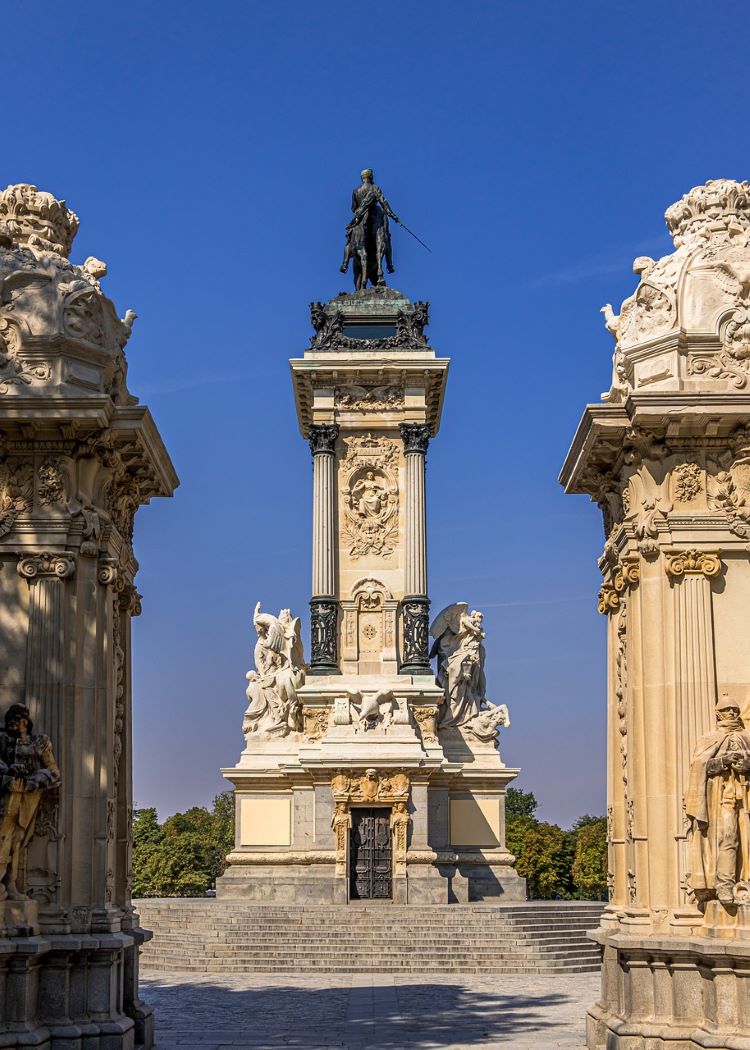 Conclusion to Hidden gems in Madrid
In conclusion, Madrid is a city that never ceases to surprise and captivate its visitors with its wealth of hidden gems. Beyond the well-known attractions, these lesser-explored treasures offer a unique glimpse into the city's rich history, vibrant culture, and diverse neighborhoods.
From the lush tranquility of the Templo de Debod to the vibrant street art of Lavapiés, the city reveals its secrets to those who seek them. The tucked-away charm of the Mercado de la Cebada and the artistic wonders of the Sorolla Museum invite you to delve deeper into Madrid's soul.
Don't forget the culinary delights found in places like Mercado San Anton and the local food markets, where flavors and experiences blend seamlessly.
Thanks for checking out this post on the Hidden Gems of Madrid, Spain on Visiting Spain and Mediterranean.com, hope that this was helpful for planning a visit with things to do, attractions and other fun places to explore. Please come back again for more adventures in Spain and the Mediterranean coast.